Associate Professor
Art History
2009–present, tenured
Education
PhD, University of Pennsylvania
MA, University of Pennsylvania
BA, University of Michigan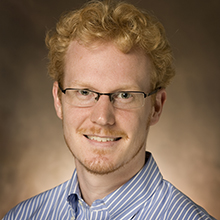 Andrew Casper is a specialist of Renaissance and Baroque art of southern Europe with a particular emphasis on the early career of Domenikos Theotokopoulos "El Greco" and religious art after the Counter Reformation in Italy. He is the author of numerous essays and articles on sixteenth-century icons and the religious paintings from El Greco's Italian period. His book Art and the Religious Image in El Greco's Italy (Penn State University Press, 2014) uses El Greco's early paintings to advance new ideas concerning the conception of religious imagery after the Council of Trent.
His current research examines the artistic conception of the Shroud of Turin in the late-sixteenth and seventeenth centuries, looking at how early-modern devotional manuals draw from contemporary art theory to portray the Shroud's imprint of Christ's body as a divine work of art. Prof. Casper maintains additional research interests in topics ranging from post-Byzantine icons, the artistic culture of Renaissance Venice, early modern art theory, and the art of colonial Latin America.
He has presented scholarly work at the conferences of the College Art Association, the Renaissance Society of America, Sixteenth Century Society, and at other national and international venues. He is a recipient of external grants from the American Philosophical Society, Art History Publication Initiative, College Art Association, Fulbright, Italian Art Society, National Endowment for the Humanities, and the Newberry Library. At Miami Prof. Casper teaches courses in Renaissance and Baroque art in Europe and Latin America. He is the winner of the 2014 Miami University Distinguished Teaching Award.
Selected Publications
Books
Art and the Religious Image in El Greco's Italy (University Park, PA: Penn State University Press, 2014)
Journal Articles
"Becoming El Greco," Apollo: The International Art Magazine 179, no. 618 (March 2014), 114-20.
"Greeks Abroad: (As)signing Artistic Identity in Early Modern Europe," Renaissance Studies (forthcoming 2014)
"El Greco's Heraklion Baptism of Christ: reconsidering dates, signatures, and the madonneri," in Source: Notes in the History of Art 31.2 (2012), 10-14.
"Experiential Vision in El Greco's Christ Healing the Blind," in Zeitschrift für Kunstgeschichte 74.3 (2011), 349-72.
"A Taxonomy of Images: Francesco Sansovino and the San Rocco Christ Carrying the Cross," in Word & Image 26.1 (2010), 100-14.
Book Chapters
"(Re)consideración del mestizaje del Greco," in El Greco: Simposio Internacional 2014. Madrid, Fundación El Greco 2014 and Museo Thyssen-Bornemisza, 2015, 62-74.
"Display and Devotion: Exhibiting Icons and Their Copies in Counter-Reformation Italy," in Wietse de Boer and Christine Goettler, eds., Religion and the Senses in Early Modern Europe (Leiden: Brill, 2013), 43-62.
"Icons, Guidebooks, and the Religious Topography of Counter-Reformation Rome," in Portia Prebys, ed., Early Modern Rome 1341-1667 (Ferrara: EDISAI, 2011), 477-87.
"El Greco, the Veronica and the Art of the Icon," in Nicos Hadjinicolaou, ed., El Greco's Studio: Proceedings of the International Symposium (Heraklion: Crete University Press, 2007), 135-48.
Reviews
Book Review: Catherine R. Puglisi and William L. Barcham, New Perspectives on the Man of Sorrows, in Speculum 90.2 (2015), 579-81.
Book Review: Jodi Cranston, The Muddied Mirror: Materiality and Figuration in Titian's Later Paintings, in Sixteenth Century Journal 42.2 (2011), 592-93.
Book Review: Abigail Brundin and Matthew Treherne, eds., Forms of Faith in Sixteenth Century Italy, in Renaissance Quarterly 63.2 (2010), 646-47.
Exhibition Review: The Origins of El Greco: Icon Painting in Venetian Crete, in The Newsletter of the Italian Art Society 12.1 (2010), 4-5.
Email: casperar@miamioh.edu

Academia.edu: muohio.academia.edu/AndrewCasper