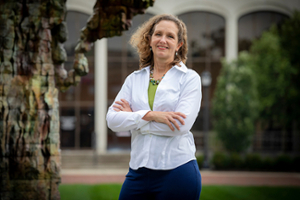 Associate Professor of Theatre
208 Center for Performing Arts (513) 529-8317
armstra2@miamiOH.edu
Education
PhD Theatre, University of Hawai'i at Manoa
MFA Directing, University of Hawai'i at Manoa
BA Theatre and English Literature, College of William and Mary
Ann Elizabeth Armstrong received the 2017 Social Justice Educator award from the National Civil Rights Conference for her creative work and teaching about Freedom Summer. She has created a walking tour, commissioned and devised original plays, and led a variety of public humanities programs about Freedom Summer. She has been awarded grants from the Ohio Humanities Council and the National Endowment for Humanities. The Freedom Summer App, awarded an NEH Digital Humanities Start Up Award, is a location-based tour of the site used to train Freedom Summer volunteers in 1964 (fsapp.lib.miamioh.edu)  
Dr. Armstrong facilitates community-based artistic work. In an interdisciplinary project, she has collaborated with community members and public health workers to use digital storytelling in order to develop partnerships to reduce infant mortality and eliminate racial inequity in healthcare.
Dr. Armstrong's scholarship includes publications on feminist pedagogy, community-based theatre, theatre of the oppressed, and applied theatre. She is an affiliate in Women's Studies and American Studies, and she is the advisor of the Walking Theatre Project, a student-led social justice theatre company.
At Miami, she teaches directing, dramatic literature and community-based theatre, and directs in the production season.
Selected Publications:
"Rehearsing for Dialogue:  Facilitation Training and Miami University's 'A More Perfect Union'" in Staging Social Justice: Collaborating to Create Activist Theatre, edited by Norma Bowles and Dan Nadon.Carbondale: Southern Illinois University Press, 2013.
Performing Worlds into Being: Native American Women's Theater. Co-editor with Kelli Lyon Johnson and Bill Wortman. Oxford, OH: Miami University Press. 2009
Radical Acts: Theatre and Feminist Pedagogies of Change, co-edited with Kathleen Juhl., San Francisco, CA:  Aunt Lute Books, 2007.
"Negotiating Feminist Identities in Theatre of the Oppressed" in A Boal Companion: Dialogues on Theatre and Cultural Politics, edited by Mady Schutzman and Jan Cohen-Cruz, London and New York: Routledge, 2006: 173-183 walking tour of Western College campus that explores the events that occurred on this site while activists trained for Freedom Summer in 1964. For this work, she has received grants from the Ohio Humanities Council and the National Endowment for the Humanities.