This degree program emphasizes the development of visual language through in-depth study of one or more of these studio areas. Over the span of the program, students are exposed to traditional areas of artistic craftsmanship as well as innovative trends and technologies such as courses in animation and digital imaging. Majors develop professional portfolios to gain entry-level positions in art related fields or to pursue post-graduate study.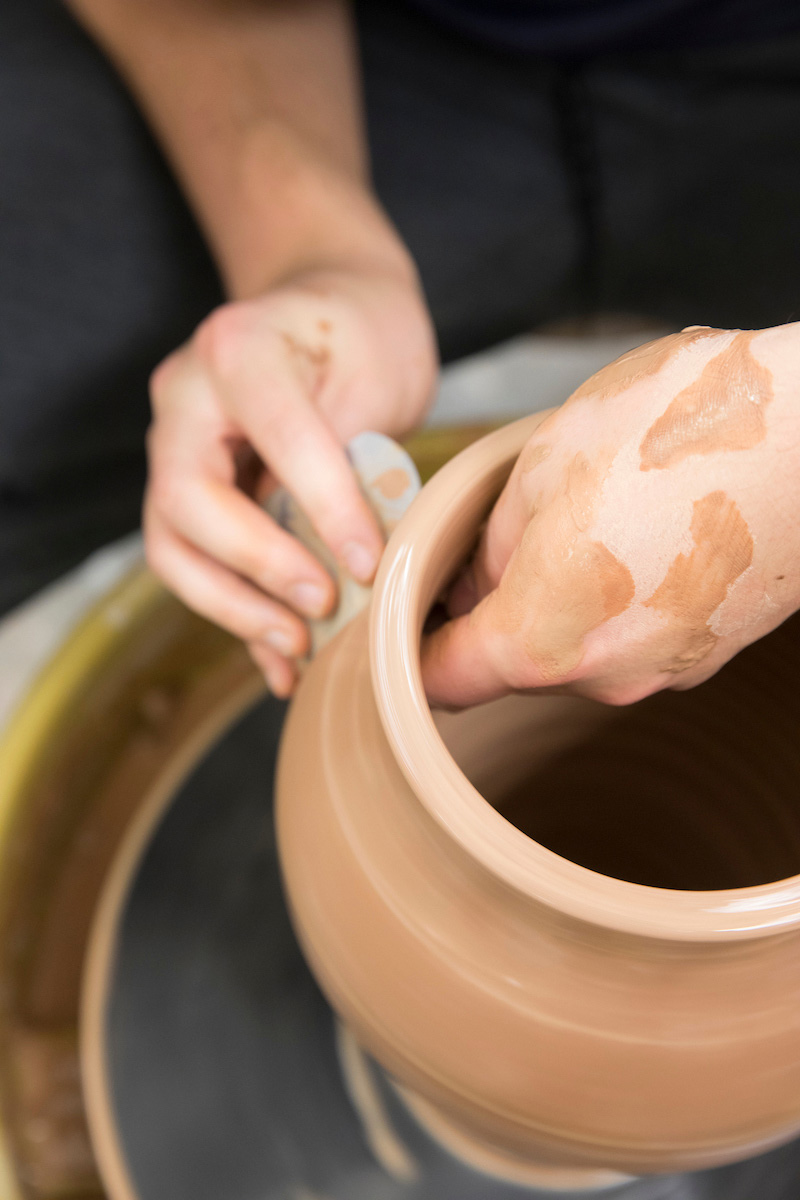 If you are interested in a professional career as a potter or ceramic artist, our program moves from the foundation courses to an introduction of the various construction, decoration, and firing processes as part of the ceramic curriculum. Our curriculum provides you with a background in hand-building; wheel-thrown construction methods; low- and high-temperature firing processes; oxidation/reduction atmospheres and raku, soda, and wood firings; and ceramics materials and their contributions to clay bodies, slips, and glazes.
As you begin to master your methods, we emphasize content and the development of your personal expression. Professional competitive exhibitions are encouraged and many of our students, alumni, and faculty have been prizewinners. Our graduates have opportunities to continue their work through graduate school as well as artist's residencies.
At Miami, you will:
Be able to concentrate in another discipline at the same time as ceramics to produce multimedia artwork.
Learn the spectrum of the hands-on ceramic technology from working knowledge and application of originating clay bodies to overseeing multiple firing processes to use as tools for nonverbal expression.
Have the opportunity to complement the major with current technology and business minors in Interactive Media Studies, Communication Design, and Arts Management.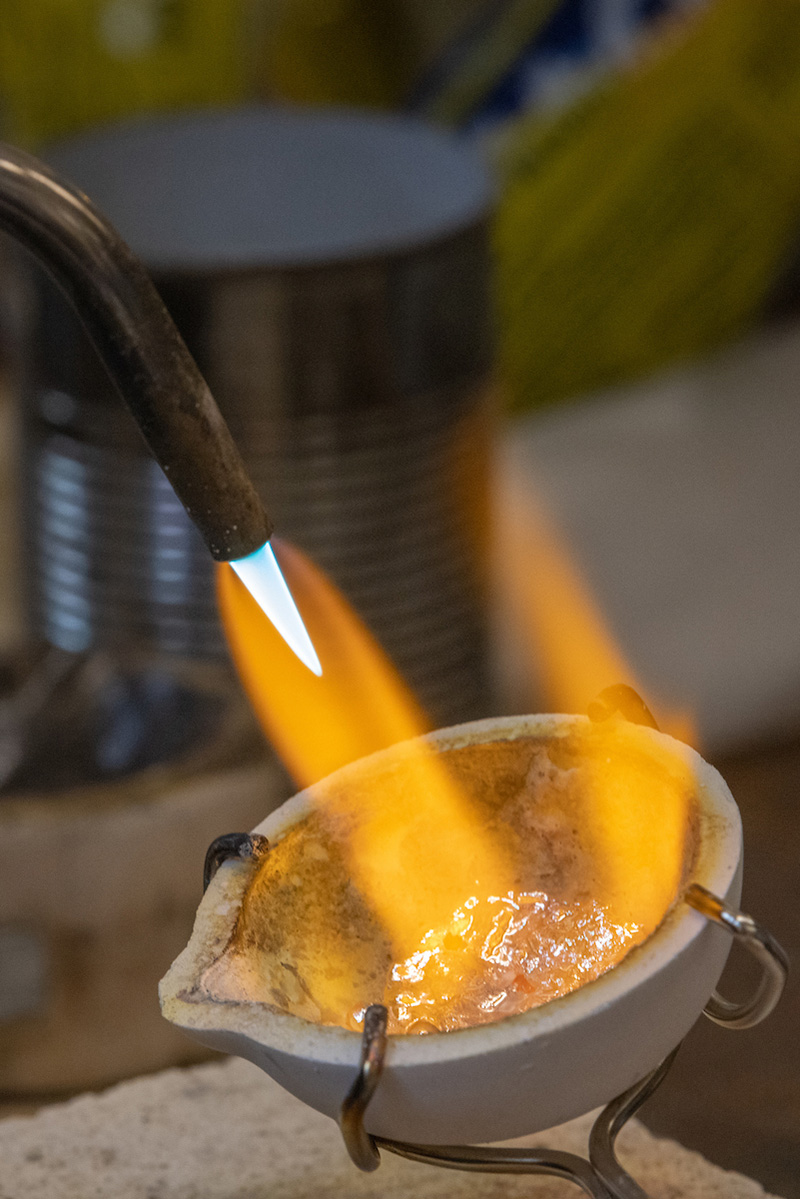 Our metals program offers introductory through advanced study in metalsmithing and jewelry design at both the undergraduate and graduate levels. You will develop a strong design and technical foundation in a broad range of metalworking processes and experimental applications such as basic fabrication, casting, die-forming, enameling and stone-setting to raising, lathe-spinning, anodizing, and plating.
You will develop professional portfolios and be highly prepared and strongly encouraged to enter competitive exhibitions, apply for grants, fellowships, and scholarships, seek internships or apprenticeships, and pursue advanced graduate education. A wide range of career opportunities exist for you as a metals graduate: as an entrepreneur, as a teacher, within a museum or gallery setting, or within industry as a designer or technician.
At Miami, you will:
Gain experience in innovative and traditional technologies—laser cutter, 3D printer, CNC lab, and full complement of smithing, casting, fabrication, and finishing tools and processes.
Benefit from applied entrepreneurial experience through exhibitions, public sales, and specialized practicums.
Be able to work until the wee hours of the night in the well-equipped, dedicated undergraduate studio (each individual workstation includes torches, ventilation, and locked storage).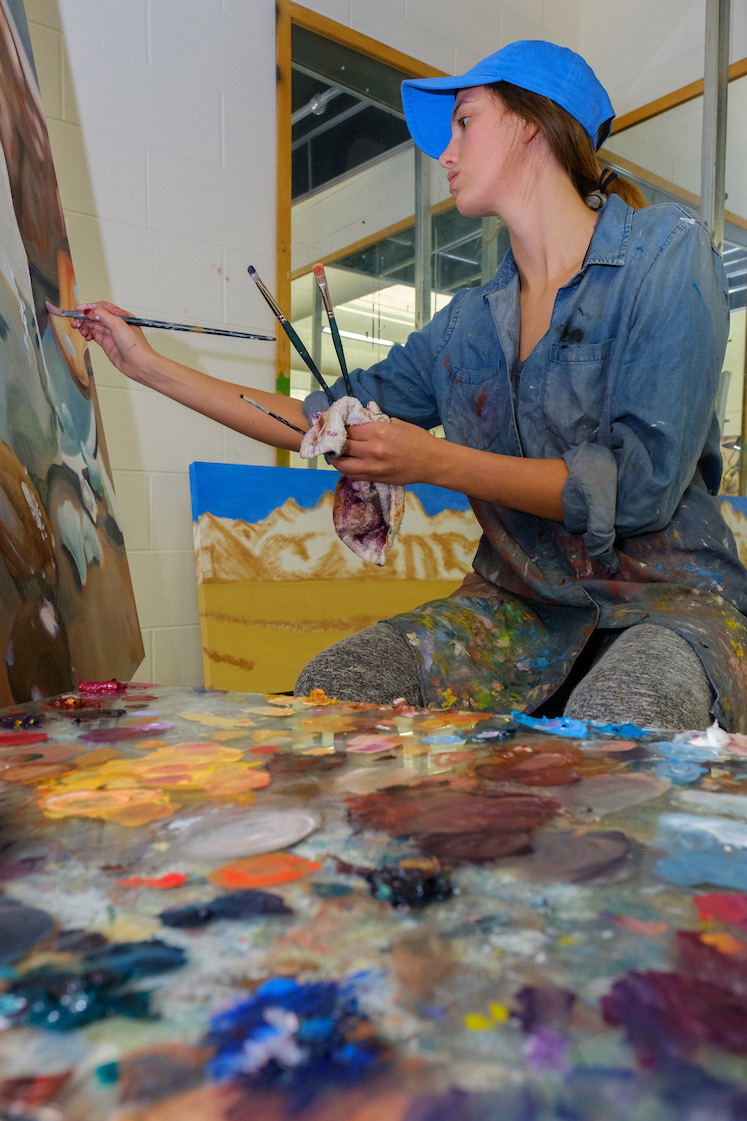 If you are interested in a career as a painter, our program introduces you to the various materials and issues related to the process of painting. You will learn to engage the fundamental formal syntaxes of traditional painting through such resources as still life, landscape, and human figure.
You are presented with current ideas and images important for understanding form and content in the visual arts. Painting is understood as both a traditional context and an extension of procedures and practices to a wide variety of art structures.
Our program is taught by a faculty of professional exhibiting artists who bring diverse points of view to the education of the young artist. One-on-one instruction is provided with on-going intensive group and individual critiques. As you advance through the program, increased emphasis is placed on the development of personal points of view and subsequent subject content. Post-graduate study, museum and gallery work, competition, and exhibiting possibilities await you upon graduation.
At Miami, you will:
Be a part of

 

a community of artists

 

who truly believe in painting, thinking that it is the fundamental way of producing the singular specific image.
Benefit from a

 

strong practical basis

 

in drawing comprised of four required terms of drawing, and additional elective drawing courses.
Benefit from a painting curriculum that encourages diverse experimentation with

 

multiple techniques and technologies, including participation in 'drawing as animation' courses and the Interactive Media Studies Program.
Empower your

 

critical abilities

 

to analyze visual forms, enhance your ability to speak about art, your art, and visual culture.
Participate in a

 

small, intense, high quality community of artists

 

as a painting student. You will be challenged by the exceptional talent and thoughtfulness of your peer group, the graduate student community, and the broad range of faculty teaching studio art in diverse disciplines.
Benefit by gaining insights into the substantial

 

historical and theoretical frameworks

 

that surround the making of art in a seminar course specifically addressed to working artists and in diverse global courses in Art History.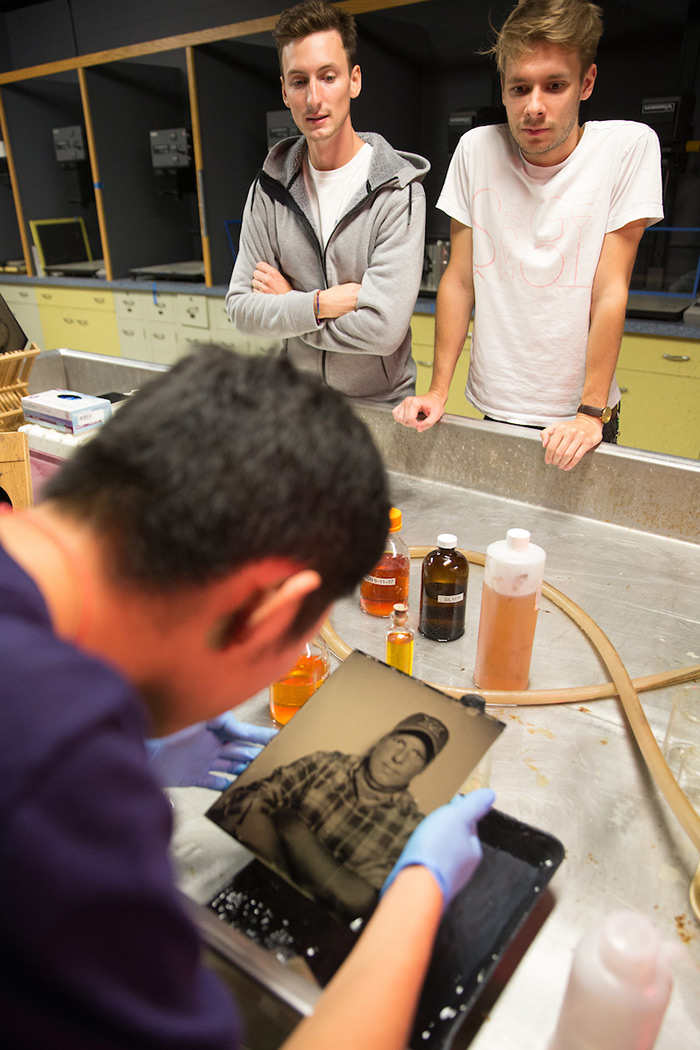 Photographic study at Miami University emphasizes fine art practice, including craftsmanship and creativity. Technical proficiency with black and white and color processes is where we begin to understand the language of traditional and alternative photographic practice. The use of this complicated and powerful visual language is the primary focus of the program. There is also growing experimentation with digital imagery and all the technological advances surrounding that technology.We explore photographic history, theory and criticism throughout the sequence of courses in the concentration.

Development of your own approach to photographic imagery and the creation of a body of work begins in earnest at the start of your senior year. The ability to be a creative thinker and problem solver is also an emphasis of the program. Students are encouraged to reach outside the university for photographic experiences. The courage to accept freelance photography jobs and to attend regional and national photographic conferences is highly cultivated.
At Miami, you will:
Learn to photograph using contemporary digital technology.
Learn traditional photographic processes and alternative, non-sliver printing processes.
Experience an environment where experimentation and multi-media exploration are encouraged.
Learn to become a photographic artist by studying creativity, concept, process, and photographic history.
Print to your heart's content in a dedicated digital printing lab and a traditional darkroom.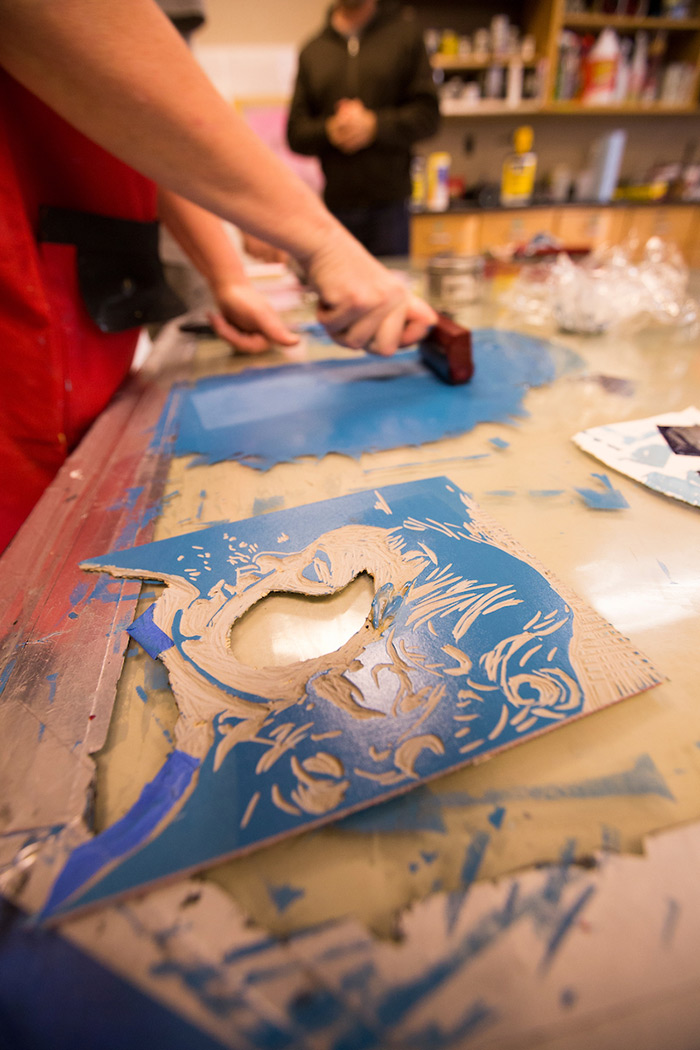 Beginning with a focus primarily on wood block printing with additional work in monotype and etching, our printmaking program provides in-depth studio work in etching and lithography with an emphasis on the development of drawing and individual imagery. You may also work in related fields such as photo-etching and papermaking, leading to the development of a cohesive and mature body of work for a professional portfolio and exhibition. Such possibilities lead to careers as printmakers, as teachers, as well as to museum and gallery work. Many of our printmaking students have exhibited work at regional and national professional exhibitions.
At Miami, you will:
Share a professional quality printmaking studio available 24 hours.
Learn new techniques in etching, lithography, relief and screen-printing.
Expand your artistic vision through supportive and in-depth discussion.
Create your artwork in multiples to share, sell and exhibit!
Take part in an international printmaking community through print exchange projects.
Explore printmaking as a uniquely interdisciplinary medium.
Mix with photo-process and painting.
Grow by interacting with graduate printmakers who are developing professionals in the field.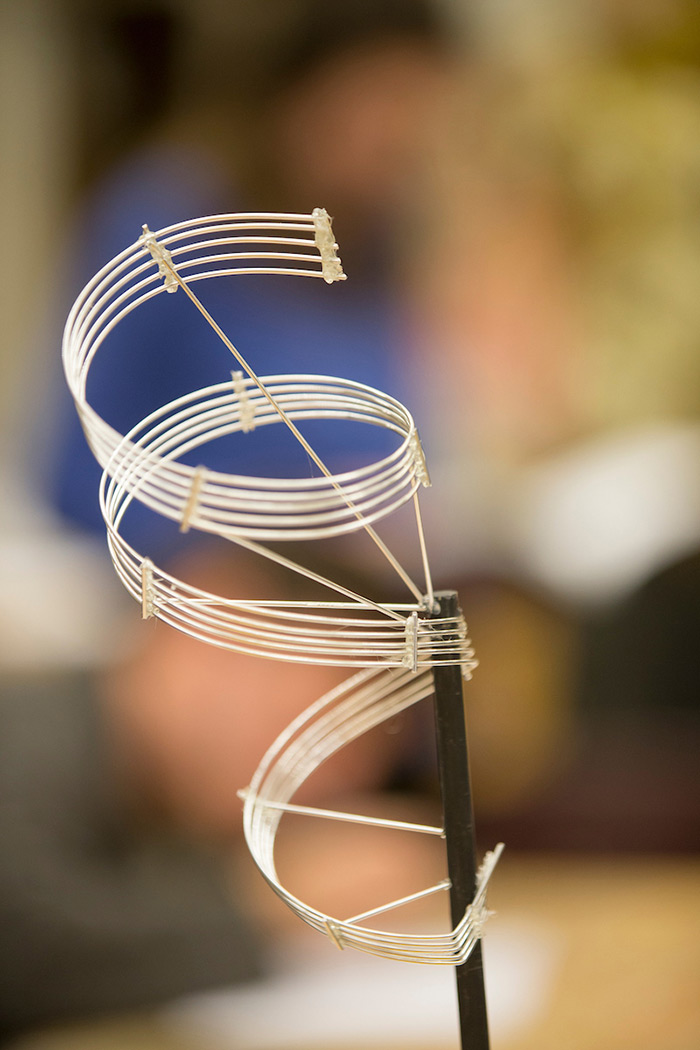 Studio courses at all levels emphasize a process of making art with an awareness of contemporary sculpture, as well as the history of sculpture. As you develop techniques and skills relating to the discipline, you will work toward developing professional standards. Throughout the program we encourage you to work toward a more significant personal expression while developing a portfolio.
Our program instills the confidence, direction, and technical skills necessary to sustain a productive and professional artistic career. Our graduates are attending graduate school, focusing on studio art, teaching, becoming foundry technicians or studio fabricators, and working in galleries and museums.
At Miami, you will:
Learn traditional skills needed to make compelling sculptures such as welding, bronze/aluminum/iron casting, mold-making, woodworking, and blacksmithing.
Learn non-traditional skills for contemporary formats such as audio, video, technology hacking, performance, light/optics, vaccu-forming, installation, and site-works.
Learn about sustainable practices in the arts.
Take advantage of innovative fabrication equipment — laser cutter, 3D printer, CNC machines.
Learn practical strategies for continuing to learn and succeed in the expanded field of sculpture after graduation.
Contact Us
Department of Art
124 Art Building
Oxford, OH 45056