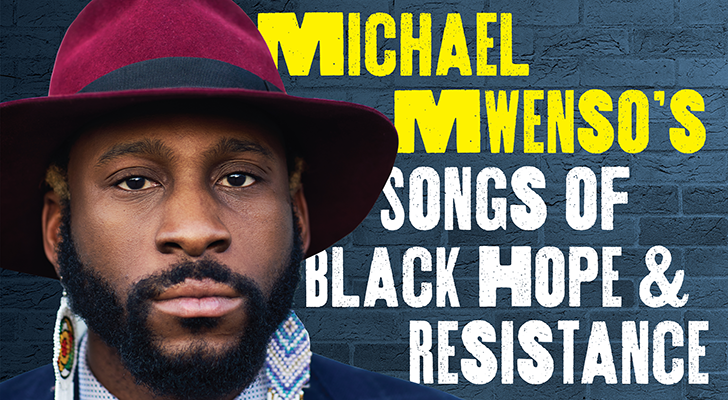 Michael Mwenso's Songs of Black Hope and Resistance
Black Music has always played a role in American protest, hope, and resilience. In this four-part series, curator and host Michael Mwenso leads us on a journey of meaningful songs from the Black roots expression that speak to the ultimate human expression. Explore the music that has propelled change, continues to advance our nation's consciousness, and will continue to serve as the guiding force towards healing.
Michael Mwenso, was born in Freetown, Sierra Leone but spent his teenage years hanging out at the legendary jazz club Ronnie Scott's in London where he was exposed to musicians such as Benny Carter, Elvin Jones, Ray Brown and Billy Higgins. In 2020 Michael and his business partner Jono Gasparro established their company Electric Root to revolutionize how Black music is presented, expose lesser-known artists, decolonize music curriculum, provide artist-led anti-racism training, and heal people—with their signature joy and hospitality.
Interview with the Artists
Featuring Michael Mwenso and Jono Gasparro interviewed by Patti Liberatore, Performing Arts Series Director Patti Liberatore speaks with the artists behind Songs of Black Hope and Resistance on the origins of the project.
---
Featuring C. Anthony Bryant, Harlem's high-demand vocalist, leading the music at 2 prominent churches, performing at Jazz at Lincoln Center, featured in films and recording his own solo albums.
Michael Mwenso and C. Anthony Bryant explore the foundation and modernization of the musical expression that came out of the Black Christian experience.
Songs from this episode
Swing Low Sweet Chariot Medley, traditional hymn

 First recorded by the Fisk Jubilee Singers

Peace Be Still, composed by Rev. James Cleveland


One of Rev. James Cleveland's major gospel records, inspired by the 1963 March on Washington


Jehova Sabaoth, composed by Donald Lawrence

An active and highly sought-after vocalist and performer, C. Anthony Bryant serves at his local church, First Corinthian Baptist Church, in Harlem, NY (FCBC) as Music Visionary (Minister of Music). Bryant began his time at FCBC after serving for 7 years at the Abyssinian Baptist Church in New York City as Worship Leader and Minister of Music for Youth.

Though a self-avowed "church boy", church is not the only place C. Anthony can be heard. After recently completing a residency at Minton's for their Soul Stirring Sunday Nights Series, Bryant was invited to return to Dizzy's Club Coca-Cola at Jazz at Lincoln Center where he was featured in the role of "Big Chief" for Mardi Gras Celebrations with Alphonso Horne and The Gotham Kings. Read more>>.
Learn more about the Gospel legends mentioned.
Hooked and want to know more? Michael Mwenso suggests these books.
This book relays the complete history of gospel music, paying special attention to the relationship between gospel and other African American musical forms in America such as jazz and R&B. It discusses specific gospel music singers as well as the world of the gospel church itself. Includes black-and-white photos.
The hush harbor, also known as a brush harbor or a bush arbor, was "a secluded informal structure, often built with tree branches, set in places away from masters so that slaves could meet to worship in private,"...
Protest Songs of Apartheid
Featuring Vuyo Sotashe international award-winning South African jazz vocalist.
This show with special guest, Vuyo Sotashe, gives us a brief overview of African and Caribbean protest songs during the time of the apartheid movement. Michael Mwenso and Alex Knowlton, Director of Joe's Pub, discuss how the past movements in Africa affect the current social justice movement and how Africans all over the world dealt with colonization.
Songs from this episode
West Wind, Mariam Makeba
Senzeni na, Traditional Protest Song
Redemption Song, Bob Marley
Vuyo (Vuyolwethu) Sotashe, moved to New York City in 2013 after being awarded the prestigious Fulbright Scholarship to pursue a Masters of Music at William Paterson University. He won first prize at the very first Mid-Atlantic Jazz Festival Vocal Competition in 2014, and performed on the festival's main stage in February 2015. He also won the Audience prize award and placed second overall at the Shure Montreux Jazz Voice Competition in 2015, held at the annual Montreux Jazz Festival in Switzerland. He also placed third in the prestigious Thelonious Monk Institute International Jazz Vocal competition, where he was the very first male vocalist ever to place in the competition's finals. Sotashe was the winner of the biggest music scholarship competition in South Africa, the South African Music Rights Foundation Scholarship, where he performed for the former South African President Thabo Mbeki.

Sotashe has also sung on prestigious international stages, including Arcevia Jazz Fest and the Fermo Jazz Festival in Italy; the Stockholm Jazz Festival with South African National Youth Jazz Band; at the Cape Town International Festival with George Benson and the Cape Town Symphony Orchestra; the Johannesburg Joy of Jazz Festival; and he has toured with the SAMA-Award-winning band, Proxy, in the UK and Ireland. He has also performed with Multi-Grammy-Award-winning gospel artist, Israel Houghton, as part of New Breed (Africa) Ensemble. Read more>>
Learn more about the Protest Song legends mentioned.
Hooked and want to know more? Michael Mwenso suggests these books.
In 1880 the continent of Africa was largely unexplored by Europeans. Less than 30 years later, only Liberia and Ethiopia remained unconquered by them. The rest–10 million square miles with 110 million bewildered new subjects–had been carved up by five European powers (and one extraordinary individual) in the name of Commerce, Christianity, 'Civilization' and Conquest. The Scramble for Africa is the first full-scale study of that extraordinary episode in history.
This history deals with the twenty-year period between 1880 and 1900, when virtually all of Africa was seized and occupied by the Imperial Powers of Europe. Eurocentric points of view have dominated the study of this era, but in this book, one of Africa's leading historians reinterprets the colonial experiences from the perspective of the colonized.
Featuring Shenel Johns, acclaimed blues, jazz and R&B vocalist.
Michael Mwenso and Shenel Johns explore the power of the Black female voice and how it has remained an anchor in the world for hope, resistance and strength.
Songs from this episode
Live for Life, Abbey Lincoln

Album: World is Falling Down

Black is the Color of My True Love's Hair, Nina Simone
Let Up, Abbey Lincoln
A New World Coming, Shenel Johns
With a voice that embodies grace and passion and a personal style that sways effortlessly from jazz to R&B to gospel, Shenel Johns has emerged as one of the shining stars of her generation. Her eclectic style is influenced by Ella Fitzgerald, Abbey Lincoln, and Sarah Vaughn. She has shared the stage with music royalty including Curtis Fuller, Hank Jones, Dionne Warwick, and Sheila Jordan.

Johns honored Billie Holiday as part of Jazz at Lincoln Center's New York production of Billie and the Boys and also was in residence at Jazz at Lincoln Center Doha (Qatar). Johns has also performed a tribute to another of her idols, Lena Horne, at New York City's famed Appel Theater.

A native of Hartford, CT, Johns studied performance with such jazz legends such as Rene McLean, Jimmy Greene, and Nat Reeves. She graduated from the Jackie McLean Institute at the Hartt School of Music with a bachelor's degree in music management.
Learn more about the Black Female Anthems legends mentioned.
Hooked and want to know more? Michael Mwenso suggests these books.
James Baldwin used to tell Nina Simone, "This is the world you have made for yourself, now you have to live in it." Simone has created for herself a world of magnificent peaks. Often compared to Billie Holiday and Edith Piaf, Simone is known as one of the greatest singers of her generation.
Ever since Bessie Smith's powerful voice conspired with the "race records" industry to make her a star in the 1920s, African American writers have memorialized the sounds and theorized the politics of black women's singing. In Black Resonance, Emily J. Lordi analyzes writings by Richard Wright, Ralph Ellison, James Baldwin, Gayl Jones, and Nikki Giovanni that engage such iconic singers as Bessie Smith, Billie Holiday, Mahalia Jackson, and Aretha Franklin.
Featuring Russell Hall, an Emmy-, Grammy-, and Golden Globe-nominated jazz artist and activist from Kingston, Jamaica.
Michael Mwenso and Russell Hall dive into the philosophical impact the Afro-Caribbean protest movements had on Jazz and demonstrate how Jazz was the protest music of its time.
Songs from this episode
Fables of Faubus, Charles Mingus
Haitian Fight Song, Charles Mingus
Russell Hall is an Emmy-, Grammy-, and Golden Globe-nominated jazz artist from Kingston, Jamaica. He was introduced to jazz at the Dillard Center for the Arts directed by Christopher Dorsey. He continued his studies with master bassists Ron Carter and Ben Wolfe at The Juilliard School in New York City. He has worked with legends such as Edward Norton, Kathleen Battle, Wynton Marsalis, Branford Marsalis, Barry Harris, Wayne Shorter, Roy Haynes, Dee Dee Bridgewater, Mwenso and The Shakes, Emmet Cohen, Jonathan Batiste and Stay Human. His band, "Bessie and The Rainbowkids" is a group comprised of artists from all around the world whose mission is to bring peace to all ears and love to all hearts. Read More>>
Learn more about the Jazz Protest legends mentioned.
Hooked and want to know more? Michael Mwenso suggests these books.
Bob Marley's music defined a movement and forever changed a nation. Known worldwide for their message of peace and unity, Marley's songs—from "One Love" to "Redemption Song" to "Three Little Birds"—have touched millions of lives. This collection is the best of Bob Marley presented in three parts.
Reflection and Writing Prompts for the Series
What role did Gospel music play in the Civil Rights Movement? 
Does Gospel music play a relevant role in today's society? 
How important was protest music to the abolition of apartheid?

What are the similarities and differences in the protest music from the colonized African struggle and Afro-American struggle?
What did the women artists bring to the table that the men couldn't access?

What sacrifices did these women face to record protest songs?
What can you hear in the abstract instrumental music of Charles Mingus that inspires protest?

Is Jazz itself a protest music?