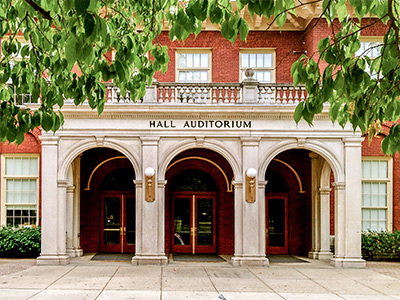 About
Performing Arts Series

Administrative Office

Hall Auditorium, Room 102
101 South Campus Avenue
Oxford, OH 45056
voice: 513-529-6333
fax: 513-529-5482
PerformingArtsSeries@MiamiOH.edu

 

Hall Auditorium and Millett Hall

Facility Management and Scheduling

Brad Clark
Building and Grounds Manager
clarkbw@MiamiOH.edu
513-529-8012

 

Miami University Box Office

Craig Harkrider
Box Office Manager
Nellie Craig Walker Hall, Room 34
301 S. Campus Ave.
boxoffice@MiamiOH.edu
513-529-3200

Oxford Community Arts Center

Heidi Schiller
Executive Director
10 South College Avenue
Oxford, OH 45056
heidi@oxarts.org
Performing Arts Series Advisory Board
Dr. Cristina Alcalde
VP, Institutional Diversity & Inclusion, Miami
Beth Cavanaugh, Immediate Past President
Senior Solutions Consultant, Tier1 Performance Solutions
Jerome Conley
Dean of Libraries, Miami
Dr. Amber Franklin
Associate Professor, Speech Pathology, Miami
Sabrina Jewell, Advisory Board President 
Outreach Coordinator, Oxford Seniors
Jack Keegan
Retired Instructor/Green House Manager, Miami
Ryan Kwapniowski
Assoc. Director, Student Activities & Leadership, Miami
Susan Lipnickey
Associate Athletic Director, Xavier University
Cathy McVey
Retired Senior Director of Strategic Communications, IT Services, Miami
Jacqueline Rioja Velarde
Associate Director, Center for American & World Cultures, Miami
Heidi Schiller
Executive Director, Oxford Community Arts Center
Ron Scott
Retired VP, Institutional Diversity, Miami
Todd Stuart
Director, Arts Management & Entrepreneurship, Miami
Dr. Scott Walter
Assistant Vice President for Student Affairs, Miami
Jazmine Williams
DE&I Chair, Miami Activities & Programming
Our Mission
The arts are a critical element to understanding, appreciating and enhancing life. The Performing Arts Series offers a venue in which to experience the arts. As our community seeks to understand itself and others, the Performing Arts Series seeks to provide both a window through which to view ideas, cultures, art forms, as well as to provide a mirror in order to reflect upon ourselves, our history, our own culture. As a service provided by Miami University, the Performing Arts Series will play an important role in developing and educating new audiences for the present and for the future.
The Performing Arts Series needs to build gateways welcoming the uninitiated to the existing fine arts programming. By demolishing barriers of ignorance, inaccessibility and apathy, and by constructing activities and programs that create an exciting and inviting atmosphere around our performances, we can fulfill our goal of increasing involvement in the traditional fine arts programming PAS has always presented.
But the Performing Arts Series shall also take another step. By broadening the scope of what defines our programming, we automatically broaden our audience. By reflecting the culture as it exists today in addition to our traditional presenting, we become more relevant and more accessible to those we must seek to serve—Miami University students, the Oxford community and the region. This can be accomplished through meaningful and effective collaborations with other people and programs as well as our own initiatives.