Cohort 1 was established during the 2011-2012 academic year. Scroll down to meet the members of our group.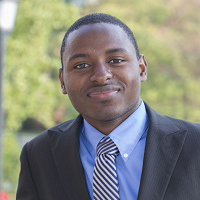 Alhaji Bah
Mechanical Engineering
Leadership is the ability to take charge when most needed. A leader must be able to understand others, and do what is needed, even if it means his or her self-image may be stained. True leaders are willing to work diligently in accomplishing their goals, but also have the innate ability to feel for others. Leaders can sense how the people around them are affected in a situation, and are able to cope with these issues in an effective manner. Finally, I believe that a true leader is somebody who is able to maintain his or her composure when faced with adversity. While possessing all of these qualities may seem far-fetched, I believe that if I put in the effort and strive my best to be the best leader that I can be, I will meet these criteria that I have used to define a leader.
There are many things I enjoy, but I would love to hopefully work in a field that deals with aviation. I would love to work with aircrafts and aircraft engines. However, regardless of what I end up doing, my dream is to be able to do something that I not only enjoy, but would also allow me to help others and hopefully make a difference. After seeing what it is like to suffer, and understanding the true meaning of poverty, I believe that anyone who is successful owes it to society to help others and pay it forward.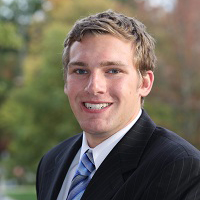 Nicholas Baehl
General Engineering
During my time working as a golf caddy, I have had many moments where I have had time to interact with successful and influential men and women of the business world. The conversations I have had with these people about their work has fascinated me. This has lead me to undergo a track of lifelong learning about the transformations good leadership can have on a workplace.
Currently, I am a general engineer and have plans to go to medical school after I graduate. When I enrolled at Miami University I was not sure what I wanted to do with my extra time. I have joined the Miami University Rowing Club, ASME, along with the Miami Engineering Council. All of these extracurricular activities have developed me as a leader. The Lockheed Martin Leadership Institute has helped me improve my leadership skills. I have used these skills in my other experiences to help me become the Equipment Chair for the Miami University Rowing Club. In this position I will have many responsibilities such as communicating with the state park, rowers, as well as the officials present at the regattas. I will utilize the School of Engineering & Applied Science Lockheed Martin Leadership Institute to become a better leader and grow as a person. I have learned about my personality type and have already been able to learn more about myself and communicate more effectively with my peers and colleagues but there is always more to be learned.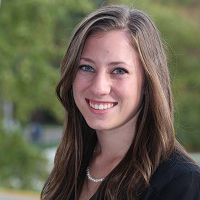 Katelin Bruns
Mechanical and Manufacturing Engineering
While growing up, "What do you want to be when you're older?" was a prevalent question everyone was asked. My common answer to the question was "I don't know", up until my experience at Miami. I never imagined I would be going to school for engineering, yet Miami helped me to realize that it is the right career path for me. My dad and grandpa were also mechanical engineers, so I think it's great for me to get to carry on the family tradition.
The idea of being able to innovate and create positive change in the world is a driving factor for me in pursuing engineering. I hope to one day be able to have a career in either sustainability or work for a design firm like IDEO. Other than school, I love playing music, particularly guitar, and making art. Being creative is something I've always loved and hope to continue on through my future.
I consider being accepted into the Leadership Institute a great personal achievement. It's a very unique and prestigious opportunity that will help me grow personally as an individual, and teach me to excel more as a leader. The cohort allows us to be part of a professional experience that will better prepare us for a career after college, which I find to be one of it's best attributes. However, I am most excited to be paired with a mentor!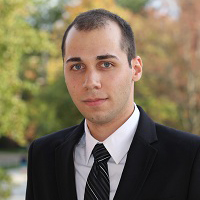 Cory Christopher
Computer Engineering
Being the kid from a small town has allowed me to gain a huge appetite for experience. When I was in high school, all I could dream about was getting out into the real world, and grabbing hold of every opportunity that came my way. I enjoy meeting new people and learn about new cultures, and have an intense desire to travel globally. Coming to Miami has opened up a multitude of experiences and friendships, which have led me to join the Lockheed Martin Leadership Institute.
I have always been driven by curiosity, and a desire to know how technologies work. This has led me to electrical and computer engineering, but also has pushed me to places I never thought I would be. I force myself into situations that may be above my skill-set or talents. In my spare time I enjoy increasing my skill with a guitar or piano which allows my creative side a little freedom and rehabilitates my focus. Focus is what takes you from square one to the finish and something I believe that any success story from the baseball diamond to a business startup needs. What I have learned is that if you have the motivation and desire, nothing is impossible. You can truly achieve your dreams with little sweat, blood, and tears.
This cohort has allowed me to accelerate myself along a career path in a way that garners my experience that would have previously been off limits. Finding my own personal strengths and traits has allowed me to focus on ways to improve and challenge myself and integrate better with not only the rest of the cohort but the rest of the world as well. Our group puts us on the front lines to test ourselves, and prove what all we are capable of individually as innovators, and as a group of leaders.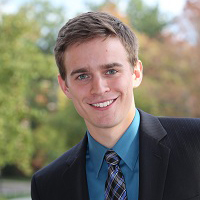 Thomas Gorczynski
Electrical Engineering with Mathematics, Physics, and Entrepreneurship minors
All my desires, plans, and dreams of my future career focus on one ultimate goal, to do what I love and love what I do. My endless dreams constantly fuel my ambitions to achieve momentous accomplishments in the future. Recently, the entrepreneurial path, which I have set my heart on since I was a child, has been becoming reality because of all the bold moves that I have been making; I have learned valuable lessons from whether they lead to failure or success. Though tough times exist with balancing work, school, and multiple activities, it is rewarding at the end of the day to see how much one has accomplished.
Participation in the Lockheed Martin CEC Leadership Institute will help me fulfill my longing childhood dreams. I see myself gaining necessary experience and knowledge that will one day allow me to make a difference in our world. The supporting environment created by fellow peers in the cohort as well as mentors both inside and out of the program allows individuals to thrive in both the professional and academic world. By mastering the leadership skills I currently have and developing the countless others that I have yet to discover and learn on my lifelong journey, this Leadership Institute will have a significant impact on me that I am excited to uncover.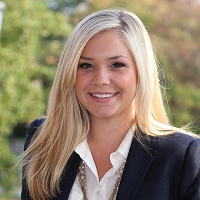 Kathryn Jonas
Bioengineering
Good leaders develop through the never ending process of self -study, education, training, and experience. I would like to develop my leadership skills such that I can have a positive influence on others in order to reach my professional goals. Leadership is developed over time with continual knowledge and skills obtained by working with others. You have to develop respect in your field to be considered a leader. I am interested in developing my interpersonal and communication skills as a key part of this program. I am also interested in getting more exposure to the business world and how my engineering degree can be applied to solve business challenges.
Developing a better understanding of how to speak with other professionals working in the same field will help immensely as I begin my professional career. I am interested in getting more exposure to the engineering and medical language used in the business. Strong communication skills with other engineers as well as business professionals will help me to become more successful. Working on these skills through this program and completing an internship will build my overall confidence as an engineer and leader in industry. Developing business contacts and working with successful business leaders will develop my overall confidence as a professional.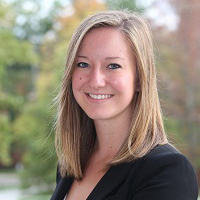 Sarah McMullen
Bioengineering
A lot of my volunteer work, participation on sports team, and being involved in clubs in high school gave me an idea early on what leadership is all about. After coming to Miami, however, I have had many opportunities that allowed me to delve deeper into what being a leader truly means. I have attended many leadership conferences, including Miami University's LeaderShape, and am a member of many other organizations on campus. I also am currently serving as Vice President of the Society of Women Engineers. Each of these involvements have opened my eyes and let me put my leadership skills into practice. They have shown me different aspects of leadership - like community, networking, responsibility, communication, values, and integrity - and their importance.
Through participating in the Lockheed Martin Leadership Institute, I have begun to develop, grow, and build my leadership abilities even further. I have had so many professional, exciting, unique opportunities that I would not have had otherwise, and the experience is helping me become the leader I want to be. Being part of the cohort has given me qualities, skills, friendships, and experiences that I will carry with me through the rest of my time at Miami and into my future Bioengineering career as well.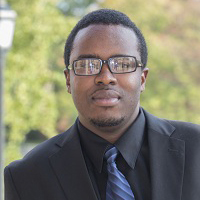 Jean Paul Mugizi
Software Engineering, Computational Science and Engineering Minor
I transferred from Sinclair Community College in Dayton, Ohio last semester as an incoming sophomore. So far, my experience at Miami University has been just how I anticipated it: a pleasant surprise. I joined Miami University because of its academic reputation and close-knit campus; I was surprised to see how much my professors are friendly and care about their students' growth both in and outside of the classroom. Coming to Miami University was certainly a big transition, but I am happy that I made a move that will pave a way to achieving my goals.
Being part of the Lockheed Martin Leadership Institute is a big step towards my goal, which is to be the best I can be, and use everything I gained from the experience to changing people's lives in every possible way I can. Being around like-minded individuals, whom I share similar goals and aspirations and learning from experienced leaders are the reasons I choose to join the Leadership Institute. I am ready to take the challenge and be a lifelong learner, and I am very confident that this experience will be a life changing one.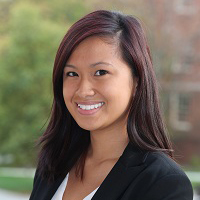 Elyssa Nguyen
Mechanical Engineering, 2-D Media Studies Minor
Being a first generation Asian American in my family has made a substantial impact on my future career plans and perspective on life. My parents always remind me that I should never forget about my cultural roots because I can never change that aspect about myself. As I continue my life journey, I want to volunteer my time to give back to the community in any way possible (especially in Vietnam). The satisfaction for helping the community, and putting a smile on people's faces is the most rewarding feeling. Also, I want to help my family for all the opportunities they have given me. Having the ability to make a difference in the world through technology is my long-term goal as a future engineer in the product design or automotive industry.
This year I am marketing director for UNICEF, event coordinator for the Society of Women Engineers, and secretary for the Miami Engineering Council. Each organization motivates me to demonstrate and improve my leadership skills while working on teams, and to devote the time I have to make a difference on campus. In the past, I served as publicity chair for the Asian American Association. These experiences open my eyes to how people view me, and how well I work with other people who have different personalities.
I continually improve my leadership skills as well as my communication with others. I become more aware of how I react towards certain situations and people. Being in the Leadership Institute will help me become a better leader not only in my organizations, but also an effective communicator. Authenticity is a crucial aspect of a leader that helps people to believe in him or her. With a strong team, a passionate leader will be able to carry out his or her goals successfully.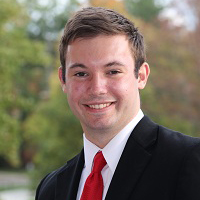 Will Parker
Mechanical Engineering, Manufacturing Engineering
As an Engineering student, I have begun discovering what my professional interests are. I have always been fascinated with puzzles, Legos, watches, and complex machines. The way that so many small parts work together has always held my attention and inspired me to design something just as beautiful. In high school, I was active in Boy Scouts, and earned the rank of Eagle Scout. In doing so, I gained many valuable skills. I work hard, I'm passionate, and I'm loyal. One of the most important things I learned as an Eagle Scout is respect. Everyone deserves my respect and it should always be earned. My all boys high school had a very disciplined and rigorous atmosphere that taught the values of hard work and brotherhood.
After I graduated and came to Miami, I found myself having the best time of my life. I have met amazing people, made the best of friends and learned so much. I joined a fraternity and am enjoying the same camaraderie I did in high school. A few summers ago I went to a weeklong leadership conference, Leadershape, which greatly changed my life. I learned about making a vision and the best ways to accomplish it. I also learned how to work well with and lead others in small and large group settings. While at Leadershape I met an amazing group of people, and a few of us have remained close and decided to make a difference at Miami. Over the past year and a half, my friends and I have worked together to found the Miami Engineering Council. As president, I spent a lot of my time guiding and leading the group as we drafted a constitution, found an advisor, researched design project competitions and became an official club. I recently began working at Ethicon Endo Surgery as a Co Op in the R&D department, and believe this will be an amazing experience. To me, The Lockheed Martin Leadership Institute represents a way to continue what we have started. We have set out to improve the experience of the engineering program, and the Lockheed Martin Leadership Institute will assure a continual improvement of leadership and progress of the School of Engineering and Applied Science.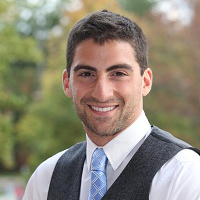 Ryan Pelagalli
Mechanical Engineering
I was drawn to the Leadership Institute because of the amazing opportunities that it presents. Leadership training is an invaluable resource to have, but the way in which the Leadership Institute utilizes real world experiences is something that I am really enthusiastic about. I have already learned so much and cannot wait to see what the next couple of years has in store for me!
The Leadership Institute will not only prepare me for life as an engineer, but also for life as a student. As a student, I am highly involved in a number of clubs including the Miami Engineering Council and the Men's Club Rugby Team. I want to apply the lessons that I have learned, and will learn, in this Institute to help further these clubs.
This past summer I was able to apply a number of the lessons I learned in this Institute into my internship at NASA. While my internship focused on gear dynamics, the lessons that I learned in professional decorum were a major learning point for me. I was also given the opportunity to see how leaders in the engineering world led their workers. I had a great experience at NASA and it was made better by the knowledge I gained in this Institute.
When I graduate from Miami University (and the Leadership Institute) I plan to use my training to eventually become the C.E.O. of an engineering firm. I want help create changes that will lead to new innovations and technologies, all while expanding the reach of my company throughout the world. The lessons that the Leadership Institute provides me with are the same lessons that I will apply to my life in order to make my dream become a reality.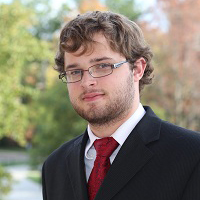 Benjamin Raabe
Mechanical Engineering, Manufacturing Engineering
I am from Oxford, Ohio. I am where I am today because I am going into a profession I enjoy. I have wanted to be an engineer since high school, I am fortunate that I was able to find something I really enjoy and give myself a goal to work towards even in high school. Since I was able to see the purpose in the math and science courses rather than ask "will I even use this?" I was able to do well in school and now in college because I enjoy my classes. In addition to my school work I work in the IT field, giving me experience in the professional field and dealing with a large variety of people. I don't think that I made it to where I am because I am any smarter than anyone else, if everyone was as lucky as I am, to have a supportive family, and know what they want to do, they could be where I am at today.
A leader is an innovator. To me leadership is the ability to communicate and organize people and how you deal with people. It is not only telling people what to do, but being able to listen and communicate effectively. Leadership is about taking initiative. Just because you are in an entry level job doesn't mean you aren't a leader. In a effective company, leaders from all levels contribute to change the company for the better. In fact many leaders are also followers. I don't think these are two exclusive ideas. Throughout history, effective leaders were successful because they were able to follow the advice of people who knew better than they did, but more importantly, they were able to act on that advice.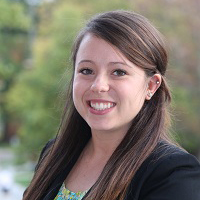 Lauren Saintz
Engineering Management
Participation in the Lockheed Martin Leadership Institute has already opened my eyes in numerous ways and provided me with the chance to improve my leadership skills. I have learned that there is so much more to leadership than just leading a team to achieve greatness. So many factors influence what makes a great leader including skills such as self-regulation, empathy, social skills, and motivation. This institute will help me to develop new leadership skills and refine the skills I already have learned and also build a network with professionals we meet along the way. It will also help each student to better communicate our ideas for new things, and eventually have a major impact on the world.
Currently, my professional goals are to find an internship for this upcoming summer, and then a job after graduation. Down the road, I hope to one day be an executive of an engineering company and use my skills to drive the company to the top. I am open to many different possibilities that may come my way because we can learn from any situation. I am extremely driven, and with the training I will receive through this Institute, I can achieve anything I set my mind to.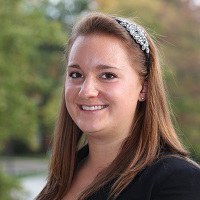 Jessica Schmidt
Chemical Engineering
What really interested me in this program were some things I learned while interviewing for my first internship. I realized that many companies felt confident that most of the engineering students here at Miami have the technical skills needed to succeed on the job. What really sets applicants apart is having those extra skills, like leadership experience, knowing how to work well in groups, and being able to communicate clearly. These are things we can't really be taught in a classroom, but are just as important, if not more so, than what we learn from textbooks. I've had some experience in leadership roles, and I've worked in many group projects, but I knew that there were plenty of things I could work on to make me even more successful in those situations. I think this program will make me a lot more confident as I transition into my career, and it has enabled me to make the most of my strengths while being conscious of and continually working on my weaknesses.
In addition to the Leadership Institute and my chemical engineering course load, I am an avid runner and a member of Miami's club running team, as well as a coach for the Girls on the Run program I helped start at Kramer Elementary. I am also a member of student TAPPI, the Finance Vice President of my sorority, Alpha Delta Pi, and the External Relations Director of Miami Engineering Council. Fall 2012 I was elected to join Tau Beta Pi, an engineering honors fraternity. Summer 2012 I was an intern at a Sonoco paper mill in Menasha, Wisconsin. I learned a lot about project management, and practiced my communication skills with a wide variety of different employees there.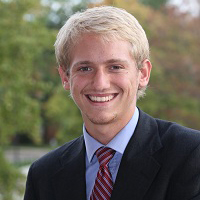 Robert Smayda
Computer Science, Digital Game Studies Minor
I have a diverse set of experiences that has helped build my background and shape my future. Some of these include publishing and presenting a paper at the Games+Learning+Society Conference in Madison, Wisconsin. Working on an Engineers Without Borders project, in which we are developing a clean water source for a city of 958 people in Chaguarpamba, Ecuador. I am also leading an Air Force Research Laboratory project.
The research is being funded by the Air Force Research Laboratory in conjunction with the Miami University Mobile Learning Lab. Currently we are researching and designing software to help first responders locate the scene of an emergency event (earth quake, riot, etc). We are using social media outlets, like Twitter, to find out where and when these events are happening. The goal of this project is to make the identifying and locating of these emergency events easier and quicker for the first responders. I am the team lead on this project, and I must work with the director of the program to ensure it runs smoothly. This has been a great challenge and I have learned a lot. What I found to be the most revealing is that there is no perfect leader nor is there a set mold for a great leader. One must improve on their leadership skills daily. In my future I would love to become a Project Manager for a cutting edge technology organization, where I can utilize my interpersonal and technical skills.
Through the institute I have learned that leadership means more than just focusing and inspiring a group. It involves being accountable, passionate, and innovative. It is about providing steadiness and momentum with the flexibility to accommodate any changes. With the help of the institute I will be able to obtain these traits and become a better leader.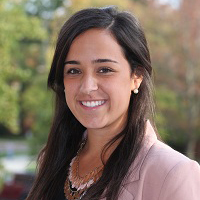 Gabrielle Sprockel
Manufacturing Engineering
My personal experiences have always been around being dedicated and driven about something that I was passionate about. It's important to be a person that takes enjoyment in everything they do, and to make a statement that involves being truly inspired. Leadership is one quality that I am striving to become better in. I take the role of a leader in many of my day-to-day challenges from team projects to other clubs and organizations. Leadership is especially important in the engineering field, because that's what defines who you are, and what sets other organizations apart. Also, as an engineer it is important to be a good leader in the area of being open to new ideas and trying new things. I definitely see leadership in myself when it comes to taking on big challenges that seem to be very troublesome. In the future, I see myself as a person who will make a difference, and become a great leader.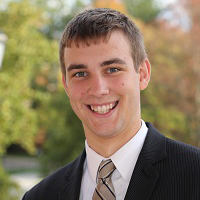 Matthew Weber
Computer Science
I welcome challenge and any opportunity to improve myself personally or professionally. For example, prior to entering the Leadership Institute I participated in Miami University's LeaderShape Institute. The CEC department, following a recommendation from one of my computer science professors, sponsored me. LeaderShape was an extremely valuable experience. I met with many up and coming leaders from various departments and organizations within the university. I crave these kinds of experiences—I find when you can surround yourself with like-minded and similarly motivated people, great ideas can occur. I believe leadership isn't a trait you can choose to turn on or off, but instead is the continued daily dedication to excellence. For this reason alone, I practically jumped at the chance to become a part of cohort #1, where we work and learn with fellow liked-minded people on a daily basis, and hope to establish the Institute as a respected source of quality and talent in engineering and computing.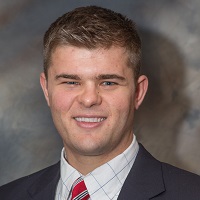 Taylor White
Computer Science, Entrepreneurship minor
I am a creative and ambitious individual. I always strive for a new and better way to do things. As a freshman in high school, I learned how to program my TI-83 calculator so I could cut out the repetition of plugging numbers into the same geometry equation over and over. I want to invent something, to make the world simpler. This is what attracts me to Computer Science. The digital age is transforming the way we live. An idea and a little bit of persistence is all it takes for an imaginative mind like myself to transform another aspect of our everyday lives.
I love being a part of the Lockheed Martin Leadership Institute because I am surrounded with people like myself, those who have the will and drive to change the world. The Institute provides an environment where we can learn from one another as well as bouncing ideas, theories and lessons off of one another. I look forward to meeting mentors who can provide some insight as how to achieve many of my professional aspirations, including starting my own business.