Cohort 3 was established during the 2013-2014 academic year. Scroll down to meet the members of our group.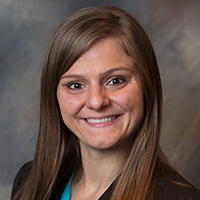 Anna Almquist
Mechanical Engineering
I am from Liberty Township, Ohio and came to Miami to get the small college town experience. Since being here, I have made many new friends and have had a great time hanging out and meeting people in my classes that will stay with me all four years.I have had some previous leadership and management experience being an umpire for recreational softball and a team leader at Kings Island. I have learned a lot from these experiences including how to work with a diverse group of people with many different end goals.
I am very excited to join the Lockheed Martin Leadership Institute because I think it will be a fabulous learning experience where I can not only grow as an engineer, but also as a leader, enhancing my strengths and improving my weaknesses. I am also excited to be able to work and develop with my team of fellow leaders throughout the different departments and meet some of the people who will be in my classes over the next three challenging, yet rewarding years.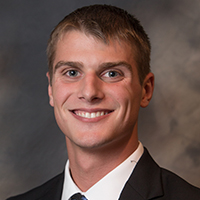 Chad Barth
Computer Engineering
For as long as I can remember, I've always enjoyed taking things apart, trying to figure out what was inside them that made them work. The more time I spend in engineering the more I am certain I have chosen the correct major. I love hands on work, and successfully creating just about anything from scratch is one of the most satisfying things I can think of. I take pride in my work, and I feel that that quality of what I have done reflects back on me. I'm interested in the field of renewable energy. Knowing that the work I am contributing to the world is helping to make the earth cleaner, and life more sustainable, is something I really feel like I can get behind.
The leadership institute seemed like such a great opportunity to challenge myself in ways I would not have experienced through normal coursework. I think the program will help me to become a more positive contribution in a group setting, and will improve my ability to influence others to work towards a common goal. Leadership plays such a crucial role in engineering and it plays a vital role in the success or failure of any project. I wish to develop my leadership skills throughout the rest of my time at Miami in hopes that it opens many more doors for me in the future.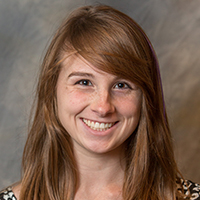 Casey Biles
Chemical Engineering
Leadership is not a title to be won and worn as a medal. It is an attitude and the trust your team has in you. It is a way of humbly serving the needs of the individuals you represent. The Lockheed Leadership Institute not only given me new lessons but also how to interpret my past experiences and think about them in a different way.
Lockheed Martin Leadership Institute has also inspired me to continue to incorporate my love for engineering and other interests such as videography and writing. I look forward to my next few years involved in this program.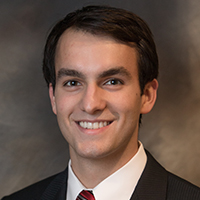 Eric Dibble
Bioengineering
My name is Eric Dibble and I am a Bioengineering major from Oxford, MI. I believe a leader is someone who you will follow to a place you would not go by yourself. This is what motivates me to be the best I can be. I want to be able to lead and motivate people to perform at their highest level. The opportunities I have been given through the Lockheed Martin Leadership Institute have allowed me to hone my leadership skills and taught me a lot about myself. My outlook on leadership is "Be yourself, everyone else is already taken". The Lockheed Martin Leadership Institute has granted me opportunities to develop my own leadership style to maximize my effectiveness in school and in the workplace. I was drawn to Bioengineering because I want to work on projects that directly help other people. I think going into work everyday knowing the work I am doing is making other people healthier is extremely rewarding. My goal is to one day start my own company. I think this would be a great way to show and use my leadership skills that I learned in the Leadership Institute and throughout life.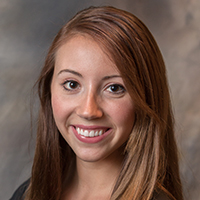 Miranda Ferguson
Software Engineering
When I first entered Miami University, I knew I wanted to major in engineering, but I didn't know what type. I saw a computer programming course on the list of courses and it caught my attention. I signed up for it and loved every minute of it. That course inspired me to major in Software Engineering and I haven't looked back. I look forward to the challenges that I will be presented with in my field in the future.
Outside of classes I really enjoy taking pictures and being creative. I also enjoy being a member of Theta Tau, a professional engineering fraternity, and the Society of Women Engineers. I have learned a lot from these organizations including team leadership and time management. "A leader is one who knows the way, goes the way, and shows the way." This quote outlines my feelings about leadership because you need to have a plan in order to inspire others to join you. I consider joining the Lockheed Martin Leadership Institute a huge personal achievement because it will help me acquire and refine my own leadership style. I have learned from the institute that leadership is not just management, it is a way of life that involves passion, motivation, and innovation.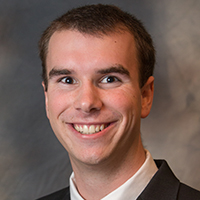 Conrey Giles
Mechanical Engineering
Being from California, I often get asked about why I would ever leave to come to school in Ohio. Part of the reason is to become a better leader through my educational experiences here at Miami University. Every day provides me with various and diverse opportunities to be a leader, both socially and academically. This can be seen through group projects, or involvement in other aspects of the classroom. Leadership, to me, is creating an environment that draws others to want to be involved in what you are doing. This sets me apart from others, and it is crucial to the field of engineering. It is important for an engineer to be open to new ideas and to be easily adaptable to different situations. This, after all, is how we as humans learn. I never tend to back down from a challenge, and I can see this trait being very beneficial to my future career as an engineer. I hope to be able to one day put my drive, determination, and experiences in the engineering program at Miami to work in order to be a leader in the field of mechanical engineering, and being in this cohort will help me to do exactly that.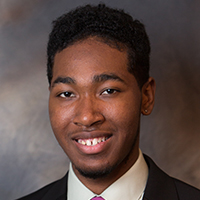 Cameron Herring
Computer Engineering
I am a senior Software engineering student here at Miami University and I am looking to start my career as a developer/IT specialist. Through Internships and interviewing with several companies I have found that my Ideal job would be a job that gives me the ability to develop useful software, and also work in groups and utilize some of my soft interpersonal skills. With my leadership development I plan on eventually leading a team through a startup to develop and publish our own cloud based application. Through my past 3 years at Miami I have engaged in a number of different clubs and organizations in which I hold Leadership roles. I am current Vice President of NPHC and the current Director of Fraternal Activities for Alpha Phi Alpha. If I am not engaging a diverse realm of students I spend some of my free time playing basketball, and working on websites.
Before coming to this great college I was a quiet student attending Cleveland Heights High School in my hometown of Cleveland Ohio. I participated in a number of engineering courses which fueled my interest for engineering and eventually fueled my interest for coding.
One of my Favorite leadership quotes is by Dr. Martin Luther King Jr, "A genuine leader is not a searcher for consensus but a molder of consensus." A leader to me is a person who can authentically inspire and motivate people through action and initiatives. One of the main reasons I joined Lockheed Martin was not simply to learn how to be a leader, but to learn to effectively build a framework of knowledge and insights through experience. My Time in Lockheed every day is a learning experience, I've learned about a lot about myself as a leader and I hope to continue using my skills I have in the very near future once I graduate this year.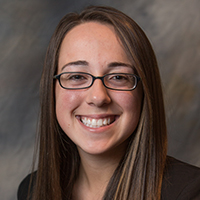 Nora Husani
Software Engineering
"Being fearless is not being 100% not fearful. It's being terrified but you jump anyway." True leadership requires a certain degree of courage. It is that willingness to try, despite the possibility of failure, that differentiates a leader from a follower. I have always believed that a leader is one who is willing to take chances and make sacrifices for the better of one's group. This is one of many values that led me to apply to the Lockheed Martin Leadership Institute. My passion for engineering is rooted in the idea of problem solving. The concept of "learning to learn" or "learning to think" is what intrigues me so much about computer programming and engineering in general. Being able to look at a problem and discover your own solutions is the core of engineering and is what makes engineering so different from other disciplines. The excitement I feel when I solve a new problem a different way is the feeling I am hoping to find in my future occupation. Outside of classes and the Leadership Institute I am a the founder and president of a student organization called Kode2Learn. Kode2Learn focuses on teaching computer science and problem solving techniques to children in grades 3rd-5th by hosting weekly coding clubs. In addition, I am a member of Theta Tau, a professional engineering fraternity on campus that focuses on service, brotherhood, and professional development.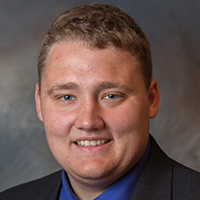 David Jacob
Mechanical Engineering, Electrical Engineering
I am a senior electrical engineering student at Miami University. I am the current president and former treasurer of the Tau Delta Chapter of Theta Tau on Miami's campus. I am also involved in undergraduate research with Dr. Jeong-Hoi Koo in the Mechanical and Manufacturing Engineering Department on the topic of "Smart" fluids. This research allowed me to travel to South Korea as a part of Miami University's Undergraduate Summer Scholars grant program.
Professionally I have worked as an intern at GE Oil and Gas at their Longmont, CO location as a member of the Steam Turbine Controls Engineering Team. I have an interest in the Oil and Gas and Power industries and hope to find a career in one of those fields after graduation. I was also a member of the ASME Petroleum Division - Collegiate Council for 2015.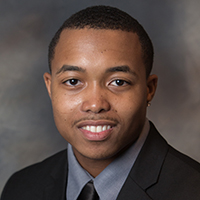 Devante Anthony Johnson
Electrical Engineering
Devante Anthony Johnson is a Senior Engineering Management Electronics and Computing major with a minor in Electrical Engineering from Dayton, OH. His journey from growing up in a small home in a vehement neighborhood propelled him to work extremely hard which led him to being on full scholarship to attend Miami. His journey been a tale of great triumph. Education has been his outlet to developing himself into a well-rounded individual. His experience here at Miami has molded him into a versatile leader both in his profession, and his community. By developing a social conscience of what he wants to make out of my life, he has unveiled the world in the grand scheme of things, discovering that life is not to exist but to make an impact and develop a name for yourself. Now 21 years old, he has experienced much about the world and his position in it, but he understands there more to discover as he ages. The Lockheed Martin Leadership Institute is a pathway he sees himself being able to develop as a leader and discover the mysteries he has ahead of himself. The road he will travel will not be smooth, but as Fredrick Douglass said, "without struggle there can be no progress", so the tougher the journey the stronger he will become. He believes it is important to accept the challenges life throws at us because these challenges only develop the best in us, and through Lockheed Martin, the tools to build upon these challenges will be available.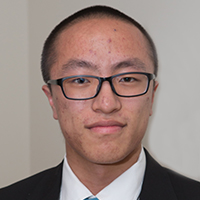 Junyi Lui
Chemical Engineering
I was born in Suzhou, China. I never heard anything about leadership in China. After three years, I realize that, leadership is not only a kind of ability but it is also an attitude of living and solving problems. I always believe that "life is hard!", and it means you are facing the real world. I have involved with three different areas (Chemical Engineering, Energy and Electrical Engineering) in the Miami University. For future, I am really interested in developing new source of green energy, new biomaterial and Tissue Engineered scaffold (TIPS method and Electrospun).
In these two years, Lockheed Martin Leadership Institution led me into the world of leadership. The process of learning leadership is facing the crucibles, challenging the lives and handling everything. Scheduled time efficiently, and organized the events methodically help you handle the huge event such as engineering week. Make self in a busy, and follow your schedule and also you have to reschedule your time when some accidents happened.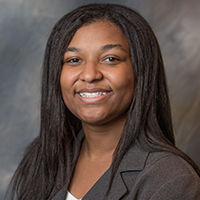 Abria Marshall
Electrical Engineering
For as long as I can remember I've been enamored with technology. As a child my grandfather used to hand me old circuit boards and a bag of magnets and I could entertain myself for hours. Naturally, majoring in computer engineering was an easy decision to make. But more important than any technical knowledge is the ability to use it effectively and communicate what you know with others. That's what drew me to the Lockheed Martin Leadership Institute: the focus on enhancing the skills that are necessary to transform a technical person into a leader who can innovate and turn shared vision into reality. I always embrace challenges and I believe the hands on experiences and interactions with seasoned professionals will help me to develop into more than just another engineer, but someone who can effectively lead and is unafraid to forge new paths.
I have already had the opportunity to apply the skills I have learned from the Leadership Institute through my internships at GE Lighting and Progressive Insurance. In addition, on campus I am have held leadership positions for the Society of Women Engineers and Theta Tau professional engineering fraternity. I hope to continue to expand my skills and strive for excellence in my full-time role at Progressive Insurance post-graduation.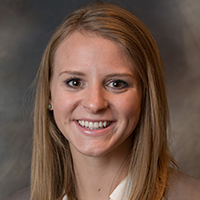 Alexa Miller
Chemical Engineering
I am currently a student in the College of Engineering and Applied Science at Miami University. I am majoring in chemical engineering with intended focuses in biochemical engineering and paper engineering. I intend to graduate in May of 2016.
Eventually, I plan to utilize my leadership skills, critical thinking, problem solving, and communication skills to benefit my technical career as an engineer or scientist. I am also interested in any other technical career paths at this time.
Between now and graduation, I am looking for opportunities in summer internships and research. I am also planning on participating in a cooperative education partnership (co-op) the spring and summer semesters of my junior year (spring 2015) to integrate academic study and work experience.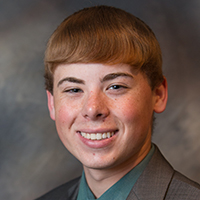 Jake Miller
Mechanical Engineering
I have made it my focus in life to experience as much as I physically can. This means visiting new places, trying new things, and meeting new people. I feel that experiences shape who we are as people and therefore as leaders. Life experiences stem from our skills and talents on a professional and personal level. Personally, I enjoy playing percussion, cooking, and golf. Professionally I enjoy the challenges of leadership, in particular creating forward movement and positive change in what I do.
Being part of the Lockheed Martin Leadership Institute has given me a wonderful opportunity to broaden my experiences and skill sets. While I am a mechanical engineer by major, learning about the business aspects of the professional world is invaluable in that, I will not be limited to just the things I have learned in school. Rather, I will have the ability to think and reflect upon my own development and in turn, I will be able to understand myself well enough to understand others.
I believe in experience being the key to success and fulfillment and experience is what I strive to gain every day.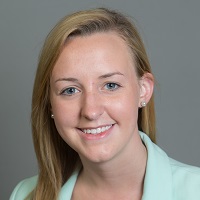 Brooke Sabatelli
Chemical Engineering
As a female in engineering, I'm commonly asked the question "What made you want to be an engineer?" I've always struggled with answering this because it wasn't just one thing that pushed me to choose my major. It was the combination of the possibility of gaining more of the leadership, science and math skills that I'd been so interested in previously. I chose to major in chemical engineering with hopes to go into Research and Development after graduation. I'm very excited to be a part of the Lockheed Martin Leadership Institute and see what kinds of insights I can learn from it. Although I know the road ahead will be challenging, I love my major and know I made the right decision in choosing engineering.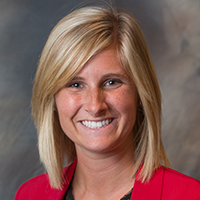 Danielle Terry
Mechanical Engineering
Throughout my life I have always possessed a desire to understand how things work. There are so many complex devices we use everyday that the concept is sometimes hard to wrap your head around. Thinking about how an iPhone or television operates truly fascinates me. I was undecided as a freshman and that is when I truly realized my passion for math and science. I finally decided to major in mechanical engineering and I have not regretted my decision for a second. An engineering degree assists students in "learning how to learn." Throughout my first year as an engineering student I began to realize that in order to be successful, it is not solely based on your technical skills. There is much more to the work environment including communication, leadership, and management. I wanted to join the Lockheed Martin Leadership Institute because it was an incredible opportunity to develop and improve my skills. The leadership program has taught me how to cooperate with others of different traits and tendencies, which I think is a huge aspect in being an efficient leader. I know I have much more to learn and I am excited to see what the next three years entail. I plan to take the insights and skills that I develop throughout the duration of the program and apply them to my future endeavors to become an effective and manager and leader in the engineering field.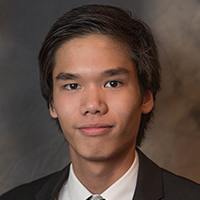 Pob (Thiti) Vutisalchavakul
Computer Science
I'm a passionate software engineer. I've always enjoying breaking things, putting things together, making my own experiments to better understand how things work. I've found that Computer Science is the perfect fit for my career. Not only do I get to deal with math and very abstract ideas, but I also get to solve practical problems and see my work come to life. I was born in Bangkok and moved to the States at a young age. I've also had the experience to travel to many places around the world. This experience have given me great understanding of the importance of skills like leadership, cultural intelligence, and technical communications. I believe that the Lockheed Martin Leadership Institute provides the perfect opportunity for me to develop those skills.
On campus, I engage in various activities in addition to my coursework that both complement and enhance my personal, academic, and professional development. Such activities include professional business organizations, leadership development programs, and engineering-focused organizations.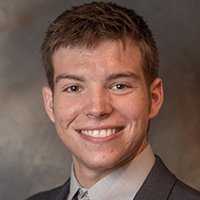 Connor Winnestaffer
Computer Science
Throughout my younger years, leadership was a foreign concept that applied little to me. Eventually, I understood that leadership is a characteristic given to those who earn the title; it is not a naturally born gift. As a student of the institute, I hope to learn how one develops their leadership skills with each new experience bringing a greater perspective of my identity.
One lesson my parents have always taught me is that life always creates new learning experiences. An event may turn out to be good or bad but we have the option of learning from the result, bringing in new knowledge to use later. What I've already come to recognize is that professionalism is not based solely on technical knowledge. We rely on others to pull through for us and share victories after winning difficult uphill battles. Leaders are the ones who rally others under a common objective, encouraging, communicating, and orchestrating when the group is at its highest and lowest. Being in such a position of admiration and dedication is what I strive for while in the Institute. The struggles and successes that the other members and I share will drive me to become an influential individual within my career field.