Cohort 8 was established during the 2018-2019 academic year. Scroll down to meet the members of our group.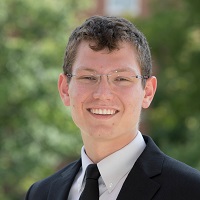 Ryan Armstrong
Biomedical Engineering
"The leader is one who, out of the clutter, brings simplicity… out of discord, harmony… and out of difficulty, opportunity." -- Albert Einstein
I am from Oak Ridge, Tennessee which is a small town outside of Knoxville. I am a bioengineering major with a Biomedical specialty. I was drawn to biomedical engineering because it offers the possibility to enhance and extend human life by developing breakthrough technology in implants and treatments.
I have had two appointments at the Oak Ridge National Laboratory where I have spent considerable time researching advanced battery technologies. While unrelated to my major the outcomes of my research have been used as the basis for a new generation of high energy density batteries. I plan on leveraging my major and research experience to venture into the world of biomedical research. On campus, I am affiliated with the Miami University Marching band, where I play the trumpet, as well as the Highland Pipes and Drums club. Additionally, I am a Resident Assistant at Presidents Hall where I can fulfill my desire to help and assist others.
The most valuable organization I am a part of on campus is the Lockheed Martin Leadership Institute where I am developing and enhancing my leadership, networking, and interpersonal skills that will help me thrive professionally within my field. Additionally, the skills learned from the Lockheed Martin Leadership Institute have been directly relevant to my experience as an RA. Finally, I enjoy all forms of music and have played the trumpet for approximately ten years. I enjoy traveling, biking and hiking and have traveled extensively to Asia and Europe.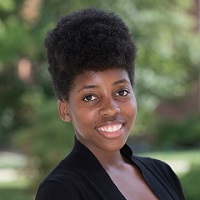 Michaela Ballard
Computer Science and Entrepreneurship
"I've learned that people will forget what you said, people will forget what you did, but people will never forget how you made them feel." -- Maya Angelou
I am a Computer Science and Entrepreneurship dual major from Cincinnati, Ohio. I have a strong interest in programming, and specifically algorithms and machine learning. I've had a connection with programming since my junior year of high school, where I took AP Computer Science and entered several hackathons. Other than the Lockheed Martin Leadership Institute, I'm also in the Honors program and the Grand Challenge Scholars Program.
Outside of classes, I compete in programming competitions both on and off campus, including the Master the Mainframe hackathon organized by IBM. I use these competitions not only as opportunities to enhance my programming abilities, but also to learn of new and innovative solutions to common problems.
The Lockheed Martin Leadership Institute has made the largest impact on both my academic and professional life. I joined the program to work on my communication skills, but have been pleasantly surprised to find that the Institute has taught me so much more than how to communicate. It has taught me that leadership is not a skill that some people have and others don't. Leadership is a combination of multiple skills and mindsets, all of which can be learned and used through practice and hard work. I cannot wait for what lies ahead with Lockheed, and look forward to growing alongside the rest of cohort 8.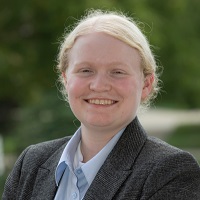 Kaylynn Borror
Computer Science
"Leaders need to provide strategy and direction and to give employees the tools that enable them to gather information and insight from around the world. Leaders shouldn't try to make every decision." -- Bill Gates
I grew up in a small town called Raymond, Ohio. I'm also a Software Engineering major with minors in Digital Game Studies and Japanese. During my senior year here at Miami I will be working towards my Masters Degree in Computer Science. I realized I liked programming around my senior year of high school when I took a basic coding class, and I haven't stopped since.
On campus I'm an active member of our American Institute of Aeronautics and Astronautics as a Project Lead and I've served as an Undergraduate Associate for classes meant for incoming first-year engineering students. I'm also a member of Miami's ACM-W chapter.
My involvement in the Lockheed Martin Leadership Institute has taught me a lot about effectively communicating with people who all think differently than I do. It's important to be able to understand that something that works for you and that you can understand, doesn't meant that everyone else will.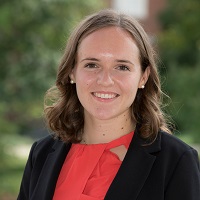 Katherine Bowles
Software Engineering
"A good leader inspires people to have confidence in the leader. A great leader inspires people to have confidence in themselves." -- Eleanor Roosevelt
I am a software engineering major and general business minor from Washington, DC. Since before I can remember, I knew I was interested in pursuing a STEM career. I didn't elect engineering and technology until my senior year of high school when realized that to have the greatest effect on the world, I needed to acquire skills that would place me at the forefront of groundbreaking innovation.
I am excited to continue to build my technical skills through technical and business classes, while honing my interpersonal and management skills in the Leadership Institute. It is truly exciting to be a member of Cohort VIII, and I look forward to leadership journey we will experience together.
Outside the Lockheed Martin Leadership Institute, I am a member of Association for Computing Machinery's Council on Women in Computing, the Grand Challenges of Engineering Scholars, and the Delta Beta chapter of Delta Delta Delta Sorority.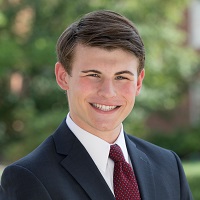 Landon Braemer
Mechanical Engineering
"Great minds discuss ideas. Average minds discuss events. Small minds discuss people." -- Eleanor Roosevelt
I am from Morristown New Jersey, a decent sized town located about 40 minutes outside of New York City. I am a mechanical engineer major with a minor in economics. I've always wanted to see my work become something tangible, this along with my love for mathematics and physics led me to choose mechanical engineering as my major. I hope to one day use my mechanical engineering knowledge and leadership skill to help lead groups innovate and create in the field of robotics.
While the classes I take provide me with the technical know-how and skills that are necessary for any mechanical engineer, the Lockheed Martin Leadership Institute further my professional and leadership skills. The program helps me learn how to develop as a leader and as someone who can effectively communicate with others.
Besides being a member of the Leadership institute, I am also involved in our school's SAE Baja team. Our current project is engineering our Baja racing car to maximize its speed and safety to give us an edge in the end of spring race. This program really allows me to use my engineering skills by putting them to practical use with many other engineers in a collaborative and experimental environment. Besides the Baja program I am also apart of the club Fencing team. This is all about team collaboration and teaching new members about the intricacies and skills of the sport. With all of these different programs I am part of I become a more effective leader and engineer with every day that passes.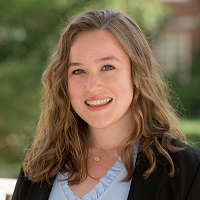 Molly Carroll
Computer Science and Premedical Studies
"Openness, respect, integrity -- these are principles that need to underpin pretty much every other decision that you make." -- Justin Trudeau
I am from Chagrin Falls, a small suburb on the eastside of Cleveland, Ohio. There, I was surrounded by many amazing people who helped me to develop into the person I am today. I was fortunate enough to have teachers, family members, and friends that inspired me to pursue my goals, no matter how ambitious.
For as long as I can remember, I have strived to become a doctor. When people hear that my primary major is in computer science, they often inquire into my decision to pursue such a seemingly unrelated major. My response is that in my junior year of high school, my close friends encouraged me to take a computer programming class knowing that I would absolutely love it. And the rest, as they say, is history. I found a passion for problem solving using different approaches with programming. I am amazed by all the power at the tips of my fingers. Even with this new discovery of my interest in computer science, I still intend to attend medical school after undergrad. Ideally, I will be able to pair my goal to becoming a practicing physician with my commitment to programming and work to better the healthcare industry.
Miami has been a great place for me to pursue my purpose. On campus, I am the academic chair in a professional engineering fraternity, Theta Tau. I am also in the honors program, a premedical scholar, and a member of Scholar Leaders, a learning living community. In addition, my time in the Lockheed Martin Leadership Institute has already helped me to learn more about my personal leadership style and how I work best with other people. I cannot wait to continue my journey as a member of Cohort VIII.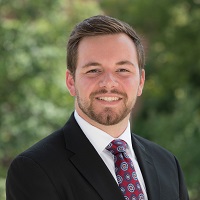 Daniel Craft
Mechanical Engineering
"If you make listening and observation your occupation you will gain much more than you can by talk." -- Lord Robert Baden-Powell
I am a mechanical engineering student from Pittsburgh, PA. Ever since I was a child, I've had a fascination with learning how everything works and building things. My parents say they've known I was destined to be an engineer since the age of 4. Finding strength and enjoyment in all STEM areas through my educational career led me to affirm my decision to pursue mechanical engineering.
I joined the Lockheed Martin Leadership Institute because I have had leadership experience especially through earning my Eagle Scout Award, but no formal leadership training. I hope to improve my communication, teamwork, organization, and forward-thinking skills. The Institute is a development process that will help me to grow over my university career.
Here on Miami's campus, I am also involved in student leadership in the Delta Chi Fraternity, the American Society of Mechanical Engineers, and the Theta Tau Professional Engineering Fraternity.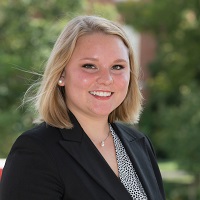 Sophia Dent
Chemical Engineering
"Before you are a leader, success is all about growing yourself. When you become a leader, success is all about growing others." -- Jack Welch
I am from a small town north of Dayton, Ohio, Vandalia. I went to Vandalia-Butler High School, where I graduated in the top 25% of my class as the Student Body VP. I am a Chemical Engineering major with an interest in materials science and humanitarian engineering. I come from a family full of successful business men and women, where I quickly realized that I wanted to take a different path. I explored every field in STEM until I stumbled upon chemical engineering. Material processes and the opportunity to impact the lives of others are what attracted me to engineering.
I feel that engineering not only includes math and sciences, but involves innovation, initiation, and creation of ideas. Leadership opens doors to collaboration with others, a creative mindset, and the ability to originate ideas. I am looking forward to learning about personal leadership, in order to lead others and improve my teamwork skills. I am looking forward to my journey within Lockheed Martin Leadership Institute, and other leadership roles I occupy in my time at Miami University.
Since starting at Miami University in 2017, I have become a member of the Leadership Team within Engineers without Borders. This organization fulfills my want to get hand-on engineering experience, while impacting human lives. I traveled to Rwanda, Africa in May 2018 with Engineers without Borders. I was ecstatic to understand the culture and make an impact on the village through engineering. I look forward to returning in May 2019 to build a project there that I pioneered.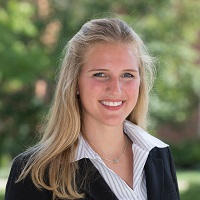 Paige Derwenskus
Mechanical Engineering
"Leadership is not a person or a position. It is a complex moral relationship between people based on trust, obligation, commitment, emotion, and a shared vision of the good." -- Joanne Ciulla
I am from Nashville and am a Mechanical Engineering major. Being able to exercise my problem-solving skills daily is what ultimately attracted me to furthering my education in mechanical engineering.
While the technical skills I have learned in the classroom are essential to my success as an engineer, it is vital that I also develop my leadership skills. The Lockheed Martin Leadership Institute allows students to gain an understanding of the interpersonal skills necessary in the working world.
It is evident that the knowledge I have gained during my time in the Leadership Institute transcends the walls of the classroom; I have learned not only the importance of lifelong learning but also the power of thinking critically.
In addition to the Lockheed Martin Leadership Institute, I am involved in a variety of on-campus organizations such as Engineers Without Borders and Society of Women Engineers.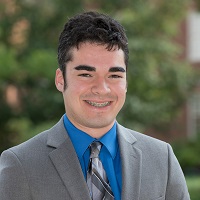 Javier Fernandez
Mechanical Engineering
"We all make choices, but in the end our choices make us." -- Andrew Ryan
Growing up in a small town in Ohio named Dover, I never imagined that I'd find myself here at Miami University studying mechanical engineering. Well granted I knew the mechanical engineering part, but I always figured that I'd end up somewhere bigger with more opportunities like the Ohio State University or even the Massachusetts Institute of Technology if I made it to the big leagues. Yet here I was at Miami University so instead of dreaming what could have been I instead began exploring the different opportunities that Miami did have to offer and that's when I stumbled across the Lockheed Martin Leadership Institute.
At first, when I was signing up I had no idea what to expect from the Institute besides some form of leadership training, but as the weeks started going by and I started completing more and more projects I slowly began to realize that what Lockheed had to offer was much more significant than that. In no less than a month and a half, I learned so many subtle but necessary leadership and team building skills that can not only be applied to my college career, but to my working career as well. Not to mention, I came into contact with so many friendly and outstanding individuals who are incredibly motivated to achieve their goals both in the Institution and in their future careers. So overall I'm glad that fate brought me to Miami not only for the fact that I found Lockheed Martin but for also showing me that no matter where you go there are amazing opportunities waiting.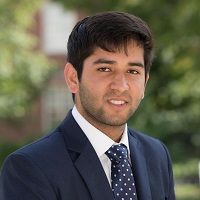 Karan Gupta
Computer Science and Business Analytics Minor
"The biggest risk is not taking any risk… In a world that's changing really quickly, the only strategy that is guaranteed to fail is not taking risks." -- Mark Zuckerberg
I am from Jalandhar, India, which is like the north part of India. I'm majoring in Computer Science with a minor in Business Analytics. With my major and minor, I hope to work in some sort of company or startup where I can work to improve the lives of people. I am always looking to challenge myself in all aspects of my life and always do my best to finish a task and do it correctly. I love classes which can help me build up my academic knowledge and learn something new. I have always enjoyed coding and have been coding since 7th grade of my high school. My passion for coding and computers made me pursue a degree in Computer Science. I hope that I can use my skills to help to get rid of big problems from society. I also love working with big data and likes to analyze the numbers and rows to come up with solutions. I like to teach myself new technologies, computer languages, and try to cope up myself with the changing world.
The Lockheed Martin Leadership Institute helps me build myself as a person. I am a very organized and motivated person but working with my fellow cohort members I plan to learn personal, people and strategic leadership qualities which– along with my real-world skills– will help me become something more than a leader. Lockheed Martin Leadership Institute has allowed me to think out of the box and use my leadership skills in more of a professional setting. I am enjoying my time at the leadership institute and I'm looking forward to further develop my leadership skills and help others to do the same.
Outside of Lockheed, I am Education and Recreation Chair of a club called BOOM, BOOM is a volunteer service club where we go to different parts of U.S and do volunteer work to understand more about the lives of people in different cities and helping others. I am also a Resident Assistant and the skills I learn from Lockheed help me to do my Job better as a Resident Assistant. I help to recruit other Resident Assistant for Miami and organizing events for first-year students that can help them to have a better transition to Miami University.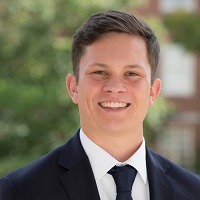 Hayden Hoogerhyde
Chemical Engineering
"Great leaders don't try to be perfect, they try to be themselves...and that's what makes them great." -- Simon Sinek
I grew up in West Chester, OH, a northern suburb of Cincinnati. I am majoring in Chemical Engineering with minors in Paper Engineering, Process Control, and Finance. Additionally, I am pursuing a thematic sequence in Computer Programming to develop relevant skills for our current state of technology.
Outside of the classroom, I am an active brother of Theta Tau which is a co-ed professional engineering fraternity on campus. I am also involved with our Student TAPPI chapter as an executive board member. In my free time, I enjoy playing golf and caddied during my summers growing up.
I have been driven toward pursuing leadership because of strong support from my family. Growing up, I had plentiful opportunities to grow and that is something I am extremely grateful for. I am in Lockheed because I dedicate myself to being a lifelong learner, and I believe my involvement in the Institute will assist me in developing the skills necessary to achieve this objective. I wish to be able to reflect on my experiences in the Institute later in life and be thankful for what I learned.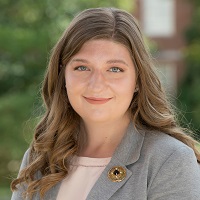 Laura Jacob
Computer Science
"Whether you succeed or not is irrelevant, there is no such thing. Making your unknown known is the important thing--and keeping the unknown always behind you." -- Georgia O'Keefe
I am from Dublin, Ohio which is a suburb off of Columbus. I am a Computer Science major and a minor in Interactive Media Studies. I'm interested in finding a career in web design and development in order to use my technical skills to make things that are visually creative.
Lockheed has been a unique experience that has taught me skills for the real world outside of my traditional classes. It has helped me learn to take on responsibility, communicate effectively, and prepare for the workplace. I have enjoyed learning more about ourselves and other members, and I am excited to learn how to work as a team.
Besides the Leadership Institute, I am involved in Girls Who Code, ACM-W, Cru, and Theta Tau.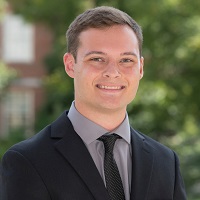 Mark Loper
Bioengineering
"Obstacles are things a person sees when he takes his eyes off his goal." -- E. Joseph Cossman
My name is Mark Loper and I am a student at Miami University. I am a bioengineering and pre-medical studies major with a minor in neuroscience. I am from Vermilion, OH which is west of Cleveland.
I am a part of various extracurricular clubs and activities such as the Lockheed Martin Leadership Institute, the American Medical Students Association, General Medical Brigades, the Medical Journal Club, and the Alpha Phi Omega service fraternity. I also have personal hobbies such as playing the guitar, martial arts, and tutoring at Miami.
I am in the Lockheed Martin Leadership Institute in order to improve my leadership skills and develop new ones that I can use now and later in life. I learn new things everyday and the Institute provides me a way to develop these learnings into ways I can change. Being given the ability to do this is what I enjoy most about the Lockheed Martin Leadership Institute.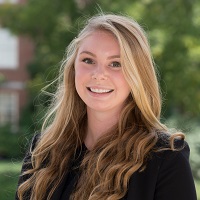 Michaela Mitchell
Electrical Engineering
"I must follow the people, am I not their leader?" -- Benjamin Disraeli
As an electrical engineering and English literature double major with a Spanish language minor, I love to learn broadly and think deeply. I'm thrilled to be a member of Cohort VIII in the Lockheed Martin Leadership Institute and look forward to learning about and developing my personal leadership style. In a world of constantly changing technology, we need leaders at all levels of every industry. I hope, through the Leadership Institute, to gain the soft skills required to be the modern, innovative leader the world demands.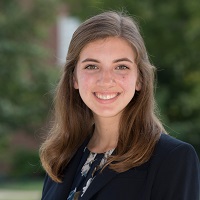 Lucy Rukstales
Electrical and Computer Engineering
"Leadership is not about titles, positions or flowcharts. It is about one life influencing another." -- John C. Maxwell
I am from Gurnee, Illinois, a northern suburb of Chicago known for its Six Flags theme park. I am an Electrical & Computer Engineering major with an interest in Robotics. I have had this interest since the beginning of high school, when I joined FIRST robotics team 4296 and enrolled in a four-year PLTW program offered through my school. At college, I am involved in the Honors Program, Honors Scholars Program, Engineers Without Borders, and of course, the Lockheed Martin Leadership Institute. In my (limited) free time, I enjoy hiking, biking, running, and watching movies.
In Engineers Without Borders, I am currently working on the Uganda Project; I have been involved with this project since the beginning of my Freshman year. Over the winter break of 2017-2018, I was blessed with the ability to travel with the team to Uganda for the implementation of a water treatment pilot plant. Since the trip, I have increased my involvement with the team by taking on the responsibilities of leading the design of a solar power system, and assisting with the CAD documentation of the design.
I am a very disciplined individual and take pride in my organizational capabilities. Being part of the Lockheed Martin Leadership Institute has given my a place to practice these skills, and to develop others. I have been, and hope to continue, pushing myself to grow. I am particularly interested developing my confidence with public speaking, my interpersonal skills when working on teams, and my ability to balance my priorities in and out of class.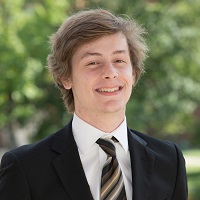 Bradley Schmitz
Computer Science and IMS
"To lead people, walk beside them. As for the best leaders, the people do not notice their existence … When the best leader's work is done, the people say, 'We did it ourselves!'" – Lao Tzu
I am from a small town in northwest Ohio called Glandorf, which is about an hour south of Toledo. I am co-majoring in Computer Science and Interactive Media Studies, and minoring in Saxophone Performance and Music Composition. I chose my majors because I love designing and developing interactive media and applications, such as software and video games. In addition, I like finding new ways to apply existing concepts and ideas, and thus have an interest in applying interactive media to everyday life, such as in education. I am also interesting in finding ways to improve interactive media and applications through the use of sound and music.
I was initially interested in joining the Lockheed Martin Leadership Institute because I wanted to improve myself both as a leader and a team member. Plus, I liked the non-traditional style of education the Institute promotes. Through my time, I've learned a lot about myself and how I can continuously apply and improve myself in every situation I'm involved in. The Institute has helped me to develop teamwork and communication skills, as well as provide professional development and real-world experiences to prepare me for future careers. I hope to use my experiences developed in the Institute to create new technologies and find new and beneficial applications for them.
Outside of the Lockheed Martin Leadership Institute, I am involved with the University Honors Program as an Honors Ambassador and member of the Honors Student Advisory Board. I am also a member of Kode2Learn, the Miami Game Design Club, and play saxophone in various musical ensembles at Miami University.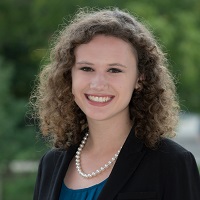 Micaela Smolenski
General Engineering
"There are two ways of spreading light: to be the candle or the mirror that reflects it." -- Edith Wharton
I am a general engineering major with a minor in theatre from Mt. Prospect, Illinois. I have been drawn to the creative arts for most of my life, with my passion for engineering growing only recently. I began my college career in chemical engineering, and transferred to the general engineering major during the second semester of my freshman year, in a desire to branch out, explore many different areas and aspects of engineering, and expand my education. I strive to take a very unique path to my education that is very personal to my interests and passions.
At Miami University, I have taken on executive positions in the University Academic Scholars Program (UASP), Student Ambassadors (MUSA) and the University Honors Program. I additionally perform and choreograph for the musical theatre organization, Stage Left.
I was inspired to join Lockheed Martin as, although I have had many opportunities to be a leader and take on challenging projects, Lockheed is the perfect opportunity to learn how I can effectively be a leader, and improve myself professionally. I have thoroughly enjoyed the challenges of the institute, and am grateful for the growth I have experienced thus far.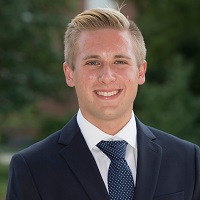 Jacob Strickler
Computer Science
"Innovation distinguishes between a leader and a follower." -- Steve Jobs
I am from Lexington, Ohio, about an hour north of Columbus. I am a Computer Science major with a minor in Interactive Media Studies, hoping to use both of these disciplines to develop software that will positively influence millions of people around the world. I am passionate about connecting technology with good design, and I believe honing my skills in both of these areas will place me on a path toward a career in the area in which I am most passionate.
On campus, I am involved in several organizations such as Kode2Learn, the Interaction Design Association, and the Miami University Student Foundation. I also enjoy researching new developments in the technology industries and playing on an intramural broom ball team during my free time.
Aside from these activities, the organization that has had the most influential effect on my professional ambitions is the Lockheed Martin Leadership Institute. I joined the institute to further my professional and communication skills while working collaboratively, and thus far have enjoyed the positive experiences that it has brought me. I take pride in being a disciplined individual who executes tasks with the highest level of quality, and I know the leadership institute has helped me develop skills that will allow me to continually improve the quality of my work and leadership abilities. I am extremely excited for the leadership journey ahead of me and the wonderful things that Cohort 8 will accomplish.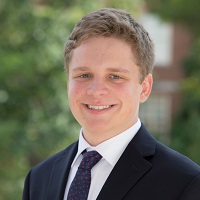 Matthew Vito
Mechanical Engineering
"People ask the difference between a leader and a boss. The leader leads, and the boss drives." -- President Roosevelt
I am a mechanical engineer from just outside Cleveland, Ohio. I am in the 8th cohort of the Lockheed Martin Leadership Institute. I have always enjoyed learning about how machines and processes work and this is why I was drawn towards mechanical engineering. My first experience with the skills of being a mechanical engineer was in an AutoCAD class in high school. After learning the basics I even learned an award for a lamp that I designed. This is when I was hooked on the idea of designing and creating parts.
The Lockheed Martin Leadership Institute is helping me develop not only my leadership skills but also to identify my strengths and weaknesses and how to overcome them. We are also learning how to be ready to be successful professionals so that we can succeed.
Outside of the Institute I am a part of the dean of libraries student advisory board where I am also developing my professional and leadership skills. I have done research at Case Western Reserve University as well as worked in a manufacturing plant which have both taught me the soft skills to be a good worker.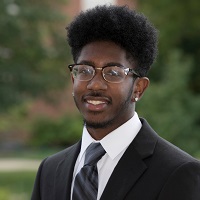 Cliff Wrighter
Computer Science and Software Engineering
"Ultimately, leadership is not about glorious crowning acts. It's about keeping your team focused on a goal and motivated to do their best to achieve it, especially when the stakes are high and the consequences really matter. It is about laying the groundwork for others' success, and then standing back and letting them shine." -- Chris Hadfield
I am a Computer Science major at Miami University. I am interested in pursuing a career in the technology industry and have been taking classes to prepare me for the type of work in this field, as well as being apart of the National Society of Black Engineers. I have learned many technology-based skills through my internships and my involvements with engineering campus organizations.
My goal is to work at a company that will allow me to use the technical skills that I have learned throughout the years from school. Also, I want to be able to involve my passion for community service in the work that I do. As the Community Service Chair for the Black Student Action Association, it has shown me that I want to continue this type of work while using my Computer Science skills.
The reason that I wanted to be apart of the Lockheed Martin Leadership Institute was to improve upon my leadership skills. Things like working on my communication skills, better conveying my ideas to others, and learning more about myself as well. I enjoy being apart of the Institute because I am able to be around those who want to succeed and better themselves.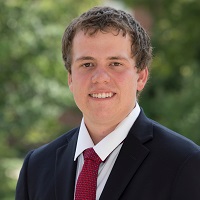 William Zeurcher
Computer Engineering
"It's fine to celebrate success but it is more important to heed the lessons of failure." -- Bill Gates
I was born and raised in Albuquerque, New Mexico. I am majoring in computer engineering with a strong interest in avionics. This interest has come from spending lots of time with my grandfather in his Cessna 182. I am also pursuing a private pilot license as well. When I am not in class or flying, you are likely to find me skiing or river rafting.
I was ecstatic to join Lockheed Martin Leadership Institute, because I know it will not only improve my soft skills but also give me a chance to make lifelong friendships with those in my cohort. This program gives me a unique opportunity to highlight and improve my weaknesses so I am prepared to join the workforce.