CPB Senior Design Projects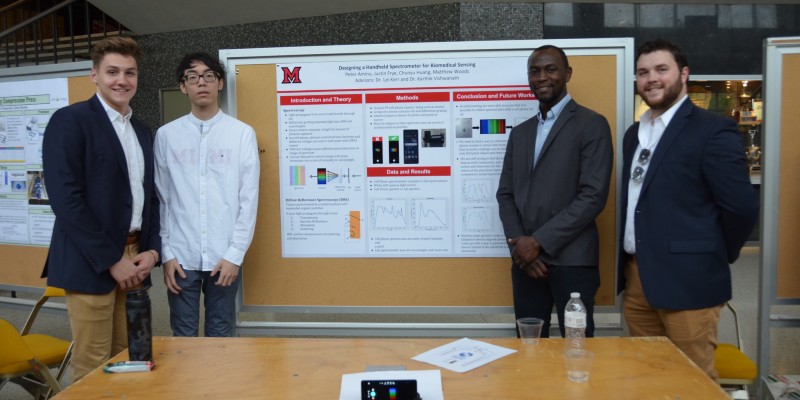 CPB Senior Design Mission Statement
Senior Design Project is a two-semester course that ties together our students' engineering education during their final year at Miami. The courses feature team-oriented design in which students collaborate with industry professionals and faculty members to solve an engineering challenge with the knowledge gained throughout their undergraduate experience.
Business Benefits
Teams with a minimum of two students with the guidance of faculty advisor(s) work for two semesters on the industrial project via engineering design loop
Teams will communicate with the industry representatives throughout the project via weekly progress report, mid term and final presentations, and final report with the form of communication determined by the faculty advisor and the industry representatives
Deliverables will be determined by the industry representative and faculty advisor(s)
Representatives are invited to attend all presentations, CEC's Senior Design Expo, and the Undergraduate Research Forum
Industry representatives are directly engaged with top engineering students to witness first hand the quality of Miami CEC students
Faculty expertise contributes to industrial product development
Project Quality Assurance
Each team has a CPB faculty advisor to guide and direct the students throughout the project
Past CPB Projects
Papermaking (watermarks, cardboard box, specialty papers, etc)
Heat transfer during laser tissue interaction
Biodegradable Natural/Synthetic Composites for Food Packaging
Scale-up Analysis for a Chemical Biosynthesis Process
Internal resistance of a microbial fuel cell
Development of UV LED air pollution control module for niche air pollution control systems
PFOA's Engineering Design
Development of a Prototype Prosthetic Device for the Canine Forelimb
Development of a Digital Three-Dimensional Model of Canine Forelimb from CT Data
Design and validation of a flow chamber for quantification of platelet attachment to biomaterial surfaces
Injectable bone cements for bone fracture repair
The Characterization of the Efficacy of Microbial Fuel Cells
Computational model of canine gait
Antifungal ZnO coating
PFOS Degradation
AFRL Oxymeter with MME senior design team
AICHE Student Design
EPA-UV LED Photocatalytic Fuel Vapor Emission Control Device
Ovarian Hormone Production
Design and Evaluation of a Psilocybin Biosynthesis Facility
Design and Evaluation of a Norbaeocystin Biosynthesis Facility
Design and Evaluation of Caffeic acid Biosynthesis Facility
Next Steps:
Please contact Dr. Lei Kerr, CPB Senior Design Coordinator, with questions.
kerrll@MiamiOH.edu
513-529-0768
Complete and submit the Senior Design Project Application
Please note that there is no guarantee that your project will be accepted. Please provide as much information as possible on the Senior Design Project Application and contact Dr. Kerr if you have questions or concerns.