Class of 2022 celebrates graduation day
Alumnus Sean Lane, CEO of Olive, emphasizes the importance of being present each day.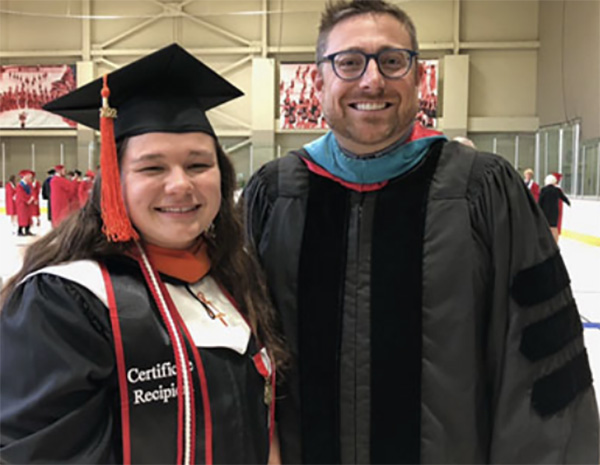 Rachel Duke, graduating student, and Olive CEO Sean Lane, spoke during the recognition ceremony.
Alumnus Sean Lane told the graduating Class of 2022 "... to be present in the day you are in …." as he gave the keynote address during the College of Engineering and Computing recognition ceremony. 

For the 350, now alumni of Miami University, May 14, 2022, was that kind of day after persevering through two years of difficulties caused by the COVID-19 pandemic that will forever be a part of their history.

Lane emphasized the importance of every day as he addressed students and their families in Miami University's Goggin Ice Arena. Lane is the CEO and founder of Olive, the automation platform creating the Internet of Healthcare. The now entrepreneur specializing in artificial intelligence served several tours in the Middle East as a member of the United States Air Force and spoke about the memorable days throughout his career and family life.

"But mastering the ability to be present in the day you are in will pay dividends in your life," he said." The days you do remember will be better, bigger, and more meaningful if you spend your day in the present. Days are important, days are manageable. They're bite-size. You can do anything for a day."

Graduating student Rachel Duke also spoke during the recognition ceremony. She graduated with Latin honors with a Master's degree in Chemical and Biomedical Engineering and a Bachelor's degree in Biomedical Engineering.

An outstanding student, excelling in her courses while conducting research with Justin Saul, professor of biomedical engineering. She modeled hormone interactions in ovarian cell constructs with the goal of helping develop treatment methods for diseases such as osteoporosis that affect post-menopausal women.

"Life will never be perfect," she said explaining her history with cancer and other life challenges. "We'll never have it all figured out, and that is okay," she said.

Post-graduation, she will work with Epic pursuing her dream to join the oncology team and have an impact in the medical community that means so much to her.

Dean Beena Sukumaran of the College of Engineering and Computing presented awards to the following people during the ceremony.

Arthur Olson Generational Excellence Teaching Award
Andrew Paluch, associate professor of chemical engineering
Andrew Paluch is a passionate teacher with a commitment to helping all students learn. Students in his class laud his positive attitude, mentoring skills, and dedication to student success. Notably, Andrew has written an open-source textbook for a course in MatLab programming and has developed a popular YouTube channel with over 1500 subscribers where he explains concepts in thermodynamics and MatLab. Andrew is not only committed to educating students here at Miami but is working with faculty in Brazil and Tanzania to provide educational opportunities to students at their universities that they would otherwise not receive.
CEC Research Award
Philippe Giabbanelli, associate professor of computer science and software engineering
His research program has an international reputation in data mining, data visualization, discrete simulations, and health informatics. Through the work, Dr. Giabbanelli seeks to achieve a paradigm shift from seeing Machine Learning and Modeling and Simulation as two independent activities to instead integrating them to solve challenges that emerge in a big data context. Dr. Giabbanelli's refereed publications include a total of 39 peer-reviewed journal articles and 49 refereed conference proceedings. These totals include seven journal articles and 14 conference publications just in 2021. Between January of 2019 and December of 2020, Dr. Giabbanelli's work as a teacher-scholar resulted in the names of supervised students appearing as co-authors on refereed research papers a remarkable 43 times. Over the course of his career, Dr. Giabbanelli has written 23 grant proposals that have resulted in a funding total of over $1MM.