Miami University alumna in the front seat to NASA's next space mission
Nicole Smith's path to space began with a fearless pursuit of math and engineering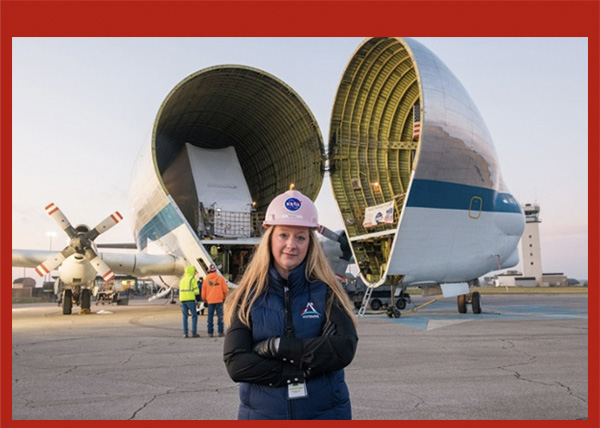 Nicole Smith, a '97 graduate, with the Orion spacecraft
Miami University alumna in the front seat to NASA's next space mission
Nicole Smith, a '97 graduate, with the Orion spacecraft
By Carole Johnson, University Communications and Marketing, College of Engineering and Computing
Miami University alumna Nicole Smith's work schedule includes a trip to the Kennedy Space Center in Florida this month where she will watch the first scheduled launch of Orion as part of the Artemis I mission. 

The 1997 Miami graduate is now the deputy director of Technology Demonstration Missions for NASA in Washington, D.C., but previously served as the senior project manager for testing the Orion spacecraft, which is part of NASA's latest human spaceflight endeavor. 

The Artemis I mission is the first launch of NASA's new spacecraft. The first in a series of increasingly complex missions, Artemis I is an uncrewed flight test of the spacecraft that will eventually take the first woman and the first person of color to the Moon. She will be among the NASA leadership team viewing the launch from Kennedy Space Center on Aug. 29, the first launch window of opportunity for Artemis I. (Editor's note: The Aug. 29 launch was postponed with the next launch date now scheduled for Sept. 3.)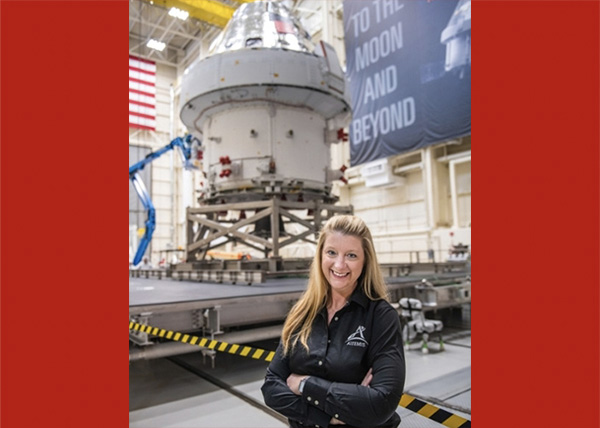 "To the Moon and beyond:" Smith with the Orion spacecraft
But first, jump back to a cold November 2019 day in Sandusky, Ohio. In this small town on the south shore of Lake Erie, Smith came face-to-face with the next generation of spacecraft after safely facilitating Orion's move from Kennedy Space Center in Florida to NASA's Neil A. Armstrong Test Facility (formerly Plum Brook Station) in Sandusky.
Under her care, Orion, which is designed to take humans to the Moon and eventually Mars, underwent months of rigorous testing; thus, becoming Smith's prized tenant of the world's largest space environment simulation facility. Orion will launch atop one of the most powerful rockets in the world and travel 280,000 miles for approximately 42 days. Smith's job was to ensure that Orion's systems would be proven out on the safety of the ground before it ever flew around the Moon.
To get the spacecraft ready, teams of engineers, technicians, and support personnel sprang into action under the meticulous coordination of Smith. The enormity of the responsibility seems daunting, but to Smith, it's engineering first principles, problem-solving, looking beyond the plan to mitigate potential risks and good communication.
"Being able to communicate is enormously important for engineers," Smith said, who works with all kinds of experts. "No matter what role your team member plays, a good project manager also must give them a voice. Everyone has their expertise and brings something important to the table."
That expertise in math was something she discovered years ago, and her high school teachers encouraged her to continue to pursue it. During her first year at Miami as a Mathematics and Statistics major, Smith came across a group of students flying remote airplanes at Cook Field. 
That sparked an interest in flight, and she quickly enrolled in Aeronautics, minoring in Mechanical Engineering, while keeping her Mathematics and Statistics major. 
After receiving her two bachelor's degrees, Smith earned her master's in Aerospace Engineering from the University of Cincinnati. She interned at Lockheed Martin in Houston during graduate school and fell in love with the possibilities of human spaceflight. She became a full-time engineer at Lockheed in 1999 and worked on numerous analyses for the Space Shuttle and International Space Station programs. 
She joined NASA Johnson Space Center's Mission Operations Directorate in 2000, where she trained astronauts, cosmonauts, and flight controllers on the electrical and thermal systems of the International Space Station. High-fidelity simulators ran astronauts through vigorous training and practice runs.
"You may remember In the movie 'Apollo 13', the astronauts were in the simulator and joked about the 'hours of boredom followed by 7 seconds of sheer terror,'" Smith said. "It was kind of like that. Our training taught astronauts that if something were to go wrong in space, they would have already practiced the procedures needed to compensate for the failures and know what to do."
In 2007, she moved back to Ohio to NASA's John H. Glenn Research Center, where she spent several years working on the Orion spacecraft and leading the testing of the Orion spacecraft getting it ready to fly on the Artemis I mission. In 2021, she became the Deputy Director of Technology Demonstration Missions for NASA's Space Technology Mission Directorate, where she helps manage a broad portfolio of work that will enable the human exploration of the Moon and Mars. 
The gravity of her line of work can take a toll, but she is mindful of prioritizing her health and well-being and her love for learning new things keeps her momentum strong.
"Learning inspires me and knowing that every day I get to be a part of something bigger than myself keeps me going. Human exploration of space is so fascinating. Will we ever figure out where we came from, and our role in the universe?"
Her career took many different paths that attributed to her expertise as a senior project manager, knowing a lot about everything, and having the confidence to ask questions to learn more. This allowed her to assess a situation and confidently communicate what is needed. She credits this confidence to her parents and her years at Miami.
"Growing up, my parents supported me in whatever I wanted to try. It never occurred to me that there were any careers that I shouldn't do," she said, adding that she was surprised that she was the only woman in a group of 35 people when she started her first engineering job.
Throughout her career, many women and men in engineering became her mentors, and she believes strongly in the power of mentoring. She is now the chair of the Women's Advisory Council within Miami's College of Engineering and Computing, which leads alumnae-student mentoring each year.
"I love the term self-efficacy – the belief in yourself that you can do it," she said. "It's also about creating a pipeline where each one of us gives the next person a hand up, and helps them believe they can do it, too."