Miami University's Humanitarian STEM Service club refurbishes computers to donate to refugees in Athens, Greece
Miami University's Humanitarian STEM Service club has refurbished ten computer so far to donate them to refugees so they can learn basic computer programming skills from mentors.
Miami University's Humanitarian STEM Service club refurbishes computers to donate to refugees in Athens, Greece
By Gabby Benedict, CEC Student Intern
Miami University's CEC Sponsored Humanitarian STEM Service club has donated ten refurbished computers and counting for refugees in Athens, Greece in order to improve their education and teach them valuable computer skills.
The Humanitarian STEM Service club (HSSC) was formed at the start of 2022 and has a goal of helping to refurbish old computers with technology that will help increase its lifetime by three to five extra years. The club helps lower-income families who have been affected by the pandemic and don't have access to the resources needed to do remote learning by providing the proper technology required for access to online learning. 
Prior to winter break, Miami's Farmer School of Business Supply Chain Management department donated about 50 computers to the club, with ten of these computers being donated to Grace Kim, the founder of a refugee program in Athens, Greece called Aabe Hayaat.
Kim's mission is to teach refugee children English and Math with parental consent with the help of these newly refurbished computers. It is common for school-aged children in refugee camps to stay home instead of going to school in order to take care of their siblings or due to a lack of motivation, so Kim works to educate and help them from home.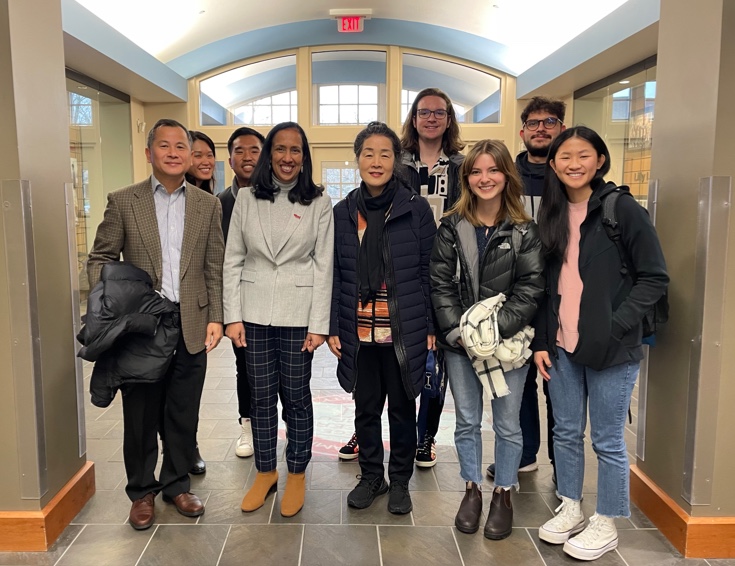 The Humanitarian STEM Service Club, advisor Yong Lin, Dr. Grace Kim, and CEC Dean Beena Sukumaran.
On Jan. 30, Kim met with members of HSSC, the Dean of Farmer, the Department Chairwomen of Supply Chain and Operations Management, and other Supply Chain Management representatives to share her mission. The club donated two of the ten computers to Kim that day and will donate the remaining eight at the end of February.
Students in HSSC also work with the local non-profit – Awakening Your Child Total Potential last year to donate 21 computers and teach computer skills to Aiken High School refugee students from Nepal. This semester, the club followed up with the students so they can receive additional mentoring and career advice. 
Secretary of the club Lia Barth originally heard about the opportunity from club president Sara Koeth, thinking she wouldn't enjoy it since she is a marketing major and doesn't know much about computers. Despite this, Barth ended up going to the first meeting and enjoys being a friend and a mentor to the kids and encouraging them to go to college.
"They were so driven. Meeting the kids you get to pour and invest your time into mentoring is a really rewarding experience. After being with them, I thought to myself, 'Wow, I'm actually making a difference.'" Barth said.
Yong Lin, a faculty member in Miami's ​​Electrical and Computer Engineering and the advisor of the club, had a large role in partnering with Aiken High School and was interested in recycling and reusing old computers. Lin noted that the club just felt like a natural extension to have the students coming to join them in their efforts and eventually morphed into a mentorship program as well.
"I think one of the most amazing parts about being with HSSC right now is watching Dr. Lin's vision for the club grow and change into something that continually surprises and excites us," said Koeth.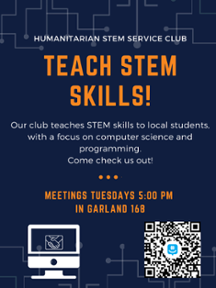 The club is open to students of any major and has two different tracks. One track is more engineering focused and involves helping refurbish computers, and the other track is helping advise and mentor students, which is open for any students interested in joining. Weekly meetings for the club are held every Tuesday at 5 pm in Garland 168.