Engineering and Arts students at Miami University integrate creative thinking into learning
Six Miami University students discuss how they utilize creative thinking and innovation from three different perspectives: two who study engineering, two who study creative arts, and two who study both.
Engineering and Arts students at Miami University integrate creative thinking into learning
When you hear the word creativity, what is the first thing that pops into your head? 
Maybe art? Music? Imagination? Maybe even innovation? The Oxford Dictionary simply defines creativity as:
"The use of the imagination or original ideas, especially in the production of an artistic work." 
This is the simplest and easiest way to understand the concept and idea of creativity at merely the surface level. Creativity is unique in the way that it can be found anywhere in everyday life, even outside of the arts. Innovation and creative thinking are essential in STEM when utilizing problem-solving techniques in mechanics, computing, and in creating complex equations to solve problems.
-
In addition, using creativity in the face of adversity is key when trying to find solutions to problems when dealing with projects in both the arts and engineering. Continuing to encourage creativity in college students is essential in learning because it encourages more in-depth thinking and a higher level of flexibility in thinking from the perspective of both artists and engineers. The mediums in which creativity can be found are boundless and can manifest itself in many ways outside of art, but is especially important in the process of creation which both professions deal with on a regular basis.
A study done by Routledge Taylor and Francis Group focused on studying two types of creativity: general creative thinking and computational creative thinking. The study aimed to explore the role of each type of creativity inside and outside the learning process in acquiring computational thinking. The study involved about 131 middle school students and had them solve various problems using two methods, first using a computer program called Kodetu to learn basic programming skills, then following with a pen-and-paper Creative Thinking assessment that had 12 identical circles where each participant was asked to make as many drawings as possible using the circles to measure their fluency, flexibility, and originality. The findings of this study imply the importance of encouraging creativity in learning environments, most importantly that teachers who wish to promote this important skill should personalize learning experiences through creativity. "Many learning environments seek efficiency and penalize original solutions (which are often longer than the desired solution); this behavior may demotivate learners and hinder learning" (Hershkovitz 2019).
Students at Miami University benefit from the intersection of  STEM and artistically-based learning. In fact, many flourish when they are provided the opportunities to explore their creativity. Glimpse into the daily lives of several students who put this concept to practice.
---
Rachel Fischmar
Rachel is majoring in Computer Science with a minor in Music Theatre and has emphasized her need for a creative outlet in her schooling without majoring in art. She expressed how she can get that with her engineering major, especially in web development where she is able to put her own creative twist on the websites and applications she works on. 
Rachel loved doing theatre in high school. She was also really good at and passionate about working in the STEM field, enjoying the problem-solving aspect of math and science. She specifically started to be interested in computer science when her cousin suggested that she take a computer science class while scheduling her classes freshman year of high school. 
"Technology is a rising field and will become more and more relevant. There's no way it's going away, so why not try it?" Rachel said.
After a few coding classes and three years of studying Computer Science, Rachel expanded her knowledge enough to add a creative spin to her work.  
As a software engineer, her creativity can be applied through the endless possible combinations in coding. She had multiple instances while working on web applications where she was forced to find a more creative and out-of-the-box solution to fixing a bug in coding, which she appreciated in exploring how to solve her own technical issues.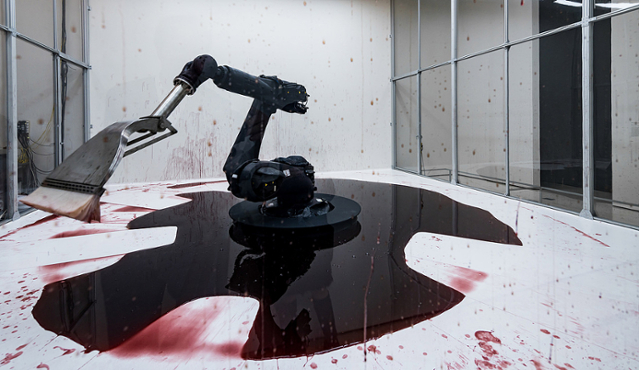 Rachel's favorite piece of art - "Can't Help Myself" by Sun Yuan and Peng Yu
While Rachel has a large passion for musical theatre and performing, she expressed that turning her love for performing into a career. Despite not pursuing theatre professionally, she still wants to do community theatre and continue performing in the future.

While she's studied at Miami, Rachel has taken classes covering a large variety of different topics regarding Computer Science including programming, AI technology, and web development, and has found ways to get creative even in a very math and science-oriented career field.
Rachel expressed her love for Yuan and Yu's 2016 art installment "Can't Help Myself," an industrial robot displayed at the Guggenheim Museum for over five years. The robot is known for continuously scooping red paint off of the floor around it until it was finally unplugged in late 2021 after slowly deteriorating and breaking down over time. Rachel considers the mix of animatronics and painting a unique and innovative step involving advanced and creative engineering within modern art pieces.
"There are so many ways to interpret it, the way it's continuously going and gets rustier after every year just has a very existential meaning to it."
Rachel is interested in working as a software engineer, specifically with theater technology, to successfully fuse her two passions into her work. 
-
Vy (Jasmine) Tran
Vy is a senior double majoring in Media and Culture and Chemical Engineering who is not only problem-solving while researching about and finding clean water resources in Chemical Engineering but also while working as a Director of Photography (DB) in her Production Capstone on the short film, Rewriting Mallory.
During the COVID-19 pandemic, Vy worked as a Production Assistant while she was traveling back to her hometown in Vietnam and has been interested in film work ever since receiving the opportunity to work closely with and shadow the production's DB and cinematographer.
After this experience, Vy decided to join the short film production as a DB through Miami's Production Capstone course and has used her analysis skills to design and create the best shots and visuals for the film. Utilizing the right camera movements, placement, and color schemes to film and shoot a visually compelling story are additional skills she has to consider as a DP.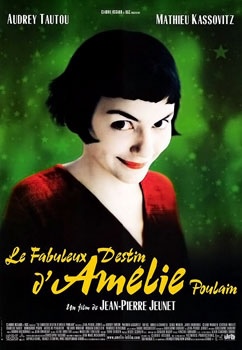 The 2001 French movie Amélie was credited as one of Vy's favorite films because of its saturation of a simple girl going through life and her daily routines, especially loving its charming themes of love and loneliness. 
Vy's role in analyzing and interpreting shots when filming for Rewriting Mallory and finding the best way to utilize them in the context of the story is integral to the filming process, whether the concept of the story is extremely complex or fairly simple like in Amélie. 

The impact of the final film can be different than pictured depending on the quality of the camera work. Vy's goal as a DB is to find the best and most creative ways to tell the story that the crew wants to tell.

One big problem Vy ran into on set was when it started raining on one of the production's shooting days. She needed to get creative in finding the best solution to save the camera equipment and reschedule shooting for a date that called for better weather.

"Problem-solving on set is when you really start to find the middle ground between engineering and media. You need to have a creative side, but it's also good to have the technical problem-solving required in engineering," Vy said.

Vy is turning the basic skills that she has learned solving issues on production sets into her engineering as well. Just as failing to get good shots due to inclement weather and other small production issues can ruin a whole workday, the same can go for making small mistakes in her research when predicting partition coefficients with solvation models to find clean water solutions.

Vy has been interested in math and science since high school, but she was especially inspired by her aunt, who immigrated to the United States during the Vietnam War and has worked here as a Chemical Engineer ever since. 

"It's just like inspiring to see women in engineering, especially for her. At that time, she didn't know any English and she just had to work and start from scratch. I've seen some of her work, and realized that I wanted to do that too," Vy said. 

Vy plans to get her Ph.D. at John Hopkins University in Chemical Engineering and still plans to do photography and film work on the weekends outside during her free time.

Pictured right, Vy's favorite piece of art - "Amélie" by Jean-Pierre Jeunet
-
Creativity and innovation are key in most levels of engineering education, yet they are rarely emphasized or expressed explicitly in coursework. Without being educated in the fundamentals of creativity, only 3% of the population has associated creativity closely with engineering (Stouffer 2004). However, there is a consistent interest in engineering education from experienced engineers to address creativity and innovation within the curriculum.
While most engineering students don't expose themselves to creative arts classes, two Miami College of Engineering and Computing students have expressed their belief that there is still a large importance in thinking creatively as engineers.
---
Charlie Sutter
Charlie is a sophomore majoring in Biomedical Engineering. She attended a Career Technology Center during her junior year of high school, where she studied biotechnology and was exposed early to biotechnology by studying medicine, genetics, and science.

Charlie has a mild case of neurofibromatosis 1, which is a genetic mutation that causes non-cancerous tumors and masses to grow on her body and on her nerves. This condition can lead to developmental delays in the nervous system and can cause the nerves to easily get shot when doing more activity than usual.

So when Charlie saw the opportunity to work closely with genetic mutations like hers through studying biotechnology, she decided to take it.

Charlie's sophomore-year biology teacher in high school did a two-week lesson on biotechnology, even though it wasn't technically in the curriculum, and learned about the subject's close tie-in with genetic mutations, leading her to apply for the career center's biotechnology program the next year. 

During her senior year was when the COVID-19 pandemic hit, which surprisingly helped stimulate her creativity in finding ways due to the regulations that were put in place, stopping her from doing the experiments that she originally planned to conduct, including one that would've involved genetics. 

Only two days of the week were set aside for in-person laboratory experience during the pandemic, with the remainder of the week being set online. 

This was less than ideal in trying to run a successful experiment involving fast-growing bacteria, so students had to get creative in finding experiments that would still work within the regulations.

"With a lot of people, when they think of creativity, they think of just the arts or inventions, but creativity is present in so many different things. It can just be making something out of nothing or thinking 'we should take this route instead because it's faster!' It can also be used to just come up with little outlets that can make life better, more beautiful, or just easier," Charlie said.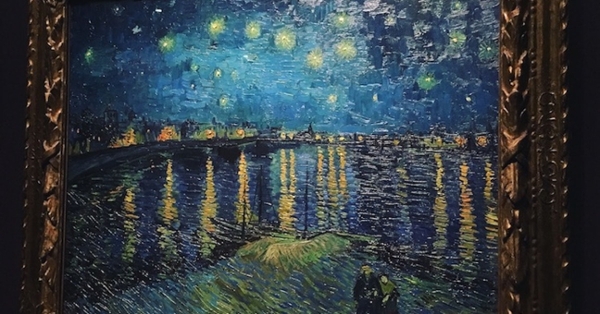 Charlie mentioned her fascination with Van Gogh and his ability to paint the world the way he saw it. The story behind his artistic work in addition to his lack of success during his actual life really struck something in Charlie and inspired her to think about the good she can still do in life through her career.
In the future, Charlie plans to work in a medical laboratory setting and specifically wants to find and create different treatment options, cures or antibiotics to help other people with genetic mutations, especially those who have more severe cases than her.
Pictured left, Charlie's favorite piece of art - "Starry Night Over the Rhone" by Vincent Van Gogh
-
Andrew Dillman
Andrew is a senior majoring in Mechanical Engineering and minoring in Paper Engineering who has been interested in the field of engineering ever since high school, where he took classes through the school's Project Lead the Way program, which taught basic engineering classes. Specifically, Andrew discovered his interest in mechanics and in Mechanical Engineering when he joined the school's Robotics Club.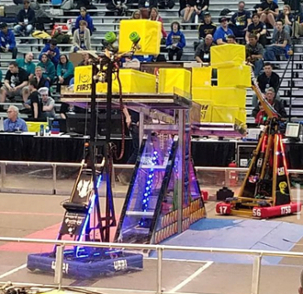 One of his favorite memories was working alongside his club advisor and the rest of his team to design a robot that could carry and set milk crates onto a scale for a FIRST robotics competition. In order to win, the robot's goal was to get the most crates possible to tip the scale toward their team's side in order to beat the competing team. Andrew's team competed with multiple robots and came up with a plan that utilized their robot lifting up all three of the robots on their team. Andrew's team managed to pull the maneuver off successfully during the competition, which made the audience go wild.
Andrew's high school robotics projects have really helped him as a starting point in working to increase his levels of innovation and creativity when it comes to building and engineering.
"It was super nice to have that prior knowledge in high school so I could build a basic level of appreciation and understanding when going into college and it was a big help in getting my feet on the ground," Andrew said.
Andrew is studying alongside Andrew Sommers, a professor in the Mechanical and Manufacturing Engineering department, on research involving coating metal surfaces to make them repel water and methanol. In addition, the two are researching to see what other things they can coat surfaces with in order to repel other liquids.
Andrew talked about how he sees a lot of room for creativity in mechanics through the use of abstract materials that people may not have thought about using as a possible solution.
"A lot of [engineering] is very guided, but you have a lot of freedom to come up with solutions and when working with certain requirements and specifications."
Since coming to Miami, Andrew discovered a newfound appreciation for paper engineering and plans to work in the paper industry working with automated systems in process control in the near future.
-
While engineering benefits the most from knowledge concerning computing, mechanics, science and logistics, creative thinking must be applied to make projects even more innovative and effective. Arts students, on the other hand, experience courses that impact their learning a bit differently: A major focus on creative thinking and innovation skills in addition to some logistic and technical skills that can apply to an artist's respective creative field.
Despite the lack of experience or knowledge about mechanics or engineering from creative arts students, students emphasize the importance of creative and even logistical thinking in their work as an artist and an actor respectively.
Pictured right, Andrew's favorite creation - His Junior Year High School Robotics Competition Team robot
---
Lauren Bielawski
Lauren is a junior majoring in Arts Management and Entrepreneurship and minoring in Communication Design, Japanese, and Digital Marketing who has been creating art as soon as she learned to hold a crayon. Lauren has always had a passion for creative arts, which didn't go unnoticed by friends and family who all encouraged her to keep creating.
One person Lauren always looked up to growing up was her best friend's older sister, who has worked on shows and movies like Steven Universe and The Mitchells vs the Machines over the past few years. 
Lauren was always fascinated watching her draw and looked to her as her main creative influence in a family full of people who aren't involved in the arts.
The mix of creativity and logistics in the arts is more prevalent than some of us may realize, with problem-solving being the center of any piece of art. Whether it's a debate on color theory, technique, or stage management, solving problems creatively is a big part of working to make art impactful and beautiful.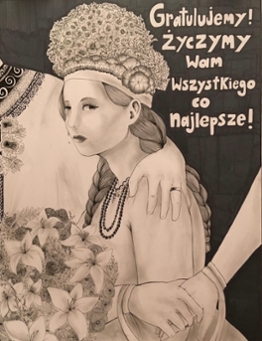 Lauren made her favorite piece of art to this day during her freshman year, starting and finishing it on the same day. She was inspired by her own Polish heritage to create a protest peace against the rampant uprise in LGBTQ+ discourse involving same-sex marriage in the country at the time. 
Lauren discussed the frustration she feels when people refer to themselves as being "not creative," as she feels very strongly about the unique skills and mindsets in society that all have creative aspects. 
"I think people get stuck in a rigid mindset and like to stick to pre-existing thinking. Everyone is different individually, but we all have creativity to a certain extent and it could be utilized differently, or [processed differently], and I think everyone is creative in their own unique way," she said.
After school, Lauren wants to do something in media, potentially in advertising or social marketing, but is specifically looking for a job that can apply to her interests and that she also feels passionate about.
Pictured left, Lauren's favorite piece of art - Her Protest Piece for Polish LGBTQ+ Rights
-
Michael Liss
Michael is a junior double majoring in Theatre and Psychology who began performing during his junior year of high school because of a recommendation from his sophomore English teacher, who also was the head director of the drama program. 
Growing up, Michael had always been fascinated by the idea of acting and has always been particularly inspired by the acting and stand-up career of Robin Williams. He also loved playing soccer and currently is a part-time referee for teams at Miami.
Despite being an athlete and a class clown in high school, even in English class, Michael's teacher saw potential in him and encouraged him to audition for the winter musical. The next semester, Michael had decided to also send in an audition for the spring musical that he called 'horrific', but his director decided to cast him in a role because of the potential he regularly saw in him.
"Him telling me that he trusted and saw something in me had given me the confidence I needed to propel me forward all the way to today. It's why I still audition for things and it's still something I constantly keep in my head," Michael said.
Since coming to Miami, Michael has run into a few obstacles during performing, including getting sick the week before a performance, but has definitely struggled the most when it came to singing and vocal experience. 
Michael considers himself an actor first, so getting used to reading music and learning harmonies has proven difficult. Luckily his roommates, who are experienced vocalists and performers, have guided and helped him by teaching him basic techniques and voice training whenever he asked for it.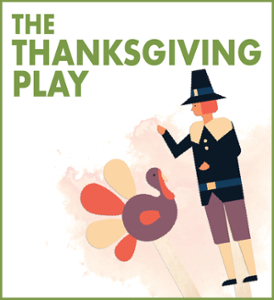 Michael has performed in multiple shows in college, with his first Miami University Theatre show being "The Thanksgiving Play," a political comedy that was right up his alley as a comedic actor and had a message that he enjoyed.
At first, Michael felt intimidated by his castmates alongside him and felt out of place in a room full of much more experienced actors. Eventually, after weeks of practice and effort before the show opened, something finally clicked in him that helped him gain the confidence to see that he was just as worthy to be onstage as the rest of the actors that had been chosen alongside him. 

"It's a great feeling to see everyone I love and care about enjoying something that we all have put so much time and effort into," he said.

In the future, Michael plans to be a professional screen actor or a soccer referee for the professional leagues, depending on where his life takes him.
Pictured right, Michael's favorite piece of art - His first Miami University Theatre Department production, "The Thanksgiving Play" by Larissa FastHorse
---
Students at Miami University who study both engineering and creative arts classes have found importance in merging the two fields and becoming more creative in their engineering work and in their artwork as a result. Not only do students studying both subjects see the importance of honing into creativity, but also students studying just arts or just engineering feel a need for both logistics and creativity in any type of learning would be beneficial in creating more innovative creations.

Whether you're working on a robotics project or on a canvas, creativity is essential.

It is a dynamic process that can be applied to any work field but is especially important in the engineering field, where combining creative thinking with logistics is essential to innovation.