Dating and Inter-Personal Violence at Miami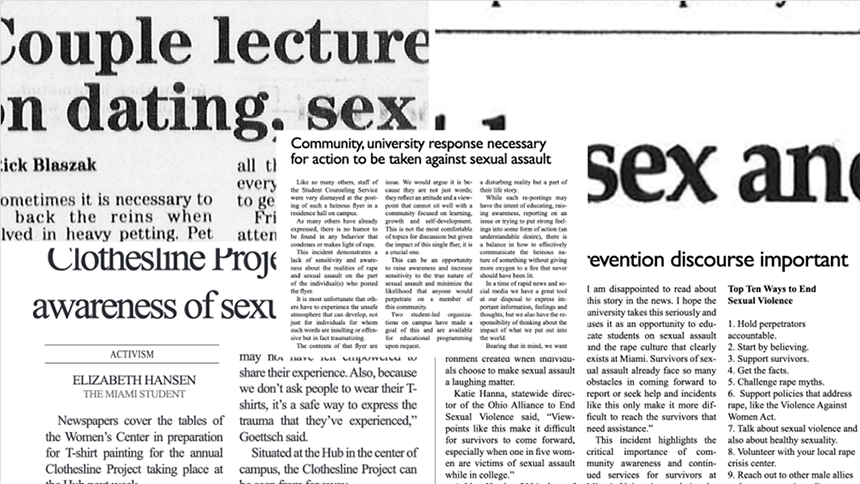 (Images from left, clockwise, Rick Blaszak, "Couple lectures on dating, sex," Miami Student, September 20, 1988; Editorial Staff, "'Student adds sex and dating column," Miami Student, March 4, 2005; Kate Hanna, "Sexual Assault Prevention Discourse Important," Miami Student, October 19, 2012; Melissa Auringer and John Ward, "Community, university response necessary for action to be taken against sexual assault," Miami Student, October 19, 2012; Elizabeth Hansen, "Clothesline Project raises awareness of sexual assault," Miami Student, September 29, 2015)
Content Warning – The following research discussion will involve discussion of dating, sexual, and inter-personal violence at Miami. Miami University is committed to maintaining a healthy and safe learning, living and working environment and to creating an environment that promotes responsibility, dignity and respect in matters of sexual and interpersonal conduct. Any student, employee, or applicant for employment or admission to Miami University who believes they have been discriminated against on the basis of sex may file a complaint with the Title IX coordinator. This link will take you to the Office of Equity and Equal Opportunity Incident Reporting Form. If you reached this site during an immediate emergency, you should contact Campus Police (513-529-2222) or Oxford Police at 911.
Dating and Inter-Personal Violence at Miami
Carolyn Slotten
Department of Family Science and Social Work
Description
In recent years, the New York Times, the Wall Street Journal, the Washington Post, and other major media outlets have covered institutional responses to incidences of dating and sexual violence on university campuses. At Miami University, Title IX coordination, handled through the Office of Equal Employment Opportunity partners with student organizations and community members to raise awareness of sexual assault, sexual misconduct, interpersonal violence, and sexual harassment resources. Even a cursory glance at campus reports, news coverage, and social media accounts – like "@dearmiamiu" on Instagram – would suggest that the work to address student and community experiences remains ongoing.
Even a cursory glance through the Miami Student newspaper digital archives, and other University digital collections, will demonstrate to students that the questions of dating, sex, and inter-personal violence have a history at Miami. These assignments are designed to help students understand both Miami's institutional history with these questions and help them locate Miami within broader national conversations on the same.
Possible Assignments
There are numerous possibilities for possible activities. All activities involve a critical evaluation of resources/issues from across the Digital Collections hosted by the Walter Havighurst Special Collections in King Library at Miami University. After familiarizing students with recent institutional and community conversations and initiatives, students should investigate the archive, asking themselves the following questions:  What is found? What is not found? What are the motivations behind public messaging and reporting? Which questions are answered? Which questions are not?
Possible activities include:
Possible Activity Idea 1). Take Back the Night was a movement that originated in Philadelphia in 1975. It sought to provide a venue for women to speak out against sexual violence. Every year Miami holds a Take Back the Night march after a speak-in for participants/survivors.  What is the history and occurrence of TAKE Back the Night demonstrations at Miami?  When did they begin, how did they begin, what is the experience of being at one of these rallies? What is its impact on Miami students? Who are the "victims" of violence on Miami's campus that are honored through this rally?
Possible Activity Idea 2). Miami university has had a "Women's Center" in many forms since the 1970s. The purpose of these initiatives is to ensure women's full participation and success on campus through activities that support and advocate for women, engage the campus community with women's and gender issues, and foster women's personal and professional development and empowerment. What is the history of the Women's Center and its involvement with gender violence on campus?  When and why did it begin?  What artifacts and information are in the archives? What are the many focus' and changes the center has gone through over the years?  Have any "controversial" issues happened?  How has the center supported Miami women over the years?
Possible Activity Idea 3). Examine the history of the resources available on campus to survivors of sexual violence. The university web sites list these as Primary Programming focused on the issue of sexual violence: Ongoing Programming, Online Resources, Title IX Efforts, Response Training, Supportive Services, Safety-Related Transportation, and Sex Offender Registration What are these initiatives?  Who oversees them?  How do they support victims of violence?  Are there additional resources you think would be beneficial to students?  Are there resources used in the past that no longer exist and why?
This can include an evaluation of student groups, etc. How long have they been available?  What resources were available historically?  How have these resources been supported, not supported, funded, etc.?
Possible Activity Idea 4). Compare and evaluate the three university sponsored "campus climate surveys" and the information they present on sexual violence that have occurred in 2015, 2016, and 2017.  What was asked?  How many respondents were there?  What information was gained?  What university changes resulted?  What wasn't asked? Be critical thinkers.
Possible Activity Idea 5). Examine and evaluate the many reported cases of sexual violence at Miami and in Oxford though the public notification system. What is being told, what is not? How does it impact/effect students?
Possible Activity Idea 6). Examine historical documents about Miami looking for information about "problems" of women on campus, issues of "problem" behaviors by women, gendered university expectations etc.  Go back as far as possible looking through documents, publications, letters, etc.  Places to look include the Miami paper, old Oxford Press papers, etc..
Learning Outcomes
Think

 

critically about the complexity of the dynamics of interpersonal violence and the effect on the community of Miami
Critique

 

interpersonal violence activities/focus/programming using Miami documents and research
Evaluate

 

the impact of various policies, experiences, and interventions from a university student perspective.
Research & Teaching Process
Much of this work was designed for inclusion in the course SOC/WGS 451/551 Interpersonal Violence. In preparing this material, however, it became very clear that the University's archives are essential component of encouraging student awareness and responsibility for their community. This project involves a critical evaluation of resources/issue from as many sources as can be located. Utilizing the many historical archives Miami University holds is an excellent source of information. Back issues of the Miami Student newspaper, student submissions/diaries, Oxford Press, etc. are all excellent resources that can be used to complete this project. The entire idea was to find a way to explore and understand Miami University from a "historical" lens.  I teach Family Violence/Interpersonal  Violence courses in FSW every semester. Even the difficult topics discussed in class could be highlighted by using the history of Miami, its experiences, responses, and programming to address such issues is a great way to appreciate and understand history.   It is educational to understand our institution and its history from the perspective that better understanding yesterday will help us discuss current issues and influence the future. This project was designed with that in mind.
There are many ways these activity ideas could be used.  They can be explored individually, in a group project, or even  "competing" groups.  They can be used to understand where we are today and how to shape our institution for the safety of students tomorrow.  I think the opportunity to critically examine strengths, weaknesses, institutional processes and programming will greatly benefit the education of our students.  The questions of who we are, how we got where we are and where do we want our university to be in the future are integral in this project.  We, as an institution are shaped by our past but more importantly are part of shaping our future.  This is the driving force behind this project.
Stepping outside the question of violence, for the moment, these materials also suggest that for any campus controversy or problem – mitigation of climate change, architectural challenges, development challenges, other safety challenges – there was likely a full institutional conversation about how best to solve them. There is value in bringing these archives in your classroom in ways you may not otherwise consider.