University Diversity and Inclusion Awards
These awards are given to both individual faculty and staff as well as university offices or divisions that have enhanced the diversity of our community and elevated inclusive excellence as a top priority at Miami.
This award recognizes members of the Miami University community who have demonstrated, advanced, or promoted activities, programs, or actions that have supported campus efforts to help enrich the experiences for faculty, staff, and students at the University.
2021 Award Recipients
Sara Acevedo
---
Mecca Abdul-Aziz
---
Amber Franklin
---
Carrie Chambers
2020 Award Recipients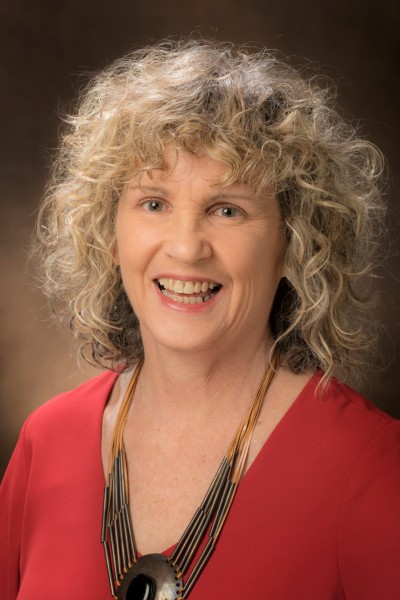 Tarah Trueblood
Center for American and World Cultures
Intergroup Dialogue
---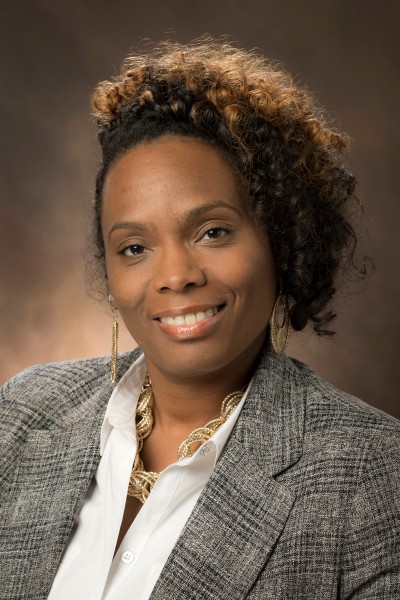 Jonika Moore
Admissions
Bridges Program
---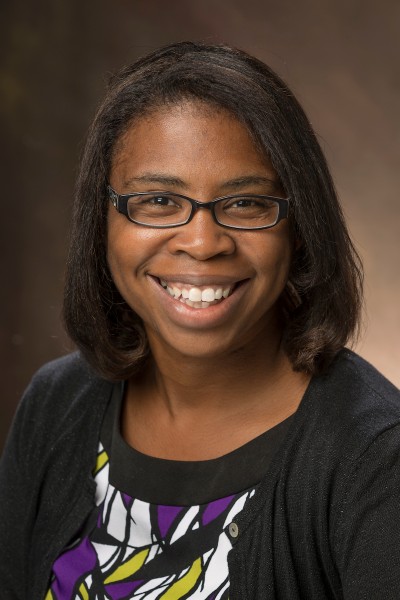 Vicka Bell Robinson
Residence Life
Diversity Task Force
---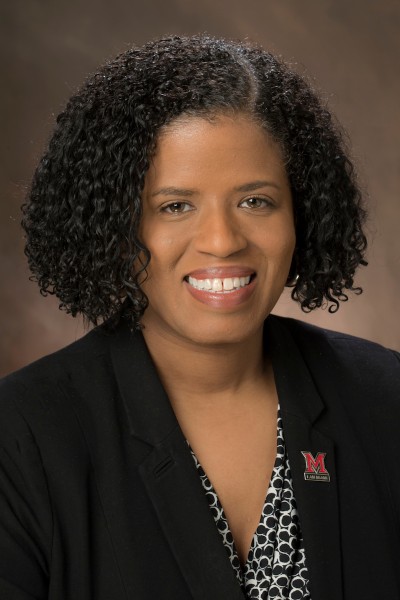 Kenya Ash
Office of Equity & Equal Opportunity
Across the Divide Diversity Conference
---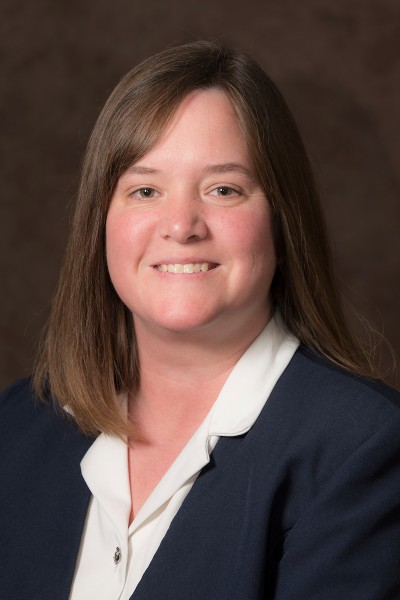 Betsy Kreger
Office of Equity & Equal Opportunity
Across the Divide Diversity Conference
2019 Award Recipients
Eun Chong Yang (International Faculty and Staff Association at Miami)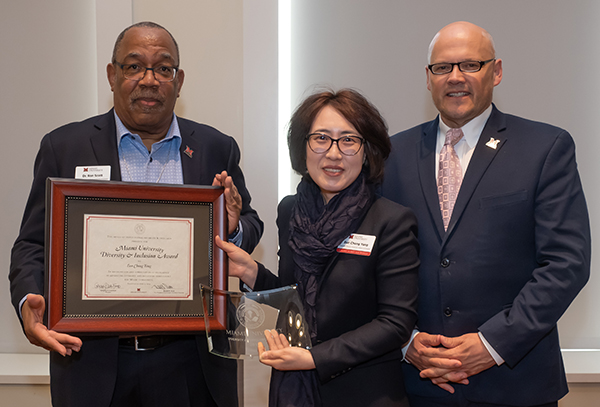 Eu Chong Yang with Ron Scott and President Crawford
Faculty/Staff Groups include the following:
Asian and Asian-American Faculty & Staff Association (AAA-FSA)
Association of Black Faculty & Staff (ABFAS)
Association of Latino/a Faculty and Staff (ALFAS)
International Faculty and Staff Association at Miami University (IFSAM)
Eun Chong, associate director of Miami's American Culture and English (ACE) Program, has worked to contribute to diversity and inclusion on campus by organizing two Faculty Learning Communities for international faculty and grad students. She is the founder and the president of IFSAM, a new organization devoted to issues of international diversity at Miami. She provides outstanding leadership in organizing events for IFSAM members, ensures a representation of IFSAM for important events related to diversity and inclusion, and constantly gives positive feedback and encouragement for IFSAM members. Because of her leadership, IFSAM is a thriving and active organization that attracts many international and domestic faculty and staff members.
---
Center for Career Exploration and Success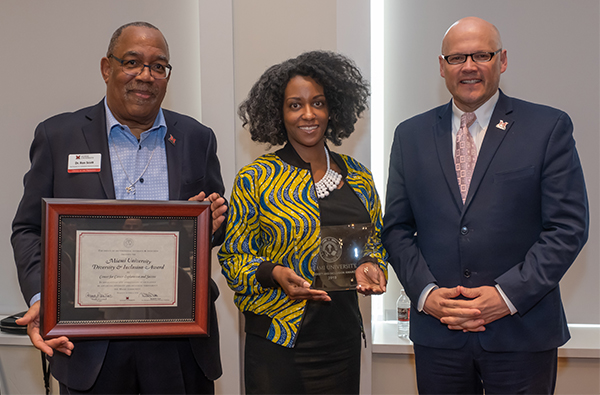 CCES representative Takeia Howard with Ron Scott and President Crawford
The Diversity and Inclusion Institute, created by the Center for Career Exploration & Success (CCES), was designed to broaden cultural awareness, competency, and career knowledge in preparation for career success. The Institute creates space where the academic community can identify ways to advance inclusion and diversity in professional spaces. Employers, Miami scholars, and leading professionals share their best practices and expertise.
In conjunction with President Crawford's emphasis on Diversity and Inclusive Excellence, the CCES launched a professional development series. That inaugural Career Summit for first-year students was a daylong professional conference experience with members of area businesses actively participating in discussions and presentations. Topics included professional branding and etiquette, career interest clusters, and the advantage of a liberal arts education and translating it into future career success. As a recent follow-up and extension of their Presidential Series on Career and Leadership, the Center sponsored a half day ELEVATE: Diversity and Inclusion Career Institute.
---
Bennyce Hamilton (Miami Regionals Diversity and Multicultural Services)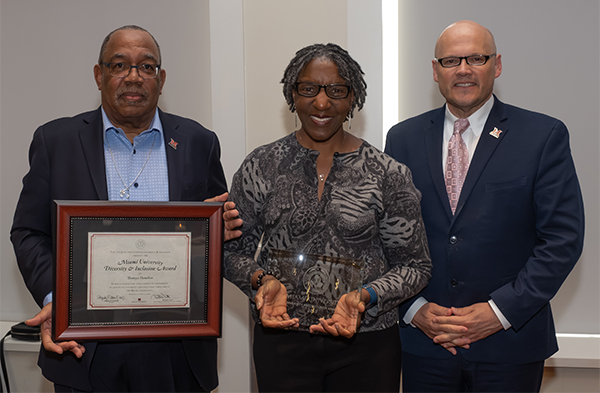 Bennyce Hamilton with Ron Scott and President Crawford
Dr. Bennyce Hamilton unites people on the Regional campuses through the arts, community partnerships, scholarly lectures, and open exchange of ideas. From programming such as the "Racial Legacy" series, to the free speech democracy spaces on Hamilton and Middletown campuses, she is motivated by her commitment to honest dialogue. Students, faculty, and staff enjoy comfortable and safe spaces for discussion across perspectives, including her popular "Topic-of-the Month" conversations. Her positive spirit brightens the lives of everyone she meets, even in the most discouraging of times.
---
Denise Krallman (Office of Institutional Research)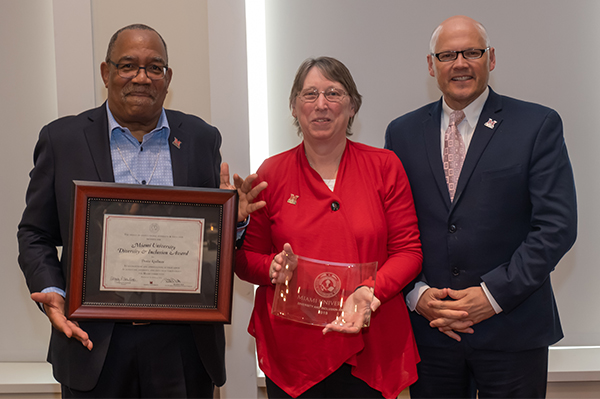 Denise Krallman with Ron Scott and President Crawford
Designed to evaluate the experience of the current campus climate, the One Miami Campus Climate Survey would not have happened without the dedication and hard work of Denise Krallman, director of Miami's Office of Institutional Research. While several individuals dedicated their time and effort toward the project, Denise spent incalculable hours of work behind the scenes with the Task Force, campus constituents, and the contractor, Rankin and Associates to ensure its successful completion. Denise was a formidable force for the University and the survey from the start of the process and the signing of the contract to the final revisions on the document submitted to the University and all of the activities in between.
Distinguished DEI Service Award
This award recognizes the creative/academic contributions of a unit steeped in a consistent record of service that has highlighted or supported diversity and inclusion or directly shaped and positively affected the meaning and understanding of diversity and inclusion on campus.
2021 Award Recipients
The Farmer School of Business Student Organizations and Diversity
Director: Michelle Thomas
The Enrollment Management and Student Success Inclusive Excellence Committee
2020 Award Recipients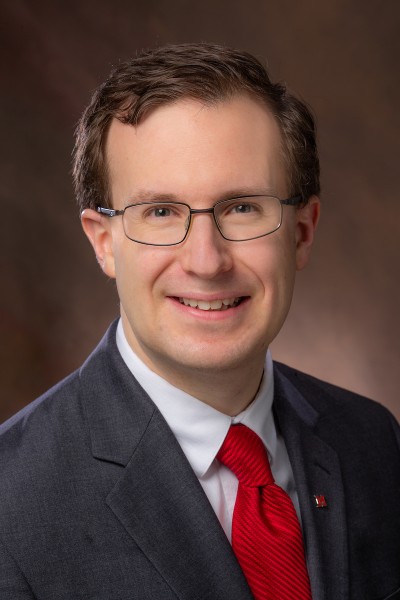 David Seidl
Information Technology Services
---
Sean Poley
Information Technology Services
---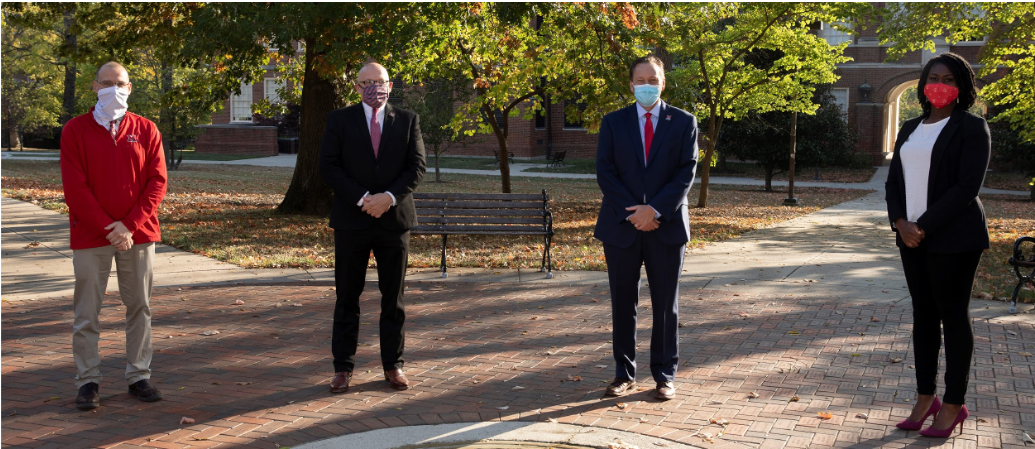 David Saylor, Jude Kelly, and Breanna Robinson
InterCollegiate Athletics
2019 Award Recipients
University Communications and Marketing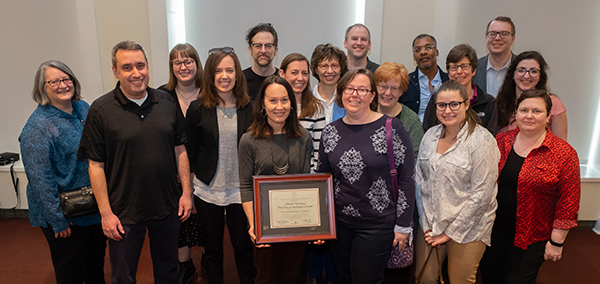 Staff of University Communications and Marketing
University Communications and Marketing (UCM) has never lost sight of the fact that there is a group out there who looks to see if they are in the picture and not just the "three and a tree" cliché shot. In addition to producing print, news, and digital communications to promote the university, UCM designs the annual "I Am Miami" t-shirts and materials, the Love and Honor Code cards, the Freedom Summer brochure, and custom advertising, especially those directed at non-majority populations. The poignant video they created for the "Freedom Summer of '64" Award in Washington, D.C. greatly moved both the audience and the award recipient, Congressman John Lewis.
UCM designed—and continues to develop—one of the most comprehensive college diversity and inclusion websites on the internet. Reports and statistics, news, training resources, and spotlight events are just a few of the features found on this site.
Whether it's a press release or a photo, a post on social media or a poster, a viewbook or a video, UCM consistently affirms the image of diversity and inclusion at Miami.
Institutional Excellence Award
This award recognizes an individual whose leadership has led to or impacted a policy shift, innovation programming, or demonstrated opportunities for the Miami community to engage in diversity and inclusion activities directly on campus.
2021 Award Recipients
Gillian Oakenfull
2020 Award Recipient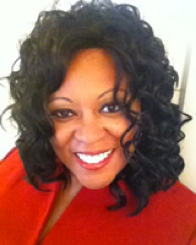 Carolyn Craig
Affinity Group Support
Diversity Certificate Program
2019 Award Recipients
Jerome Conley (University Libraries)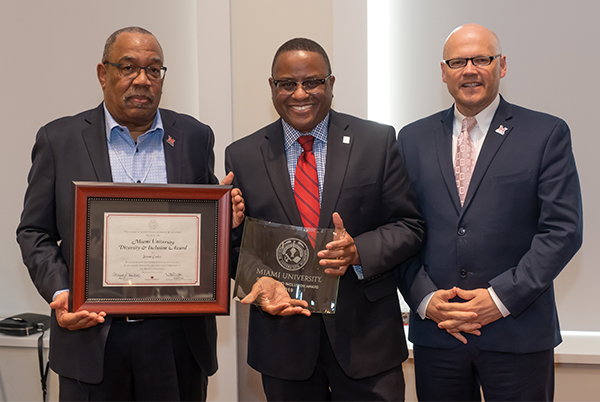 Jerome Conley with Ron Scott and President Crawford
The University Libraries are recognized as a central partner in diversity and inclusion across all campuses. Their thought-provoking "Read-Ins" encourage members of the community to actively participate in the celebration and understanding of people from different backgrounds. By consistently offering programming that explores diverse topics and experiences while providing opportunities to recharge and rethink, the libraries have become much more than a place of isolated research.
Under the leadership of Jerome Conley, their intentional efforts to ensure both diversity and inclusion are not just stated ideals; they are standards. From establishing one of the first departmental diversity and inclusion committees on campus, to requiring diversity training of all staff members who serve on search committees, the libraries unfailingly demonstrate their dedication to both the university and the surrounding community. 
---
Robert Keller
Robert Keller with Ron Scott and President Crawford
In each of his works, Bob has created a space where each of us can experience and understand the journey of those who came before us. The Freedom Summer memorial, with its education and spiritual properties, the Armstrong Student Center Seal, a three-dimensional installation in the center of the building, and the Legacy Circle on the Western campus, a structure built to honor the history of the Western College for Women, were all designed to tell a story. Bob's latest work, the Alumni Veterans Tribute, celebrates the proud Miami tradition of alumni in military service. The Tribute is an artistically reflective place to express and experience the values and emotions that are stirred while remembering our veterans, history, legacy, and all that Love and Honor stands for.