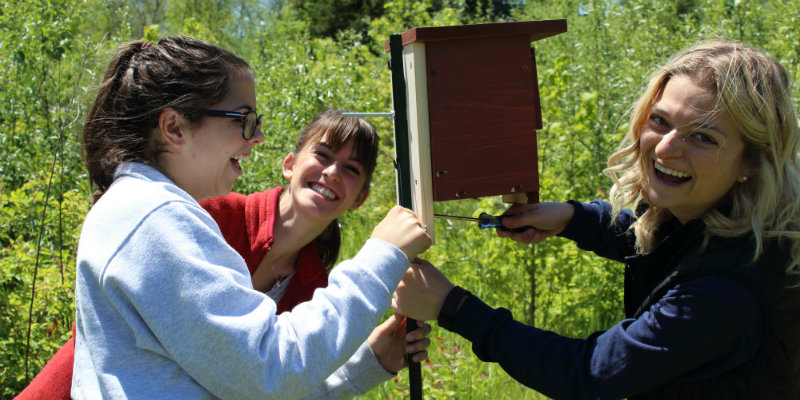 The College of Education, Health and Society seeks accreditation from a variety of external organizations because such recognition provides added assurance to students and prospective employers that our degree programs meet the highest professional standards.
The accreditation process typically involves an extensive self-study, followed by an on-site visit by nationally known professionals, and then a decision by the accrediting body as to whether accreditation should be granted.
Miami accredited programs in the College of Education, Health and Society:
Art Education Program, National Association of Schools of Art and Design
Athletic Training Program, Commission on Accreditation of Athletic Training Education
Nutrition Program, Accreditation Council for Education in Nutrition and Dietetics (ACEND)
Music Education Program, National Association of Schools of Music
Social Work Program, Council on Social Work Education (CSWE)
Teacher Education, Council for the Accreditation of Educator Preparation (CAEP)
Council for the Accreditation of Educator Preparation (CAEP)
Council for the Accreditation of Educator Preparation (CAEP) accreditation demonstrates that the performance of our teacher candidates has been thoroughly assessed before they are recommended for licensure and that our professional programs meet national standards.
The two national accrediting bodies, the National Council for Accreditation of Teacher Education (NCATE) and the Teacher Education Accreditation Council (TEAC), merged to become CAEP on July 1, 2013.
Accreditation confirms that each of EPPs at Miami University prepares caring, competent and transformative educators.
Ohio Assessments for Educators (OAE) Licensure Test Pass Rates.
Miami programs nationally recognized by CAEP through a review by their professional organizations include:
Graduate Achievement
The state of Ohio recognizes that high-quality teachers and principals are developed through high-quality educator preparation programs. To improve the quality of preparation programs in Ohio, H.B. 1 of the 128th General Assembly directed the Chancellor of the Board of Regents to develop a system for evaluating Ohio's educator preparation programs and holding institutions of higher education accountable for their graduates' success. H.B. 290 of the 128th General Assembly provided for the sharing of data between the Ohio Board of Regents and the Ohio Department of Education to link the performance of educators to the institutions that prepared them.
The Board of Regents worked with the Ohio Department of Education and higher education institutions to collect data on the following identified preparation metrics for the 2011-2012 report:
Licensure Test Scores
Value-added Data (EVAAS)
Candidate Academic MeasuresField/Clinical Experiences
Pre-Service Teacher Candidate Survey Results
National Accreditation
Resident Educator Persistence Data
Excellence and Innovation Initiatives
Dispositions
Dispositions are defined as the values, commitments and professional ethics that influence behaviors toward students, families, colleagues and communities and affect student learning, motivation and development as well as the educator's own professional growth. The College of Education, Health and Society has developed a dispositions process that all EHS licensure candidates are held accountable to during their studies at Miami.
Ohio Assessments for Educators (OAE)
OAE tests are required for teacher licensure in Ohio.
The Department of Teacher Education's licensure programs and those in art education and music education require competence in basic skills as measured on the Praxis CORE Academic Skills for Educators tests from ETS, but any student who has an ACT of 21 or higher or an ACT (math plus verbal) of 980 or higher is exempt. A passing score on each of the CORE tests is 220 (Reading, Writing and Math). The Ohio Assessments for Educators include tests of content and pedagogical knowledge and are required of all educator candidates seeking licensure in Ohio. In early childhood, middle childhood, adolescent, and foreign language education, you must pass your content knowledge tests before student teaching. Students in special education may take OAE before or during student teaching if they student teach spring semester. Students in music education and art education may student teach before taking the OAE tests.
Talk with your faculty advisor about the content test for your subject area. He or she may be able to provide insight into the content test. Study guides may be available in your department and are available in bookstores and online.
Workshops are offered periodically by Miami to help students prepare for the pedagogical test. That test is called the Assessment of Professional Knowledge (APK). There is an APK for each major (e.g., Early Childhood, Middle Childhood, and Adolescence to Young Adult).
For information about test codes, minimum scores, test preparation, registering for Praxis tests, etc., please visit: www.oh.nesinc.com/
Accreditation questions should be directed to: Dr. Sherrill Sellers: 513-529-6317
Licensure
Licensure questions should be directed to: Liz Hurrell: 513-529-9200