Rob Cron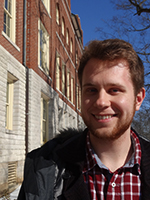 Special Education major
"I chose education as my major because I was in Urban Teaching Cohort (UTC) classes that really showed me something of the inequalities that go on in our educational system...
"That made me pretty mad, so that's why I chose education, and then I chose special education because that population is discriminated against and so marginalized. Even today when we're supposed to be so tolerant, a lot of these students have really bad experiences.
"UTC has really pushed my education as a teacher, and I definitely recommend joining the UTC because it will challenge you in ways that you won't get in other classes.
"I studied abroad in Cuba in the winter semester. It was really cool because we learned about a place that we don't know much about—because the US embargo has it so locked down. It was so great to understand Cuba from their own perspective. It opened our eyes in a lot of ways."