U.S.-India Internationalization Cohort Gathers at NAFSA
Participants bond over the shared vision to advance university internationalization in India.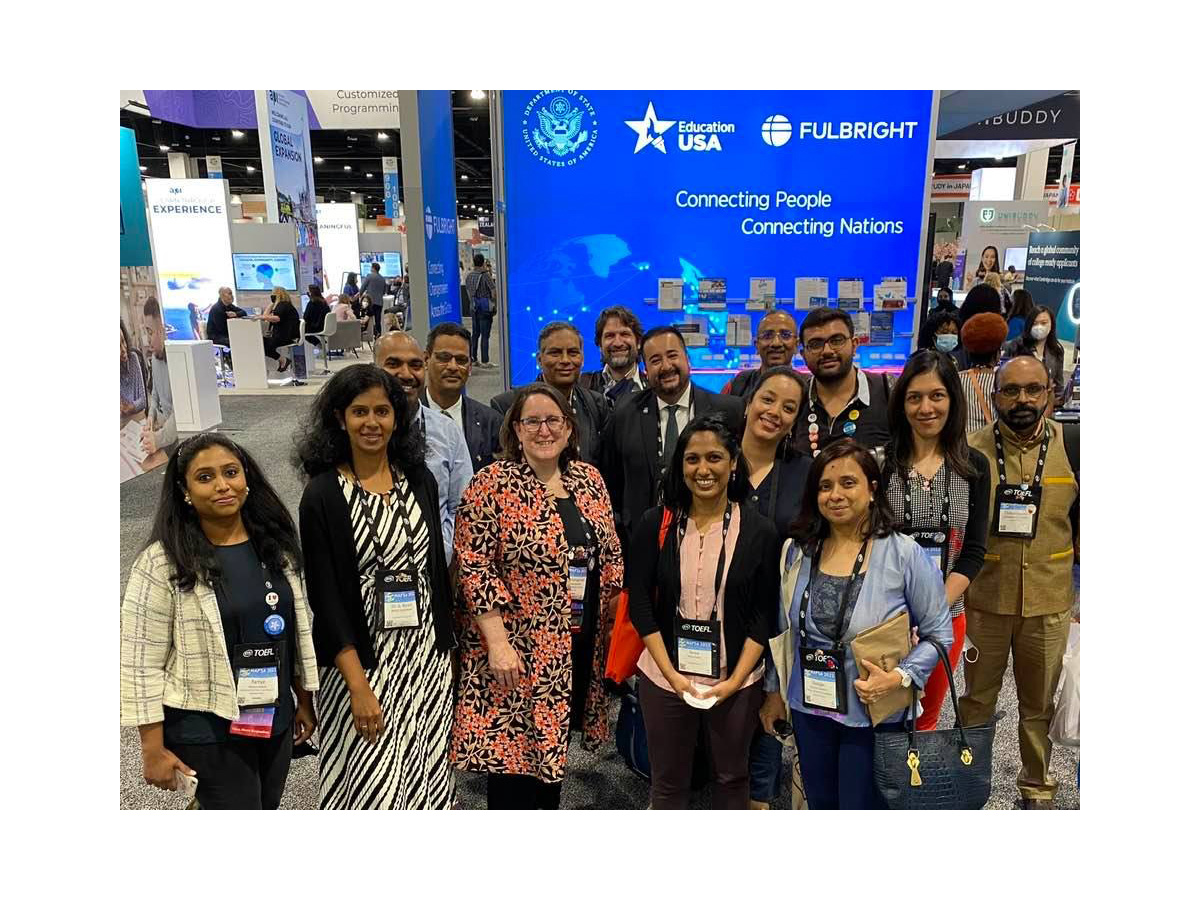 Program facilitators Karla Guinigundo (first row, center) and Vaishali Raval (second row, second from right) pose with the U.S.-India cohort at NAFSA.
A group of international educators from ten institutions across India met face to face in Denver at the recent NAFSA: Association of International Educators Conference and Expo. The NAFSA conference represented a milestone in this remarkable collaborative learning initiative.
Earlier this year, in partnership with the U.S. Embassy in New Delhi, Miami launched the U.S.-India Higher Education Collaboration and Internationalization program, which provides a year-long professional development program for a cohort of higher education leaders in India to learn about higher education internationalization in the United States and develop internationalization plans for their institutions. Facilitated by Karla Guinigundo (Global Initiatives) and Vaishali Raval (Psychology), the program brings together educators from across India to study best practices and engage with U.S. Senior International Officers (SIOs) and administrators in the United States.
Cohort member Professor Gunjan M. Sanjeev (Amity University, Gurugram, India) said, "The USA continues to be one of the top destinations for international higher education aspirations in India, and this program will create more opportunities for students' exchange, faculty exchange, joint research, and joint programs between higher education institutions in the two countries."
Beyond the meetings, sessions, and learning that took place at the conference, the new cross-cultural relationships that were formed provided inspiration and energy for the coming year. Raval said, "Over the past week, I learned a great deal about a diverse group of institutions of higher education in India and the pioneering work towards internationalization that our 10 colleagues are leading. The emerging US-India partnerships are exactly what we need to solve global problems related to climate change, and educational, health, and economic disparities. I am grateful to be a small part of this process."
Guinigundo agreed. "Vaishali and I are leaving Denver with 10 new friends and colleagues, and, perhaps in a small way, the relationship between the United States and India has grown a bit stronger this week," she said. "For me, there is no greater work than this."
The program will continue through November 2022 with additional online course modules engaging leading SIOs in the United States and will culminate with a symposium during International Education Week.