Celebrating the Legacy of Robert E. Strippel
Student-produced video tells the story of the Robert E. Strippel Memorial Fund for Continuing Dialogue on Justice and Human Rights
Celebrating the Legacy of Robert E. Strippel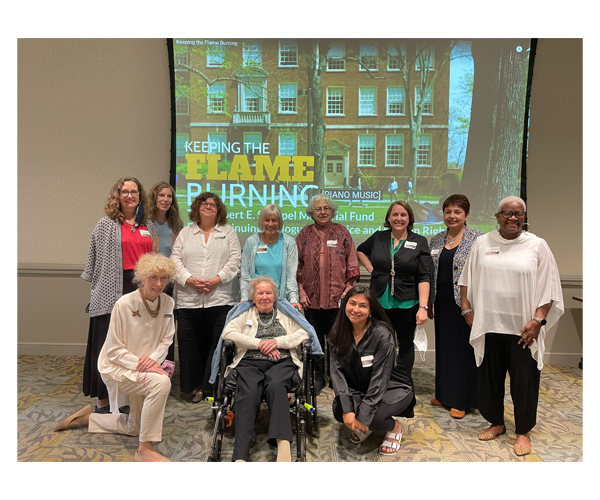 Mrs. Jane Strippel, surrounded by current and former committee members of the Robert E. Strippel Memorial Fund for Continuing Dialogue on Justice and Human Rights, and her daughter Molly Strippel.
Most Miamians are familiar with the historic Freedom Summer training that occurred in 1964 at the Western College for Women. But fewer know the story of the decades-long legacy of social justice that grew out of one man's involvement with that event.
Keeping the Flame Burning, a 2021 video produced by Miami University students, shares the story of Robert E. Strippel (1924-1974). Strippel and his wife Jane came to Miami in 1958. Robert Strippel was instrumental in setting up opportunities for voter registration in the South, and by the summer of 1964, when a group of 800 people came to help with voter registration and voting rights as a part of Freedom Summer, the Strippels were right there with them. Their involvement in the civil rights movement and their steadfast commitment to human rights and social justice shaped their work as educators for years to come.
After Robert Strippel's death in 1974, the Robert E. Strippel Memorial Fund for Continuing Dialogue on Justice and Human Rights was endowed in order to further his work within the university and the surrounding community. A committee of faculty, staff, students, alumni, and members of the community administer the fund and produce programming that responds to current issues of justice and human rights, creating opportunities for continuing dialogue.
Keeping the Flame Burning features students Audrey Baker, Linden Bezesky, Julia Federman, Jannie Kamara, and Jenna Landgraf, who check in from their homes in Zoom-conference style to reflect on their time at Miami and the history of the Memorial Fund: "the conscience of our campus," as Landgraf says.
After the students provide context, the video features testimonials from the people who are involved with the fund, some of whom personally worked alongside the Strippels. A common theme was the Strippels' emphasis on mutual respect and dialogue, making an effort to hear from different stakeholders to make sure that everyone had a voice. As a result, the programming has addressed a variety of crucial topics over the years, ranging from the school-to-prison pipeline to social inequities of the pandemic.
And although COVID protocols forced the filmmakers to collect testimonials remotely, the Strippel committee was able to gather in person at the Marcum Conference Center with Mrs. Jane Strippel, her daughter Molly, and several other members of the Miami University community who were involved in some of the programs and initiatives over time. They came together for the formal launch of the Keeping the Flame Burning video and enjoyed a meaningful luncheon celebration.
Afterward, award certificates and gifts were presented to the following people to recognize their outstanding and committed leadership in supporting the Robert E. Strippel Memorial Fund's mission and civic action for Continuing Dialogue for Justice and Human Rights.
Jane Strippel, 

Retired Teacher, Activist, Wife of Robert E. 

Strippel

Mary Jane Berman, Former Director, Center for American and World Cultures, and former chair of the Robert E. Strippel Memorial Fund Committee. Professor Emerita, Anthropology Department, Miami University
Jacqueline Daugherty, Associate Teaching Professor, Individualized Studies, Miami University. Director, Western Center for Social Impact and Innovation. Chair of the Robert E. Strippel Memorial Fund Committee
Janis Dutton, Former Director of Oxford Citizens for Peace and Justice
Deloris Rome Hudson, Alumna, Miami University. Retired Teacher, Member of the National Education Association
Kathy McMahon-Klosterman, Professor Emerita of Educational Psychology, Miami University
Kimberly Medley, Professor Emerita of Geography, Miami University
Sibyl Harris Miller, Miami University Alumna, Class '66, and former advisee of Robert Strippel. Member of NAACP. Former Co-President of the League of Women Voters of Oxford
Linda Musmeci Kimball, Co-founder of Oxford Citizens for Peace and Justice (OCPJ) and former director of the Peace Center. Member of NAACP Oxford Chapter
Jacqueline Rioja Velarde, Associate Director, Global Initiatives' Center for American & World Cultures
A committed core—a group of students and faculty who share together a world view in essential harmony with the community or tradition that sustains them—A self conscious minority to share a commitment.
Robert E. Strippel - On how change happens on campus and in the community