Reflecting on the UniDiversity Festival 2022
The annual Latin American and Caribbean UniDiversity Festival, a highlight of National Hispanic-Latino American Heritage Month at Miami, was held on September 30.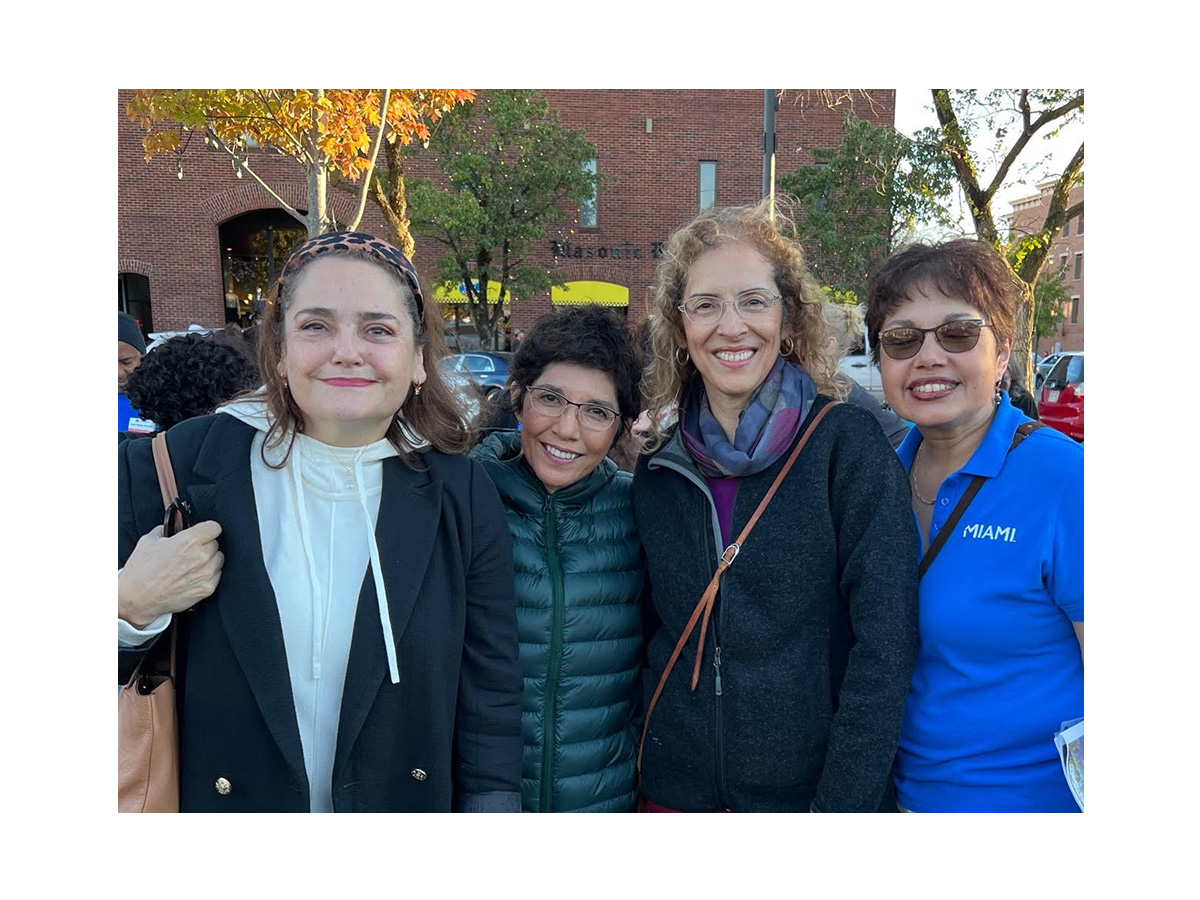 Left to right: Lorena Mora-Mowry (Media partner), Ligia Cuevas'Johnson, (Cincinnati ELL/SLIFE Teacher), Lilleana Cavanaugh (Guest speaker, Director, OCHLA), and Jacqueline Rioja Velarde
For 19 years, the annual Oxford uptown Latin American and Caribbean UniDiversity Festival and cultural heritage celebration has provided opportunities for intercultural connections, civic engagement, and joyful participation in a Miami tradition. Dozens of people work together to make it a success. 
As Festival planning committee chair Jacqueline Rioja Velarde puts it, "It is a true expression of synergetic collaboration."
As part of that synergy, Rioja Velarde approaches collaboration as a shared responsibility, with a focus on team building. "This year's Festival brought to the event the strengths of each one of us and who we represent: from Academic Affairs, Student Life, Alumni Association, UCM, support from the President's Office for Institutional Diversity and Inclusion, and from community partners. We can state proudly that this was one of the most diverse, inclusive, engaging, intercultural festivals that we have ever delivered in the last few years! Even the weather was just perfect," she said.
Another key to success is the application of universal design to ensure flexibility and accessibility. "Implementing a universal design framework allowed us to expand opportunities to enjoy inclusive experiential learning activities and spaces for intercultural engagement," she said. "This free event welcomes everyone!"
Over the years, Rioja Velarde has also developed a strategic cross-cultural marketing campaign, not only offering bilingual resources to reach diverse audiences but also relying on sustainable partners from the larger Hispanic/Latino community such as the Ohio Commission of Hispanic Latino Affairs, the Cincinnati Hispanic Chamber of Commerce, media partner Mujer Latina Today, LLC and a new media supporter, La Mega Media Inc. "They have extended our capacity to promote the event, broadened our network, and attracted new audiences locally and regionally," she said.
Rioja Velarde noted that this visibility adds value to the university efforts to recruit multicultural students. In fact, Miami's Hispanic/Latino student population is steadily growing in numbers and in leadership. "All these strategies influenced the development of a sense of belonging, and unity: core values in the Hispanic/Latino community," she said.
The Festival Committee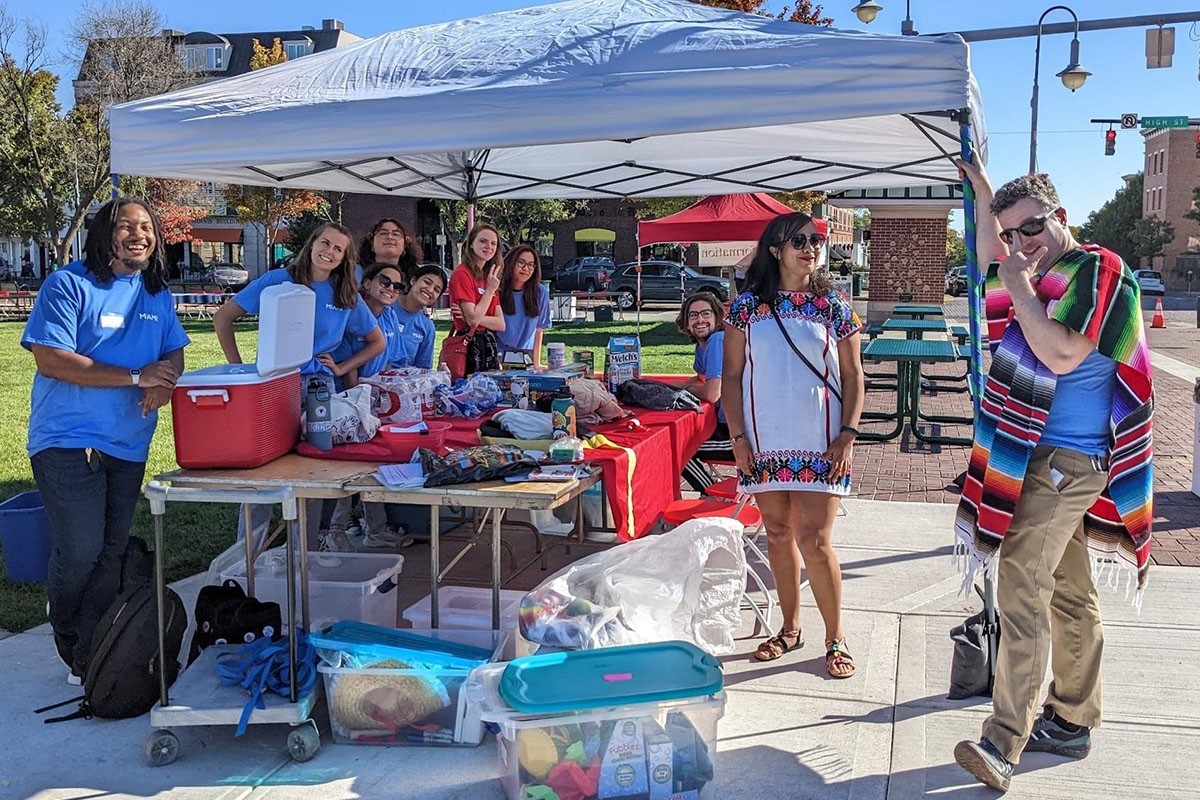 Dan Sinetar (at right) with his volunteer team
As the Festival kicked off, committee member Dan Sinetar was busy serving as the volunteer coordinator for UniDiversity for the second year in a row. An Oxford resident, Sinetar is also the assistant director of International Student and Scholar Services in Global Initiatives.
Sinetar has been enjoying the event since 2018 both as a community member, and later in a professional capacity. "My family and I have attended every UniDiversity since then," he said.
---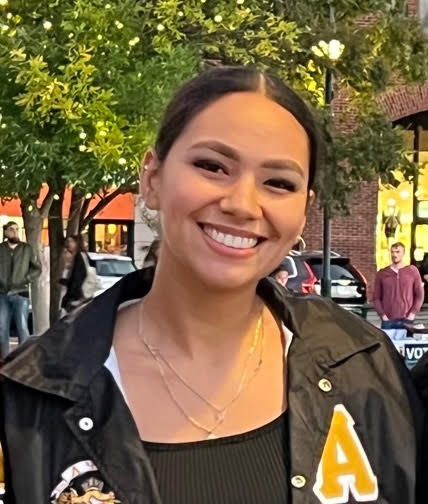 Marisol Hernandez
Joining the committee for the first time this year was senior Marisol Hernandez, coordinator of student intercultural engagement. In addition to her service on the committee, Hernandez holds leadership positions in UNIDOS - Association of Latin American Students and the Alpha Sigma chapter of Alpha Psi Lambda National, Inc., a co-educational Latino-oriented fraternity.
Both of these organizations hosted tables at the information fair and presented special performances. UNIDOS, joined by other Hispanic/Latino organizations, led the Peace Flags Parade, and Alpha Psi Lambda organized a stroll, bringing students together in celebration.
Having attended the 2021 festival, Hernandez was looking forward to the family-friendly vibe: the amazing food trucks, children's activities, incredible performances, and above all, the chance to connect to the Oxford community. She said, "This festival means I have the chance to share my culture without being judged. I can educate others on what it means to be Latina in Oxford."
Festival Partnerships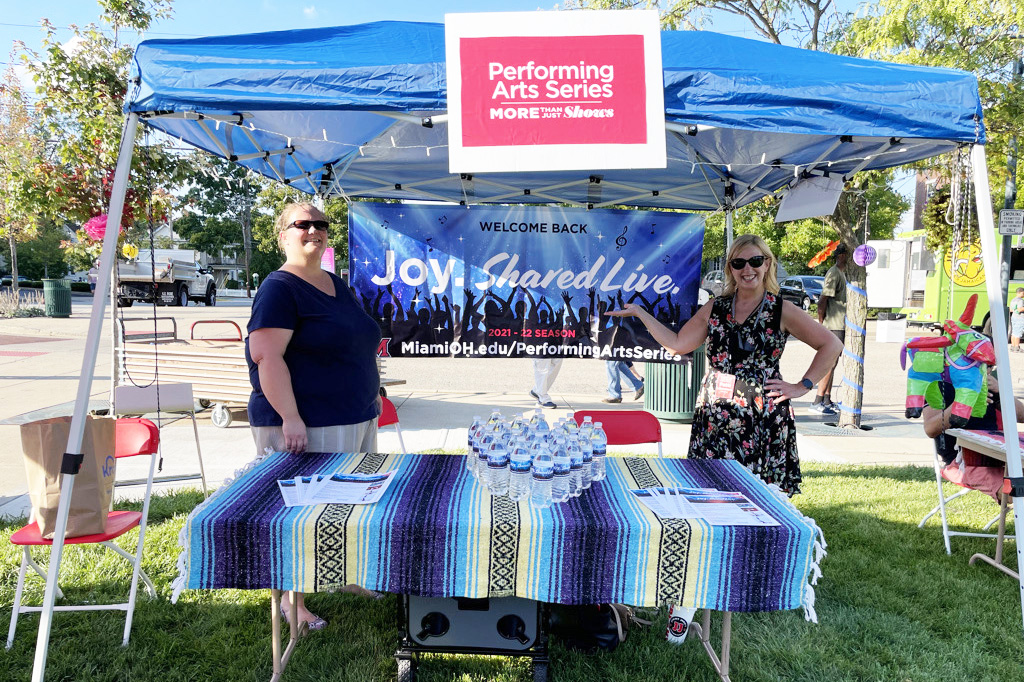 Patti Liberatore (at right) poses with assistant director Gwenmarie Ewing at the 2021 event
Patti Liberatore, Director, Performing Arts Series and Assistant Dean, External Relations, College of Creative Arts, enjoys a front row seat each year: the Performing Arts Series has supported UniDiversity since its inception. "We were thrilled to be invited to collaborate on the Festival because it aligns perfectly with our mission of providing a window through which to view ideas, cultures, and art forms," she said.
Liberatore echoed the sentiments of the others who were part of the Festival. "Naturally, I love to see the performances, and I was excited to see Charanga this year. But I have to admit I really look forward to the food, too. It's also a great opportunity to connect with others around campus and the region who are interested in Latin America and Caribbean culture," she said.
"Wasn't it a great night?" said Oxford Lane Library manager Rebecca Smith. Her team hosted a craft table for attendees of all ages to make paper flowers and maracas out of recycled water bottles.
A small girl made a lasting impression on Smith. "I was explaining how to make the maraca, and she kept responding to me in Spanish, yet doing what I was telling her to do. I couldn't help but notice how she was connected to her culture: the music, the smells of food and hearing her language all around her provided her a feeling of connectedness and comfort. I felt so happy that she was experiencing her beautiful culture right here in uptown Oxford," Smith said.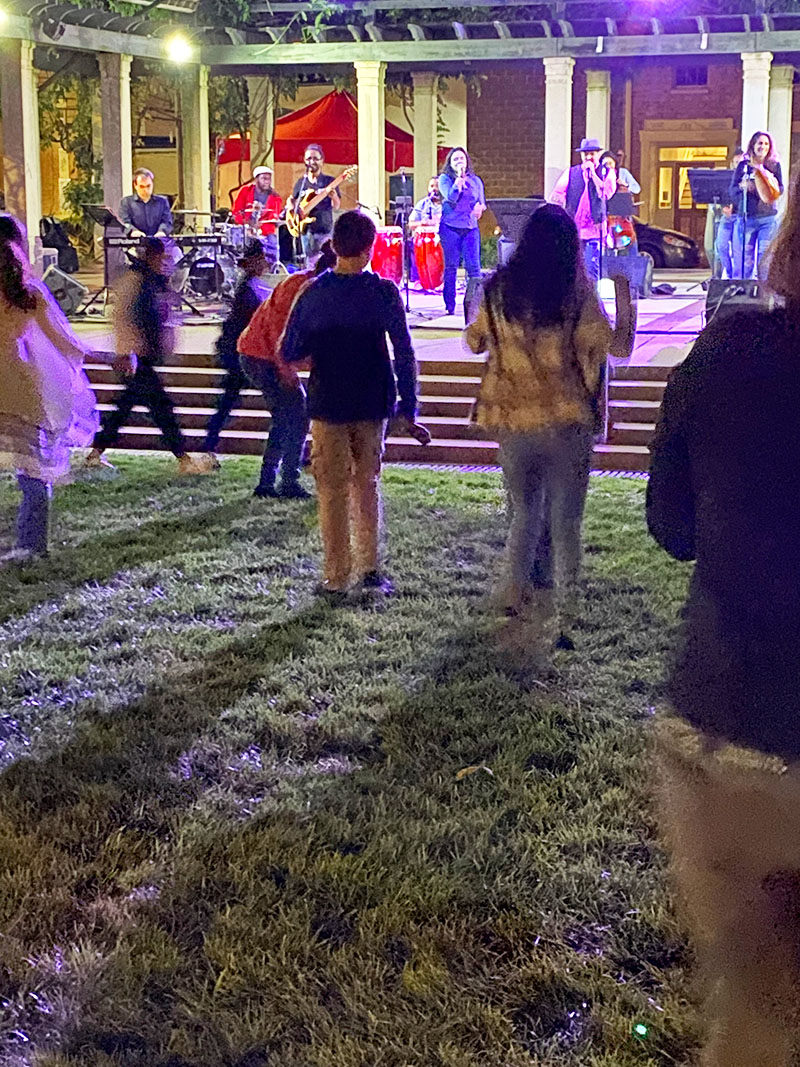 Smith's 12-year-old son also had a great time at the festival. "He ate tacos from El Cardenal Taqueria and claimed they were the best ones he ever had," she said. "He really enjoyed the band Charanga, and enthusiastically participated in the dance lessons, right until the very last song ended." Even on the way home, he didn't want the music to stop and just wanted to continue to dance. "He actually suggested that the festival should go until 12 a.m.!" said Smith.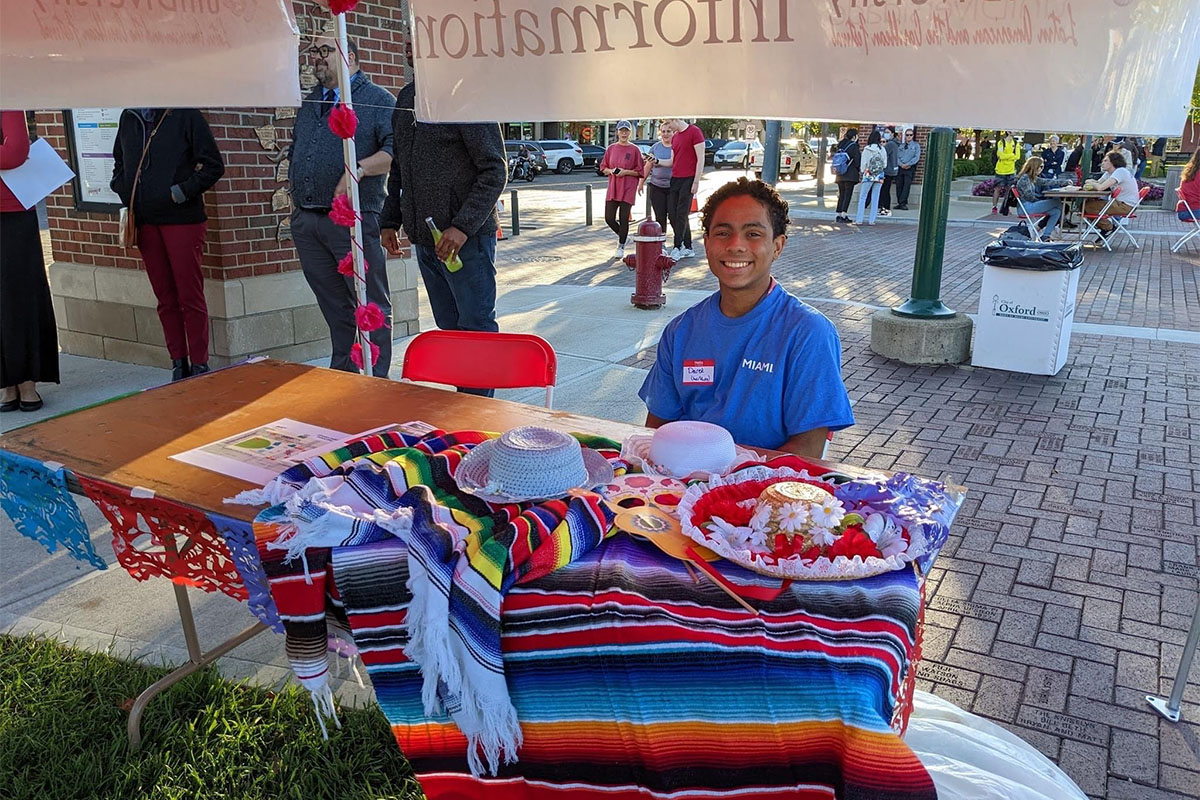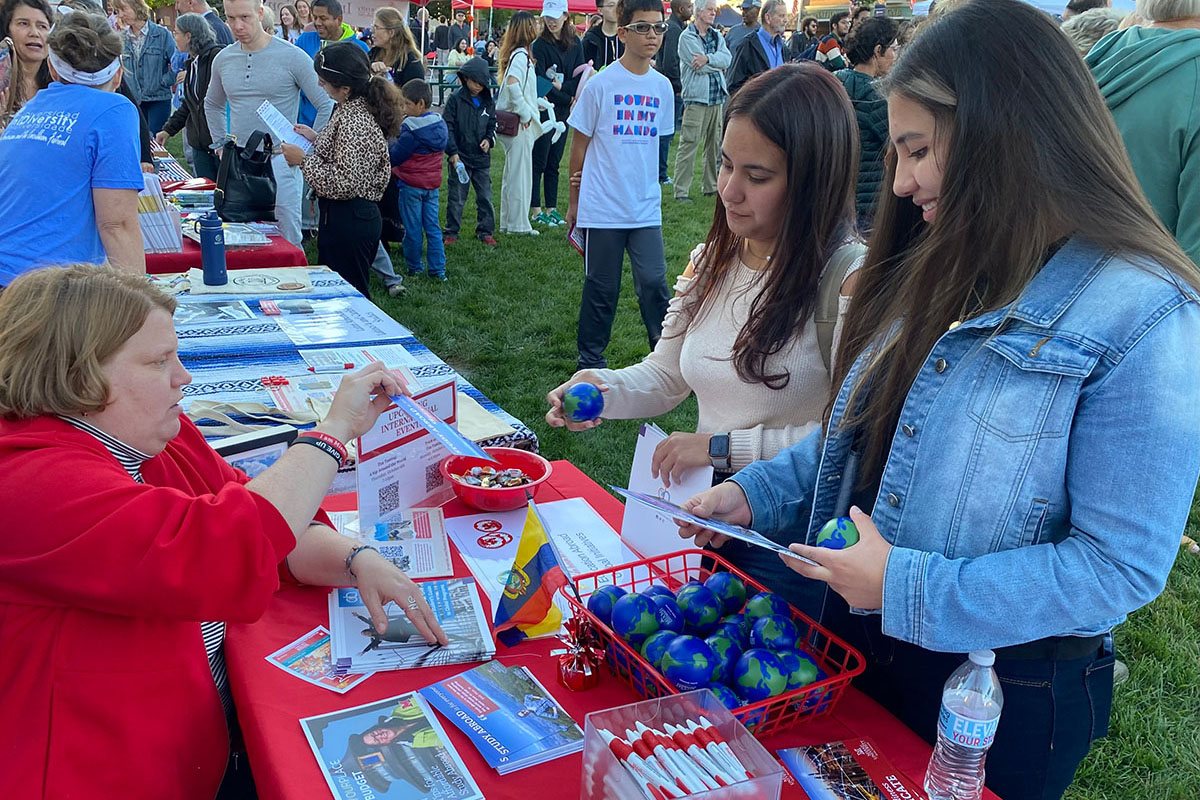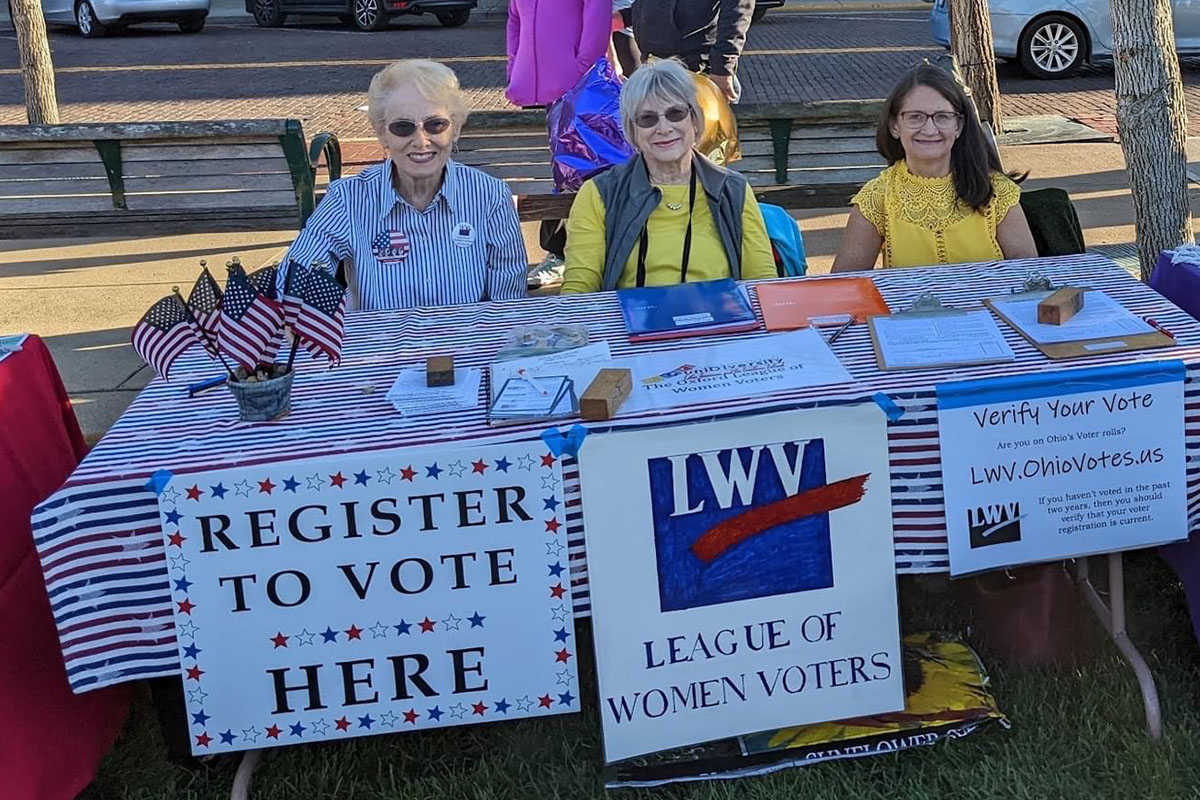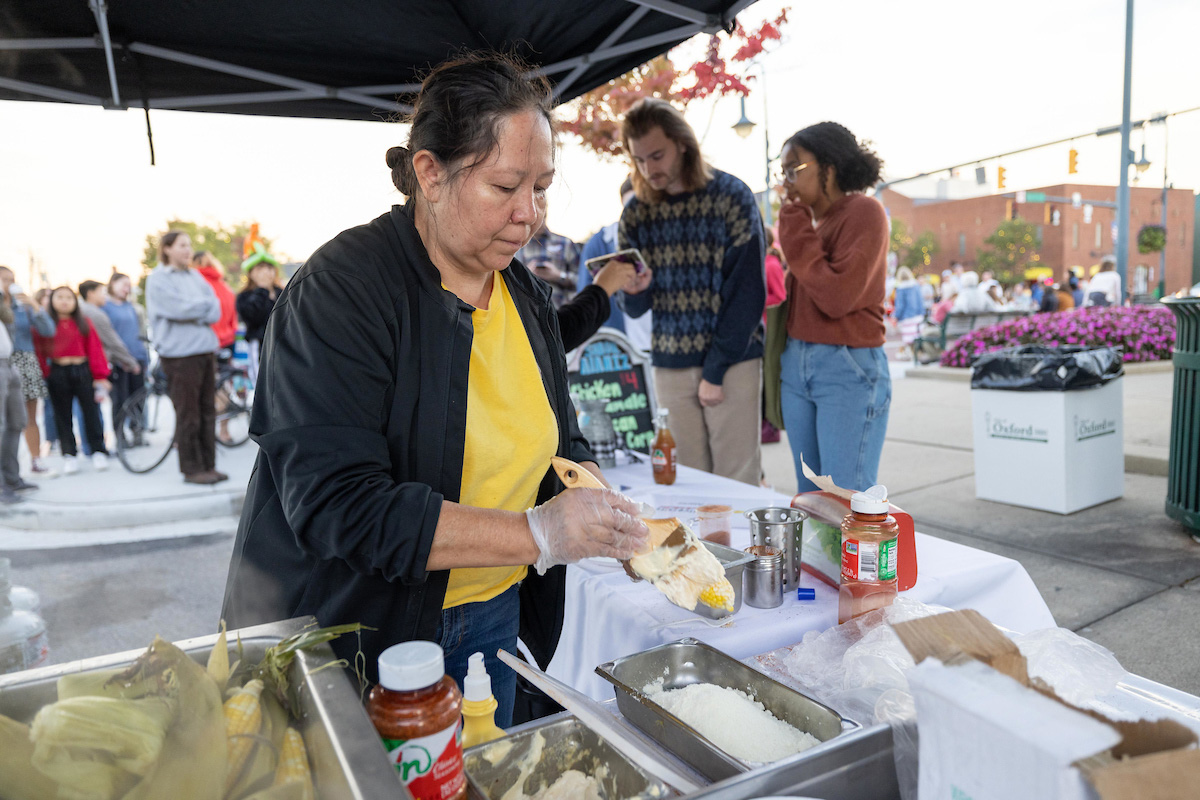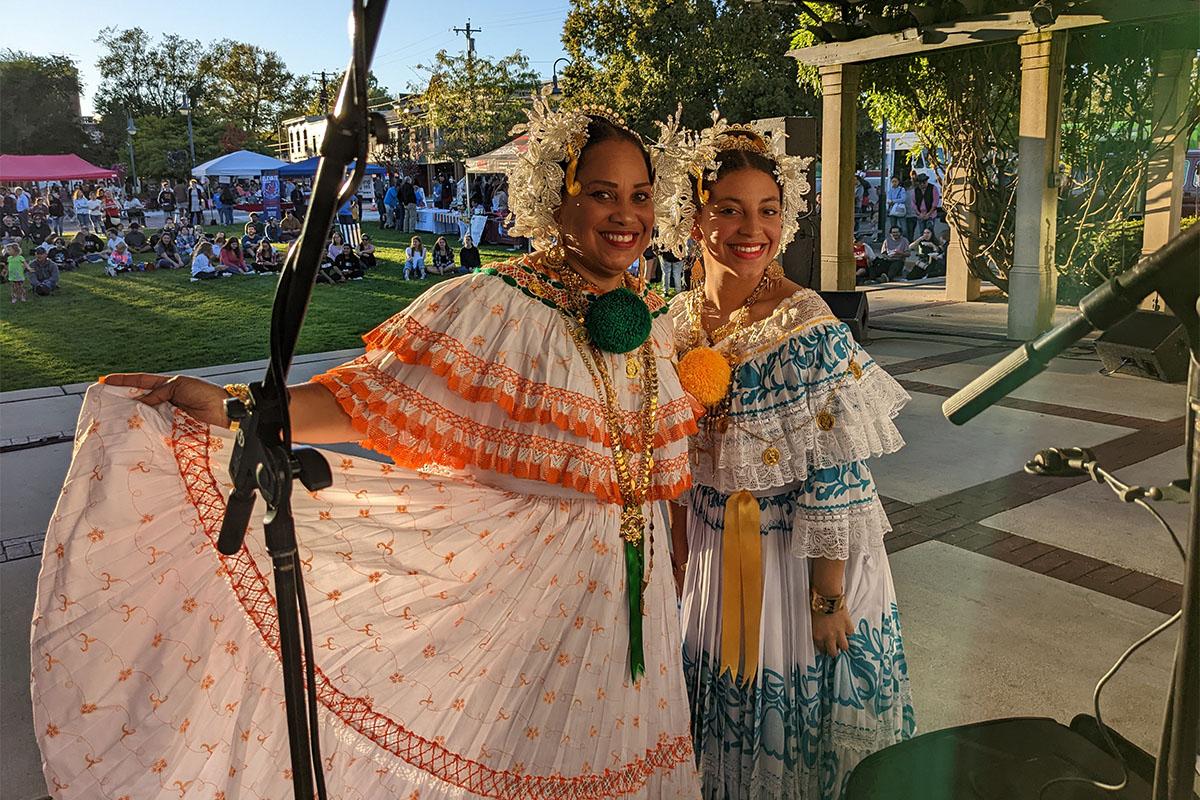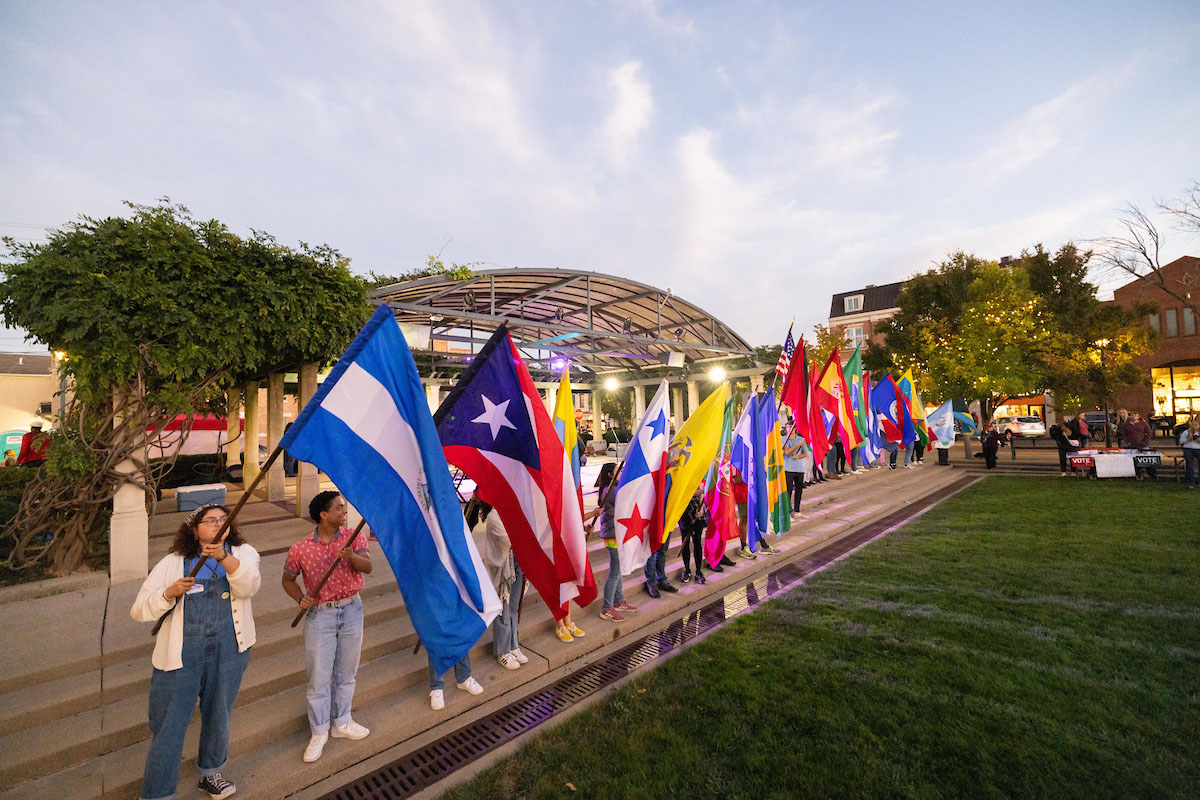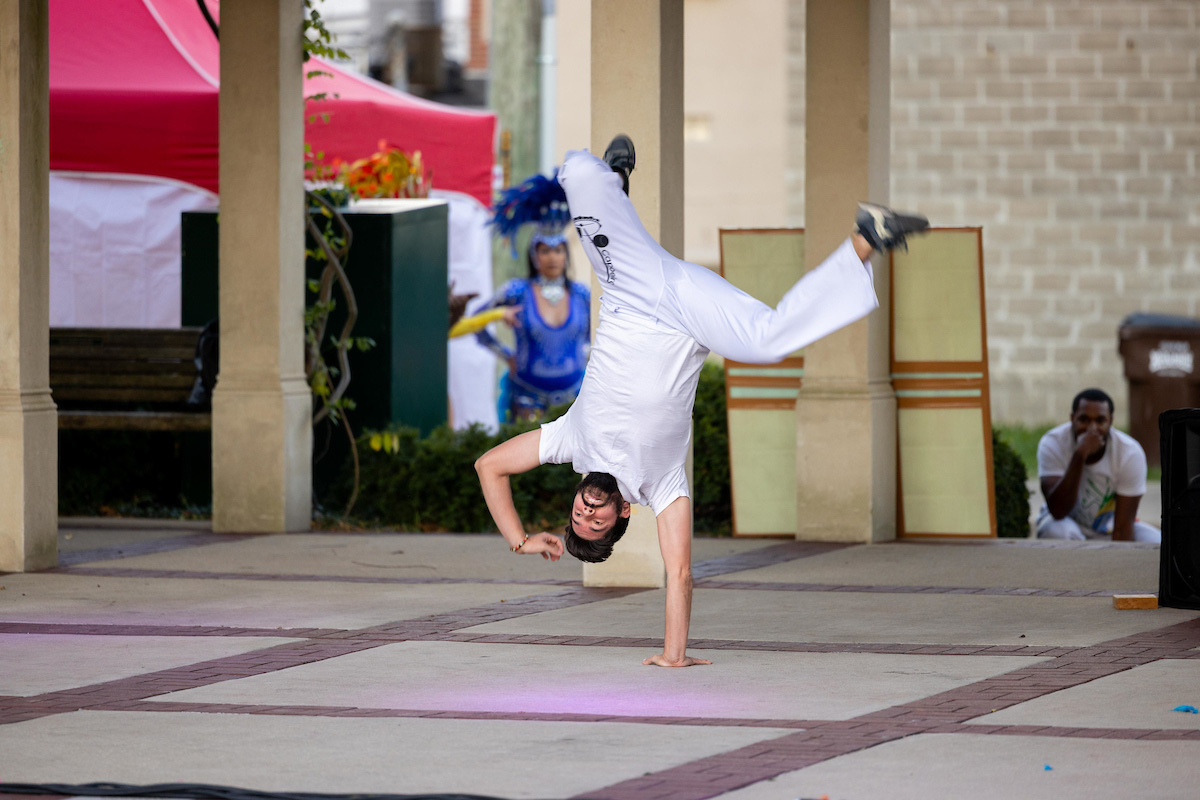 Get Ready to Dance
Dancing is indeed one of the highlights of the Festival. Sinetar said, "In my day-to-day life, I have far too few opportunities to dance. But the music and spirit of UniDiversity brings together the diversity of our community: students from all over the world, local community members and Miami employees, in both the literal sense of everyone dancing together in Uptown park, but also metaphorically in the inclusive celebration of Latin American and Caribbean culture that is so valuable to our community."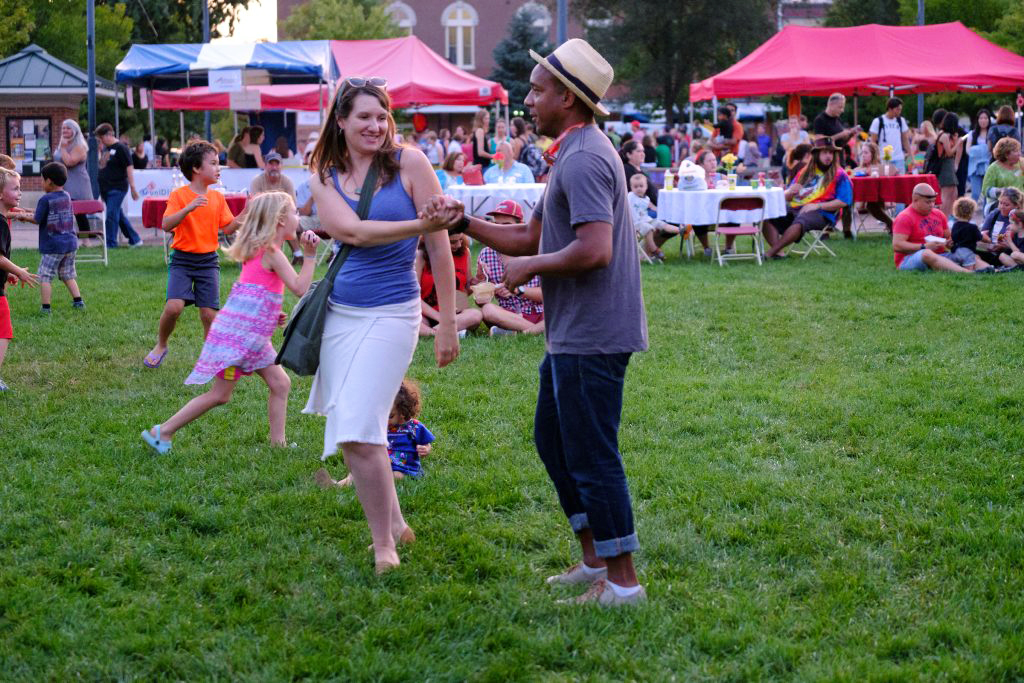 The Albarráns dance together at a previous UniDiversity Festival
Professor Juan Carlos L. Albarrán agrees. Albarrán has enjoyed the Festival as both an advisor to the committee and as a community member since his arrival at Miami in 2008. He and his wife, Professor Elena Albarrán, welcome the opportunity to celebrate with their children and with each other. "Seeing my kids enjoy the animals at the festival, or listening to live music and dancing in the lawn, is my favorite part," he said.
Albarrán first danced in the 2009 UniDiversity Festival, performing Cuban dances like Rumba, Cha-Cha-Cha, Mambo, and Danzon. "For me, the Festival is a way to showcase a part of my identity and roots. It is a moment of community building, sharing cultural aspects of Latin America and Latinos in the U.S. in an open space, where we can for a moment recreate aspects of our cultural traditions in a more open setting," he said.
---
For Rioja Velarde, the 2022 Festival will be remembered not only for its beautiful weather but also for the way it made us feel.  "One of the best signs that the UniDiversity Festival was a great success is when you hear the story about a 12-year-old on his way home telling his mother that the festival should have gone to midnight, and if so—he would have continued dancing! Or when one of our very own Miami Hispanic/Latino students states that he believes that the festival is the best instance of unity that he has ever experienced; and that for him, it is a core part of his Miami experience," she said.
"That's the level of intercultural engagement and transformative experiential opportunities that UniDiversity creates at every single celebration of our cultural heritage."