Writing their way around Cincinnati: How one HCWE faculty writing group gets it done

by Angela Glotfelter
Associate Professor of Philosophy Gaile Pohlhaus and Associate Professor of History Erik Jensen can rattle off an impressive list of coffee shops and other places that their faculty writing group has met—Coffee Emporium, True West, on an apartment building's roof, Roh's Street Cafe, Lydia's on Ludlow, Highland Coffee House, Urbana Cafe, The 86 Coffee Bar, a deck in the middle of summer—the list goes on.
But the faculty aren't the only ones who enjoy the frequent circuit around the coffee shops of Cincinnati.
Jensen brings out a small, plastic brontosaurus that is absolutely bedazzled with gemstones. This is Gay Dino—the writing group's unofficial non-binary mascot, who is affectionately named after none other than Dino from The Flintstones.
Jensen points to Gay Dino. "Coffee addict right there," he says.
"And, by the way," adds Pohlhaus with a smirk, "Erik is too."
Gay Dino is a "Writeosaur"—decorative dinos made by Writing Center consultants and staff and awarded to faculty as prizes during the HCWE's annual Writer's Progress Celebration in late April. Ever since the first Writer's Progress Celebration two years ago, Gay Dino has been traveling with Jensen and the writing group, offering both comfort—and, according to Jensen, admonishment—where needed.
Pohlhaus and Jensen have been part of a faculty writing group ever since Pohlhaus saw a sign-up sheet for HCWE-sponsored faculty writing groups sitting outside at the Howe Center for Writing Excellence. She decided to take a chance. "I just signed up!" she says.
Their third member, Associate Professor Tammy Brown, who has a joint appointment in the History Department and in Global and Intercultural Studies, signed on to their group later. Although Brown is on currently leave while I'm speaking with Jensen and Pohlhaus, it's clear that the three are inseparable when it comes to meeting to write together.
At minimum, they try to meet weekly, but there's been times that they have met two, maybe even three, times a week. And if not meeting, they stay in touch. Once, Pohlhaus even texted Brown from a conference she was attending in China.
The group meets often enough to have established a few habits that get them ready to write.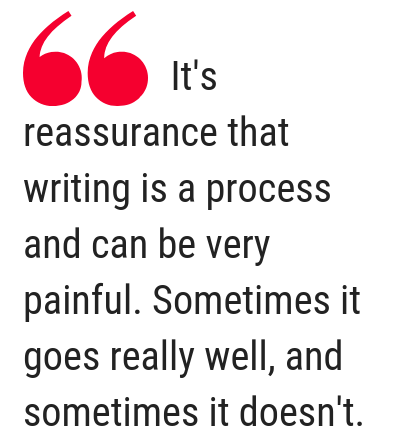 "We've kind of had this informal pattern set in where we start out by just talking for fifteen minutes," says Jensen.
After that, Brown and Jensen pop in earbuds, but Pohlhaus listens to the coffee shop. "For me, that's a key thing," says Pohlhaus. "They have to play decent music at the coffee shop. And it can't be too noisy."
Another large part of the group's successful dynamic is the support they offer each other through difficult projects. "A lot of times it's just the emotional support," says Jensen. "I'll be like, 'This sentence just took me twelve minutes to write!' Or, 'I've been staring at the screen for half an hour!' It's reassurance that writing is a process and can be very painful. Sometimes [writing] goes really well, and sometimes it doesn't. But just being there with other people who are going through the exact same thing is so helpful."
The group also helps by providing non-judgmental accountability, which Pohlhaus says is crucial to helping her feel productive, especially when faced with particularly difficult topics to work through in her research. "One of the things that's hard for me is that I need accountability," she says. "With the the disciplinary writing I do, sometimes every sentence feels like I'm drawing blood."
But while the group eagerly supports each other through difficult research projects, they share in each others' successes just as enthusiastically.
"When Erik finishes something or when Tammy finishes something—that feels good," says Pohlhaus. "I also like telling them if I get invited to do something." She uses the example of a couple talks she's been invited to do in February next year. "I'm really scared about these two things in February, but I was excited to go to the group and tell them about it."
One thing that stands out is the group's emphasis on staying connected to their research by developing habits around writing and thinking about their work. Sometimes, even if the writing is difficult, it's more important to them that they've just engaged with their research, especially on days they don't meet to write.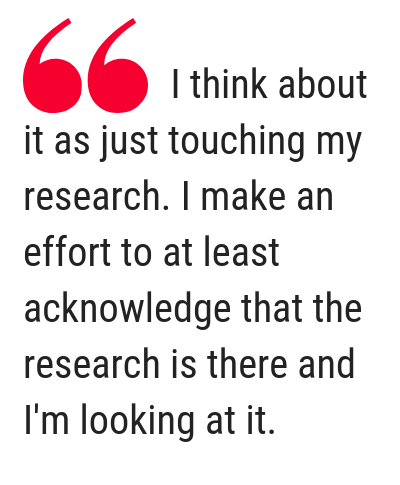 "I think about it as just touching my research," says Pohlhaus. "I make an effort to at least acknowledge that the research is there and I'm looking at it."
Maintaining these habits is hard, especially with the demands of the academic environment and its constant interruptions. "It's frustrating when you have to get out of a groove of writing," says Jensen, "because you get into it and then there's a period of a couple of weeks where you've got reports due and you've got a lot of complicated teaching and you've gotta go to this conference and suddenly you have to put it away and it's like, 'Ugh, I just had the momentum!'"
The group also likes to experiment with different environments to see what helps them be most productive.
"We tried writing with caffeine, with alcohol," says Jensen. "Meeting to write at different times of the day. Just to see what works."
This is the last idea the faculty leave me with: They're thinking about writing for two hours without any electronics whatsoever—no phones, even.
"Actually, could we handle that?" Pohlhaus asks, hesitant. Jensen is optimistic.
"We could try," he says.
Sign-ups for writing groups happen annually in the fall with a motivational kickoff at Cru Wine Bar. To see a list of this year's groups, view our Faculty Writing Groups.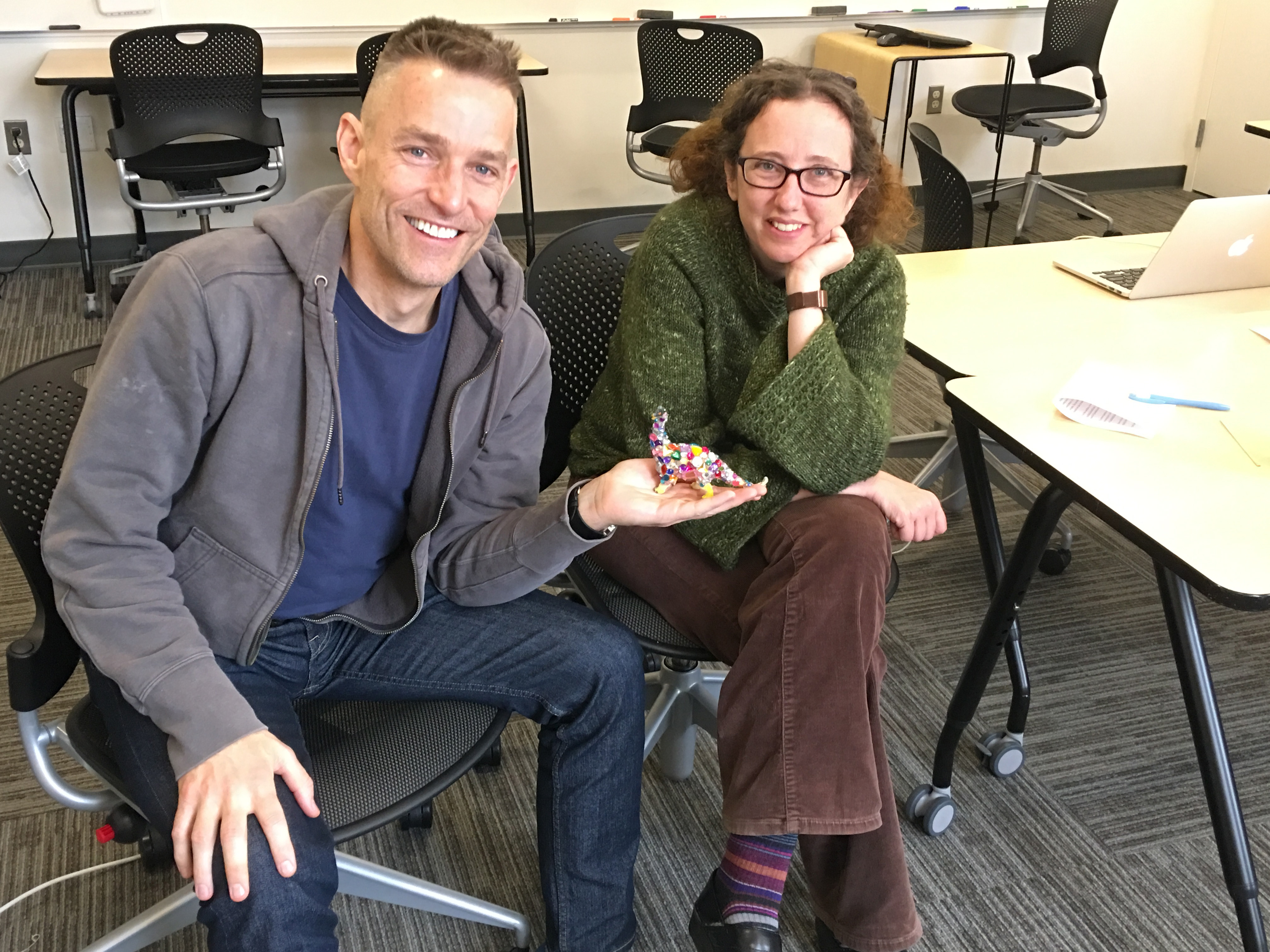 Erik Jensen (left) and Gaile Pohlhaus (right) pose for a photo with their writing group's mascot, Writeosaur Gay Dino