Transformative Writing: Teaching Advocacy in Family Science and Social Work

by Angela Glotfelter
Published Mar. 9, 2019
"The better you write," says Jon Trauth, Visiting Assistant Professor of Family Science and Social work, "the more effectively you ultimately serve your client."
This spring, Trauth is teaching a first of its kind at Miami: An advanced writing course for the helping professions. The course, FSW 333: Writing for Helping Professions, which Trauth and a team of other faculty developed during the Howe Faculty Writing Fellows Program, blends together academic and professional genres to stress to students that effective advocacy for clients depends on writing well.
Because of his own experience learning to work and write in the field, Trauth also wants to develop transformative experiences with writing for his students.
Trauth's journey as a social worker began in El Salvador and Nicaragua, where his passion for homeless advocacy was sparked. Later, he continued this pursuit in Cincinnati, where he lived and worked in Over-the-Rhine. Ultimately, it was his passion to pursue policy advocacy that took him to graduate school, where he would experience what would eventually become a transformative experience for him with writing and understanding the impact of writing in his work and in the world.
"In the middle of graduate school," says Trauth, "I was diagnosed with binocular dysfunction and dyslexia, and that caused me to never really want to write case notes or even just write in general. However, advocacy, as I found out through practicing and then working at Clermont Recovery Center and other addiction recovery places, requires ways to communicate with other counselors, practitioners, and even your clients."
Even though Trauth struggled to learn how to write in the field, he says he was lucky enough to have good mentors that pushed him to write and continue his education.
Now, he wants to pass on transformative experiences with writing to his students. "With good direction," he says, "there is a way to transform someone who is terrified of writing into someone who can be a good practitioner and write good case notes."
Case notes are just one of the genres that are important to FSW 333. A mix of professional and academic writing, the course has students writing everything from client letters to policies.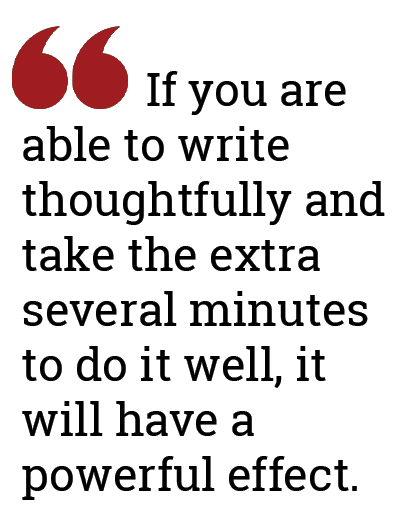 At the beginning of the course, students pick a client scenario—some of which are based on Trauth's own experiences in social work—and then build a file for that client over the course of the semester. They start with a letter to the client's caregiver, followed by a funding or addiction services recovery policy, culminating with an assessment or treatment plan and case notes.
Trauth stresses the importance of teaching students how to create good case files for their clients. "If you take a little extra added time on documentation," he says, "you'll serve your clients better" because they often transfer to another social worker later or are discharged and later return. "They [need] a case history that their new social worker can look at. If [their experiences are] not well documented, it's as if [they] never happened."
In the end, for Trauth, the importance of writing always comes back to advocacy and service: "Writing will help you in your advocacy, and hopefully that advocacy will in turn give back in a way that helps your programs be funded better, helps you get better grants, or helps you serve populations that in the past were never served."
For Trauth, writing itself is an act of advocacy, an act of service negotiated between social worker and client. "[There is power that comes from] writing in a way that connects with that other service provider or the client's parent or whomever you're communicating with. If you are able to write thoughtfully and take the extra several minutes to do it well, it will have a powerful effect."