Crossing thresholds: History faculty innovate writing and teaching in their classes

by Angela Glotfelter
"It was really helpful to be a student again," says Assistant Professor of History Lindsay Schakenbach Regele. "I understood what a student feels like when they're being taught something new, when they're doing group work, when they're trying to learn new things—all of that was very powerful."
"Yeah, it was," echoes Associate Professor Daniel Prior. "It was powerful."
After they graduated from the Howe Faculty Writing Fellows program, I interviewed Schakenbach Regele, Prior, and their colleagues, Associate Professor Erik Jensen and Professor and Chair Wietse de Boer, about their experiences. The faculty were part of a team of four from the History department who attended the Howe Faculty Writing Fellows program in Summer 2017.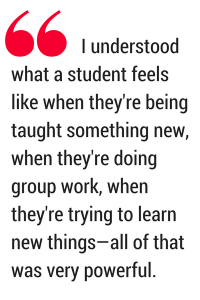 The Faculty Writing Fellows program is a semester-long program designed to support faculty members and their departments and programs in their efforts to teach their students to write more effectively in their professions and disciplines and to use writing in ways that support deep learning of disciplinary material.
Participants engage with relevant theory and research about writing, teaching, learning, curriculum design, and assessment. Faculty have found that they can immediately put these ideas to use in their courses and programs.
In fact, after the team went back to their department, they replicated aspects of the Fellows program for their colleagues—with tremendous success.
"We wanted our colleagues to brainstorm in the same ways we did and make the kinds of discoveries that resonate most with their own experiences and practices," says de Boer.
Much of the Writing Fellows program revolves around identifying disciplinary Threshold Concepts, which are kind of like ideas "that bind a subject together, being fundamental to ways of thinking and practicing in that discipline." 1
For History, these include ideas like context and historical perspective.
"There are these operational principles," says de Boer, speaking of Threshold Concepts, "that are not necessarily visible to the naked eye, but that are at work and critical for the way in which a disciplinary practice works."
In the Fellows program, faculty work from the ground up to discuss and discover their own Threshold Concepts, using them to inform their practice and pedagogy.
The History faculty were thrilled to find that their departmental colleagues identified many of the same Threshold Concepts that they had during their own discussions in the Fellows program.
"The conversations that were happening [at the departmental workshop]," says Jensen, "really echoed the conversations that we had [in Faculty Fellows], including the same types of debates. The way in which a consensus emerged around some of the Threshold Concepts while some of the Threshold Concepts were still debatable was great. That's a sign of a healthy discipline, a healthy field."
"That is, in fact, striking," adds de Boer contemplatively. "While there is a variety of opinion, at the same time, the core issues that came up were basically the same as those we discussed in the Fellows program."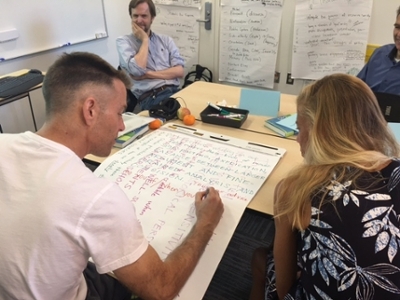 The History faculty working diligently on a class activity in the fellows program
Faculty changed and adapted their pedagogies to accommodate new ways of writing and learning
The faculty have also found ways to use what they learned in the Fellows program to bolster their teaching practices.
Schakenbach Regele is currently teaching a course on the American Revolution. "It was nice to have the chance to imagine the series of courses and readings that serve as the tunnel through which students move until they finally emerge from the other side," she tells me.
In other words, she has used what she learned in the Fellows program to construct experiences for students.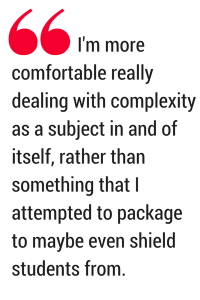 On the other hand, de Boer has changed his course to include more writing assignments and fewer exams. "I've tailored the assignments more narrowly," he says, "particularly in the beginning so I can clarify better what the expectation is and what the purpose of the assignment is."
As de Boer describes how his teaching practices have changed, Jensen jumps in excitedly. "It sounds like you're doing something similar to what I'm doing," he says. "In the process of this workshop, the importance of feedback really came out," he explains.
For a while, Jensen had been putting his major essay assignments at the end of his courses; however, after realizing the importance of regular feedback that students can incorporate, he changed his mind.
"I'm moving the large essay into the middle of the course so that I'm giving them feedback all along the way," says Jensen. "Also, they get the feedback in class, and I require them to come and talk to me about it."
Prior is teaching a course about Eurasian Nomads and History. He's begun helping his students engage more with complexity. "I'm more comfortable really dealing with complexity as a subject in and of itself," he says, "rather than something that I attempted to package to maybe even shield students from a little bit at the lower levels. It's really becoming a central focus. I've been taken by how engaged the students are at getting into the minutiae and complexity."
Writing and teaching move forward in the History department
De Boer plans on continuing to implement the ideas they learned in the Writing Fellows program into the ways of practicing and teaching in the History department.
"We are still very much at the beginning of this process," he says. "The key question is how we institutionalize these ideas without making them an artificial thing."
All of the faculty are keen on maintaining that initial excitement and freshness that came from working with their colleagues to uncover and apply new ideas.
In fact, all of the faculty stress the value of working with each other in teams during the Fellows program.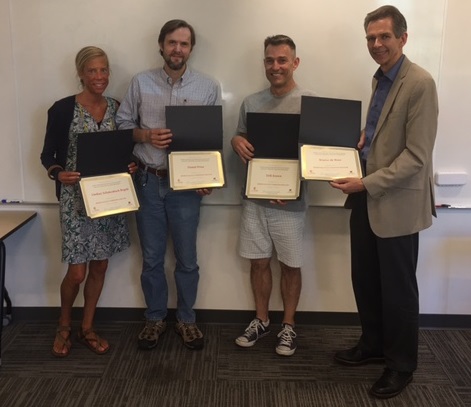 The faculty proudly hold their certificates upon graduating from the Fellows program
"Hopefully as many groups as possible end up signing up [for the Fellows Program]," says Schakenbach Regele.
The Faculty Writing Fellows program runs year round, with cohorts in fall, spring, and summer. Faculty who become fellows are eligible to apply for grants from the Howe Center for Writing Excellence for curriculum design, research, and assessment.
Additionally, Fellows become eligible to request a Howe Writing Center consultant to support their course. Departments can also request department liaisons, in-class peer review training, and GA training, all of which History has taken advantage of.
Applications for the Fall 2019 and Spring 2020 cohorts are currently open.
Reference
Ray Land, Glynis Cousin, Jan H. F. Meyer, and Peter Davies. "Threshold Concepts and Troublesome Knowledge (3)*: Implications for Course Design and Evaluation," in Improving Student Learning Diversity and Inclusivity, ed. C. Rust (Oxford: Oxford Centre for Staff and Learning Development), 54.