"Teachers as Intellectuals": Threshold Concepts as Guideposts for Change in Teacher Education

by Caitlin Martin
Published May 1, 2019
Brian Schultz, professor and chair of the department of teacher education, didn't know much about the Howe Faculty Writing Fellows Program when he decided to join the teacher education team who attended in spring 2018.
"It was about good colleagues talking about good work," he said. He was invited by colleagues Jeannie Ducher, Sheri Leafgren, Barbara Rose, and Scott Sander to participate in the semester-long seminar focused on conceptions of writing that engages teams of faculty in cross-disciplinary dialogue about teaching writing.
Their team from teacher education focused their work on their curricular goals, building on the department's strategic plan during the seminar.
"When I began as chair," Schultz said, "we engaged in a strategic planning process that really tried to operationalize a mission that had been agreed upon several years before." That plan had been developed collaboratively by the entire department before being unanimously affirmed.
Scott Sander, assistant clinical professor of teacher education, said the teacher education team came into Fellows thinking about how they can work toward their goals of social justice when preparing future teachers.
One of the key curricular goals is to graduate students who are critically conscious curriculum makers for social justice within diverse contexts and in solidarity with communities.
"So a pretty robust, heavy goal," Schultz says before musing, "How do we actually make that happen?" He continues by naming experiences that influence and are influenced by this goal: the teacher education programs and courses, but also experiences like student teaching and practica and in partnership work that members of the department do with the schools in which students are placed for those experiences.
Future teachers need to understand how to tailor their teaching toward the specific students and contexts in which they work. Teaching isn't about learning a specific way to teach a specific theme or idea, but instead about how to help specific people understand the concepts.
This requires understanding the context in which one teaches and adapting content and approaches to meet learners where they are, Schultz explained.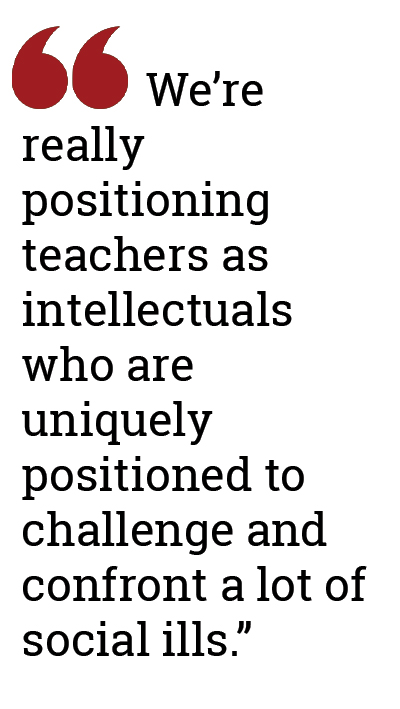 Sander explained how this goal relies on a repositioning of teachers and teaching.
"There's a core, critical mass of teacher educators in our department that are really trying to position teaching outside of what it traditionally has been," he said. The traditional view is "almost like the middle person between the content world and students, almost like you're just this delivery device."
"We're really positioning teachers as intellectuals who are uniquely positioned to challenge and confront a lot of social ills," Sander said.
"That's not to blame teachers for things that are going on," he said. But to help future teachers think about how they're "using [their] platform to address, not ignore, issues of diversity and inclusion."
Sander spoke of his own experiences coming to see teaching in this way, saying that he hadn't been thinking about teaching in this way as a high school science teacher.
"I wasn't a critical thinker in this way as a teacher," he said. "I was just a fun teacher."
"But I want more for our students," he continued. "I don't think everyone should have to get a PhD to critically think."
Schultz explained that the threshold concepts serve as "guideposts" that help him and other members of the department navigate decision making. They also provide a common language and set of ideas for discussing the department's work toward graduating students who see teaching in this way.
Talking Threshold Concepts and Social Justice as a Department
The teacher education department has graduated two cohorts of Howe Faculty Writing Fellows and held a department-wide workshop focused on threshold concepts and social justice in the last year. Schultz said having two teams of graduates led to a "critical mass" of department members who understood the framework.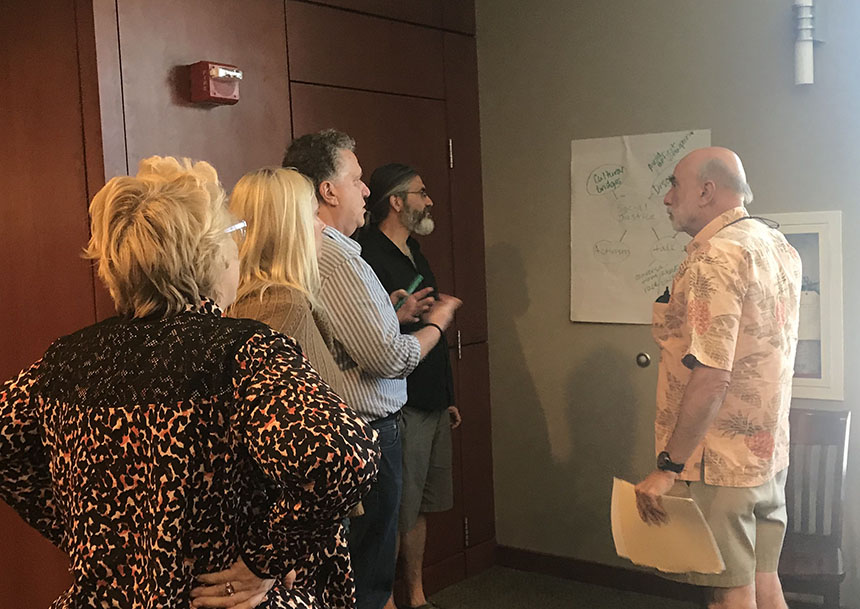 Members of the Teacher Education Department discuss threshold concepts related to social justice work during a workshop in August 2018.
"Having insider-outsider perspective is really helpful," Schultz said when asked about his decision to have this department-wide workshop.
"Because we operate from a place of 'we all believe this,'" Schultz said, "we don't actually stop and wrestle with ideas that are really complex but sometimes appear really simple."
"We can, in a strategic plan, name these goals. We can then create objectives under those goals and make specific actions," he said. "But what is it that we agree upon that are the cornerstone pieces of the work that we're doing?"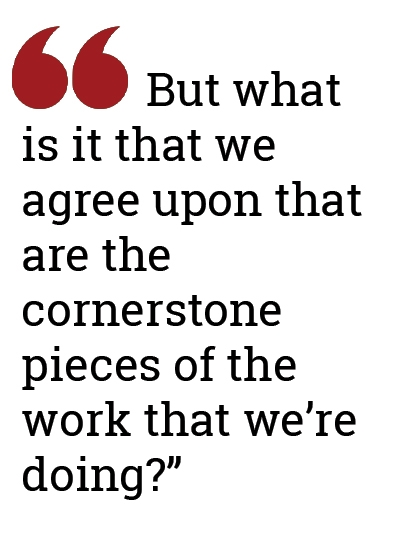 Threshold concepts are, at least for Schultz, those cornerstones.
He said he sees their use as a guidepost at play in ongoing changes, such as the early childhood education program's curricular revision to meet state-mandated changes in grade bands for licensure. In the state of Ohio beginning in 2020, those wishing to teach early childhood education will be licensed preschool through fifth grade. Currently, early childhood education programs license teachers for preschool through third grade.
"It's an opportunity to re-envision" what the program looks like, Sander said of the work his colleagues are doing. "How are we going to ensure that we're not just getting the same classes put in a different order" but actually imagining what a "K through 5 program would look like."
This change illustrates the many stakeholders that influence the work of teacher educators not only at Miami, but across the state and country such as state legislatures and national accreditation agencies. But Schultz said it's important to "resist the idea that we're controlled by entities beyond our say" and instead to ensure that the department meets mandates in ways that fit their values about education.
For Miami's department of teacher education, their threshold concepts and the goals of the strategic plan help them navigate these changes and choices, serving as a lens through which they view their work.
When asked what other changes or developments he anticipated, both Schultz and Sanders indicated that the department has several ongoing efforts involved in realizing their goals and strategic plan.
"In a teacher education department, curriculum is fluid," Schultz said, "because we are trying to be culturally and contextually responsive to our students" and to those students who will be taught by Miami's teacher education graduates.
"It's an ongoing endeavor," he said.