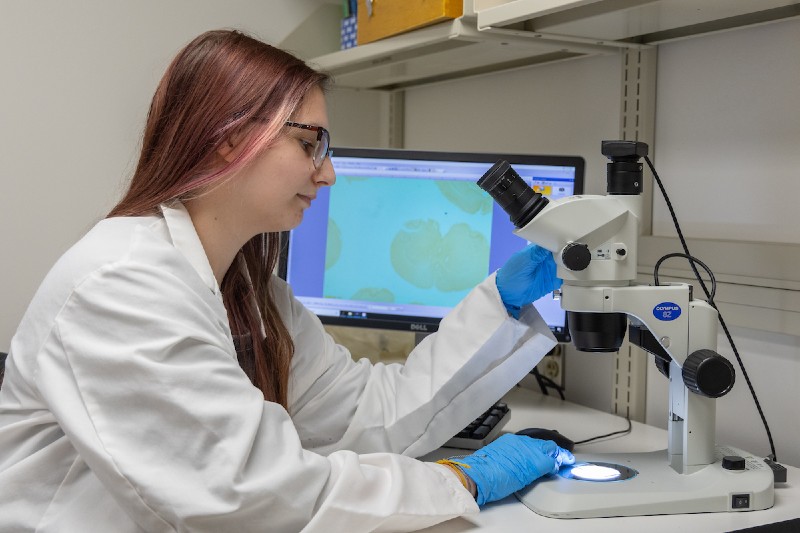 Undergraduate Research
The Honors College curriculum integrates research across disciplines. Research is at the heart of our mission, and we tailor its concepts and contexts to students' specific area of study. With undergraduate research, experiences typically reserved for graduate programs, you will complete rigorous scholarly work culminating in the completion of an Honors Senior Project. Want to seek answers to mysteries unsolved, and learn in ways few students get to learn? In the Miami Honors College, you will.
Resources for Research Excellence
While research is a core component of the Honors College experience, success as an Honors College student begins with ideas — and the will to engage them in the world around you. Here, research is not confined to scientific labs or archives. At Miami, you'll engage in the application of ideas to real world contexts, whether you study the humanities or a science.
Below, read examples of Honors students' work to understand the possibilities that await you in the Miami University Honors College. To bring your research vision to life, you and your peers in the Honors College will have access to the following benefits:
Direct faculty mentorship of your research, creative, or pre-professional project.
Financial support for conference presentations, publications, teaching, and/or research related to your project.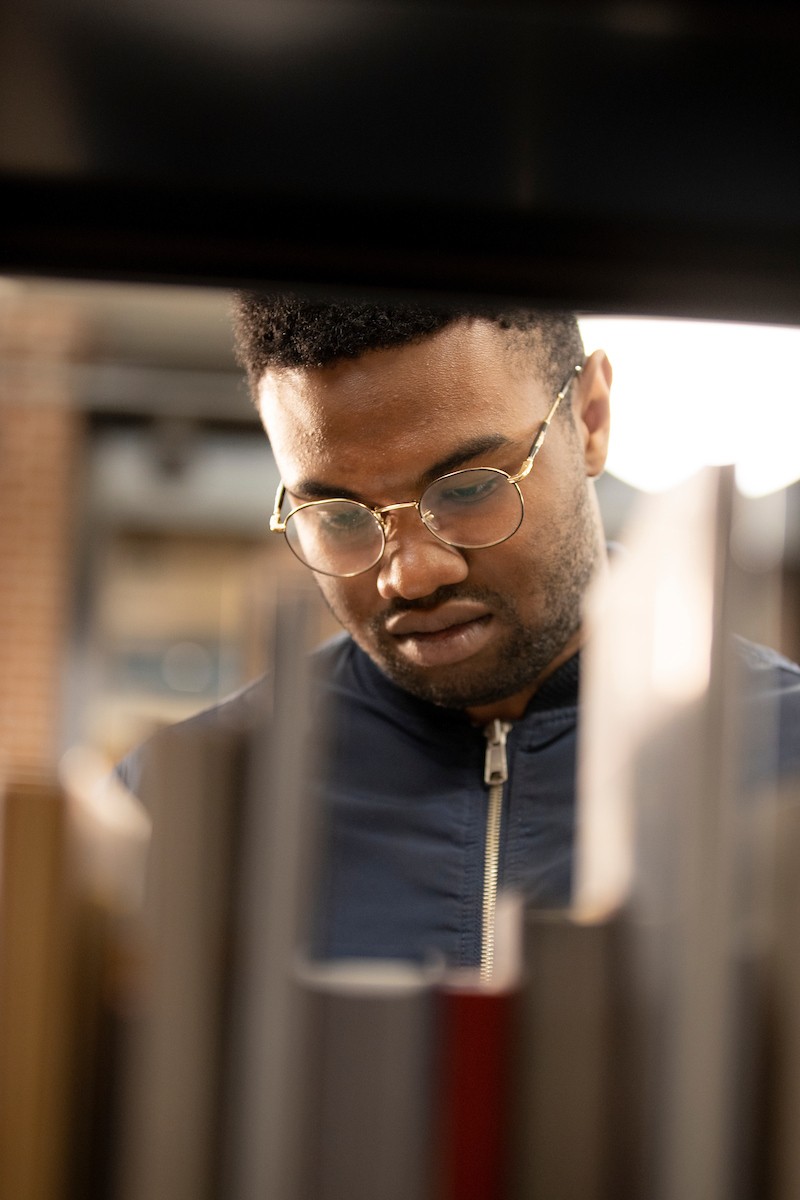 Past Projects
In line with the Honors College's mission to produce citizen scholars, the Honors Senior Project can take the form of a scholarly research project or a Citizen project, in which students use intensive experiential learning activities as a basis for producing an inquiry based project with relevance to the common good. See examples of past projects below. Scholarly projects are divided by academic area and Citizen projects are listed together. Each project was led by undergraduates in the Honors College.
Creation of the Aapar Foundation
Esha Chadha, Microbiology major with a Premedical Studies co-major, Class of 2020.
When Esha worked with a surgical oncologist in India in 2019, many of the patients Esha saw were from the slums and had extensive disease symptoms. A lot of them could not afford the basic necessities for cancer treatment, such as chemotherapy ports and peripherally inserted central catheter (PICC) lines. These patients often received their chemotherapy through their veins, which can sometimes cause arms and legs to stop functioning due to chemotherapy leakage into tissues surrounding one's limbs. Esha decided to help find a solution. Esha realized it was possible to send these necessary supplies to a doctor in India in order for those patients to receive the proper treatment. After this idea Esha started the Aapar Foundation to help provide unused and surplus PICC lines and chemotherapy ports to patients in need around the world.
Esha told Honors, "I didn't fully realize I wanted to become a surgeon and help cancer patients until I went to India. After that trip I realized that I really love the medical environment and a career that's hands-on and requires quick problem-solving. This experience has helped me in choosing the right career path."
Stop the Bleed University: Providing College Students with Direct Access to Bleeding Control Education
Grace Chaney, Kinesiology major with a Premedical Studies co-major, Class of 2021.
A person with severe injuries can bleed to death in as little as five minutes without intervention. As an ambassador for the national Stop the Bleed campaign, Grace has been working with the national Stop the Bleed campaign leadership team to establish Stop The Bleed University (STBU) chapters across the country. STBU aims to educate and empower civilian bystanders to become immediate responders in the event of an emergency until professional help can arrive. This goal is achieved through bleeding control education classes and massive hemorrhage awareness initiatives both on campus and in the community. Since the establishment of STBU, 253 students have been certified in bleeding techniques.
Grace told Honors, "Launching the first STBU chapter provided its own unique challenges, but it pushed me to become a more adaptable and innovative advocate for my peers and community. Reflecting back on the past few years, I never would have imagined how many opportunities for growth my project would generate, nor how big of a role it would play in my life and future. I have been able to develop a deeper understanding of what it means to be a leader within a community. Furthermore, I have been able to network with representatives at the Ohio Statehouse, healthcare professionals from level one trauma centers, and various community organizations. These interactions have substantially built my confidence, communication skills, and ability to be a strategic planner. Above all else, the most impactful part of my project was helping establish a massive bleeding survivor network for the state of Ohio. Getting to speak with various survivors about their experiences with mass shootings, car accidents, and on the job injuries elevated my appreciation for first responders and trauma personnel exponentially. It also showed me how resilient patients are! It was extremely fulfilling to be able to work with these individuals, give them support, and help them spread awareness about massive bleeding."
Growth Opportunities and Extreme Market Reactions to Mergers and Acquisitions
Michael Molchan, Business Economics and Finance major, Class of 2021.
This project examines the link between a target firm's growth opportunities and the likelihood of extreme stock market reactions to M&A transactions around the announcement date. Using data on mergers and acquisitions from January 1, 2009 to December 31, 2019, Michael found that the growth potential of a target firm has an inconclusive impact on the likelihood that shareholders experience an extreme announcement day market reaction.
Michael told Honors, "Writing my Honors thesis enhanced my research skills and gave me a new appreciation for working with real-world data. I have spent my whole life being a consumer of information. Now, I have an insight into what it is like to be a producer of information; and for that, I am grateful."
Economic Effect of Sole Hospital Closure on Rural Community 
Rukmini (Ruku) Pal, Business Economics, Class of 2022.
This project analyzed a panel from 1996 – 2014 of rural counties that had a single hospital in 1996 to estimate the impact of a hospital closure on county economic activity employment, total payroll, and number of establishments.
Ruku told Honors, "This project allowed me to work directly with two incredible economists and advisors in the Economics Department, Dr. Greg Niemesh and Dr. Melissa Thomasson. They challenged my coding and analytical skill set, expanding upon the small foundation I had to apply my skills to a real-world problem. I learned so much about running a project, learning to write a thesis, and then how to explain my research in a clear and succinct manner. Furthermore, the Honors College and my Honors experiences served as the core to my entire Miami experience. The support system, incredible other individuals who became life-long friends, and the ability to push my own boundaries did not only make me a better student, but a better person. My Miami experience would not be the same without the Honors College, and I cannot name a single aspect of Miami University that was more impactful than this." 
The Experience of a Young Woman in Hitler's Europe
Madeline Mitchell, Theatre and Journalism major, Class of 2019.
This project developed, in part, out of Madeline's study abroad trip to Luxembourg at MUDEC and subsequent research on the Holocaust, including interviews with Holocaust survivors. Madeline then wrote a one-act play that was performed on campus. The play touched on themes of trauma, memory, ritual and the Jewish community as three women's stories of life during the Holocaust. Madeline wrote the play with hopes of sharing the stories of survivors and keeping their memories alive for future generations.
Virtual Reality for Medical Training Simulations
Brad Schmitz, Computer Science and Interactive Media Studies major, Class of 2021.
The goal was this project was to develop a virtual reality (VR) simulation to train nurses and nursing student. This specific program presents a scenario of treating a patient with Parkinson's Disease, and is being used in a research study conducted by Lori Cooke (a nursing faculty member at Methodist University) to determine the effectiveness of VR in training nursing students. Medical training can be expensive and dangerous, so technologies like VR are promising for inexpensive, safe, and immersive training alternatives.
Brad told Honors, "For me, the best part of this project was simply getting to learn virtual reality development, with the assistance of my faculty mentor Dr. Eric Hodgson. It was also great to be able to collaborate with other students and faculty to present a finished simulation that will be actually utilized by people!"
Education in the United States Compared to The European Schools
Camila Rodriguez, Integrated Mathematics Education and Mathematics major, Class of 2019.
This project was possible due to Camila's unique student teaching experience at The European Schools in Luxembourg. Camila was able to answer the following questions: What will the biggest differences be between my experiences teaching in the states and in Luxembourg? How can I relay this information when I return? How will I use this information to make a difference as an educator? Initially, Camila and her co-creator, Taylor Wood, wanted to explore specifically the differences between mathematics education in the states and in The European Schools. As they continued to acquire information, the project evolved and shifted its focus to also investigate the differences in staff attitudes, student attitudes, special education, technology, etc. through observations, interviews and research. As a result, Camila and Taylor had the opportunity to holistically compare education in the states to the European Schools and they hope this information can be leveraged by future educators to cultivate a global and inclusive classroom.
Camila told Honors, "This project has impacted me because, as a future educator in the states, it is important for me to know what teaching mathematics is like in other continents around the world. Additionally, I know that I will have a voice in education in the states, and I plan to use it."
Evidence for Psilocybin-Norbaeocystin Entourage Effects in Rats Using a Novel E. coli-based Norbaeocystin Synthesis Process
Lexie Adams, Chemical Engineering major, Class of 2021.
This project focused on the development of a bacterial host for the production of psilocybin, the active ingredient in Magic Mushrooms. Although this illicit substance has been banned in the United States, it is currently being studied in FDA-approved clinical trials as a medication fortreatment-resistant depression, anxiety, PTSD, and other neurological disorders. As part of the Jones Lab, we were focused on finding a more cost-effective way to produce the molecule. As part of our initial findings, we were able to see a build-up of a pathway intermediate, norbaeocystin. This sparked interest in learning more about this molecule and its potential benefits to patients. There are currently no viable manufacturing processes for norbaeocystin, so we were able to re-optimize our E. coli strain to produce large quantities of this molecule. We were able to then partner with the McMurray Lab in the Department of Psychology to show the first evidence of an entourage effect between psilocybin and norbaeocystin. This finding motivates the study of different dosages of psilocybin and norbaeocystin to improve efficacy of treatments using these powerful molecules.
Lexie told Honors, "As I start my PhD, I will continue to use the skills I've learned from these projects to fuel ideas to benefit patients. I have been able to present this work at the American Institute of Chemical Engineers (AIChE) national conference in 2018 and publish it in the peer reviewed journal, Metabolic Engineering."
The Effect of Language on the Utilization of Health Care Services
Amelia Pittman, Sociology major, Class of 2019.
This research addressed the question of "How do Spanish-speakers interact with the U.S. healthcare system?" Amelia conducted a thorough literature review, analyzed data from a nationally representative health survey with over 50,000 responses, and constructed a paper that explored and tried to answer that question.
Amelia told Honors "Through this project, I gained so much experience in data analysis, research writing, and thesis construction. It's definitely been one of the most valuable experiences I've had at Miami."
The Hands of Time: The Temporality of the Doomsday Clock and a Discussion of Time
Emily Brady, Mathematics & Statistics major, Class of 2020.
When Emily visited the Chicago Museum of Science and Industry a few years ago, Emily was fascinated by an exhibit about the Doomsday Clock. After learning Emily the theme "Time and Temporality" for the Humanity Center's Geoffrion Undergraduate Fellows Symposium, Emily decided to further explore the Doomsday Clock. Through this project, Emily aimed to share the historical significance and cultural ramifications of the Clock with a new generation while also broaching the wider topic of time in art.
Emily told Honors, "Prior to this project, I did not often have the opportunity to truly utilize and hone these skills. This has helped me to become more confident in researching and writing. Additionally, the opportunity to work closely with [my faculty mentor] Dr. Hodges was truly amazing, and I am forever grateful for her guidance and support on this adventure."
The Prosecution of "Others": Presidential Rhetoric and the Interrelation of Framing, Legal Prosecutions, and the Global War on Terror
Co-authored by Athena Chapekis (Sociology major, Class of 2019) and Sarah Moore (Psychology and Sociology major, Class of 2020).
Sarah and Athena created a database called "The Prosecution Project" that maps over 2,000 cases of terrorism-related prosecutions on 40+ variables, including ideology, sentence length, and race/ethnicity. Using this database, they wrote an article that examined the relationship between presidential rhetoric and the prosecution of "othered" versus "non-othered" individuals, with "othered" status based on Said's theory of othering.
Athena and Sarah established that the frequency of "othered" prosecutions correlated with changes in presidential rhetoric. Their article was published in the 2019 edition of the "Critical Studies on Terrorism" journal.
Words that Dance: 19th Century Dancing in the Transition from Page to Screen
Anna Jankovsky, English Literature major, Class of 2019.
When motion moves from the page to the screen, why are the characters always dancing? Anna was interested in the 19th century novel Lady of the Camillias (Dumas fils) and two films that adapt this novel: Kukor's Camille (1930) and Luhrmann's Moulin Rouge! (2001).
By analyzing the dance scenes in these works, Anna sought to draw conclusions about the role of the dancing female body in 19th century literature, through the classical age of Hollywood, and into the modern film industry. Does the dance trope represent a continued idealization of Victorian chivalry in modern culture? Or does dance adapt, in itself, to become its own unique visual symbol in modern adaptations?
Testing Interoceptive Deficits as a Mediator of ADHD Symptomatology and Restrictive Eating Pathology
Abby Tietjen, Psychology major with a Neuroscience co-major, Class of 2022.
The project looked to investigate the role of interoception in the relationship of ADHD symptoms and disordered eating behavior. Interoception which is a concept which captures how one experiences their internal physiological sensations. It was hypothesized that a deficit in these abilities would help to explain the relationship between ADHD symptoms and disordered eating behaviors. A self report methodology was used and did not find interoception to have a mediating role in this relationship, though ADHD symptoms and restrictive eating were found to be highly related to one another as well as trusting one's body sensations.
Abby told Honors, "I learned about data collection and data collection issues which arise in psychology. It also allowed me to work on improving my scientific writing skills which I would not have otherwise focused as much time on. I think it really helped me to understand what psychology graduate school would look like after working so closely with graduate students."
Changes in skeletal muscle mass and measured REE of older adults following a 6-month weight loss program
Iris Puthoff, Nutrition and Public Health major, Class of 2021.
This project was an extension of an NIH funded research lab in the Kinesiology department at Miami University. The purpose of this study was to examine the effect of a 6-month weight loss program on skeletal muscle mass and resting energy expenditure (REE) in overweight and obese older adults. Results found that older adults may achieve weight loss without significant skeletal muscle mass loss, although regular aerobic exercise may not significantly increase skeletal muscle mass or resting energy expenditure. The final data was compiled into a poster presentation and was presented virtually at the 2020 Food and Nutrition Conference and Expo (FNCE). It was also published in the Journal of the Academy and Nutrition and Dietetics.
Iris told Honors, "This project was very impactful on my educational experience. I was able to get hands on experience through data collection and interactions with participants. Completing statistical analysis helped me to gain a better understanding of the research process and this research project allowed me to grain a deeper understanding within my field."
Typologies of Adaptation: Parenting Children with Primary Lymphedema
By Rakhsha Khatri, Public Health and Microbiology major, Class of 2021.
Mothers of children with primary lymphedema (LE) may be vulnerable to experiencing feelings of helplessness, frustration, grief, and excess stress that can lead to negative mood and child behavioral problems. This study aimed to gain an in-depth understanding of the lived experiences of these mothers. Data were collected using semi-structured interviews with mothers of children with LE from seven countries. Qualitative data were coded using a codebook. Codes were then subject to discussion by the research team who identified a pattern of parenting approaches. The resulting typologies of these approaches to parenting provide insight into the unique challenges these mothers face that may be used by healthcare providers, social workers, child life specialists, and family life educators to ensure that parents, and other caregivers are receiving the support they need. The outcomes of this project were presentations at 2019, 2021 Undergraduate Research Forum, 2019 National Council on Family Relations Conference, International Lymphoedema Framework Conference 2019, and a manuscript.
Rak told Honors, "As future a healthcare professional, I hope to understand my patients beyond their disease, thereby becoming their advocates in ways that are best fit for their identity. I hope to provide support to my patients that may off-set their unique stressors and to understand my patients beyond their illness. Patients need someone to understand their disease beyond the definition that healthcare professionals learned in their textbooks. As seen in this study, regardless of having the disease, how it affects individuals varies greatly not only across national borders but also among those who are living in the same country. It is important for us to keep advocating for our patients that best fits them, not us."
Nepal: Life at Altitude
Tag Lohman, Marketing and Interactive Media Studies major, Class of 2019.
Tag published a photographic book to promote awareness of the impact of "ecotourism" on Nepal's natural beauty by studying the dichotomy between economic prosperity and the preservation of the Himalayan Mountains.
Promote the General Welfare: A Political History and Economic Analysis of Medicare and Medicaid
Sara Rosomoff, Political Science major and Economics Combined BA/MA program, Class of 2019.
Throughout U.S. history, national health insurance has been a topic of great controversy. Three times during the 20th century legislation to enact such insurance was defeated. However, in 1965, the Medicare/Medicaid legislation was successfully passed in Congress, establishing a compulsory health insurance program for the elderly in the United States.
The obvious questions, and the center of research, is what made this attempt different? What factors led to its successful passage? And lastly, what factors led to states choosing to participate in Medicaid and offer a certain level of generosity? To answer these questions, Sara examined the history of health insurance in the U.S. qualitatively and through various statistical models, to analyze the results empirically.
Reinventing Agriculture: Addressing Urban Growth and Food Production through Vertical Farming
Nicole Rusk, Architecture and Sustainability major, Class of 2019.
Vertical farming, the practice of raising produce without soil in a controlled indoor environment, pushes agricultural boundaries by providing innovative and productive means for growing food within a city. This project allowed Nicole to combine knowledge of architecture, sustainability, and agriculture into the application of urban food issues.
After traveling to several vertical farms in the U.S. and Germany, Nicole built a small indoor hydroponic farm, proposed schematic architectural plans for a downtown Toledo vertical farm design, and wrote a comprehensive research paper about this innovative revolution in conserving water and growing food.
You Get What You Pay For: Combating Hezbollah Terrorist Financing in the Tri-Border Area of South America
Annika Fowler, Finance and Political Science major, Class of 2020.
Since the late 1970s, the Tri-Border Area (TBA) of South America has served as a money laundering haven for criminal operations, and Hezbollah has successfully leveraged this paradise to finance and plan its global terrorist operations. Annika argued that to effectively combat Hezbollah terrorist financing in the Tri-Border Area, criminal investigations must be cooperatively aligned transnationally with terrorism investigations. The 25th anniversary of the 1994 AMIA bombing in Buenos Aires sparked Argentine action on Hezbollah and presents an opportunity for improved collective international law enforcement action that acknowledges the interconnectedness of global terrorism and drug trafficking while appropriately reconciling broader political objectives at home and abroad.
Annika told Honors, "This project allowed me to combine all of my majors and minors (finance, political science, Spanish, and Latin American Studies) in an interdisciplinary way, preparing me for graduate school and a career in public service."
An Introduction to Quantum Cognition for Undergraduates
Antonio Vazquez Lim, Physics, Philosophy, and Psychology major, Class of 2022.
Antonio's goal was to give students at an [advanced] undergraduate level an introduction to a very new and exciting field of cognitive and mathematical psychology which uses the mathematics of quantum mechanics to model strange and irrational phenomena in cognition. It introduces the math of quantum theory, the history of the field, the reasons why we use this math, and then some models which use it.
Antonio told Honors, "At the end, I provide some philosophical ideas to push students to think critically about the topic in hopes of them going on to develop the field further. Honestly, the impact of this project was less about the project itself and more about what it meant to me to complete it. Over my career at Miami, I've struggled a lot with mental illness and various difficult life events. There are times where I thought about dropping out and times where I felt inadequate, but knowing that I could do something which might leave an impact is more than enough. I hope to show that you can do something you're proud of, even when you're full of doubt."
Gut Organoids: Current Landscape and Future Directions for Modeling Diabetes
Valerie Thompson, Microbiology major with a Premedical Studies co-major, Class of 2021.
This project was an exploration-based research project in which Valerie provided insights into the intestinal organoid model and projections of its applications to the study of metabolic disorders such as diabetes. Detailing its origins in basic science and describing its current position in translational research, this project culminated as a comprehensive synthesis of these research areas, translating the potential of this technology into the public health, precision medicine, and preventative medicine domains.
Valerie told Honors, "As an aspiring physician-investigator, it was important for me to utilize my time in the Honors Program to invest in the research I have become so passionate about; pursing this Honors project was an excellent way to engage in undergraduate research with more independence, stretching my capacity as a student while also learning to think and write as a scientist. This was an enjoyable opportunity for me to combine my in-classroom learning experiences in Microbiology and Public Health to a project with real-world applications. Now reflecting on my experience at Miami and with the Honors Program, I am grateful that I was able to take on such a significant undertaking with this Honors project."
Investigating the Role of Ephrin/EPH Signaling in Newt Lens Regeneration
Alyssa Miller, Biology major with a Premedical Studies co-major, Class of 2020.
Aylssa worked on a research team that identified specific protein signaling pathways that are essential downstream targets in the mechanism of Ephrin-mediated regeneration. These results will be extremely beneficial to the field as characterizing a map of the downstream targets of Ephrins will be pivotal in understanding regeneration. As a result of this work, there are now the necessary tools in order to gain a mechanistically insights into the function and regulation of Eph/ephrin signaling during lens regeneration. Alyssa plans to go to Medical school and also research the mechanisms of cancer formation and molecular and cellular biology associated with cancer.
Alyssa told Honors, "In my opinion, the best physicians are those who have both great passion for patient well-being as well as a deep understanding of the molecular events that lead to an illness. As a future physician scientist, I want to be at the forefront of both translational medicine and the application of medical research to improve patient outcomes. While my coursework has allowed for the academic backbone in my understanding of cell and molecular processes and general physiology, my work in this laboratory and on this project has given me the experiential learning to narrow down my specific career interests outside of the typical classroom environment." Alyssa presented this research on-campus at the Miami University Undergraduate Research Forum, in addition to off-campus presentations at the Society for the Advancement of Chicanos/Native Americans in Science Annual Convention and the Society of Developmental Biology Regional Conference.
Development of a Probe for Diffuse Reflectance Spectroscopy with Variable Source-Detector Separation
Boyd Colbrunn, Biological Physics major with a Premedical Studies co-major, Class of 2022.
The objectives of this project were centered around creating and testing the utility of a diffuse reflectance spectroscopy (DRS) system with variable source-detector separation. This system would essentially allow for detection of oxygen and hemoglobin in the skin at various depths, allowing DRS to become more flexible. The research is still ongoing, but Boyd presented his current findings at a virtual symposium through the Ohio Space Grant Consortium.
Boyd told Honors, "This was my first opportunity to lead my own research project in the lab. Beyond the knowledge and skills I gained in optics and photonics, I was able to learn more about how research projects are run and how the world of academic research functions. Ultimately, these skills will translate effectively into my future in medical school and beyond."
Honors College
Peabody Hall
701 Western College Drive
Oxford, OH 45056