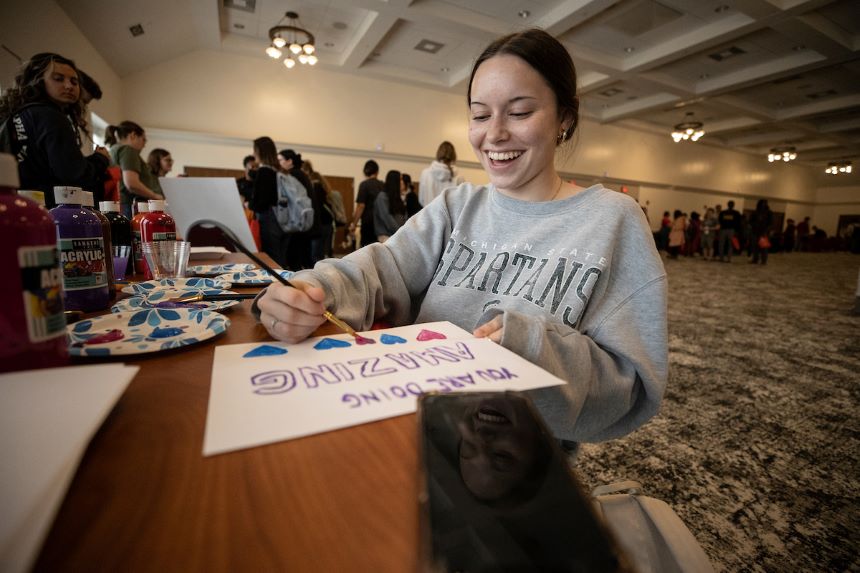 Groups and Workshops
Current Groups

Group

Date and Time

Description

BeYoutiful Beings 

Wednesdays

1-2:30 p.m.

BeYOUtiful Beings is an educational and supportive space for undergraduate and graduate women struggling with body image concerns, self-esteem, and perfectionism. This group is a warm, supportive, and informative environment for young women who are seeking to develop a more compassionate and holistic relationship with their body and mind. Designed to be eating disorder prevention.
Circle of Hope

Mondays

3-4:30 p.m.

A warm, supportive, and empowering therapy group for woman/female-identifying graduate and undergraduate students who are survivors of sexual assault or intimate partner violence.
DARE: Depression and Anxiety Recovery

Fridays

1-2:30 p.m.

DARE is a co-ed group for students struggling with anxiety and/or depression. Members will learn about various ways to cope and understand anxiety and depression, through discussion, exploration, activities and examples.
Diamond DBT Skills

Thursdays

1-2:30 p.m.

Skill building group for students who experience strong feelings or intense emotional reactions that may be overwhelming, have trouble coping, and/or turn to ineffective behaviors to reduce negative emotions. Each week, members will learn and practice skills focused on recognizing and understanding their emotions, developing healthy ways to cope with distress, or how to communicate effectively.
Expressing the Self Through Art

Wednesdays

3-4:30 p.m.

Members will pay attention to their process of creating art through a variety of mediums and how this relates to the way they function emotionally, intrapersonally and interpersonally. Leaders will provide supplies and no art skills or experience are needed. Each week members will create a piece of art according to a specific prompt or theme.
Family of Origin Issues

Tuesdays

3-4:30 p.m.

This group is for students of any gender, graduate or undergraduate, who are interested in exploring issues related to their Family of Origin (FOO) and the effects that past or present FOO concerns may have in their lives now.
Graduate Student Group

Fridays

10:30 a.m.-Noon

This group is intended as a supportive environment for graduate students experiencing the full range of stressors common to student life—academic pressures, financial concerns, and relationship issues with family, friends, faculty, and partners, among others. Group can help students examine patterns of thinking, feeling, and behaving and provide support regarding a wide range of symptoms, including anxiety and depression.
Grief Recovery

Fridays

1-2:30 p.m.

A support group for students who have lost loved ones and are seeking a space where they can share their encounters with grief and loss with others who have had similar experiences. Losses that occurred maybe recent or past, friend or family.
Lavender Connections (LGBTQIA+ Support)

Thursdays

3-4 p.m.

This is a drop-in group, for students who identify as a LGBTQ+, who are interested in a supportive and affirming space, exploring experiences and emotions related to gender and sexuality, and processing the diverse experiences of being LGBTQ+. Location is Clinical Health Science and Wellness Building Room 2001.
MU and You 

Tuesdays

1-2:30 p.m.

This group is for freshmen, transfer students, out of state students, and any other student who is experiencing challenges with the social/emotional transition to college or adjusting to Miami University. This group will serve as a space for students to meet, support, and receive support from others experiencing similar challenges.
Taking ACTion

Tuesdays

1-2:30 p.m.

This is a semi-structured group for people who struggle with negative thoughts, excessive worrying, feeling "stuck," and general stress. Group members will learn about mindfulness, how to interact with their thoughts in a different way and live in accordance with their values.
Understanding Self and Others

Tuesdays

3-4:30 p.m.

This group will provide a context for members to improve difficulties in their lives connected to developing and maintaining satisfying relationships with friends, family, partners, etc. A confidential environment will be created to help each member to learn how to trust, confront conflicts, understand one's interactional style, and develop healthy relationships with others and with one's self.
Virtual Workshops
A virtual workshop is a 20-30 minute live webinar focused on a specific mental health related topic presented by a staff member in Student Wellness.