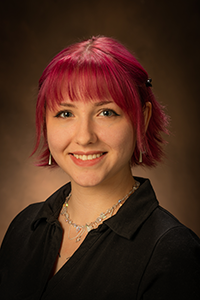 Megan Sekulich
Megan is a Myaamia artist. She graduated from Miami University in 2022 with a B.F.A. in Studio Art with a concentration in printmaking, a minor in fashion design, and Honors with Distinction. Following her graduation from the Myaamia Heritage Award Program, she joined the Myaamia Center in 2023 as a graphic designer. This position allows her to aid in the education and revitalization efforts of her community via her passion of creating art. She was awarded the 2023 President's Distinguished Service Award for her work in Myaamia art education with the Myaamia Center and the Department of Art. 
Megan strengthened the understanding of her Myaamia identity and heritage throughout her undergraduate career. She created artwork and graphics for the Myaamia center, curated multiple art exhibitions showcasing Myaamia aesthetics, and mentored Art Education students on cultural education and appreciation. She also served as a counselor for the Eemamwiciki summer programs.
Her personal artwork often focuses on the themes of growth, confusion, and acceptance regarding her identity as an Indigenous person. Megan hopes to promote the awareness that native artwork and native peoples are contemporary through her work with the Myaamia Center and Miami University.