2012 Myaamiaki Conference
The fifth biennial Myaamiaki Conference was held on March 31, 2012 at the Shriver Center on Miami University's campus in Oxford, Ohio.
Theme: eeloniteeheelotaatiiyankwi ("We Reflect")
Approximately 180 attendees, by far the largest group to attend our conference, enjoyed presentations on research related to the Miami Tribe. This conference was also a celebration of many milestones between Miami people and Miami University.
Division of Student Affairs, Miami University
The Miami Tribe of Oklahoma
The Myaamia Project
9:00 am | Welcome and Introductions
Presented by: Daryl Baldwin, Director, Myaamia Project
9:15 am | Your Language isn't Extinct: The Role of Myaamia in Language Reclamation
Presented by: Wesley Leonard, Associate Professor of Native American Studies, Southern Oregon University
9:50 am | miloniteeheetaawi eehinki pimihkanaweeyankwi ("Let's Reflect on How Far We Have Traveled")
Presented by: George Ironstrack, Assistant Director and Educational Coordinator, Myaamia Project, Miami University
10:20-10:30 am | Break
10:30 am | The Catholic Calumet: Colonial Conversions in French and Indian North America
Presented by: Tracy Leavelle, Associate Professor and Chair of History Department, Creighton University
11:05 am | Surveying the Sources on the Myaamia Language
Presented by: David J. Costa, Myaamia Project, Miami Tribe of Oklahoma Language Committee
11:40 am | Keeping Track of Characters in Myaamia Stories: Word Order and Obviation 
Presented by: Chad L. Thompson, Associate Professor of Linguistics and Director of the Three Rivers Language Center, Indiana-Purdue at Fort Wayne
12:15-1:15 pm | Lunch
1:20 pm | Myaamia Miincipi: Genetic Relationships and Preservation
Presented by: Jake Long, Graduate Student, Botany Department, Oklahoma State University
1:55 pm | Faculty Involvement with the Miami Tribe and the Myaamia Project; Miami University Faculty Panel 
Moderated by: Adolph Greenberg, Department of Anthropology, Miami University
2:30 pm | Computer Science and Language Learning 
Presented by: Douglas Troy, Associate Dean and Professor, Department of Computer Science and Software Engineering and Students, Miami University
3:05 pm | Myaamia Student Experiences at Miami University; Miami Tribal Student Panel 
Moderated by: George Ironstrack, Assistant Director and Educational Coordinator, Myaamia Project, Miami University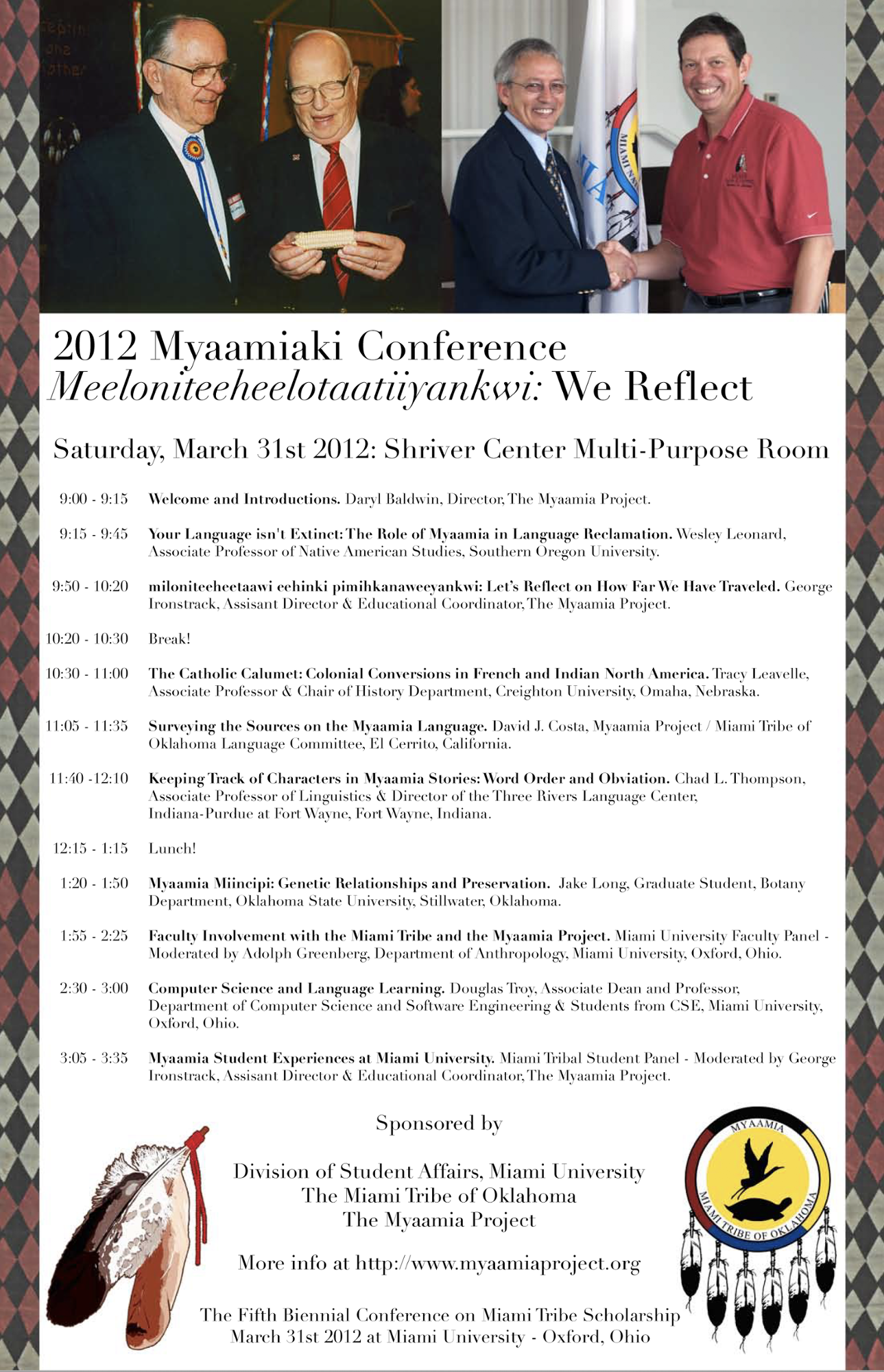 2012 Myaamiaki Conference Promotional Poster, including speakers, conference information, leaders of the University and Tribe, and theme.