Graduating senior provides life-saving gift to patient with leukemia
Her journey of donating peripheral blood stem cells began with swabbing her cheek at a Zeta Tau Alpha sorority chapter meeting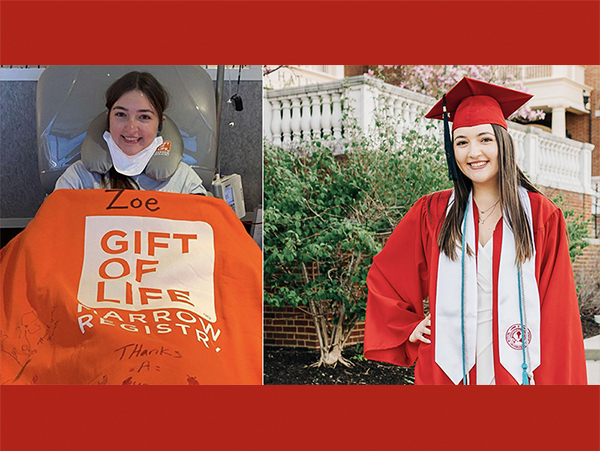 Left, Zoe Kelley donating peripheral blood stem cells at the Gift of Life Marrow Registry's headquarters in January. Right, Kelley in her cap and gown (submitted photos).
Graduating senior provides life-saving gift to patient with leukemia
Left, Zoe Kelley donating peripheral blood stem cells at the Gift of Life Marrow Registry's headquarters in January. Right, Kelley in her cap and gown (submitted photos).
By Margo Kissell, University Communications and Marketing
Miami University graduating senior Zoe Kelley was sitting in class when she learned that a cheek swab she did during a marrow donor recruitment drive on campus was a match for a 69-year-old patient battling leukemia.
"It was nice to know that I was about to make a difference in someone's life," said Kelley, of West Chester, a double major in Marketing and Professional Writing. She had swabbed her cheek at her sorority Zeta Tau Alpha's chapter meeting in 2019 and did not think anything would come of it.
But two years later, in October 2021, she was contacted as a match, said Jordan Ledyard, recruitment specialist for Gift of Life Marrow Registry, a public bone marrow and blood stem cell registry based in Boca Raton, Florida.
After completing additional testing and a physical, Kelley was able to donate her peripheral blood stem cells at Gift of Life's headquarters this past January during winter term. She and her mother flew to Boca Raton. (Her father is Chris Kelley PhD '03, assistant teaching professor in the Department of Political Science.)
Kelley ended up having a "once-in-a-lifetime opportunity to be a miracle match for this patient," said Ledyard, explaining the donation process known as apheresis, in which stem cells are separated from the donor's whole blood.
"Her stem cells get set aside, while the remainder of her blood is filtered back into her body through the other arm," she said. "It is a fairly simple procedure and can be done while the donor just hangs out."
Kelley said she was anxious at first because of a fear of needles. "After learning more information and talking with my family and friends, I began to feel more confident and excited about the donation," she said.
Gift of Life has a policy that donors and patients remain anonymous for a year after the donation, she said. After that time, it would have to be a mutual agreement to meet.
Following her donation, Kelley went on to organize two more donor recruitment drives on campus, which led to more than 120 new donors added to the registry. Kelley believes others felt better about joining the registry after hearing her personal story.
"Expanding the registry is incredibly important because it really requires perfect matches to be able to donate," she said, "so the more people that join the registry, the better chance a patient will have of finding a match."
Kelley noted that because she was put back into the registry, "I could potentially get called on again, and I know I would do it again in a heartbeat."
Kelley is now focused on graduating from Miami Saturday and pursuing a career in book publishing.  
"It's something I've wanted to do since I was in middle school, and it was what informed my choices of major when I came to school," she said.
The Farmer School of Business awarded her a Marketing Student Achievement Award for her high level of service and academic achievement.
Kelley said she has loved her Miami experience, which has included working as a consultant at the  Howe Writing Center, a student-focused arm of the Howe Center for Writing Excellence. She said getting involved in various organizations helped her to expand her network and gain valuable experience as a leader.
"I've made life-long friends, gained mentors, and have found my passions," she said.