Miami University to celebrate Class of 2022 during commencement ceremony May 14
Nearly 4,300 degrees to be awarded and alumna Maj. Gen. (Dr.) Sharon Bannister to speak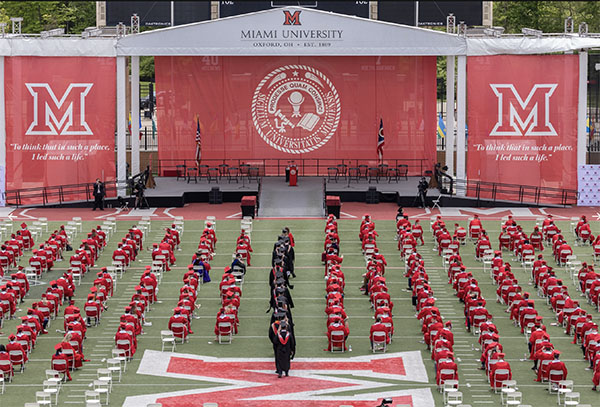 Miami University to celebrate Class of 2022 during commencement ceremony May 14
Miami University will celebrate the Class of 2022 and its 4,300 graduates during in-person commencement ceremonies at Yager Stadium, May 14, rain or shine. 
The ceremony will begin at 10:30 a.m. and be live-streamed for those unable to attend in person, available through YouTube here. 
For the first time since 2019, Miami will host one large commencement ceremony for its graduates. President Gregory Crawford will preside and alumna Maj. Gen. (Dr.) Sharon Bannister will offer the commencement address, discussing her path from Miami University to becoming a two-star general.
Bannister is director of medical operations of the Office of the Surgeon General of the U.S. Air Force. She previously served as command surgeon of Air Combat Command. As director of medical operations, she is responsible for developing and executing health care policy in support of 43,000 personnel and 76 medical treatment facilities with a budget of more than $6.2 billion.
She said she plans to urge the graduates to "find their why" in life — something that inspires them to make a difference in the world. 
Degrees and Logistics
Degrees to be awarded include 105 certificates, 97 associates, 3,630 bachelor's, 409 master's and 12 doctorates, for a total of 4,253.
The ceremony will last approximately 90-120 minutes. Current planning includes open seating (not a ticketed event) and no 'number of guests' restriction.
Divisional ceremonies and other graduate recognition programs occur throughout the weekend.
More information can be found on the commencement webpage.