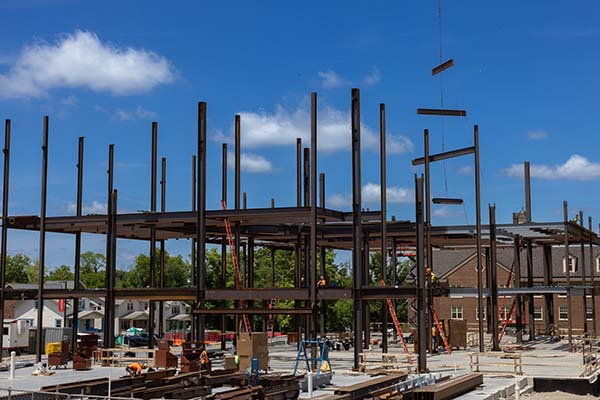 Taking shape: Beams are maneuvered into place for the new McVey Data Science building (early June image by Scott Kissell)
The Wrap-Up: June
Taking shape: Beams are maneuvered into place for the new McVey Data Science building (early June image by Scott Kissell)
John Virden

, Chief Information Security Officer (CISO)at Miami University, has been named to the Chief Information Security Officer Council for Zoom, one of only two higher education CISOs in the group. 

 Virden was also named as one of the 2022

Top 100 CISOs

by CISOs Connect for the second year in a row. 
Anita Mannur

, associate professor of English, is the author of the book

Intimate Eating: Racialized Spaces and Radical Futures

, published by Duke University Press in March 2022. "

Intimate Eating

examines how notions of the culinary can create new forms of kinship, intimacy, and social and political belonging. Mannur traces the ways in which people of color, queer people, and other marginalized subjects create and sustain this belonging through the formation of 'intimate eating publics.'These spaces—whether established in online communities or through eating along in a restaurant—blur the line between public and private."

Dawn Blitz,

associate professor of Biology, received a grant from the National Institute of Neurological Disorders and Stroke of $420,562 for the project "Modulation of Network Feedback Shifts the Locus of Rhythm Generation."

David Gorchov

, professor of Biology, received a grant from Greenacres Foundation of $86,496 for the project "Improving restoration of forest understory: experimental deer exclosure, invasive plant management, and enrichment planting."

Shijie Zhou,

assistant professor in the department of Chemical, Paper, and Biomedical Engineering, received a $154,000 grant from the American Heart Association for a project that will help clinicians quickly identify where ventricular arrhythmias originally come from.

Jared Tangeman

,'17, PhD '20, research assistant in Cellular, Molecular, and Structural Biology with Katia del Rio Tsonis, professor of Biology, was awarded a K99 Pathway to Independence Award from the National Institutes of Health grant for his project "Elucidating the gene regulatory networks that drive neural regeneration". The grant provides support for promising postdoctoral research scientists for up to two years, followed by up to three years of independent support contingent on the scientist securing an independent research position. 

Andrew Cannizaro, doctoral student in Ecology, Evolution, and Environmental Biology with adviser David Berg, University Distinguished professor of Biology and of Biological Sciences, received a TCS Fellowship for $1,000 from The Crustacean Society. 

The Department of Sport Leadership and Management pitched a proposal to Hawk Tank and received $10,000 funding to offer a Women in Sport Leadership Mentoring program next year. The Hawk Tank program is funded by the MIAMI WOMAN Giving Circle. 

Rodney Coates

, professor of Global and Intercultural Studies, was awarded the 2022 Joseph B. Gittler Award by the Society for the Study of Social Problems (SSSP). The award recognizes Coates' dedication to the SSSP and scholar activism, and his "constant presence in the communities — both local and now virtual — offering (his) time, ideas, and support of education and social justice." Nominators said  the workshops he provides on microaggressions in local schools, churches and community organizations have been invaluable for marginalized communities. He was also recognized for his many publications and academic honors, and significant mentoring work with students, junior colleagues, and scholars across the country.

He will be honored at an SSSP awards ceremony Aug. 6.

Miami University and Farmer School of Business alumni-led/alumni-founded companies took the

top award in six of nine categories

in

Cincy Inno's 2022 Fire Awards

, which recognizes StartupCincy's "fastest-growing, most innovative and impactful startups." 




Want to see your news in The Wrap-Up? Email us at newsinfo@MiamiOH.edu