Miami makes third straight appearance on 'Best Employers' list
University is in Ohio's top five for education industry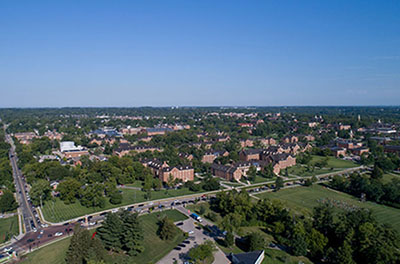 Aerial photo of southwest corner of Miami University
Miami makes third straight appearance on 'Best Employers' list
Aerial photo of southwest corner of Miami University
For the third consecutive year, Miami University is one of the top employers in the state of Ohio.
Miami was again represented on Forbes' America's Best Employers by State list, coming in at No. 17 overall in Ohio for 2022.
Forbes and market research company Statista teamed to assemble the 2022 list by surveying 70,000 workers for companies with 500 or more employees.
"It is an honor to be recognized among the top employers in the state of Ohio," Miami University President Gregory Crawford said. "We are fortunate to have faculty and staff who have an unwavering dedication to Miami's mission and values. Their contributions are vital to our goal of student success and to providing an environment of academic excellence."
Miami ranks in the top five in Ohio's education industry.
In the past year, Miami has offered free professional development programs for employees such as the new, award-winning Diversity, Equity, and Inclusion microcredential course and the Miami Writing Institute. In recognition of the challenges of the pandemic, work and life support webinars for employees were offered by Impact Solutions, Miami's Employee Assistance Program. Recently, in appreciation and recognition of staff, eligible employees received additional vacation days.
Surveys were conducted anonymously, with the intention of displaying the differences between how companies act and are regarded throughout the country. Up to 101 employers were ranked in each state.
With approximately 3,720 employees, Miami is the largest employer in Butler County and serves more than 20,300 undergraduate students and more than 2,200 graduate students across its Oxford campus, regional campuses in Hamilton and Middletown, the Voice of America Learning Center in West Chester, and the John E. Dolibois European Center in Luxembourg.
This is the fourth year for the Best Employers list. Miami also appeared in 2020 and 2021. There were 1,382 employers named nationwide in 2022.