Luke Liang and Hannah Wudke named 2023 Astronaut Scholars
The Astronaut Scholarship is considered one of the premier scholarships for STEM majors intending a career in research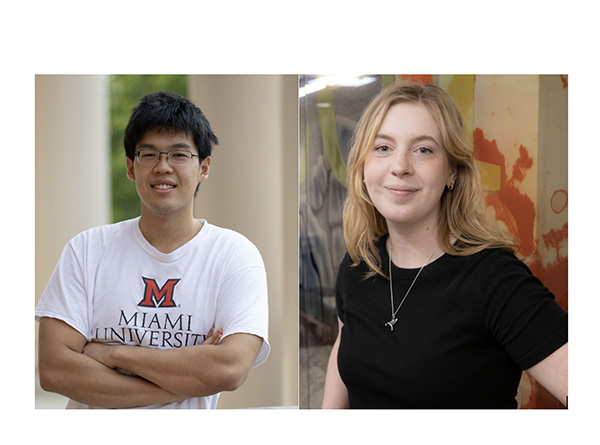 Seniors Luke Liang (left) and Hannah Wudke
Luke Liang and Hannah Wudke named 2023 Astronaut Scholars
Seniors Luke Liang (left) and Hannah Wudke
Miami University seniors Luke Liang and Hannah Wudke have been named Astronaut Scholars for the 2023-2024 academic year by the Astronaut Scholarship Foundation (ASF). 
The Astronaut Scholarship is among the most significant merit-based monetary scholarships awarded to undergraduate STEM juniors and seniors who intend to pursue research or advance their field upon completion of their final degree.
Astronaut Scholars are among the best and brightest minds in science, technology, engineering, and math (STEM) who show initiative, creativity, and excellence in their chosen field, according to the ASF.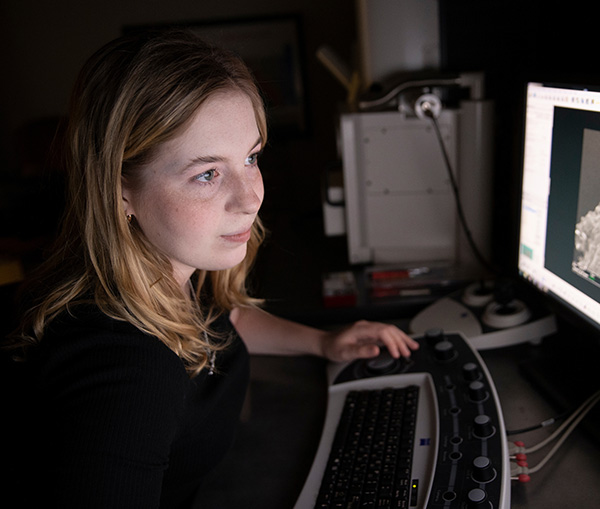 Hannah Wudke
Hannah Wudke
Wudke, from Liberty Township, is a Geology major and Environmental Science co-major with a Social Justice and Inequalities minor.
She has been involved in undergraduate research since her first year at Miami with faculty mentor Mark Krekeler, associate professor of Geology and Environmental Earth Science and of Mathematical and Physical Sciences at the Regionals.
Wudke's research centers on understanding the occurrence of toxic materials in consumer talc products and talc ore sources that may lead to long-term diseases such as cancer and mesothelioma.
This spring, she was named a 2023 Goldwater Scholar. Read more about Wudke and her undergraduate research journey in our news story Meet Miami's 2023 Goldwater Scholar, Hannah Wudke. 
After Miami she plans to pursue a doctorate in Mineralogy and Geochemistry, with a goal of conducting mineralogy and geochemistry research at the interface of environmental health and teaching at the university level.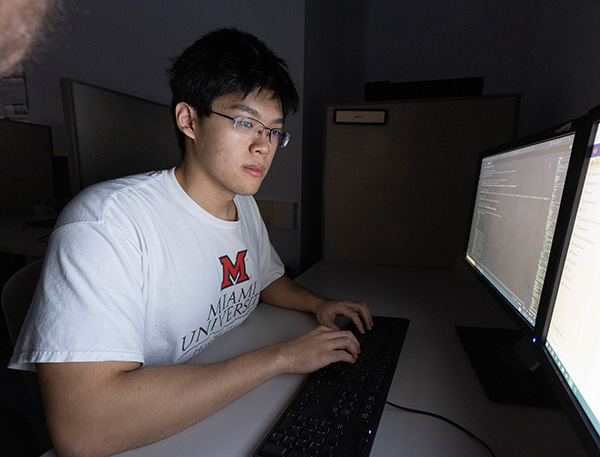 Luke Liang
Luke Liang
Luke Liang, from Oxford, is a Computer Science and a Data Science and Statistics double major. 
He has been involved in undergraduate research with faculty mentor Philippe Giabbanelli, associate professor of Computer Science and Software Engineering, since he started at Miami. Giabbanelli's mentorship began after Liang took a Computer Science class while he was a Talawanda High School student (through the College Credit Plus program).
Liang's research centers on software development and machine learning —  in particular using machine learning to detect network simulation errors. 
His senior capstone project involved collaboration with a researcher from the Centers for Disease Control and Prevention (CDC) on testing a web application for a youth suicide prevention simulation. 
He is a co-author with Giabbanelli and others on Simulation Models for Suicide Prevention: A Survey of the State-of-the-Art published in June in the journal computers. He is also a co-author on two publications in conference proceedings about applications of machine learning for detecting errors in network simulations. 
Liang is interested in pursuing a doctorate in Computer Science after Miami, with a focus on machine learning and health care. 
The 2023 Astronaut Scholars have the opportunity to network, attend professional development sessions, present their research, meet with industry leaders, and receive their Astronaut Scholar award at the Innovators Week and Gala Aug.18-21 in Orlando. Above, the 68 scholars participated in a STEM Leadership Panel at Universal Orlando Resort (image courtesy of ASF)
ASF: Founders for the Future 
Miami University is one of the Astronaut Scholarship Foundation's original university partners with the first student being awarded a scholarship in 1986. Currently there are 46 partner institutions nationally.  
Last year the ASF established the Founders for the Future program thanks to a $1 million grant from Blue Origin's nonprofit Club for the Future. The grant provides seven additional Astronaut Scholarships  — one additional scholar from each of seven schools — each year from 2022 through 2029.
Miami was selected as one of the Founders for the Future seven partner schools.