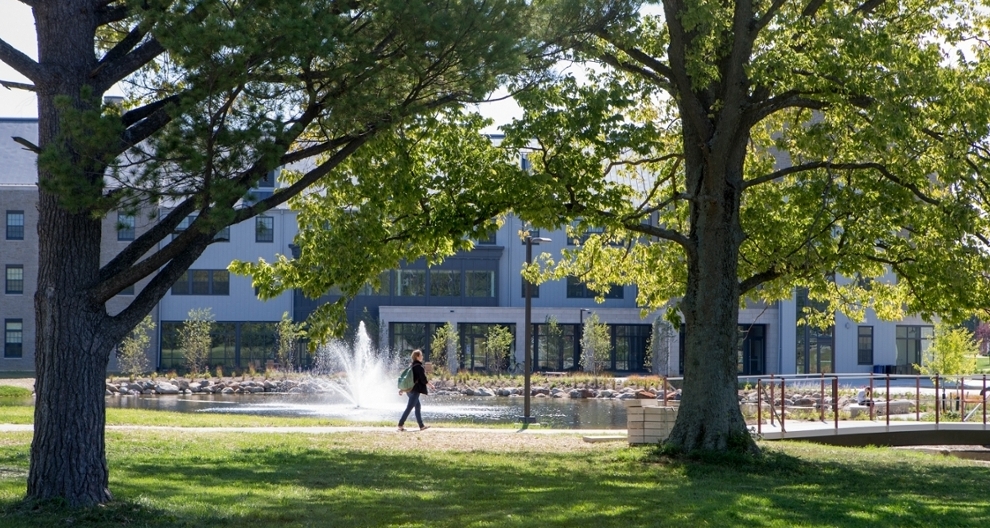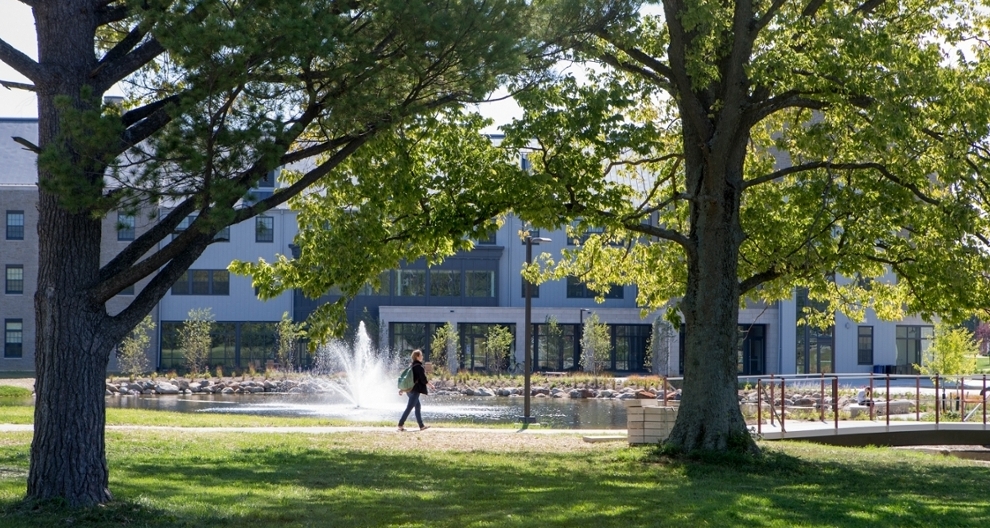 More than a focal point: One of three new residence halls on Western campus, Hillcrest Hall is situated near the Upper Pond. In addition to capturing rainwater, the pond collects condensate from surrounding air conditioning equipment. Water moving through coiled tubes below the pond bed provides the heat exchange capacity of 30 geothermal wells. That's in addition to the 315 geothermal wells located below ground in the area. The fountain provides aeration to the pond (photo by Scott Kissell).
Jun 18, 2015
Miami's new Sustainability websites provide answers, information and reports on progress
By Susan Meikle, university news and communications, meiklesb@MiamiOH.edu.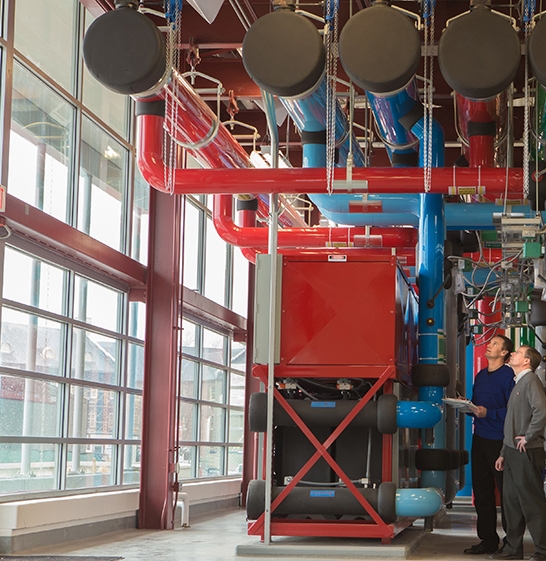 The Geothermal Heat Exchange Facility invites visitors to look through its windows or to schedule a group tour. The building has a green roof and the grounds are planted with a rain garden. Rainwater is directed by rain chains (photo by Scott Kissell).
Miami's commitment to sustainability is evident in our academic programs, physical campus and operations.  President David Hodge endorsed the 2010 Miami University Sustainability Commitments and Goals (SCAG), and a Sustainability Committee was established to help track and report progress on those goals.
Perhaps you've wondered...
Yvette Kline, director of sustainability and energy conservation, and other committee members sometimes field questions such as:
1. In our office we try to make recycling a habit, but we are not 100 percent sure about what can go in those blue bins.  Sometimes we see disposable coffee cups in there. Can those be recycled?
2. Isn't Miami's carbon footprint going to increase with all the new construction on campus? What is our carbon footprint anyway? 
3. I've heard about the new Upper Pond and Lower Pond on Western campus - but why is there a new pond near Presser Hall?
Now you can find out the answers to these questions and more from two new Miami websites: 
Sustainability at Miami: 
http://miamioh.edu/about-miami/sustainability/index.html
A top link on the About Miami website — provides information about the Sustainability Commitments and Goals, reports on progress to date, operational indicators and more.
Content for this website was prepared by the Sustainability Committee, chaired by Tom Crist, professor of biology and director of the Institute for the Environment and Sustainability.
Physical Facilities Sustainability: 
http://www.pfd.miamioh.edu/sustainability/
The PFD Sustainability website focuses on energy use, Miami's carbon footprint, recycling, composting and the Western campus interpretive signs. 
Now for the answers: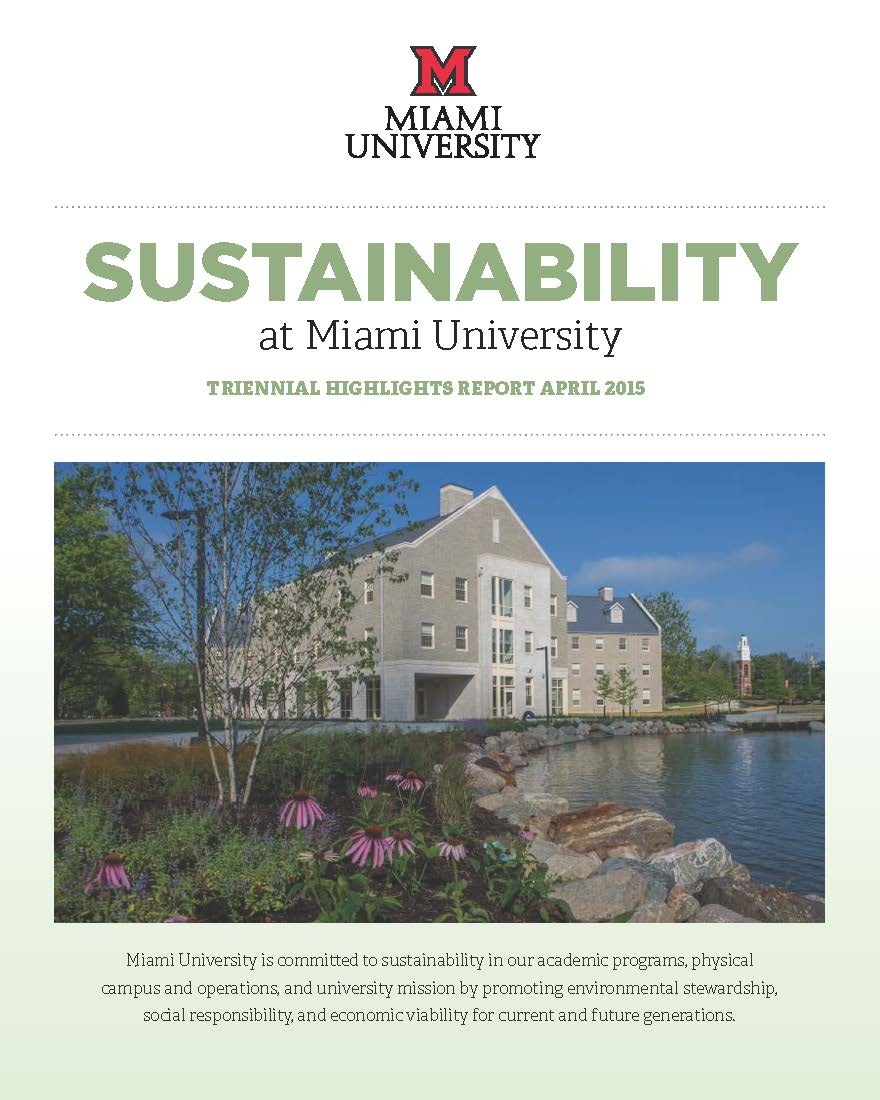 For a copy of the "Sustainability at Miami Triennial Highlights Report" contact Sustainability@MiamiOH.edu.
1. Single stream recycling is easy:
Recyclable: Put plastics (regardless of number), clean cardboard, dry paper, metal and glass all together in a blue recycling bin. But wait! Although disposable coffee cups are trash, their cardboard sleeves and plastic lids are recyclable. Miami's plastic salad bowls can also go in the blue bins, after a quick wipe with your napkin.  
Not Recyclable:  Disposable coffee cups, cardboard "to go" food containers, napkins, paper towels and food-stained pizza boxes.
Find out more on the PFD Sustainability website.
2. Miami's Oxford campus carbon footprint is approximately 137,000 metric tons of carbon dioxide annually (per FY 2012), an approximately 13 percent carbon footprint reduction from 2008.
The 2010 SCAG calls for a 20 percent reduction in carbon dioxide emissions per square foot (2008-2020), assuming a 17.3 percent increase in square footage.  The Utility Master Plan calls for an end to burning coal by 2025.
Find out more on the Sustainability at Miami website.
3. Patterson Pond, south of Presser Hall, detains rainwater that falls around Maplestreet Station and Etheridge Hall (both LEED Silver).
Water continues downhill to Duck Pond, then to Collins Creek and toward the Gulf of Mexico.