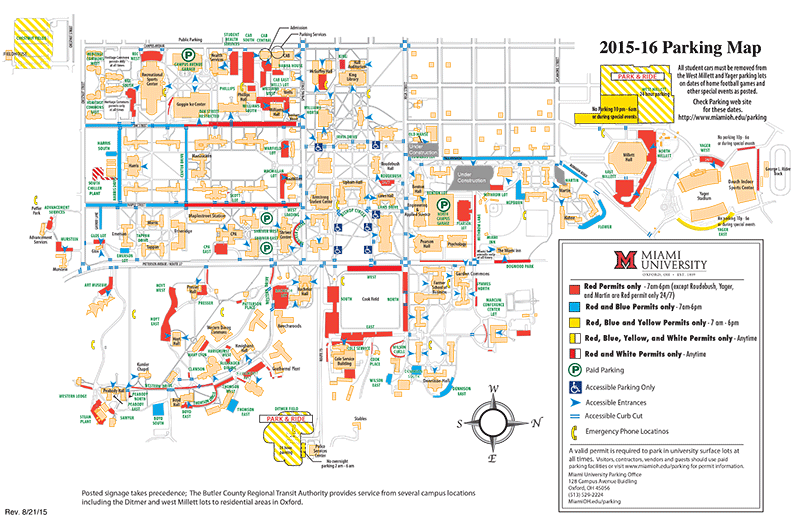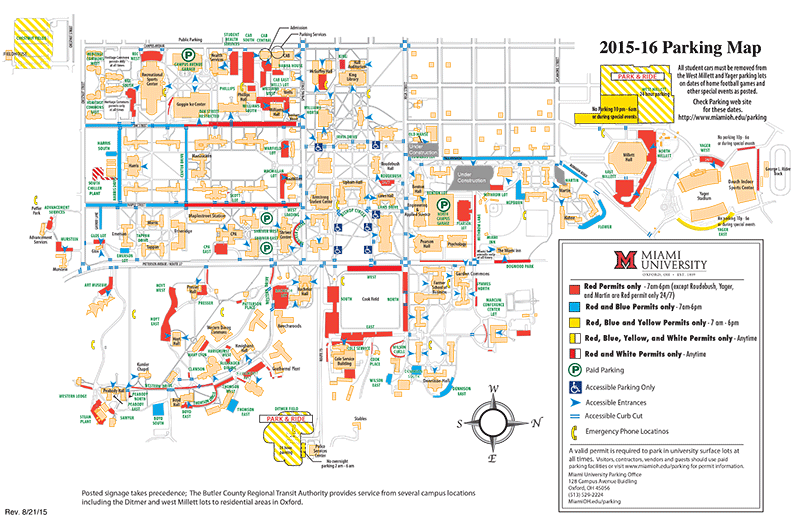 Map shows areas of construction and parking restrictions.
May 11, 2016
Construction, renovation, parking changes coming to campus
Many building and road improvements are scheduled for Miami's Oxford campus — many starting Monday, May 16, the day after commencement weekend. Below are notices that may affect paths on campus, as well as general updates.
Road construction by the Ohio Department of Transportation at U.S. 27 north and south of Chestnut Street:
Work may be done by early-to-mid-July. A final topcoat of asphalt will likely occur in late May or June. Turn signals may be turned on in June. Crews will move the concrete traffic barriers, shifting traffic to the west side of the bridge while they pour the east section of sidewalk. 
The driveway from Patterson Avenue to Glos Center has been removed. After the project is complete, the city of Oxford will stripe the west side of U.S. 27 as a bike lane from Chestnut Street to Talawanda High School.
North campus parking:
The Edwards parking lot will close May 16–Aug. 1. When it reopens, it will be fully paved and leveled and will have more parking spaces. Other improvements include widening the High Street sidewalk, landscaping the lot, burying utilities and installing LED lighting.
The Withrow parking lot sections east and south of Withrow Hall, along with access from Tallawanda Avenue, will close May 16. This lot will close Monday, June 13, through July 2018, for deconstruction of Withrow Hall and construction of a new residence hall. Plans are underway for improved pedestrian flow from north quad to the campus core. Ensuring additional parking at north quad will result in no net loss of surface parking. In the interim, access to and parking for the north campus garage and associated facilities (engineering and psychology buildings) can be made via North Patterson Avenue.
The parking map pictured above identifies available parking areas and notes the areas that will not be available this summer. 
In addition, this summer, BCRTA operates a limited transit schedule on the Oxford campus to and from the remote lots and between the Oxford and Hamilton campuses from 7 a.m.-7 p.m. You may ride for no fare by showing your university ID when boarding. Summer transit schedules are posted on BCRTA's website: www.butlercountyRTA.com.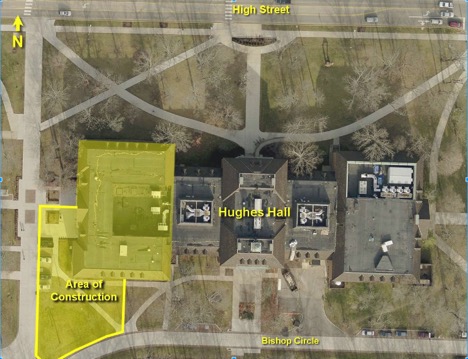 Building renovations and construction: 
Concrete replacement around MapleStreet Station begins May 16.
Renovation of Hamilton Hall, including numerous utility, safety and access upgrades and additional space for six sorority suites, starts May 16.
Varsity tennis courts will be removed from north quad in July and constructed north of the field hockey field near Yager to make room for a new residence hall.
Construction of the new north quad residence hall is expected to begin in July and take two years to complete.
Millett, Ogden and Alumni halls will be partially reroofed starting May 16.
Withrow Court's deconstruction will begin in late May.
Hughes Hall's west wing will be renovated for lab space beginning in August. Completion is expected in July 2017. This space will provide academic space temporarily needed while Pearson Hall undergoes extensive renovation beginning in early summer 2017.
Two Hughes lecture halls (rooms 141 and 161) and College of Arts and Science advising space in Upham Hall will be renovated, with CAS advising done in August and the Hughes lecture hall done in December.
Fencing will go up May 16 for the deconstruction of Mary Lyon Hall. Western Drive will remain open.
Clawson Hall will be renovated with utility and safety upgrades and modernization of shared study and community rooms.
Geothermal well field piping will be run to the Gunlock Family Athletic Performance Center in late May.
The parking lot in front of Cole Service Building will be resurfaced over the summer.
Many other projects are planned, including additions to the geothermal field on Western campus, Western campus bridge repair, widening of sidewalks on Chestnut between Oak and Campus streets, and more.
The renovation of Shriver Center and Armstrong Student Center's east wing expansion continue on schedule with January and July 2017 completion dates, respectively.
The ODOT Bonham Road bridge replacement is expected to be completed in late August.