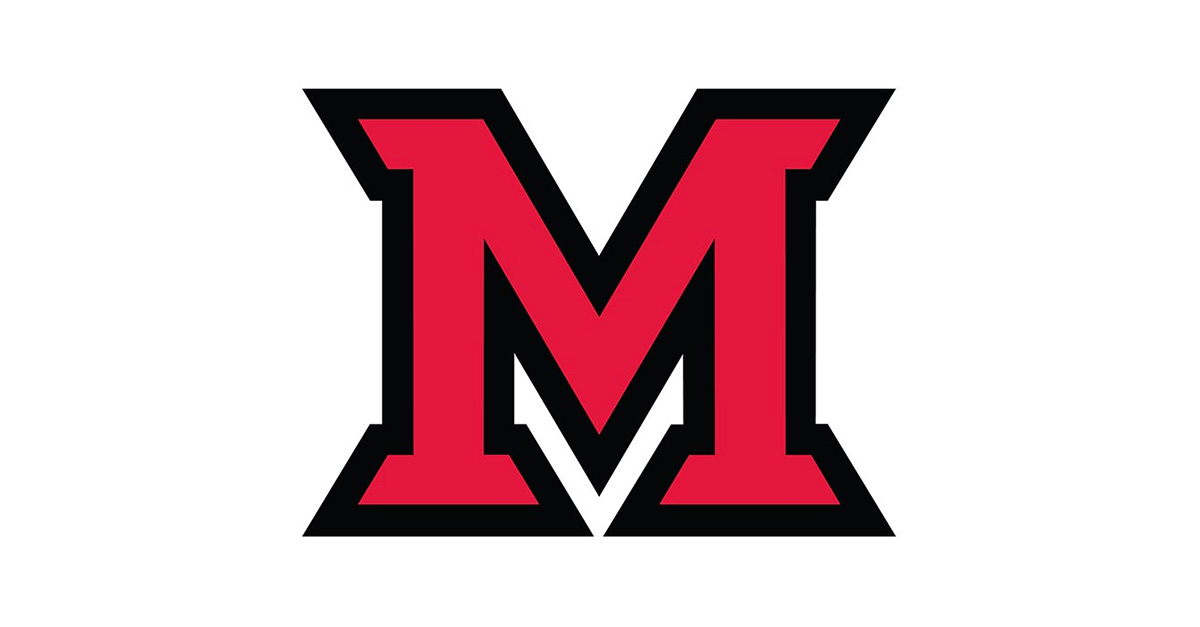 May 04, 2017
It's summer: Construction, renovations and detours
Numerous projects on Miami's campus and en route to Oxford will have drivers and pedestrians maneuvering past construction vehicles and workers. For safety and for awareness, below are the known projects scheduled beginning May 15 or later.
Smaller projects will not be noted here, but those that may affect people's paths and work days are listed. The physical facilities department provides this map of combined university projects on its website. Please check this site for updates throughout summer.
On-campus surface and garage work
The North Garage will be closed approximately July 5-Aug. 4 while it receives basic maintenance. While it is closed, the South Garage on Campus Avenue will be available to use without fees. (updated to reflect dates)
UPDATE 7-21-17: The Pearson Hall parking lot located off Withrow Lane (in front of the North Campus Garage) will re-open for use by red permit holders on Friday, July 21.

Please note that the North Campus Garage itself remains closed for maintenance through August 15th. ORIGINAL NOTICE: The parking lot north of the North Garage will be closed from May 15-Aug. 15 and will be reconfigured and expanded to recover some of the spaces that were once behind Billings Hall and Withrow Court.
The Shriver Center east parking lot will be offline May 15-Aug. 15. Projects at both Shriver and the art building will make permitted parking impossible.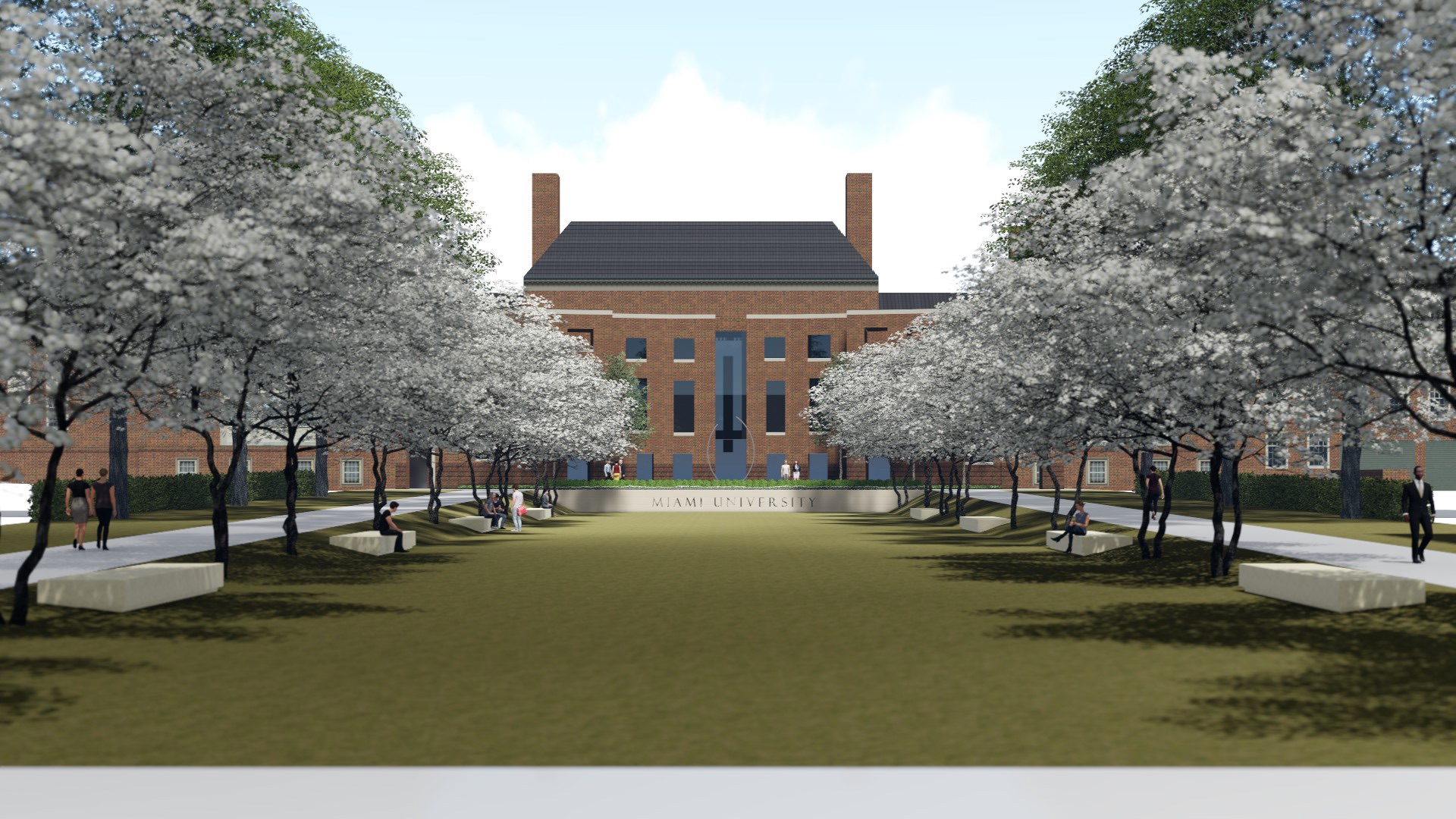 Drawing of planned arts plaza between Shriver Center
and CPA
To recover some of the central spaces dedicated to admission visitors, approximately 140 parking spaces will be added across six parking lots, many in the campus core (at MacMillan Hall, Shriver Center east and west lots, Cook Field east, Performing Arts Center and Bachelor lots). Summer work will be staggered among MacMillan and Shriver west lots and Maple Street to allow parking for admission visitors. Portions or all of these lots will close beginning May 15 while they are reconfigured. Just the north end of the PAC lot will be temporarily closed. UPDATE: The MacMillan lot is closed June 1-16. Some admission spaces have been moved to the PAC lot.
The arts quad between Shriver and Performing Arts centers will receive landscape and hardscape renovations. The project will be performed in phases and is expected to be complete by December. An extended lawn and sculpture park are in the plans. Sidewalk replacements and gutter and curb repairs will be performed along Maple Street.
While a McGuffey Drive water loop connection is made from Spring Street to Campus Avenue, May 15-July 28, closing the north entry to the drive, the south end of McGuffey Drive will be two-way to the McGuffey lot. Handicap parking spaces will move from behind Hall Auditorium to several spaces on Campus Avenue.
Maple Street and Maple and Spring Street intersection
This raised table was added recently to Western Drive. A raised 
intersection will be added on Spring Street.
UPDATE July 28: Maple Street from Center Drive to Spring Street will be closed July 31-Aug. 18 for several major projects. See map and details.  Original notice: A Maple Street water line will be replaced from May 15 to about Aug. 1. Starting at the north end, the east lane will be closed a section at a time as work moves in 200-feet sections down Maple Street toward Center Drive. Street parking at the site of each section will be barred to provide two-lane traffic flow during the day and at night. Flaggers will advise motorists during the work day. Street plates will be provided to access the Shriver Center west lot and the MacMillan Hall lot. The Spring Street intersection will be closed May 15-16 due to this work. Maple Street will be closed to through-traffic to Spring Street May 15-19.
Spring Street from Patterson Avenue to Oak Street, including the intersection of Spring and Maple streets, will be closed to vehicles from June 12-Aug. 9 to allow the installation of a new "raised table" or raised intersection. It will improve safety of pedestrian crossings at an intersection that already sees more than 10,000 crossings per day. That number is expected to rise with the May opening of the east wing of the Armstrong Student Center.
Patterson Avenue (U.S. 27 in Oxford)
A pedestrian crossing and small safety island will be created by Aug. 18 on Patterson Ave. from the east lot of Shriver Center to near Western Drive: About 2,800 people cross here daily without a marked crossing. As of May 26, 2017, the length of Western Drive is two-way. Southbound left turns from Patterson into the north end of Western Drive is prohibited, and southbound drivers will have to enter Western Drive at the south end near the art museum.
Building construction and renovations
The renovation of C wing in Hughes Hall is nearing completion. Before the first phase of Pearson Hall renovations start in June, some research space will move from Pearson to swing space in Hughes on the second and third floors of the west wing starting on June 1. Additional space for the College of Engineering and Computing on the west wing of the fourth floor will be complete by the end of September.
The new package receiving and distribution center on the east side of the first floor of Shriver Center will be completed by mid-August. Modernization of the Dolibois Meeting Rooms, reworking of bookstore retail, and related interior finish upgrades will be completed in phases by May 2018.
The east wing of Armstrong Student Center nears completion with the Center for Career Exploration & Success, Cafe Lux coffee shop, and Brick & Ivy bookstore annex, all open by June 1. Remaining meeting rooms and second floor areas will open for the fall semester. A ribbon-cutting is planned for Sept. 15.
The art building will receive new HVAC, a partial roof replacement and renovation of three basement classrooms starting May 15. Storm drainage will be enhanced around the perimeter. One row of the Shriver east lot will close for worker access.
Beginning May 15, the art museum will receive a roof replacement. It will retain its summer hours of operation.
Renovations of Scott and Minnich halls start in June. Sidewalks will remain open.
At Maplestreet Station, the Pacific Rim, Americas and First Stop restaurants will be redesigned into one buffet-style restaurant and will reopen for the start of the fall semester.
High voltage upgrades will be done at King Library and its quad this summer.

Irvin Hall will be closed June 19-23.
King Library will be closed July 22-Aug. 6 (updated dates).
Hall Auditorium will be closed July 31-Aug. 4 (tentatively).
Bishop Hall will be shut down for two hours in late June (notification will be sent).
Alumni Hall will be shut down for four hours in late June (notification will be sent).
Bachelor Hall will be shut down for four hours in early August on a weekend (notification will be sent).
Warfield Hall will be shut down for eight hours in early August on a weekend (notification will be sent).
U.S. Route 27
From late April through Aug. 27, one of two sections of U.S. 27 will be reduced to one lane.
Contractors have begun replacing and widening the shoulder near the Lick Run bridge, with a temporary traffic signal controlling access to the one available lane. This is expected to last through early August.
Once the bridge is reopened to two lanes, pavement patching and resurfacing of U.S. 27 from Stillwell-Beckett to the bridge will be performed. One lane will be maintained with flaggers during the resurfacing, with no restrictions in place when no work is being performed. This work may last until October, though both lanes are intended to be open Aug. 24-25 for Miami move-in days.
ADDITION: Separately, U.S. Route 27 will be closed between Woodbine and Stahlheber roads beginning 7 a.m. Monday, July 10, until approximately 3:30 p.m. Friday, July 14. Because State Route 73 will also be closed starting July 10, drivers may need to use maps and GPS to find alternate routes to and from Oxford.
Chestnut Street
The city of Oxford will install two traffic signals on Chestnut Street, one at Campus Avenue and one at Main Street.
On all projects mentioned, motorists should expect delays and know that work is weather dependent. For road closures, arrow boards and/or signs will be in place prior to the work zone to alert motorists.
To help ensure the safety of the construction workers as well as the traveling public, motorists should remain alert, reduce their speed and watch for stopped traffic while passing through work zones.
State Route 73
New Work, Aug. 21-25: SR 73 will be closed, starting August 21 through late afternoon, Aug. 25, between W. Elkton Rd and Jacksonburg. Detours are marked.
2nd UPDATE: Repairs are anticipated to begin July 10 along State Route 73 between Route 177 and Oxford-Milford Road (at Shollenbarger Rd.) that would block that route to campus. The contractor is anticipating closing State Route 73 for about 30 days. It may re-open Aug. 10 or 11.
State Route 177
Culvert replacement requires closing State Route 177 for four-five days beginning Tuesday, Sept. 5.
Beginning at 7 a.m. Tuesday, Sept. 5, SR 177 will be closed north of Nichols Road, at approximately four miles north of State Route 130 and three miles south of SR 73, until 3:30 p.m. Friday, Sept. 8.
The detour uses State Route 130, U.S. Route 27 and State Route 73.
Arrow boards and/or signs will be in place to alert motorists of the upcoming work zone and restrictions.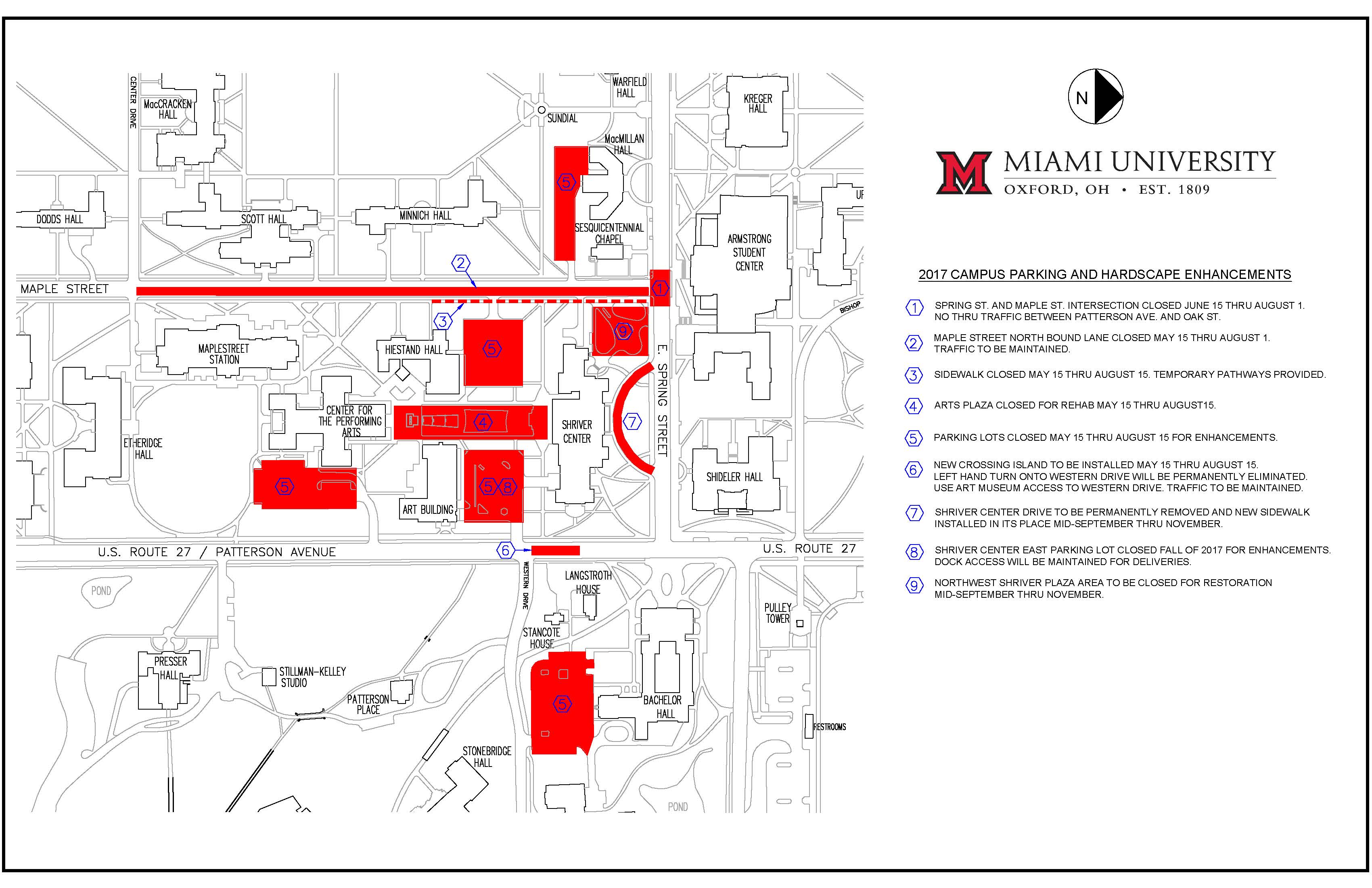 The map above highlights the following 2017 campus parking and hardscape enhancements:
The Spring Street and Maple Street intersection will be closed June 15 through August 9 with no through-traffic between Patterson Avenue and Oak Street.
The Maple Street north-bound lane will be closed May 15 through August 1. Traffic will be maintained.UPDATE: Maple north of Center Dr. is closed through Aug. 18.
The east sidewalk along Maple Street will be closed May 15 through August 15. Temporary pathways will be provided.
The arts plaza will close for rehab May 15 through August 15.
Parking lots at Bachelor, MacMillan, the north end of Performing Arts lot and Shriver east and west sides will close in a staggered time frame from May 15 through August 15 for enhancements.
A new crossing island will be installed May 15 through August 15 on Patterson Avenue near the north entry to Western Drive. The left hand turn onto Western Drive at that spot will be permanently eliminated. South-bound drivers will use the south end of Western Drive at the art museum. Traffic will be maintained.
Shriver Center Drive will be permanently removed and new sidewalk installed in its place mid-September through November.
Shriver Center's east parking lot will be offline 

May 15

-Aug. 15 due to projects at both Shriver and the art building. It will be closed in fall 2017 for improvements. Delivery access will be maintained.
The northwest Shriver plaza area will be closed for restoration mid-September through November.