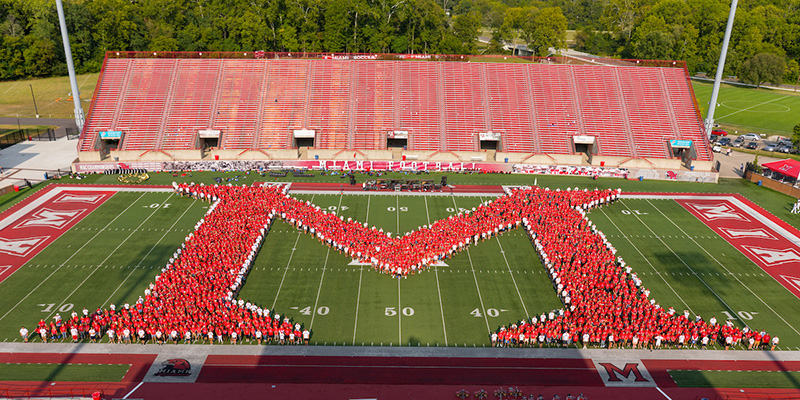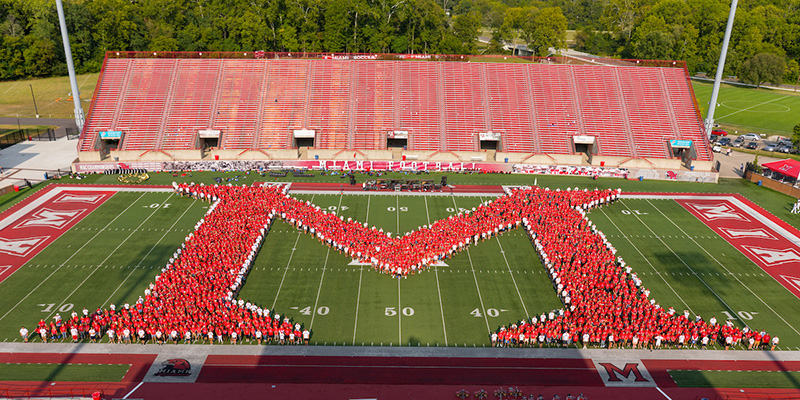 The Class of 2021 create the Miami M during Welcome Weekend activities.
Photo: Ricardo Trevino
Aug 31, 2017
Warm welcomes and service to others kick off fall semester
The NIOT Pledge
I pledge, as a member of the Oxford, Ohio, Miami University Community, to provide a safe and inclusive environment for our friends, colleagues, students, youth and neighbors. Because they are antithetical to our community values, I reject and condemn acts of discrimination based on race/ethnicity, gender, gender identity/expression, sexuality, ability, religion/secularism, income or any other factors. I pledge to lead and live through example, and commit to end hate and intolerance in our town, Oxford, Ohio.
Miami University welcomed more than 3,800 first-year students to campus this past week, which was filled with first-week-of-classes excitement, numerous activities and community service.
Miami joined with the city of Oxford to affirm their commitment to social justice, equity and inclusion, as well as embrace and celebrate diversity.
Miami and Oxford are adopting the "Not In Our Town" slogan and pledged to the national movement's effort to take a stand against hate.
During Thursday's annual Oxford Community Picnic, which welcomes students back to campus, Miami President Greg Crawford and Oxford Mayor Kate Rousmaniere led those who gathered in reading the pledge of the Not In Our Town (NIOT) initiative.
A few early arrivals get to work right away
Twenty-eight first-year students who are each part of an ethnic group underrepresented in STEM participated in the Louis Stokes Alliance for Minority Participation (LSAMP) Early Arrival Program.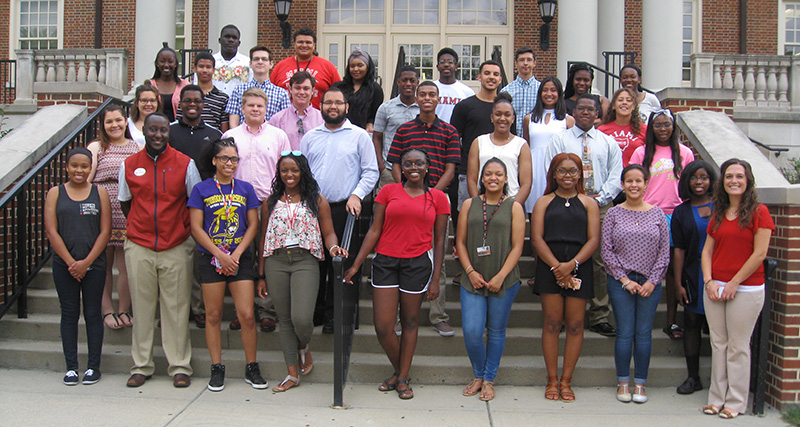 Students in the Louis Stokes Alliance for Minority Participation Early Arrival Program enjoy a break in the action. They are joined by Target representatives Hecia Mpanga and Ashley Miller.
This is the first program in a series of experiences provided to support the students' scholarship and advancement toward a career, according to Bonita Porter, program director.
During the program, students worked on a project submitted by Target Brands Inc. to develop ideas for technical innovations. Six teams presented their proposals to Target representatives.
The students learned about library resources to help with research, how to present their idea as a proposal, and what resources are available to help them be successful students and prepare for careers.
The winning team members in this competition were: Cliff Wrighter, Cameron Worthy, Dalton Nisbett, Bethany Owoeye, and Taylor Wright.  Each member of the team received a $50 gift certificate from Target.

Students pack boxes of food for Rise Against Hunger effort.
Fall semester begins with getting to know Miami
Welcome Weekend and the First 50 Days programming brought students together to Rise Against Hunger. During Welcome Weekend, 160 students packed 12,744 meals to support communities across the world who struggle with hunger. 

"We had nearly three times as many attendees at this event this year," said Buffy Stoll Turton, director of orientation and transition programs. "We're excited to continue expanding."

Stoll Turton and her team keep a fast-paced, high-energy schedule that celebrates Miami's academics, traditions and student life over the first week of classes and then switches to more focused programming during for the next six weeks.
The events are entertaining but also meant to make a difference in student engagement by providing the students with the knowledge and resources to succeed.
Follow the activities online through photos and upcoming event reminders.