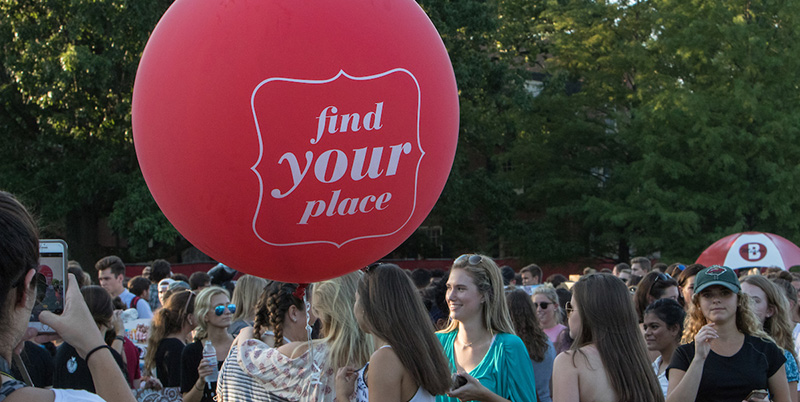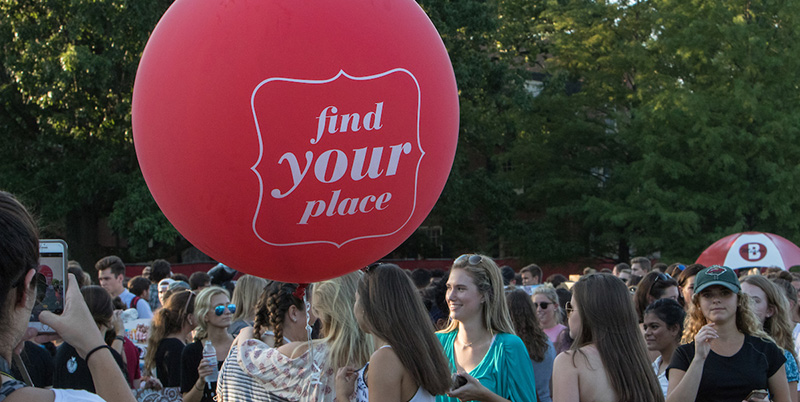 Nearly 500 student organizations meet and greet first-year students who attend MegaFair.
Photo: Andrew Katko
Aug 17, 2017
Welcome Weekend and the First 50 Days provides steady merge into campus life for first-year students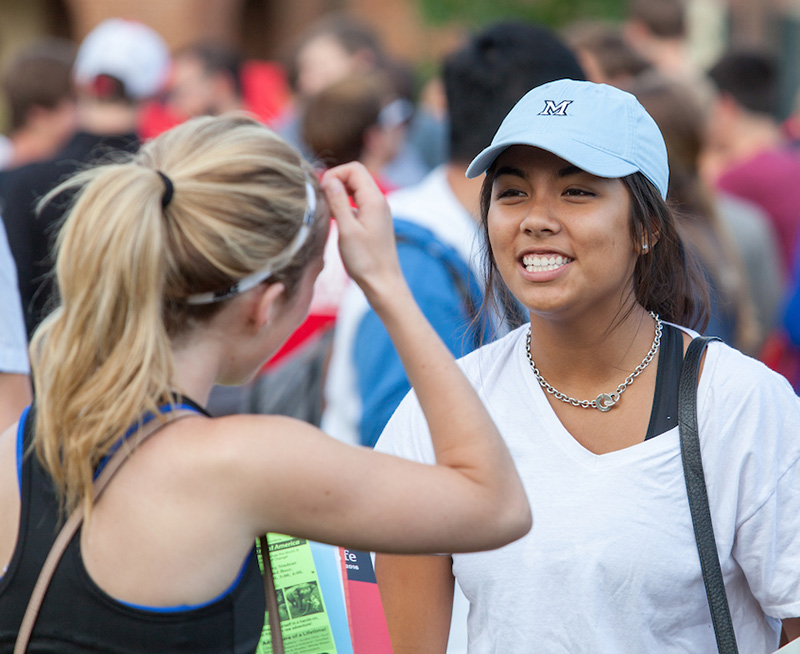 Events such as MegaFair provide new students with ways to connect with Miami's nearly 600 student organizations.
By Carole Johnson, university news and communications
Buffy Stoll Turton admits it's a mouthful to say, but Welcome Weekend and the First 50 Days program for Miami University's incoming Class of 2021 is meant to be more than a taste.
Instead, it is a seven-week steady and planned merge into the community focusing on what it takes to be a successful student and includes a menu of tantalizing events that highlight resources, from academic to wellness and all things Miami.
To do all this takes more than the traditional seven-day Welcome Weeks of the past.
"We expected students to go from zero to 60 in one week," Stoll Turton, director of orientation and transition programs, said. "That's why we added 50 days, or actually 53 days, or seven weeks and 383 (and counting) events."
Stoll Turton and her team at the office of orientation and transition programs studied the research in higher education that points to the first six weeks of the first semester of college as a critical transition period for new students.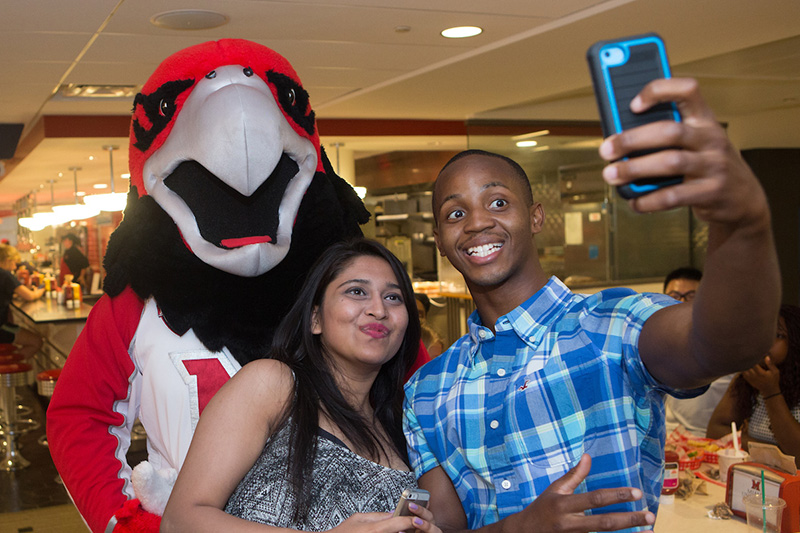 New students are introduced to Miami's traditions, including Swoop.
First six weeks critical to student success
"Adjusting to the demands of academic and student life in college, managing independence, connecting to a new community, and gaining experience utilizing campus resources can take even more than six weeks for some students, but students' experiences in the first six weeks are good indicators of their trajectory for success," she said.
"This year's 50-plus day programming is a better on-ramp into their semester," she added.  "We want to give them what they need, when they need it, and where they need it."
Beginning with #MoveIn Miami Day, Thursday Aug. 24, Stoll Turton and her team begin a fast-paced, high-energy weekend schedule that celebrates Miami's academics, traditions and student life.
Convocation and summer reading discussions, on Friday, Aug. 25, begin their journey into critical thinking. Students will learn about Miami's traditions when they attend Friday's Love & Honor Celebration and also can enjoy Miami's welcome home with Late Night Miami. In addition, Miami partners with Enjoy Oxford to offer activities uptown that encourage students to learn about their new home.
While entertaining, the events are also meant to make a difference in student engagement by providing them with the knowledge and resources to succeed.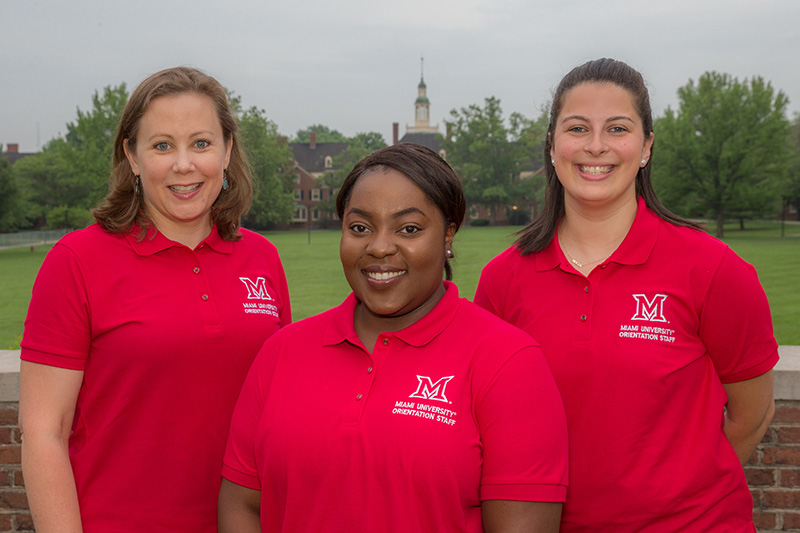 Members of the orientation and transition programs team: Buffy Stoll Turton (left), Evelyn Covington (center) and Elizabeth Walsh explain that the first six weeks of a first-year student's college experience is a good indicator of their trajectory for success.
This year, Stoll Turton's team expanded its outreach to departments across campus and into the Oxford community to let the "experts do what they do best" through a more coordinated effort.
"The first weekend is to help students engage with the Miami community," Stoll Turton explained. "The 50-plus day programming is a way for each student to choose their own adventure."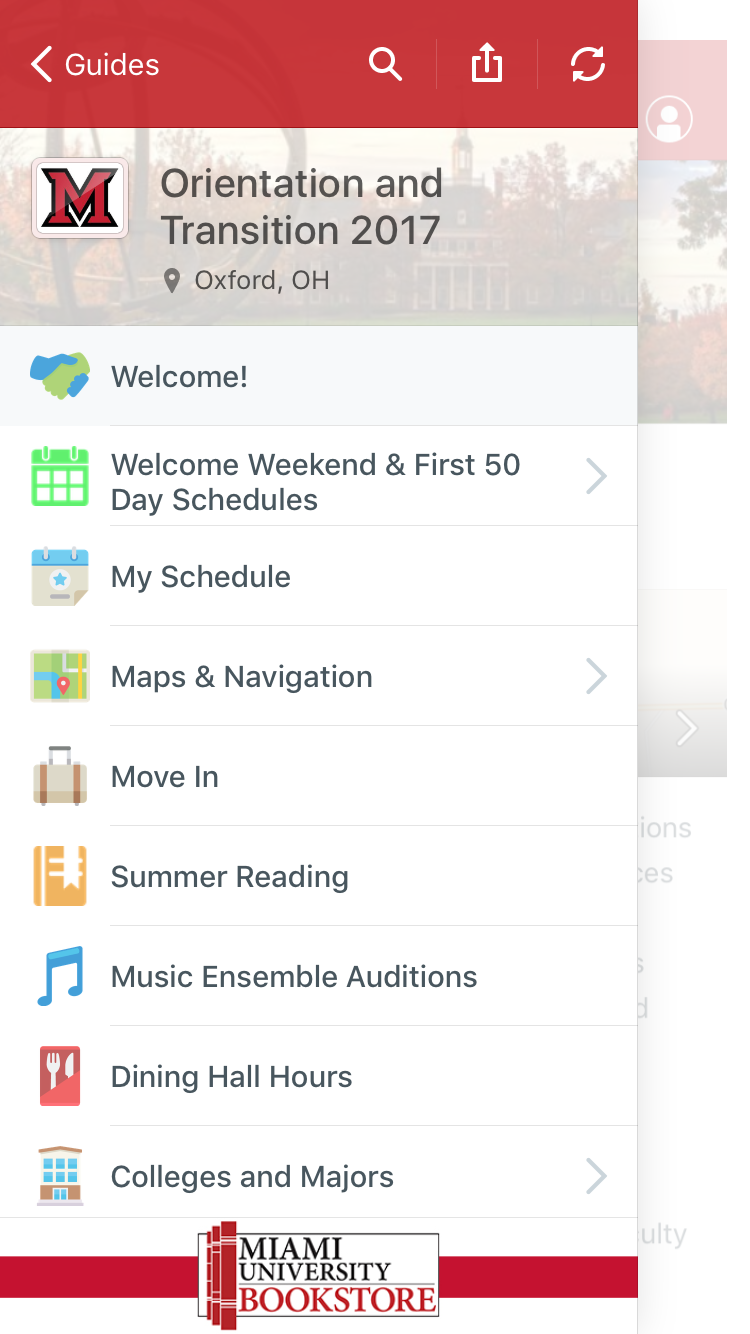 Welcome Weekend and First 50 Days app provides up-to-the-minute schedules and information.
For example, the first week includes the very popular MegaFair where nearly 600 student organizations encourage first-years to join. It is highly successful but for many can be overwhelming.
Stoll Turton said during the seven-week timeline, Mini MegaFairs — called Student Organization Showcases — will be held where students can further explore organizations. Themes for Student Organization Showcases include cultural, fine arts, religions, political and social action, service and special interest/recreation.
Programming focuses on academic success and student well-being
Most important is the student's well-being. By the fourth week, some students experience emotions, uncertainties, health concerns and more that can impede their success. The welcome programs are purposefully designed to discuss many issues they may face: time management trouble, tutoring needs, counseling opportunities, academic planning and career exploration, to name a few.
Many first-year students are enrolled in a first-year transition course that addresses these issues as well. Also, first-year residence hall staff, armed with all of the collected resources, can better direct students to the help they need.
Students also can locate services through a special downloadable app created by the orientation and transition programs team.
"Each year, our team builds on from the previous year," Stoll Turton said. "We believe that this extended approach will better meet our original intent: To help new students engage with campus communities and encounter campus facilities, resources and traditions that will ease their transition, increase their sense of belonging and equip them with support and strategies to succeed at Miami."