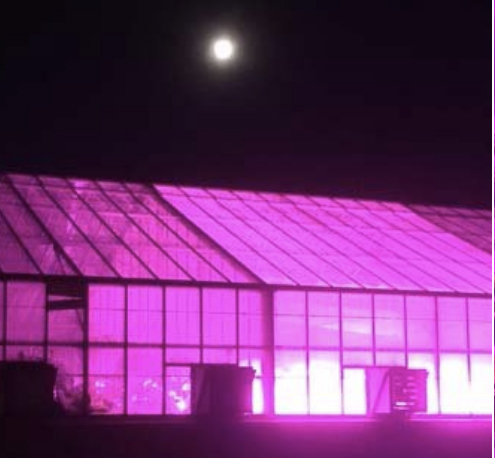 New LED lighting in the Belk greenhouse emits red and blue wavelengths, creating a pink glow (greenhouse photos by Rob Baker).
Oct 29, 2018
Seeing pink? It's not a Halloween prank: New LED lighting in Belk greenhouse
Energy efficient lights don't waste energy on wavelengths plants don't use
By Susan Meikle, university news and communications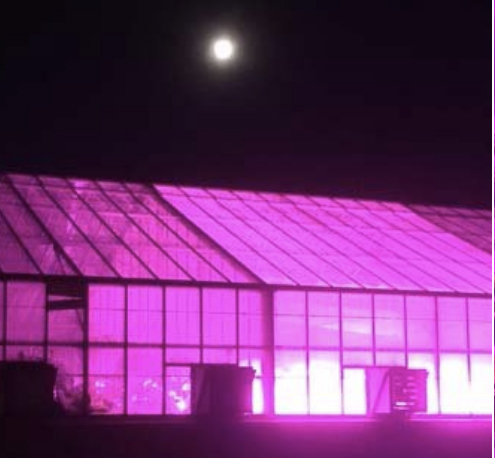 Moonrise over the Belk greenhouse.
Are you curious about the pink glow from the Belk greenhouse?
Although the timing of the pink light suggests a Halloween prank — or a Breast Cancer Awareness campaign — the new lighting is an essential part of the research of plant biologist Rob Baker, assistant professor of biology.
Baker, who joined Miami last fall, researches the evolution and development (evo-devo) of plants.
His current experiment in the Belk greenhouse, which is attached to Boyd Hall on Western campus, is the first use of LED lighting in the space, said John "Jack" Keegan, greenhouse manager and instructor of botany.
These LEDs are designed to be energy efficient, Baker said.
But why pink?
"Because plants primarily absorb light energy in red and blue wavelengths," Baker said. So, the lights emit primarily red and blue wavelengths — and don't waste energy on wavelengths that plants don't use.
The result? "Shockingly pink lights," Baker said.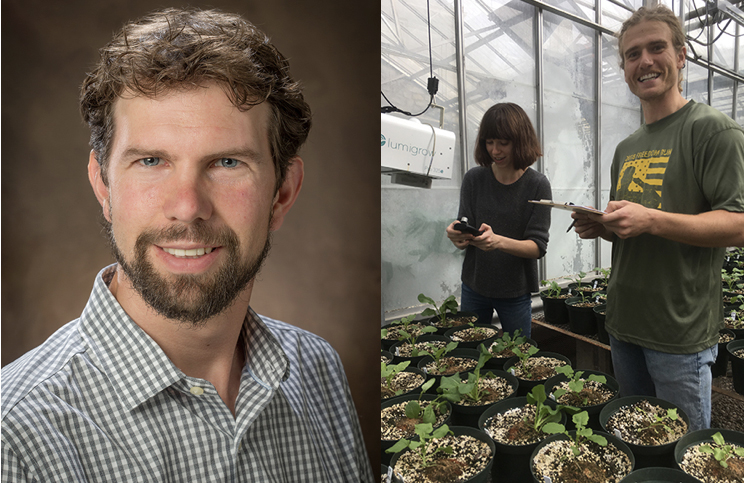 Rob Baker, left, and junior botany majors Grace Brock  and Logan Mather, collecting chlorophyll concentration data.
Baker is experimenting with different Brassica rapa plants (such as cabbages, bok choy, turnips). With the new remotely controlled LED lights, he can extend daylength and increase the amount of light energy the plants receive. 
He can also manipulate the ratio of red:blue light and other aspects of the light environment to test the effects of these abiotic inputs on plant growth and development.
Baker's research focuses on genetic sequencing to understand the relationship between various crop types.
He investigates the genetic basis of the correlation between plant structure and function — for instance how leaf shape influences water use efficiency and photosynthesis. 
Understanding these developmental and genetic mechanisms will inform crop breeding efforts aimed at improving agricultural sustainability through, for instance, increased water use efficiency. 
Baker's current experiment requires extended daylight hours, so the pink-glowing LED lights are on from 6-9 a.m. and from 4-10 p.m. They will be running through the end of the semester.
Still curious?
Follow Baker on Twitter at @rlbaker5.
Students: learn more at Baker's website at https://rlbakerlab.com.
Baker mentors four undergraduate research students in his lab: Grace Brock, junior botany and English: creative writing double major; Jared Lutz, senior biology major and premedical studies co-major, and junior botany majors Logan Mather and Eastyn Newsome. Want to join them? Contact Baker.  
Visit the Belk greenhouse: Not just for research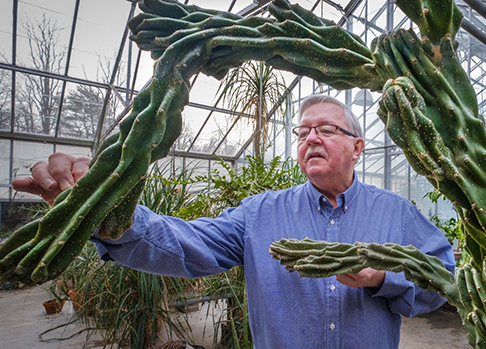 The greenhouse is a destination for artists and students studying photography, drawing and watercolor painting. 

Moore's papaya trees in Belk greenhouse (papaya and Jack Keegan photos by Scott Kissell).
Miami University Greenhouses:
Overflowing with plants and research
In addition to growing plants for botany courses, the Institute for Food farm and research projects by Baker and associate professor of biology Richard Moore, the greenhouse will be home to the research of two new plant biologists. 
A greenhouse at Pearson Hall is undergoing renovations along with the rest of the building. It will be complete next spring. 
There's more: Annual Belk Lecture in Botany
"The Botany of Thanksgiving", a lecture aimed for a general audience, will be presented by Pamela Diggle, former president of the Botanical Society of America, at 7 p.m. Monday, Nov. 5, in Leonard Theatre, Peabody Hall.