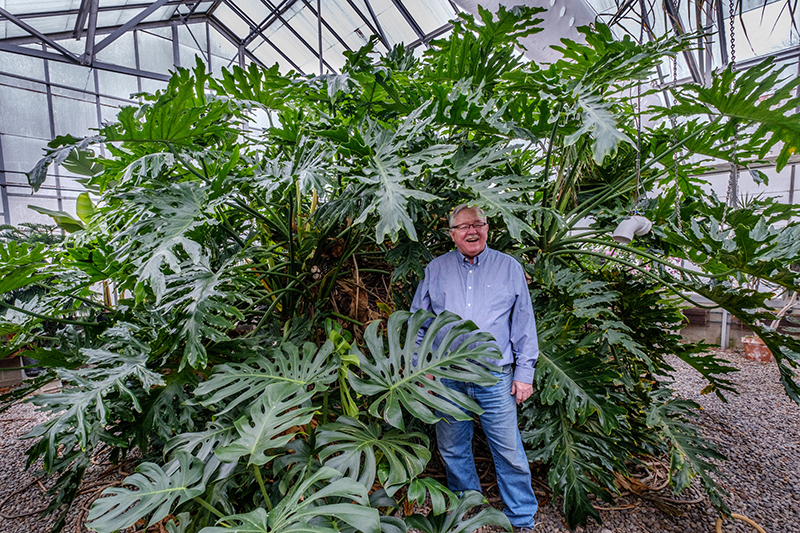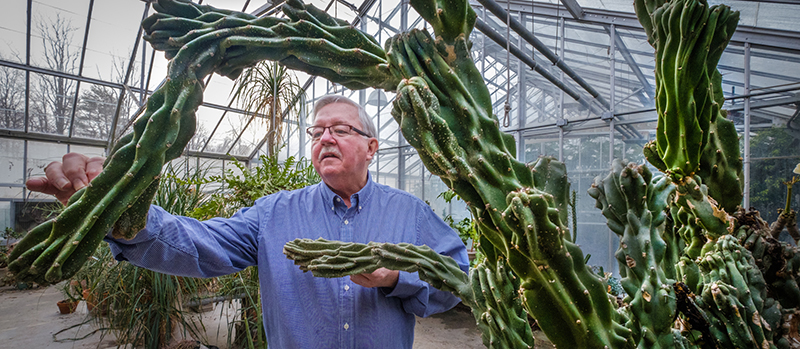 Jack Keegan, greenhouse manager and botany instructor, with a cactus plant in the Belk Greenhouse (all photos by Scott Kissell).
Feb 16, 2017
Belk Greenhouse is year-round home to stunning blooms, research discoveries
By Margo Kissell, university news and communications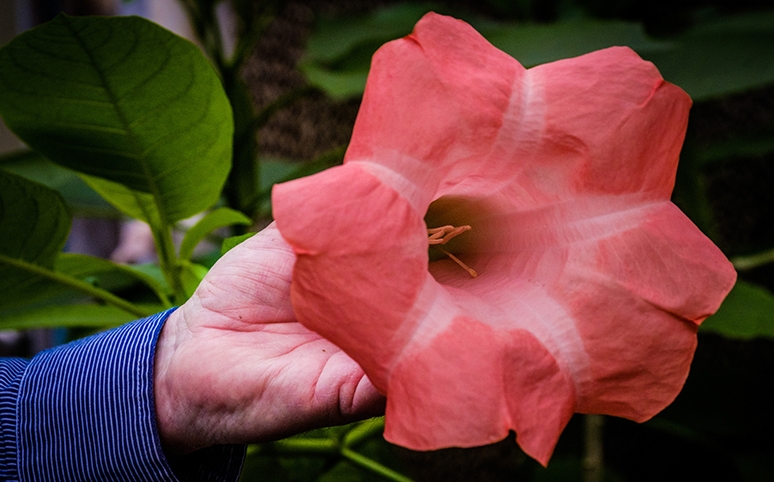 An Angel's trumpet flower.
Alexandra Conant, a senior economics major, was looking for something interesting to shoot for the photography class she's taking this semester.
"Trying to find cool things to photograph in the middle of February is hard, so someone suggested I come here," she said. "It was a good idea."
Here is the Belk Greenhouse, which is attached to Boyd Hall on Miami University's Western campus.
The greenhouse — a pleasant getaway for anyone craving spring and seeking an escape from winter's gray skies — is home to blooming orchids, lush ferns, prickly cacti and a gigantic Philodendron selloum that shed its original 4-inch pot decades ago.
This is where the Institute for Food's seedlings (such as tomato and pepper plants) get their start before being planted at the farm and where various research projects lead to new discoveries.
John "Jack" Keegan, greenhouse manager and botany instructor, enjoys watching others discover the plant life hidden behind the whitewashed windows protecting delicate plants from harsh sunlight.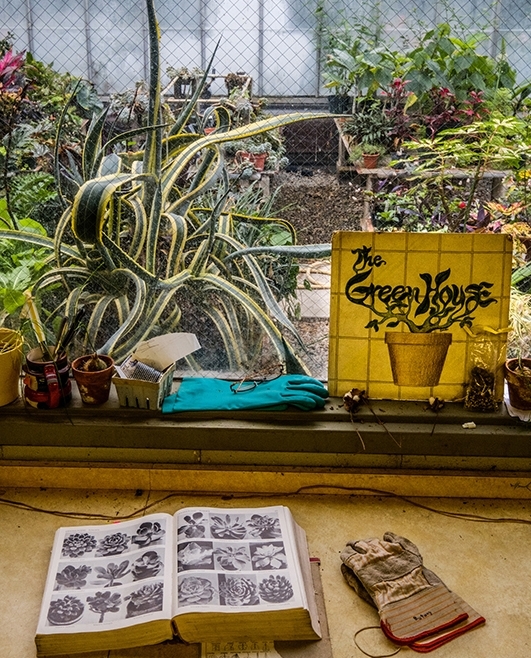 Still life: Belk Greenhouse.
"Crush this in your fingers," he offered. "Cinnamon."
That long vine nearby? Vanilla, which flowers from time to time. "The pod is actually the fruit of the vanilla orchid," he noted.
This August, Keegan will mark his 40th year as greenhouse manager. He happily shares all sorts of interesting details and stories about the various plants scattered across eight sections of the greenhouse.
For instance, he warns about brushing against the needle-sharp leaves of the Ferocious blue cycad and points out its species name is horridus.
"This is one of the kinds of plants that were on Earth when the dinosaurs were," he said.
One of his favorite plants is Angel's trumpet, which has large peach-colored blooms that hang like bells and, in their natural habitat, are pollinated by bats.
The greenhouse is open year-round. He said it never closes because plants need to be watered every day — even holidays.
A destination for education and enjoyment
Many Miami students, as well as school-age children in the area, come here to learn.
Keegan has watched third-graders delight in hiding under the Philodendron selloum, which has practically taken over the tropical room like something out of "Jurassic Park."
But it's not just students studying the sciences who come here. It's been a destination for classes studying photography, drawing and watercolor painting.
"We have done commercials here. We have done fashion shoots. You never know what's going to happen," he said with a hearty laugh. "When the weather isn't good, a lot of people from the art department come over."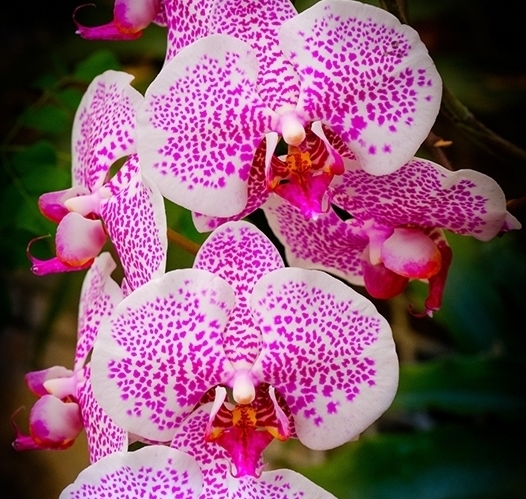 Phalaenopsis orchid.
Individuals are also welcome. "Most definitely, it's not a bother. In fact, it's the opposite. I'm glad when people come in," he said.
They came in droves four years ago to see the blooming Titan arum, or corpse flower, named for its distinct odor that smells like a decomposing animal.
About 3,000 people came through the greenhouse to see — and smell — the flower, while a webcam drew tens of thousands of curious internet viewers seeking a glimpse. "It was so neat, it really was," he said.
Today, he has several corpse flower plants in the greenhouse. When will the next one bloom? "I would love to know," he said, explaining the detailed process each one has to go through before flowering. He looks forward to that happening again —  but not the odor. On this day, he breathed in the heavenly aroma of a lemon tree.
"See the little lemons just starting," he said. "Ah, that aroma."
Nurturing research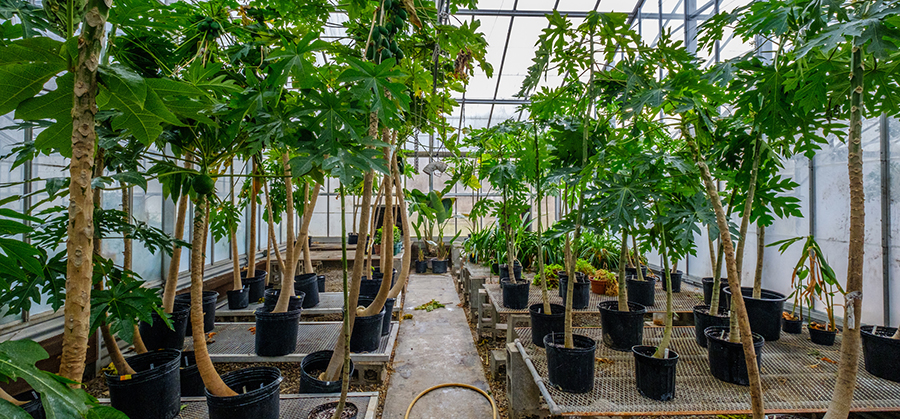 The greenhouse is essential for Richard Moore's research on the evolution of sex chromosomes in papaya (above).
Richard Moore, associate professor of biology, said the greenhouse provides an important space for researchers and their teaching missions.
Keegan grows plants for botany classes and also provides space for researchers such as Moore, whose research focuses on the evolution of sex chromosomes and genetic diversity of papaya (Carica papaya) populations. Papayas have three sexes — males, females and hermaphrodites (which have reproductive organs normally associated with both male and female sexes). 
"This is actually of great interest to farmers who grow papaya because most papaya that are grown are hermaphrodites because they can self-pollinate," Moore said. Some farmers would like to have hermaphrodites that only produce hermaphroditic offspring, which isn't always the case (some are female.)
As winter winds down, the research continues on fruit-bearing papayas that reach toward the ceiling in the greenhouse.
"It's a really essential facility, and I'm glad that we have it," Moore said.
of plants in the greenhouse.