HEART
OF
STEELE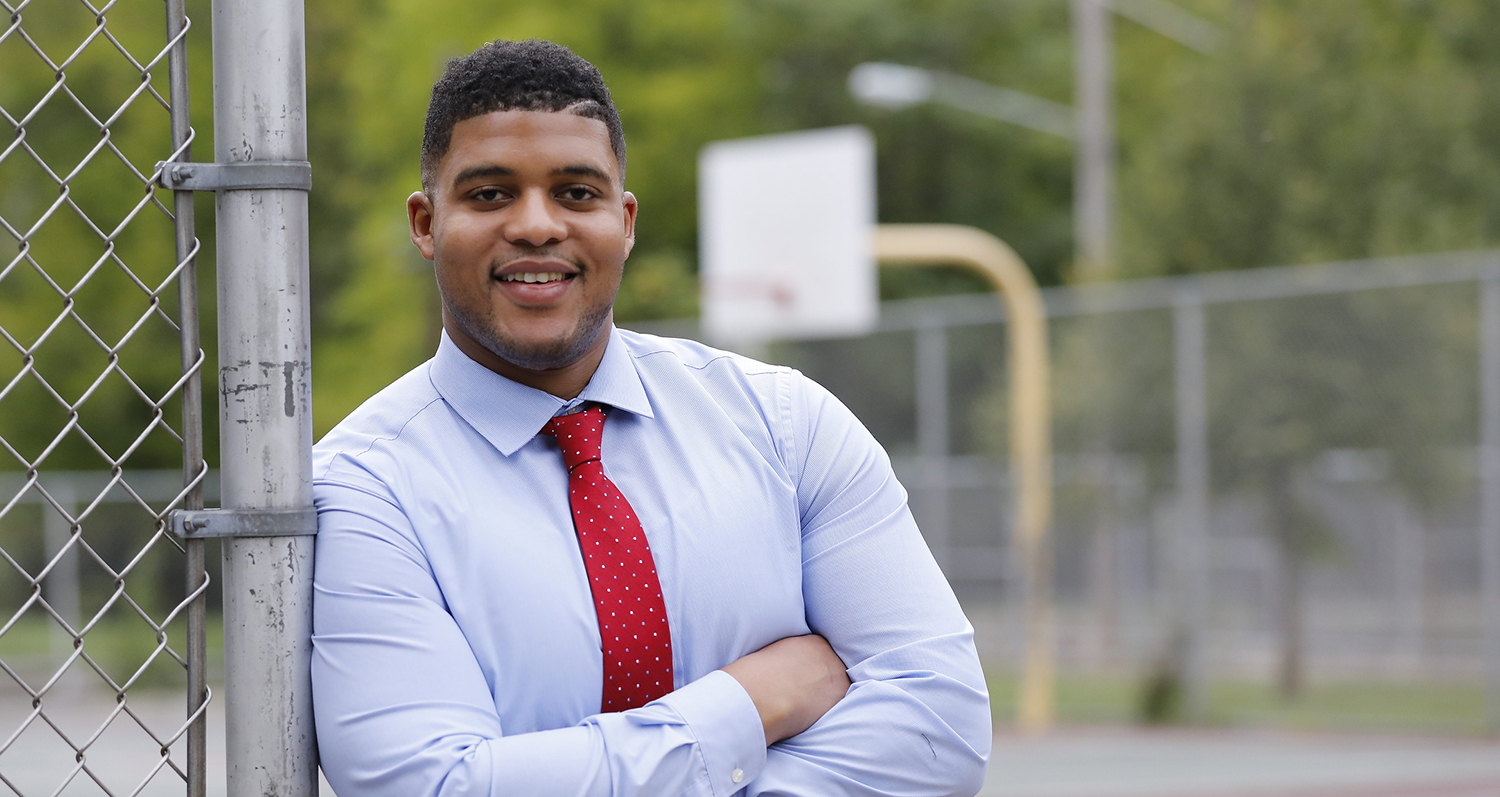 John Steele '14 thought he lost everything.
Instead, he found himself.
By Margo Kissell
John Steele arrived at Miami University sporting a Football made me who I am tattoo across his chest and carrying everything he owned in two black garbage bags.
The 6-foot-3 Cleveland native came to the Oxford campus with the family of a teammate he didn't know because he didn't have a car and couldn't find anyone else to drive him.
On that June move-in day for football camp, another teammate's mom offered to help bring his belongings into his nearly empty dorm room, not realizing Steele had unpacked two hours earlier.
That night, he couldn't sleep. He kept thinking about walking in with those trash bags and watching others with the latest electronics and suitcases filled with nice clothes.
"I told myself, 'John, although you didn't come into Miami with many things, you're going to leave Miami with everything.' "
He knew how to persevere. He'd been doing it his whole life.
Chapter 2: Forging Steele
Chapter 2: Forging Steele
Steele got this guardian angel tattoo for protection when he was a teen. In large photo above, Steele returned to his former Cleveland neighborhood a few months ago. (Photos by Jeff Sabo)
Tattooed on Steele's left forearm is a guardian angel he got for protection when he was 17, after he and his younger brother, Jordan, were jumped. Heading home from the barber, they knew better than to walk those streets, but they had blown their return bus fare on McDonald's burgers. His left shoulder is forever scarred from the knife wound he suffered.
Fear ruled his Kinsman neighborhood on the east side of Cleveland.
A lot of people don't make it out. Steele sometimes wonders how he did. All odds were against him.
His father was "missing in action" because of prison and substance abuse. His mother battled her own crack cocaine addiction. She frequently abandoned him, Jordan and their older sister, Christina, for days and sometimes weeks during drug binges.
In sixth grade he started attending a magnet school after passing all parts of the state proficiency tests. His sister made them go to school for the free breakfast and lunch. However, at 12, with no regular adult supervision at home, Steele dropped out.
"It sounds trivial now, but I remember being really, really frustrated not being able to find a clean T-shirt," he said.
That was his breaking point.
The lapse made him fall behind and drained his motivation when he returned to school more than a year later. As a result, he found himself in summer school every year.
Steele reunited with his high school coach Anthony Garner at the football stadium where he used to play. (Photos by Jeff Sabo)
During summer school before his sophomore year, he met Anthony Garner, a Cleveland Metropolitan School District security guard and the football coach at South High School across town.
Garner saw him walking down the hall and called him over to ask if he played football. Looking at the ground, Steele shook his head no. His school, focused on academics, didn't have sports.
"When I said, 'Do you want to play football?', he kind of perked up," the coach remembered. He told Steele to join the team at practice behind the Boys & Girls Club at 4 p.m.
Although unable to practice or play because of poor grades, Steele showed up all summer, watching teammates run drills and retrieving water for them. Rainy days, cold days, he was out there. He didn't miss a day.
Steele transferred to South and was able to play in the final game of the season, the city championship.
"He looked terrible, but he was a big body out there, and he got us through," Garner said.
Although they lost the game, Steele found his passion.
"His junior and senior year at South, he took to it like a fish in water," Garner said. One day, he asked Steele to push a blocking sled in circles to see how much drive and fight he had in him. Steele kept pushing until he threw up.
During his senior season, he recorded 69 tackles, 11 quarterback sacks and two forced fumbles, which earned him all-state and all-district honors.
Plus a football scholarship to Miami.
DEALING WITH
DISAPPOINTMENT
Steele with intervention learning specialist Connie McLain. Large photo above, Steele outside Miami's Yager Stadium.
The picturesque campus was four hours away by car but seemed a world away from Steele's neighborhood of 93rd and Kinsman.
Because of his poor high school grades, he wasn't eligible to play his first year at Miami. Being sidelined gave him time to focus on classes, tackle a reading deficiency and improve his grades.
Steele began studying with Miami athletics' intervention learning specialist Connie McLain '74 MEd '02, a retired elementary school teacher. He recalls how patient and committed she was even though he resisted her help at first.
"She dealt with all my emotional issues, the issues that stemmed from my upbringing," he said, remembering how she invited him to family dinners during holidays.
A year later after earning a 2.7 GPA, he finally had his chance to show what he could do with a football.
But before he could prove himself, he was carried off the practice field with two broken bones and a partially torn ligament in his left knee.
Three surgeries later, he received the news: His playing days were over. He never played a down of football in a Miami game.
"I had a very difficult time trying to figure out who I was or what I was or what I should do afterward," he said.
Craig Bennett assured Steele his scholarship would remain in place. (Photo by Jeff Sabo)
Craig Bennett MS '00, assistant athletic director for academic support services at the time, remembers Steele coming into his office, throwing his hands up and saying he was done.
Bennett assured him his scholarship would remain in place, football or not. That's something Miami athletics always commits to, said Bennett, now senior director for student success. "It's not the student's fault that he got injured. If he holds up his end of the bargain, why wouldn't we?"
Steele's teammates, including Brandon Brooks '11, who now plays guard for the Philadelphia Eagles, encouraged him to pursue his degree. "It took that level of support from people who were actually playing to really encourage me to achieve things off the field that I didn't even think I could do."
Still, it took Steele time to see himself as more than a defensive tackle. He kept thinking: Without football, who am I?
Othello Harris, associate professor of sociology and gerontology, became Steele's mentor at Miami. (Photos by Jeff Sabo)
Steele feverishly took notes, trying to keep up as Othello Harris, associate professor of sociology and gerontology, lectured at an overhead projector. Harris flipped to the next slide.
"B--ch," Steele said, blurting out his frustration loud enough for classmates — and Harris — to hear. The professor asked if he needed him to go back. Embarrassed, Steele waved him off.
Harris later asked Steele to stop by his office after class. He expected the conversation to last a few minutes. It lasted several hours.
"We talked about everything," Steele said, "and that day really, really changed my life."
Harris learned about his difficult upbringing, his old neighborhood, the football scholarship, the injury and Steele's struggle to find himself.
The professor's advice stuck with him.
"He said, 'Listen. Calm down. You have a lot of options. You go to a great school. Let's really focus on this education and see what we can do,' " Steele recalled.
What Harris remembers is Steele, a social justice studies major and political science minor, made a remarkable transformation — from struggling student to stellar undergraduate teaching assistant.
"He just dug in," said Harris, now in his 33rd year of teaching at Miami and the chief departmental student adviser. "I'm so proud of him, not even because of his life story and all that — I think that's important, too; you can't separate that — but because of the way he took on these classes."
Steele with his mother on the day he graduated from Miami. (Submitted photo)
During a conversation in his Upham Hall office, Harris predicted to Steele that someday he would earn a master's degree. And when he did, Harris promised to be at the commencement ceremony to see him accept it.
Steele said Harris was the first person who ever really believed in him academically, giving him the confidence to work harder. Harris fed his voracious appetite for reading by turning him on to books he thought would interest him.
Some of those books, Steele later told Harris, saved his life when he returned home to Cleveland over Miami's monthlong winter break.
With nowhere else to stay, Steele had asked his former foster parents if he could live with them for a few weeks. They agreed. But with no car, no cable TV and no Wi-Fi, he felt trapped.
Then a box of books arrived in the mail. He read every one. He was particularly motivated by autobiographies on Malcolm X and Harry Edwards, an African American sociologist who earned a doctorate at Cornell University.
"Both men beat the odds and really inspired me to persevere," he said.
Steele's grades steadily improved. The sociology faculty chose him as his major's top student, and he landed on the dean's list twice. Spring semester of his final year he made the president's list with a 4.0 GPA.
Graduation day in Yager Stadium was made extra special because his mom, sister and two young nephews attended.
"Words really can't describe it, but it meant that much more knowing my family got to see it up close and personal," he said.
'WHEN THE SWEAT
DRIES UP …'
After graduation, Steele worked as a student support specialist at diverse, high-performing Match Charter Public High School in Boston.
He shared his story with the students. He told them how he once played football for Miami, but it didn't work out so he's glad he had his education to fall back on.
And he stressed something a coach once told him: "When the sweat dries up, you have to be prepared."
He applied for two prestigious awards — a Fulbright to become an English teaching assistant overseas and the Charles B. Rangel International Affairs Graduate Fellowship.
The fellowship is awarded to only 30 young people in the U.S. each year, allowing them to train for careers in the U.S. Foreign Service while covering their graduate school expenses.
Miami's first recipient of the Rangel, he received the congratulatory email while riding the Washington, D.C., Metro. He jumped up and down, let out a holler and flung his cellphone down the aisle. He was ready.
Steele with other Miami "Inside Washington" program participants his senior year.

Large photo above, Steele officially opened a library in a rural Malawi village donated by the U.S. government. To his right are two village chiefs. (Submitted photos)
Steele chose George Washington University's Elliott School of International Affairs to pursue a master's in security policy studies.
He was on familiar turf in fast-paced D.C., where in his senior year at Miami, he participated in its "Inside Washington" program. That experience eventually led to positions with the Congressional Research Service, the Congressional Black Caucus Foundation and the Legislative Service Commission of Ohio.
Through George Washington's graduate program, he traveled widely. In Western Europe, he conducted research on homegrown terrorism.
In Singapore, he enrolled in an exchange program at Nanyang Technological University, one of Asia's top institutions.
In Malawi, he completed an international internship within the U.S. Embassy's political section. He met with the African country's deputy foreign minister and speaker of parliament one day and the vice president the next. It was a heady time.
"I transitioned from barely leaving the confines of Cleveland, Ohio, to living in a variety of countries that truly span the cultural, political and economic spectrum," he wrote in the Fulbright grant application.
He graduated from George Washington in May 2018 and tweeted the news. "What a phenomenal day! The kid from 93rd and Kinsman actually has a master's degree!"
True to his word, Harris was in the audience.
Steele and his nephew celebrating at the State Department's ceremony in August 2018.

Large photo above, while in Malawi, villagers challenged him to a ceremonial dance-off. "I was not permitted to proceed with the day's official business until I defeated a villager in a dance competition. ... I rose to the occasion lol." (Submitted photos)
It wasn't the only good news Steele received in May 2018. He also was among Miami's nine semifinalists to be offered Fulbright grants, but he had to turn it down because of his five-year foreign service commitment.
Karla Guinigundo '99, director of global partnerships in Miami's office of Global Initiatives, got to know Steele well while working with him on his Fulbright applications.
She admires Steele's resilience and determination. Many people would have given up at multiple points along the way, she said, but all of those experiences shaped him into the man he is today.
"I can think of no one better who I would want to represent the United States abroad than John Steele," she said.
Last August, Steele sat in a large ballroom to learn where he would be assigned as a public diplomacy officer for the U.S. Department of State.
Steele likened the State Department's ceremony to NFL draft night where players have no idea where they're going until their names are called.
"Luanda, Angola," the announcer said as the African country's flag flashed on the large screen. "John Steele."
The packed ballroom room erupted as Steele hurried to the front to receive the small flag for the country on the West Coast of southern Africa. It was his No. 1 choice.
Steele's mother, sister and nephews were there. So were Harris and McLain, his former tutor. They had all seen him through the low points and now shared his excitement for the future.
Before deploying to Angola this June, he returned to Cleveland for a visit with family and friends and talked about how far he has come since arriving on Miami's campus 10 years ago. It seems surreal.
"I used to roam these streets back in the day, and here I am going overseas to represent the U.S.," he said.
When he looks in the mirror each morning, he sees that old football tattoo across his chest. He's still John from Cleveland.
"It's always a reminder of who and what I am, and that is something I never want to lose. Ever."

Published June 6, 2019