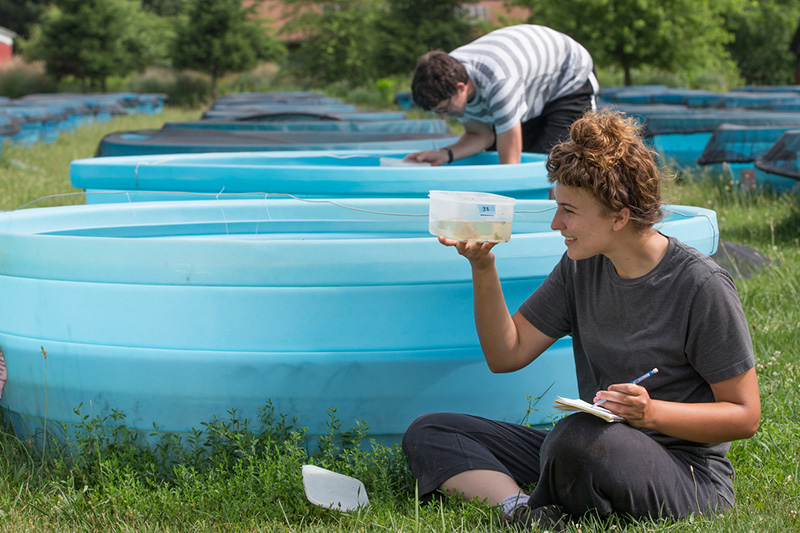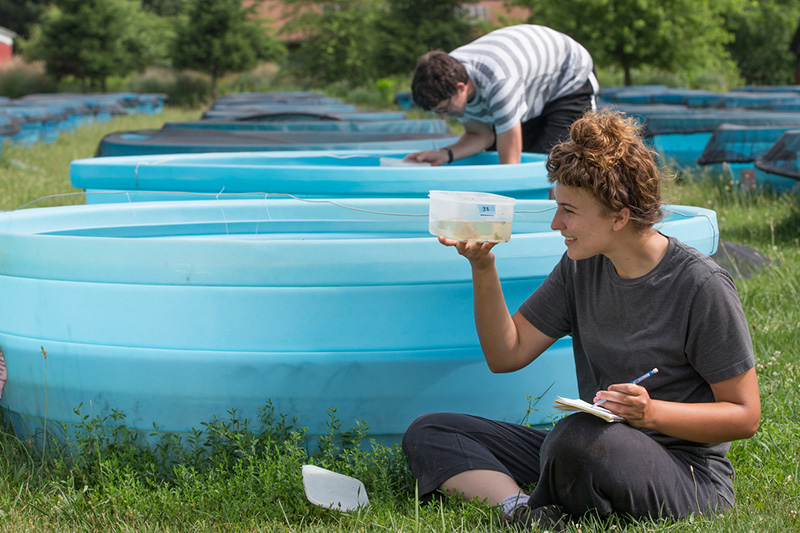 Senior biology major Maria Dellapina checks cricket frog tadpoles at Miami's Ecology Research Center (photos by Scott Kissell).
Aug 26, 2015
Maria Dellapina is "living my vision" at Miami: doing research and working with faculty
Maria Dellapina, Miami-Hughes intern: amphibian conservation research with Michelle Boone, associate professor of biology
Part of a series of Miami Moments highlights on Undergraduate Research, Summer 2015.
By Susan Meikle, university news and communications, meiklesb@MiamiOH.edu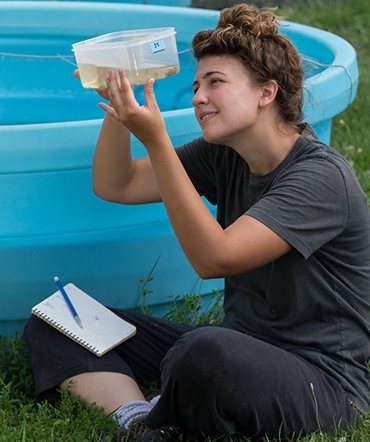 Maria Dellapina
Maria Dellapina, a senior biology major from Alexandria, spent her first year of college at another Ohio university. She had made good friends and felt very comfortable there but came to realize that she was not following the vision she had for her life.
Although she left her first school "kicking and screaming," she had a "gut feeling that (transferring to Miami) was the right thing to do." 
When Dellapina visited Miami during her original college search, one thing she heard stuck in her mind:
"Every student who wants to do research can conduct research here."
"This is the vision I had for my life before coming here," Dellapina said. "Doing research, working with faculty and graduate students."
While her initial transition to a new campus was not always easy, "it turned out that I love it here now," she said.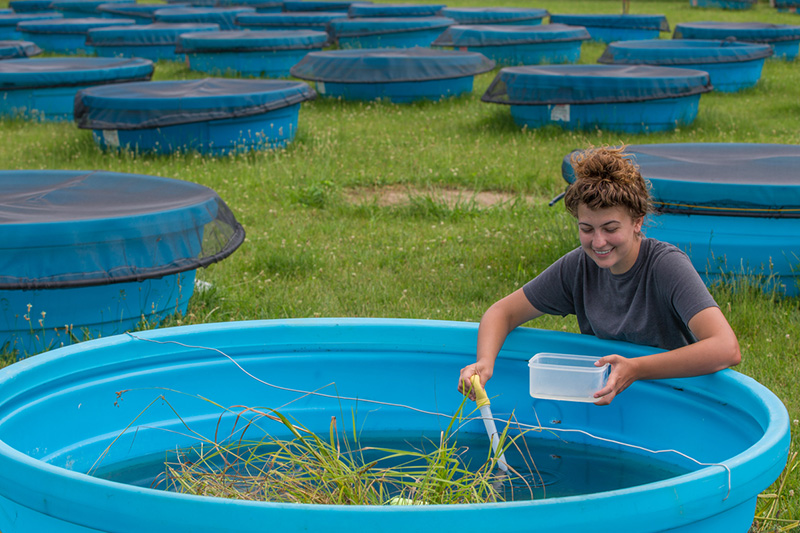 Collecting and counting tadpoles in the experimental ponds (yes, that is a turkey baster).
"Professors here are so easy to talk with – I can stop by their office to chat." She has made good friends with other members of Michelle Boone's Amphibian Conservation Research Lab and feels part of a community in Pearson Hall. 
How did she become involved with Boone's research lab?
Dellapina's academic adviser, Craig Williamson, Ohio Eminent Scholar of Ecosystem Ecology and professor of biology, knew that she was interested in undergraduate research. He encouraged her to look at the biology department's website to learn what faculty were doing researchwise and to contact those who sparked her interest.
She chose Boone and "knocked on her door; we talked and the next day I signed up and was working in the lab within the week. I've been here ever since," Dellapina said.
She works closely with Boone's doctoral student Tyler Hoskins and also with doctoral students Melissa Youngquist and Samantha Rumschlag.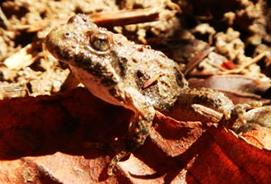 A Blanchard's cricket frog (photo by Tyler Hoskins).
Miami-Hughes project: Reproductive success in Atrazine-exposed Blanchard's cricket frogs
Dellapina received a Miami-Hughes internship in the biological sciences, a Miami-funded program that provides a $3,000 stipend, a $750 research expense account and 12 hours of academic credit with tuition waived. Up to 15 students are selected for the program each summer to conduct a faculty-mentored research project.
She is working with Boone and Hoskins on a study of the reproductive success of atrazine-exposed Blanchard's cricket frogs.
Atrazine — one of the most widely used herbicides in the country — is an endocrine disruptor.  Blanchard's cricket frogs are one of the most common amphibians in the Midwest, Hoskins said, but they have declined in recent decades at the northern and eastern peripheries of their range, for reasons that are unclear.
The big picture question: Can atrazine influence cricket frog reproduction enough to affect population decline?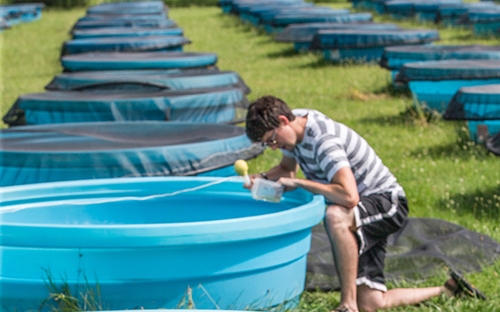 Tyler Hoskins, doctoral student in the Ecology, Evolution and Environmental Biology (EEEB) Ph.D. program.
For her study, conducted at Miami's Ecology Research Center mesocosm (experimental ponds) facility, Dellapina tested 30 sets of male and female adult frogs.
One female and three males (to allow for mate choice) were placed in each of the 30 experimental ponds and allowed to mate. Adults were removed the next morning after eggs had been deposited (frogs were released back to the wild).
The ponds were treated with varying concentrations of atrazine.
The experimental design reflects the normal behavior of cricket frogs, which come to ponds to breed and may receive a pulse exposure of atrazine from the surrounding environment.
Dellapina checked each experimental pond daily, counting the number of eggs, then the number of embryos, then the number of tadpoles.
She is investigating whether the frogs can sense the pesticide in water when they mate: Do they lay fewer eggs in the treated ponds; and if so, do fewer of them hatch?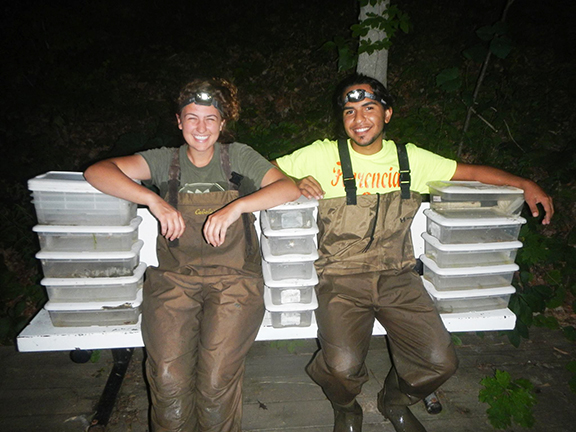 Maria Dellapina and Braiam Rosado after a successful night of collecting frogs (photo by Tyler Hoskins).
Field work:  How are adult frogs collected in the wild ? At night — with chest waders and headlamps. Plastic shoeboxes.  A good sense of balance.
Dellapina and Hoskins, along with student Braiam Rosado, made three nighttime forays to Cowan Lake State Park to collect adult cricket frogs. 
Rosado, a student at the Universidad del Turabo, Puerto Rico, is one of nine students from around the country selected for Miami's Research Experience for Undergraduates in Ecology summer program. He is also mentored by Boone and works closely with Hoskins.
Frogs and tadpoles are released to local ponds after all data has been collected.
This fall: Exploring more at the Smithsonian Conservation Biology Institute 
Dellapina will "study away" this fall semester at the Smithsonian-Mason School of Conservation where she was accepted to the Semester in Wildlife Ecology and Conservation program. The school is based on the grounds of the Smithsonian Conservation Biology Institute (SCBI) in Front Royal, Virginia, alongside the Shenandoah National Park. 
Preparation for graduate school and beyond
Dellapina expects her undergraduate research experience with Boone to prepare her for graduate school and beyond — her goal is a career connecting people and nature through education and science.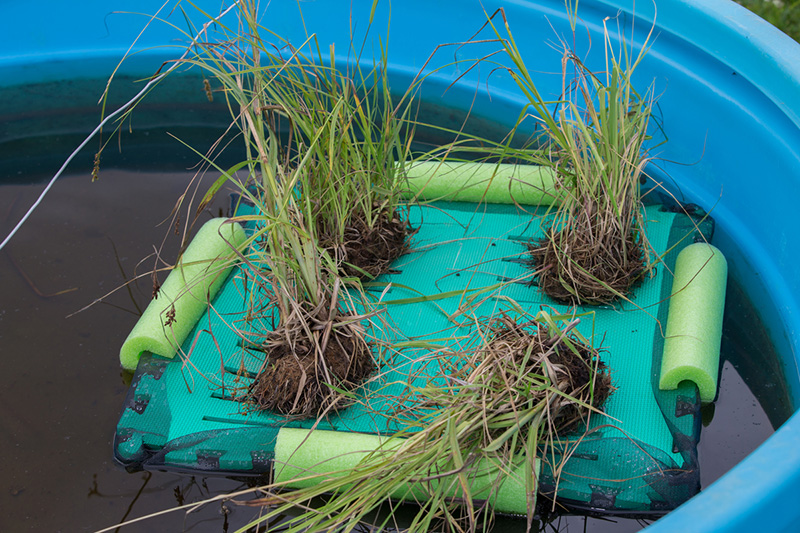 An innovative use of swim pool noodles and kids' play mats. Floating islands give adults frogs a place to get out of the heat of the sun and a platform to call from.
Creativity and innovation: Field research takes more than patience and fortitude
Conducting field research in the summer requires a high tolerance for working long hours in heat, sun and rain collecting data. Dellapina and Hoskins also put other skills to use in this project:
Sewing skills: Outfitted with a sewing machine at the Ecology Research Center's classroom building, they sewed weighted net covers for each experimental pond, to keep unwanted visitors out. Thirty-five large "lids" were sewn: "It was quite a process. Pizza and comedians on Netflix got us through," Dellapina said. 
Design skills: As tadpoles hatch and grow in the experimental ponds, they need a bit of "land." Dellapina created floating islands from kids' play mat sections and foam swim pool noodles.
Innovation:

They are the first to perform outdoor breeding trials like this, to their knowledge.

"Most other researchers who have looked at the relationship between atrazine and reproduction have done so in the lab," Dellapina said. "We attempted with this study to more closely mimic what these guys are likely to encounter in the environment."
Miami celebrates Creativity and Innovation during the 2015-2016 academic year. 
Learn more about Michelle Boone and her amphibian conservation research: