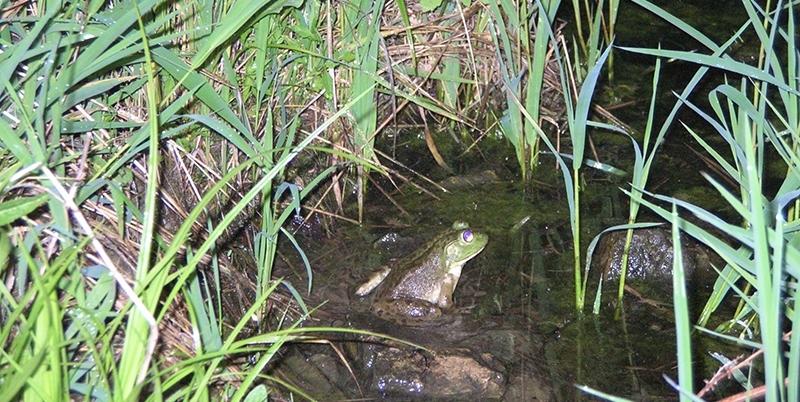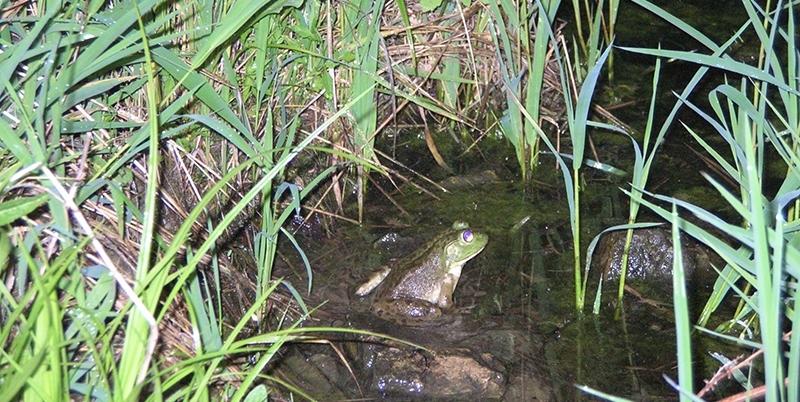 Ecologist Michelle Boone's BioScience paper highlights the EPA's reassessment of the herbicide atrazine, one of the most widely used weed killers in the country. A number of studies indicate that atrazine can act as an endocrine disruptor, leading to hermaphroditism, sex reversal, and disrupted mating behavior at environmentally relevant concentrations (photo of bullfrog by Michelle Boone)
Sep 26, 2014
Miami ecologist: US EPA's pesticide assessment process questioned
BioScience article's goal: to raise public awareness and encourage EPA to use a more evidence-based decision process that's not strongly influenced by industry.
Written by Susan Meikle, university news and communications, meiklesb@MiamiOH.edu.
In the October issue of BioScience, a group of ecotoxicologists led by Michelle Boone of Miami University present the shortcomings of the U.S. Environmental Protection Agency's pesticide risk assessment process. The article highlights the case of atrazine's risk assessment for amphibians, which the agency reassessed on the basis of a single manufacturer-funded study.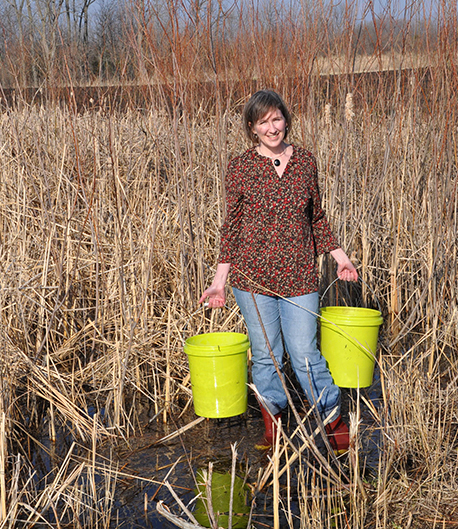 Michelle Boone, associate professor of biology, conducts research using amphibians as a model for understanding how organisms can be affected by chemical contamination, habitat change/alteration, disease pathogens and invasive species.
The herbicide — one of the most widely used weed killers in the country — was ultimately deemed safe to amphibians. The inclusion of a number of studies could have led to a different conclusion.
The scientific literature indicates that atrazine can have an impact at environmentally relevant concentrations on the growth, immunity and reproductive development and behaviors of some species, the paper co-authors said.
"Current EPA practices for evaluating pesticide safety are inadequate and likely to result in decisions biased toward industry interests," argue the co-authors. Most of those 15 scientists are at the forefront of studying the ecological effects of contaminants, particularly with amphibians and reptiles, said Boone, who is an associate professor of biology.
Boone served on the EPA's Scientific Advisory Panel (SAP) for atrazine in 2012. Co-author Jason Rohr, associate professor of integrative biology at the University of South Florida, served on the 2009 SAP for atrazine.  Other co-authors have served on panels for the EPA and other regulatory agencies, and one worked for the EPA. 
"We developed the idea to write this paper around the amphibian/atrazine problems that were becoming more apparent," Boone said.
Three SAPs (2003, 2007, 2012) were formed specifically to evaluate the EPA's assessment of the effects of atrazine on amphibians. Each panel offered similar advice, such as including data from North American amphibians and field studies to evaluate the potential for atrazine to affect reproductive systems, the co-authors said.
"It is unclear how or why the EPA may elect to ignore the consistent advice of multiple panels.
Doctoral student Tyler Hoskins with tree frog (photo by Michelle Boone).
"It is time for the EPA to lead an effort to determine the pervasiveness of these effects and the concentrations of concern so that meaningful management and regulatory decisions can be made," the co-authors said.
They argue that the risk assessment process can and should be improved so that decisions are made with the best available data with an evidence-based approach.
The authors pose several solutions to help reduce the "potential for and perception of bias in a process that is crucial for environmental and human health."
They include:
 the use of an independent third party to stand as a barrier between industry and research. This separation would serve to reduce concerns over conflicts of interest.
 a wider use of all available research — including field studies — and suggest that the assessment process should be made more transparent.