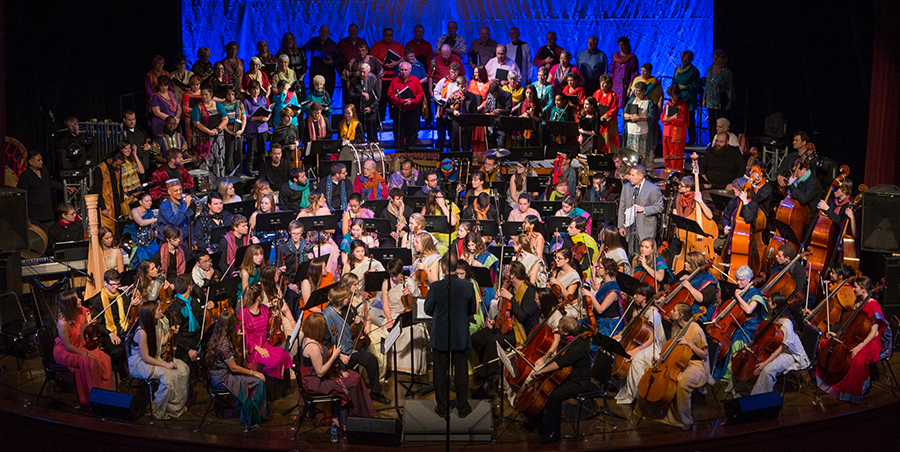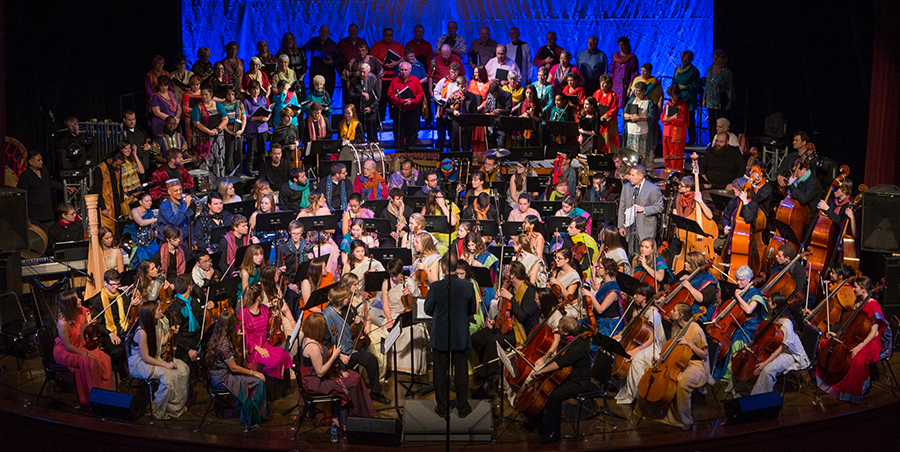 Global Rhythms performances fill the stage with hundreds of musicians and dancers from Miami University and around the world. Photo of the October 2014 concert by Scott Kissell.
Oct 08, 2015
Global Rhythms 20th anniversary celebration concert Oct. 17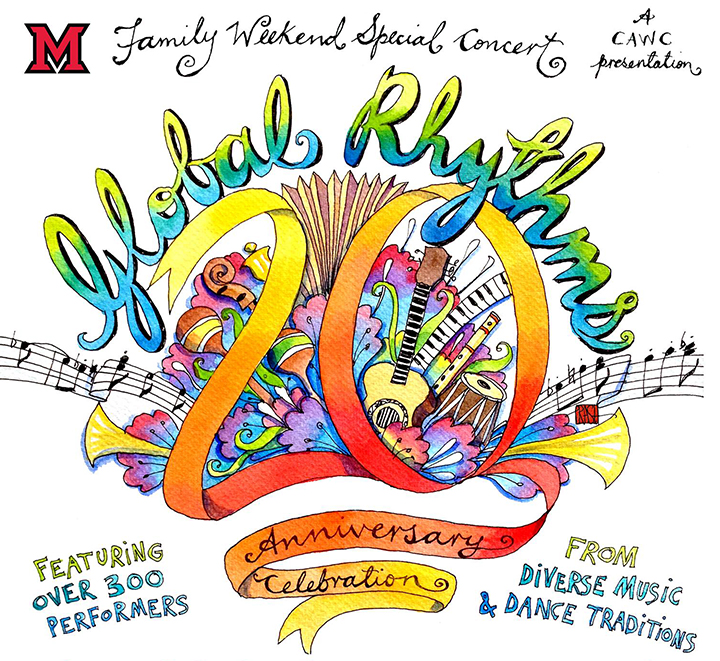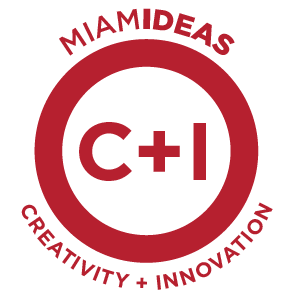 The Global Rhythms World Music ensemble celebrates its 20th anniversary with a special concert at 7 p.m. Saturday, Oct. 17, in Hall Auditorium. 
Artistic director Srinivas Krishnan will be joined for the first time by two other artistic directors: Ricardo Averbach, director of orchestral studies at Miami, and Jason Koontz (Miami MM '98), director of percussion studies at Eastern Kentucky University.
The three artists come from diverse world cultures (South America, North America and Asia) "allowing for intuition to partner with creative insights" for the anniversary concert, Krishnan said.
Special guest of honor A.R. Rahman, world-renowned composer, musician and two-time Academy Award winner, will attend this performance featuring more than 300 performers from around the globe.
Rahman will visit campus for two days, during which "he has volunteered to lend his time and creativity by presenting a workshop" for Miami student and faculty performers in the concert, Krishnan said.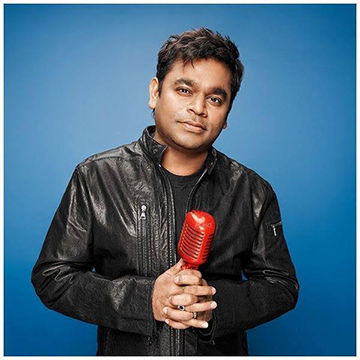 World-renowned composer A.R. Rahman will be special guest of honor at the concert. He will also give a workshop for Miami student and faculty performers (photo courtesy A.R. Rahman).
"In the year of Creativity and Innovation at Miami University, Rahman occupies a prominent position," Averbach said, noting that Rahman won two Academy Awards for his stunning work in "Slumdog Millionaire."
His work includes "the creation of the KM Music Conservatory, the first Western classical music conservatory in India, sowing the seeds to build the first symphony orchestra in his country, as well as several philanthropic initiatives and numerous other projects," Averbach said. 
Chandni Chandiramani, a junior biochemistry major and premedical studies co-major and a member of the Miami University Symphony Orchestra, said that Rahman's workshop "will teach students about hard work, creativity and improvisation."  
Miami performers include: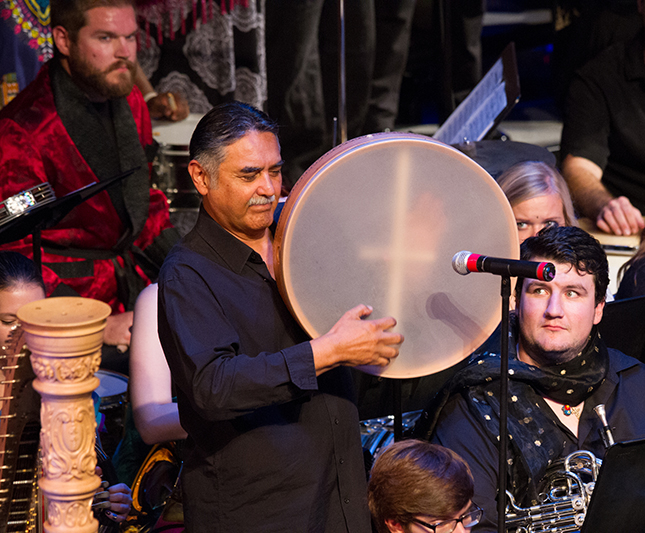 Glen Velez at the 2014 concert 
They will join musicians and dancers from the U.S. and from around the world in the concert.
Performers from the U.S. include dancers from the Cincinnati Ballet; the MJM Dance Company of New York City; and the University of Cincinnati College Conservatory of Music dance program.
Other groups include the Oberlin College World Percussion Ensemble; the Louisville Youth Choir; and the Eastern Kentucky University Percussion and Dance Ensemble, among others.
Global performers include: 
Four-time Grammy winning artist Glen Velez, frame drum. The 20th anniversary concert marks his fourth appearance with Global Rhythms.
Indian artists Ankush Nayak, sitar, and Guhan and Vignesh Venkataraman, veena and mridangan.
West African master percussionist Aboubacar Sylla, belafon and djemebe.
Rainer Bartesch, German alpine horn.
Sedjanka Perunika Balkan choir from Sweden and Denmark, directed by Michael Deltchev.
Master percussionist Abbos Kosimov, Uzbekistan: doira and Uzbek percussion.
Peter Suarez, traditional Argentinian bolas.
Go to the Global Rhythms Facebook page for photos, video and more information on the performers. 
Tickets, $12 lower level, $20 balcony and $50 premium balcony, are available at the box office in Shriver Center or online.
Innovative collaborations
Since founding the Global Rhythms World Music Ensemble 20 years ago, Krishnan (M.En. '88)  has focused on sustaining innovative collaborations and relationships between youth, students and artists from diverse cultures across the globe.
He is a master percussionist and artist-in-residence at Miami's Center for American and World Cultures. With his interdisciplinary background  - he holds a master's of environmental science degree from Miami - he implements his artistic and interdisciplinary ideas with a range of groups on campus.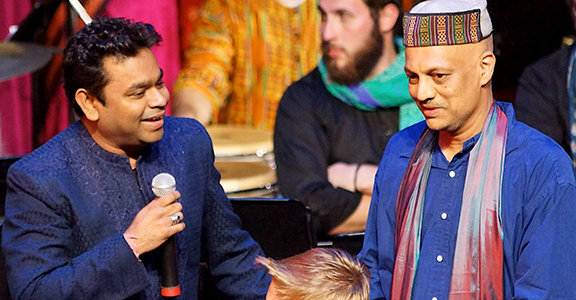 A.R. Rahman and Srinivas Krishnan (right) onstage at the 2014 Global Rhythms concert. Rahman was also guest of honor last year (photo by Scott Kissell).
This year he is collaborating with the College of Computing and Engineering and the Lockheed Martin Leadership Institute on Miami Meets India 2015. He will also teach "Cultural Heritage of India" in Chennai, India, as part of the 2016 winter term study abroad course Engineering in Dynamic India (open to all majors).
Krishnan is a member of the guest faculty and advisory panel of the KM Music Conservatory, a multidisciplinary music education center established by A.R. Rahman's foundation. 
Rahman has worked with Global Rhythms on campus for more than a decade on several projects and global initiatives, according to Krishnan. He was also Miami's 2012 spring commencement speaker.
Instead of performing on stage, Rahman will be in the audience this time, Krishnan said, "watching several Miami students and faculty who have been fortunate to have connected with him through project Global Rhythms, both within and outside the U.S."