Kendall Hauer with a fragment of the Canyon Diablo meteorite; Three Storms at the Art Museum and Sculpture Park; Steve Gordon with McGuffey's eight-sided desk; and a gallery at the Hefner Museum of Natural History.
Sep 08, 2016
Discover a treasure trove at Miami's museums
Six museums educate students and others about art, history, artifacts
By Margo Kissell, university news and communications
Want to see some cool meteorites? How about an eight-sided, revolving table where William Holmes McGuffey is thought to have designed lessons for his McGuffey's Eclectic Reader series?
Perhaps you feel like strolling through a gallery admiring art — or standing face-to-face with a Kodiak bear.
You can do all of that, plus more, at Miami University's six museums.
Five of them, inside traditional bricks-and-mortar buildings, are free and open to the public. The sixth is the department of anthropology's new virtual museum featuring a small but growing number of scanned three-dimensional artifacts that have long been part of the teaching collections.
All six museums focus on educating Miami students as well as other visitors, including hundreds of K-12 students who explore them each year.
"Where else can you go and have that number of museums within walking distance, free of charge?" said Steve Gordon (Miami '75, MA '81), administrator of the McGuffey Museum.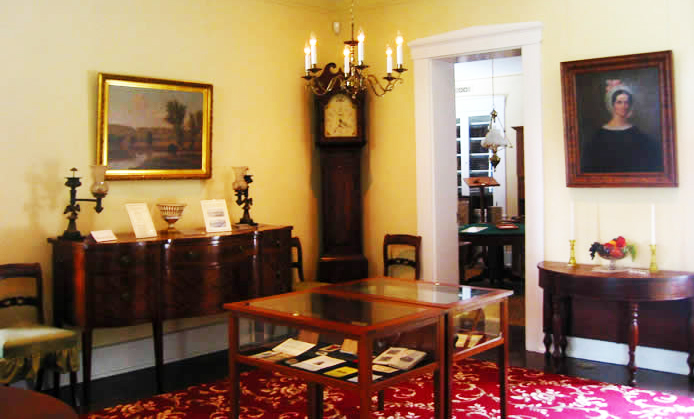 Dining room, McGuffey Museum
The museum began in the 1930s and moved in 1960 to the William Holmes McGuffey House, which was designated a National Historic Landmark in 1966.
Built in 1833, the two-story house is the second oldest building on Miami's Oxford campus. McGuffey, the university's first librarian, was a Miami faculty member in 1836 when he compiled the first edition of the McGuffey Eclectic Reader. More than 100 million copies in the series were eventually printed, according to Gordon, who has enjoyed leading tours through the 401 E. Spring St. museum for the last 10 years.
"We get that whole spectrum of visitors, from parents of prospective students, tourists, alumni, staff and, obviously, students," he said of the museum, which offers a variety of collections related to McGuffey, his famous Readers and the history of Miami.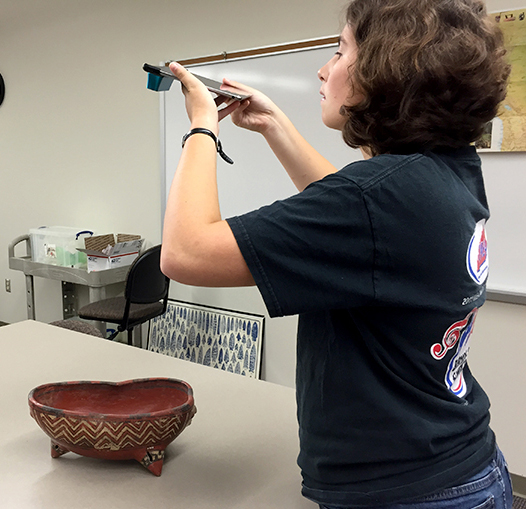 Sarah Loomis ('16) photographs an object for the Anthropology 3-D Museum.
Online visitors to this museum can journey back in time — way back to ancient times —from their computer keyboards.
The museum showcases images of some of Miami's collection of more than 10,000 artifacts from around the world, including pottery, sculptures, tools and jewelry. Visitors can currently browse 14 downloadable 3-D models of artifacts, including ceramics from Chupicuaro, West Mexico, dating back to 300 B.C.
"We chose them because they are very visually interesting," said Sarah Loomis (Miami '16), who graduated with degrees in anthropology and English and is now pursuing a doctorate in archaeology at Harvard University. She was instrumental in building the Miami museum's first gallery last year.
At the museum's core is an emphasis on teaching, said Mark Peterson, chair and professor of anthropology and professor of international studies who served as Loomis' project adviser with Jeb Card, visiting assistant professor of anthropology.
"We don't have the space or the money to have a physical museum nor would it be in our interest to try to run one. It would take away from our teaching mission," Peterson said. "At the same time, for archaeologists, these physical objects are an important part of the teaching."
For Loomis, her experience working with ancient Chupicuaro ceramics for the virtual museum compelled her to focus on this area of study in graduate school — and helped her obtain a new job as assistant to a Harvard professor who does 3-D scanning of archaeological artifacts.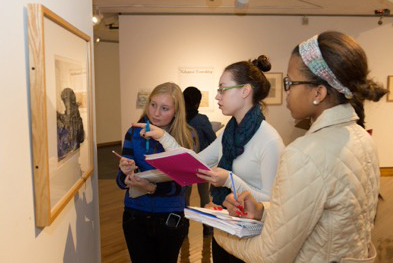 Students study a drawing at the art museum (photo courtesy of the museum).
Five galleries of exhibitions (three new ones per semester) and a growing permanent collection of more than 17,000 works of art make up this museum.
Completed in 1978 and accredited by the American Alliance of Museums since 1984, the museum is one of only three college/university museums accredited in Ohio and was the first university museum in the state to be accredited by the organization.
"It helps donors know that works that are given are going to be cared for in an appropriate manner. Part of it is to ensure that we have access for current students but also for future generations," said Robert Wicks, director of the museum and professor of art history.
Staff at the 801 S. Patterson Ave. museum work with faculty and students, as well as the larger arts community, to provide engaging experiences.
The museum has drawn up to 15,000 visitors annually, many of whom are school-age children.
Many Miami students connect with the museum in several ways: Some have internships or jobs there; others have classes that hold some sessions there; and still others have their original works displayed during the annual juried Student Response Exhibition, which has a predetermined theme.
"It's essentially getting students to think a little bit differently about artistic problems and also to have the opportunity to exhibit in a real museum, an experience they wouldn't otherwise get," Wicks said.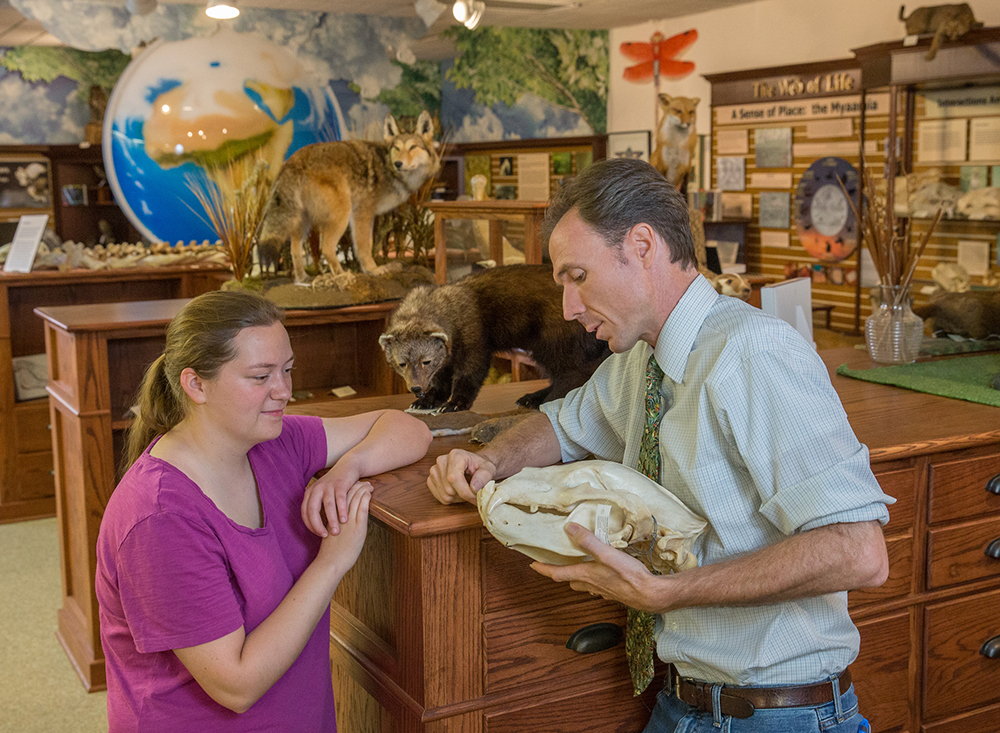 Steve Sullivan talks with museum volunteer Erin Dodd, junior biology major.
New director Steve Sullivan, who started this summer, had worked as senior curator of Urban Ecology for the Chicago Academy of Sciences and its Peggy Notebaert Nature Museum.
He wants to increase student involvement at the museum, which has more than 53,000 specimens. Its collections, specimens and interactive programs teach visitors of all ages about animal biodiversity, conservation and ecology.
"A museum is a place where you can come in and you can ask the questions you've always wondered and you've never been able to find those answers," he said. "We can give you the answers to those questions, but even more importantly, we can grab a specimen and put it in your hands and you can feel the answers, maybe be inspired to ask more questions."
The museum, in Upham Hall, was established more than 60 years ago by Robert Hefner, then chair of the department of zoology, who wanted to display the department's many specimens and artifacts. It soon became an integral part of many college courses and a field trip destination for schoolchildren.
These days, more than 5,000 visit annually, with the vast majority being schoolchildren. More than 1,500 Miami undergraduate students also come in contact with it. Erin Dodd, a junior biology major, is entering her second year as a museum volunteer. She has learned how to handle specimens, identify bones and write display signs. "I think it's impressive to have a museum this nice on campus," she said.
Sullivan said he looks forward to developing relationships with professors and students to turn class projects into museum exhibits, including virtual and travelling exhibits that give students and Miami exposure beyond campus.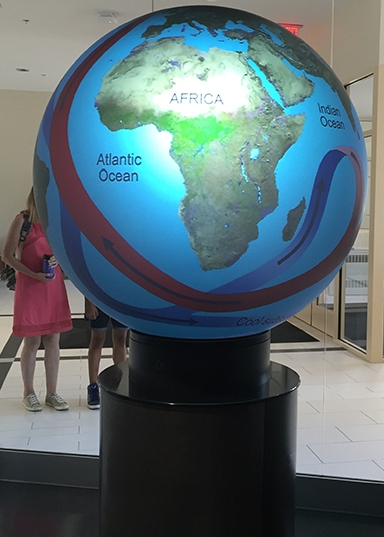 The new OmniGlobe in the Limper Geology Museum
Part of this museum will reopen later this semester in a more visible space on the first floor of the newly renovated Shideler Hall. The museum was located in the lower level from 1967 until the renovation began two years ago.
Director Kendall Hauer (Miami Ph.D. '95) said the museum will open in two phases. A smaller room will be open by Thursday, Oct. 13, when a Shideler Hall ribbon-cutting is held.
The rest of the museum will be ready by the start of spring semester in late January.
The geology museum is home to a new 48-inch diameter OmniGlobe digital spherical display. It's up and running, and students are encouraged to use the interactive touch screen to explore the many maps and animations that it can show, Hauer said.
The new white display cases will be filled with hundreds of specimens, such as fossils, rocks, minerals and meteorites — including a small chunk of the Chelyabinsk meteorite that was filmed entering Earth's atmosphere over Russia on Feb. 15, 2013.
There are plenty of other things to see, including a rare, intact 13-and-a-half-inch trilobite discovered in Adams County. That's just one example of the world famous southwest Ohio fossils that Hauer calls the "heart and soul" of the museum. The fossils are marine invertebrates that inhabited the shallow sea covering this area about 450 million years ago.
"As a result of that sea being here, we ended up with a tremendous amount of fossils in our local bedrock," he said.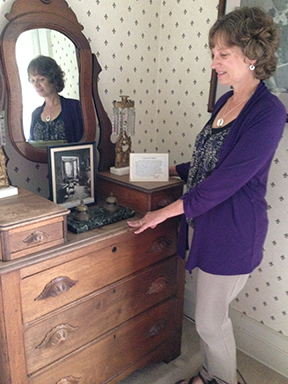 Debbie Baker in Patterson Place with a 19th century dresser used in Peabody Hall
The two-story brick house on Miami's Western campus has been a museum since shortly after Miami acquired the Western College campus in 1974. The former home of the presidents of Western College became the office of the Western College Alumnae Association and the Patterson Place Museum.
The seven-room house at 325 S. Patterson Ave. includes paintings, furniture and other memorabilia that are part of Western College history and were in Peabody Hall and other residence halls and buildings on campus.
Debbie Baker, senior program assistant for the association, said that in eight years — 2024 — the association will be dissolved as a separate organization and Western alumnae will be supported as a "group" by the Miami Alumni Association.
The Western College Alumnae Association trustees voted in 2010 to permanently close them on the 50th anniversary of the final graduating class (1974). "Our board refers to it as a grand celebration and an organized ending," she said, noting they have begun relocating some memorabilia to other locations where they will be enjoyed for many years to come.
"One of our most prized possessions was the Harriet Beecher Stowe desk, which our trustees in the spring decided to transfer to the McGuffey Museum," she said. The desk had been donated to Western about 1862 by the family of Gabriel Tichenor, one of the early Western trustees who had once been a neighbor of Beecher Stowe's.