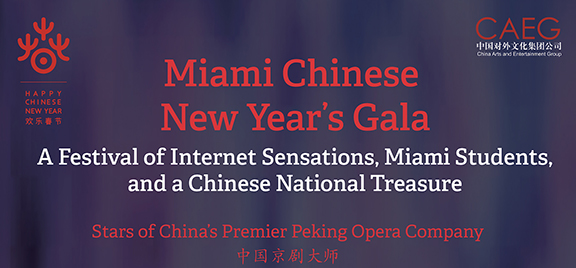 MacMillan Hall was decorated for 2016 Chinese New Year celebrations, shown here with staff from the Confucius Institute.
Jan 26, 2017
Chinese New Year Gala features Peking Opera stars, YouTube artists and student performers
Once-in-a-lifetime opportunity to experience China National Peking Opera
By Susan Meikle, university news and communications
A special Chinese New Year gala celebration will be held at 7 p.m. Saturday, Feb. 4, in Hall Auditorium.
Music and dance highlights include stars of the China National Peking Opera Company, YouTube artist Tiffany Alvord and the Miami student Lion Dancers.
Free, but tickets are required and available at the box office in the H.O.M.E. office, 129 Campus Avenue Building. 
The gala is organized and sponsored by the Confucius Institute at Miami University (CIMU), Miami's Chinese American Cultural Association (CACA) and the Performing Arts Series. 

Yu Kuizhi (left) and Li Shengshu, leading performers from the Chinese National Peking Opera Company (images courtesy CNPOC).
The gala offers a rare opportunity to experience the most recognized Peking Opera singers in the world today, said Chen Zhao, director of the Confucius Institute.
"The China National Peking Opera Company is world-renowned. We are excited to host this event and bring this collaboration to the community," Zhao said.
The performance features opera stars Yu Kuizhi, vice-president and artistic director of the company, and Li Shengshu, who directs the company's Group One.
Yu and Li will present "The Palace of Eternal Life," acclaimed as one of China's "four great classical dramas." They will also perform selections from the operas "Divergence" and "The Autumn River." 

The Miami Lion Dance Club (left) at the 2016 Chinese Cultural Festival and the Traditional Chinese Music Ensemble (photos by Scott Kissell).
Tiffany Alvord, singer/songwriter whose YouTube videos have had nearly 600 million views. Known as one of YouTube's first "home-grown celebrities," Alvord's channel is among the top 50 most subscribed music channels on YouTube.
Dance performances by the Dyzzeesteppers, Miami's street dance club.
The CIMU Lion Dance club will perform the Chinese lion dance and martial arts.
Music by Miami's Traditional Chinese Music Ensemble.
The Confucius Institute and Performing Arts Series will host a residency for the Chinese National Peking Opera Company in cultural exchanges and educational outreach around the region.
They will also sponsor the opera company's performance at 3 p.m. Sunday, Feb. 5, at Princeton High School's Matthews Auditorium, 11080 Chester Road, Cincinnati.
For ticket information, text 513-646-3598.
The Confucius Institute is a part of Miami's Global Initiatives office and is a resource of Chinese culture for Miami, the Oxford community and the region.