Confucius Institute
2017 First Duanwei Promotion Test
Please join us on Wednesday, 4/26 from 11:30a.m.-12:25p.m. and 1:00p.m.-2:00p.m. in Philips Hall Gymnasium 33, and watch as 42 Miami Martial Art credit course students perform their learned martial arts skills, during our first Duanwei promotion test which is led by kungfu master Enjie Li.
Duanwei means comprehensive evaluation for practitioners' martial arts ranks.
The test hosted by Confucius Institute at Miami University, sponsored by Physical Activities Life Skills Department. Two judges of Confucius Institute at Arizona University are invited and Enjie Li of CIMU、Christina from Physical Activities Life Skills Department together to evaluate and award certificates authorized by CHINESE WUSHU ASSOCIATION on site.
This is a new beginning for Miami University Martial Art programme!
Snacks and drinks are provided! All are Welcome!
The Confucius Institute at Miami University, Oxford Ohio, is proud to be the first Confucius Institute in Ohio set up in conjunction with the Chinese Language Council International (Hanban).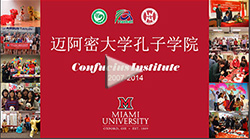 In the changing world, the Confucius Institute at Miami University serves as a platform for the internationalization of current and future Miami People.  It fosters an attitude of globalization and eagerness to study the Chinese language and culture.  In addition, the Institute operates as a host outreach program, helping our community, our region and Ohio learn how to adapt to the changing global economy.  The Confucius Institute is dedicated to promoting the study of Chinese language, culture, and philosophy, and furthers the understanding of China today.  Last, the Confucius Institute expands our Chinese Language and cultural offerings on our campus and in our community.
Liaoning Normal University
Co-sponsor of the Confucius Institute at Miami


Confucius Institute
There are 440 Confucius Institutes and 646 Confucius Classrooms (total 1086) established in 120 Countries (areas) as of December 2013. Confucius Institutes were established in 115 Countries (areas) , 93 in 32 Countries(areas) in Asia, 37 in 27 Countries in Africa,149 in 37 Countries  in Europe, 144 in 16 Countries  in America, 17 in 3 Countries in Oceania. There are 646 Confucius Classrooms established in 48 Countries (Comoros, Myanmar, Mali, Tunisia, Seychelles Confucius classrooms only, no Confucius Institute) , and 50 in 13 Countries in Asia , 10 in 8 Countries in Africa, 153 in 18 Countries  in Europe, 384 in 6 Countries  in America, 49 in 2 Countries in Oceania.

Confucius Institute Headquarters (Hanban)

---