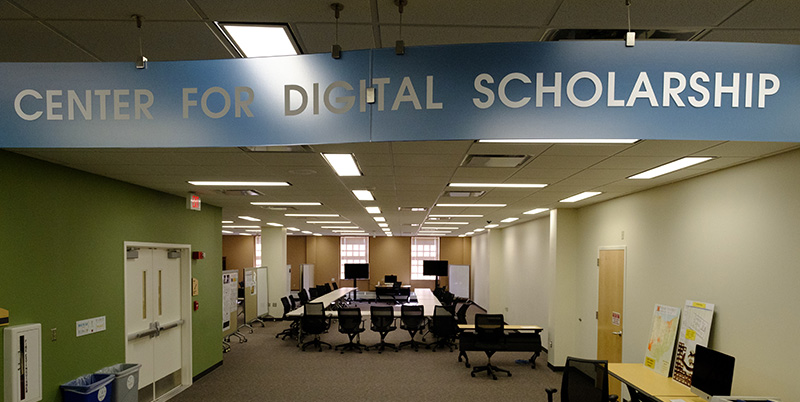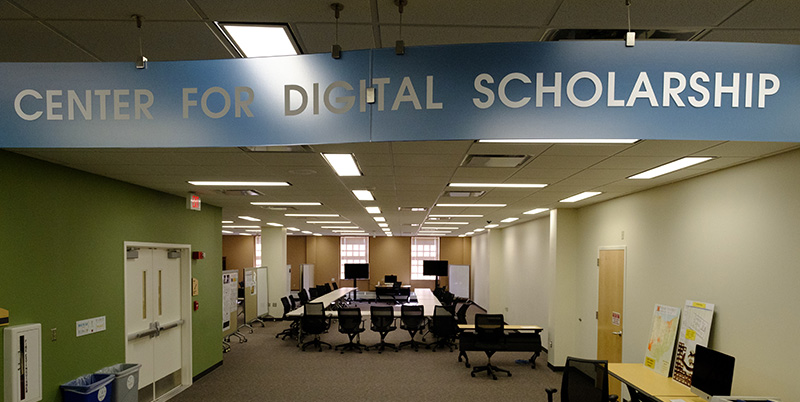 Center for Digital Scholarship's tools and expertise usher Miami into the digital age
May 18, 2017
Center for Digital Scholarship turns big ideas into digital realities
By Vince Frieden, strategic communications coordinator, University Libraries
From websites to digital archiving and geospatial analysis, the digital age has ushered in a new era of possibilities for creating, analyzing and sharing scholarship, but tapping into those opportunities takes the right team.
"Digital humanities projects are collaborative and can thus be quite expensive," said Tim Melley, director of The Humanities Center. "Who's going to make it look pretty, code it, maintain it and store it? Digital scholarship requires many skill sets. Good digital humanities work requires both intellectual and technical virtuosity."
Launched in 2013, Miami's Center for Digital Scholarship (CDS) bridges the chasm between big ideas and digital realities, offering the staff expertise, services and facilities to support, develop and enhance digital scholarship and research projects. By bringing faculty- and student-scholars together with librarians and technologists, CDS has rounded out a number of winning teams, supporting projects ranging from digital exhibits and e-books to storytelling apps, websites and digital archives.
Connecting the past and the future
Kathy McMahon-Klosterman, professor emerita of educational psychology, stumbled across the center four years ago while working with community member Joanne McQueen to archive materials from the early days of Butler County's National Organization of Women (NOW) chapter.
"We just wanted to scan some things — didn't even know that was called digitizing," McMahon-Klosterman recalled. "The CDS was brand new at the time, and Jody [Perkins, digital scholarship librarian and metadata specialist], showed us the value of digitizing, cataloging and sharing those materials so people from around the world can access them 24/7."
The resulting digital archive, described as a "jewel" by McMahon-Klosterman, includes scrapbooks, a pop culture collection and a multimedia collection. The collections draw striking parallels between the climates of the 1970s and today and became the basis for a women's, gender and sexuality studies capstone course led by Anne Fuehrer, associate professor of global and intercultural studies, and recently highlighted by The Miami Student.
Through the capstone, students interacted with the collection's physical materials, digitizing and indexing various elements and reflecting on what they encountered through blog posts. The culmination was a November His/Her/Hirstory Symposium, featuring presentations from the class. CDS remains an active partner with the ongoing capstone, from teaching students and faculty the basics of digitizing and cataloging materials to providing a digital host for the collections and developing a website for the project.
"Once the students realized what they were working with, the history really came alive for them," Fuehrer said. "It was an invigorating way to connect the roots of modern feminism with the now fourth wave, or digital wave, of feminism."
A nexus for digital initiatives
Although the individual project achievements are impressive, the scope of what CDS has undertaken is perhaps more notable. In four years, the staff has worked with more than 20 faculty members and student groups on major initiatives. Just a few of those project types include:
Companion websites for faculty-authored books.
Tools for collecting scientific data.
Open access educational journals.
Applications dashboards.
Geographic visualization projects.
One of the center's significant partners is the The Humanities Center. What began as a Digital Humanities Initiative working group in 2012 assessed the state of the digital humanities and brought in Kathleen Fitzpatrick, associate executive director and director of scholarly communication at the Modern Language Association, as an expert consultant. "
Her big takeaway was that the Center for Digital Scholarship is the nexus we need at Miami to make the digital humanities work," Melley said. "It's institutionally supported, institutionally housed and offers a stable staff. When you have to go out and hire your own experts on grant funding you're not going to have that level of institutional commitment and stability."
Through its yearlong digital humanities fellowships and research apprenticeships, The Humanities Center selects high-potential projects and provides funding while CDS offers technical guidance and support.
Some of the fruits yielded through the partnership include:
According to Offenburger, working with Eric Johnson, numeric and data services librarian, and the CDS added momentum to his vision.
"The old Adobe marketing phrase 'if you can dream it, you can do it,' comes to mind," Offenburger said. "CDS gave me access to professionals with deep knowledge in library science and the technical abilities that exceeded my scope as a historian but were critical to my project. It is among the university's best kept secrets, and it's excelling at finding ways to bridge the digital and analog worlds."
To learn more about other faculty and student projects supported by the center, you can view its project showcase, visit 303 King Library, or call 513-529-2871.