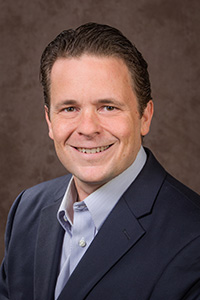 Mar 02, 2017
Miami professor develops online organizing tool for research collaboration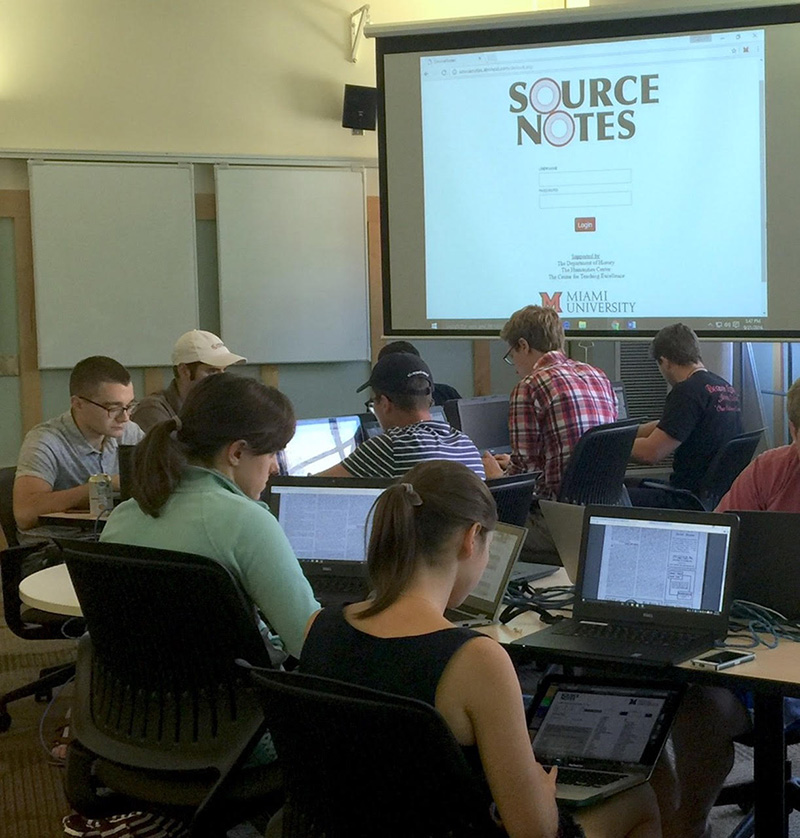 Students build a research database while honing their critical analysis skills using SourceNotes. (Photo courtesy of Andrew Offenburger)
By Carole Johnson, university news and communications
Frustration led historian Andrew Offenburger to create a research organizing solution that solved two problems: what to do with all his source citations and how to better teach research analysis to students.
The solution? SourceNotes, an online platform he developed that helps researchers organize their notes from primary and secondary sources. But that's not all it does. If users wish, they can work collaboratively and share their annotations with others, similar to the open source concept. They can choose to share during the research process or long after it is completed. 
That last feature makes SourceNotes different from products currently available on the market and marries research analysis with data analytics.  
Offenburger, assistant professor of history at Miami, first envisioned his idea when he was in graduate school at Yale University, but enthusiasm for the project skyrocketed last summer when he realized the potential benefits incorporating student learning into product development.
Collaboration is at the core of SourceNotes
Offenburger began the project collaborating with Greg Reese in the Research Computing Support group and Eric Johnson in the Center for Digital Scholarship. Relying on his past experience as a systems administrator, Offenburger then wrote the original code for SourceNotes during 2016 and launched it in the fall. The program is now in the fine-tuning stage and ready for adoption in classes at Miami.
It's supported this year by a Digital Humanities Research Fellowship through the Miami University Humanities Center, as well as a teaching grant through the Center for Teaching Excellence.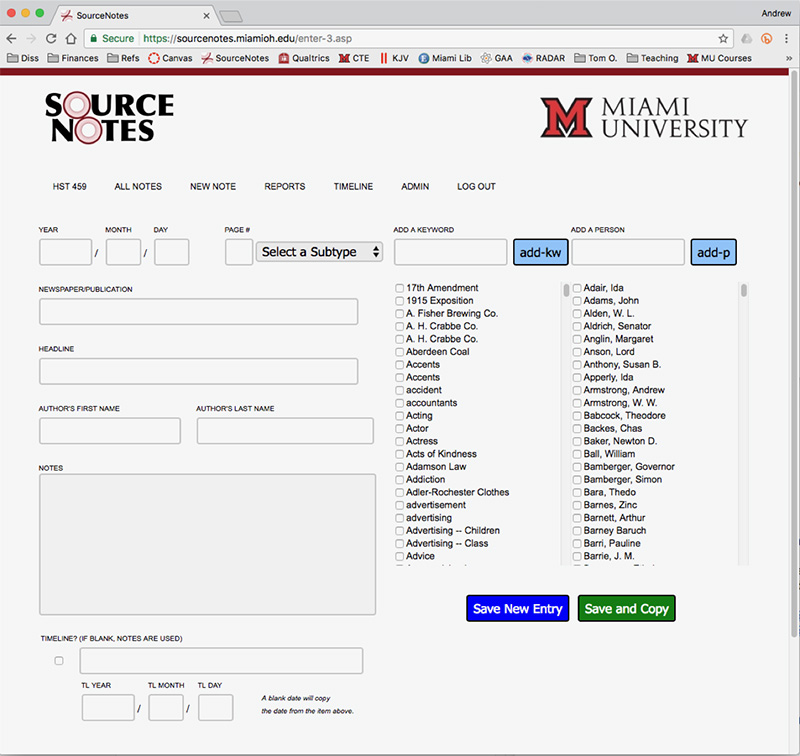 SourceNotes is an online platform developed by Miami historian Andrew Offenburger that helps researchers organize their notes from primary and secondary sources. (Photo courtesy of Andrew Offenburger)
SourceNotes includes three key features in addition to the collaboration capability:  
It tags key words to entries. "Fairly standard with most platforms," Offenburger said.
It tags historical people to documents. "For instance, if a newspaper article mentions the 'Rough Riders,' it may not mention Theodore Roosevelt specifically, but the researcher can add his name as a tag for future use, helping another researcher who may be focusing on Roosevelt," he explained.
It can enter annotations with a timeline box. "When a historian or even a journalist is ready to write, he or she can access the timeline, which easily finds the notes relating to that particular time in history," a feature Offenburger loves to show off as the "ultimate" in organizing.  
He admits that many researchers and writers might not want to share their material with the general public but, in his opinion, "ideally, researchers shouldn't mind too much about sharing their sources," especially long after a book or paper is published.  
In fact, he was thrilled when his former advisor at Yale, historian John Mack Faragher, agreed to upload his source notes on Daniel Boone. The first idea for such a program, in fact, came from a research seminar with Faragher.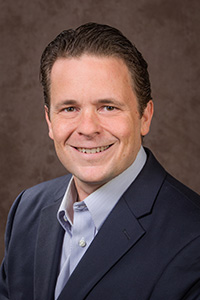 Andrew Offenburger
Offenburger pushed hard to speed up the development of SourceNotes over the summer to use it as a teaching tool. In his vision, he saw a classroom full of students building a research database while honing their critical analysis skills.
He started with one class. During the fall, 17 students enrolled in his course, "Historicizing the News," used Goodwin's Weekly, published in Salt Lake City, analyzing issues from 1902-1919.
"I chose this publication because it offered a good balance of news types (politics — local and national — theater notes, social notes, ads, even jokes)," he said.
Students learn by doing: creating research databases
Senior journalism major Dana Humen said she "learned all of the time and energy that goes into archiving information and creating databases. I also learned how to best select what key terms and other information should be noted when archiving information to optimize the search process later on."
Her classmate, Jacob Bruggeman, a junior history major, focused on a particular theme, gender references.
"Through using SourceNotes to analyze gender norms in a particular weekly publication — through which I learned how to effectively utilize primary sources — I became aware of the gender dialectics in the American West at this point in history and how gender dialectics were perceived and portrayed by the public."
Over the duration of the course, they entered about 10,000 records into the system.
"This type of collaboration would not be possible with existing platforms," he said. "Imagine the amount of historical data that a class of 300 students could generate." Offenburger is taking his product on the road, meeting with Miami faculty to develop future research collaborations.
About Andrew Offenburger
Receiving his doctorate from Yale, Offenburger's teaching and research interests include the American West, borderlands and comparative frontiers. Offenburger's current manuscript examines how the Mexican North became "the next frontier" for many Americans between 1880 and 1920, while at the same time the region constituted an international borderland with global ties to southern Africa and beyond.