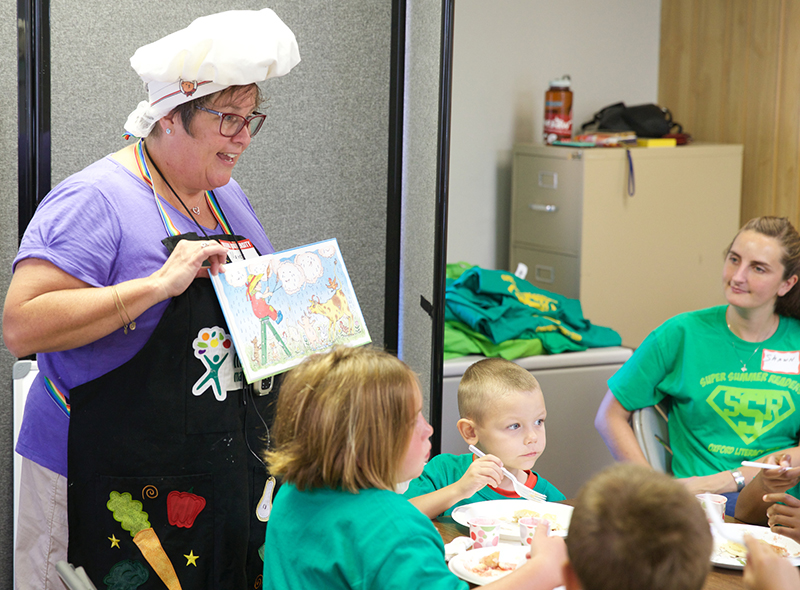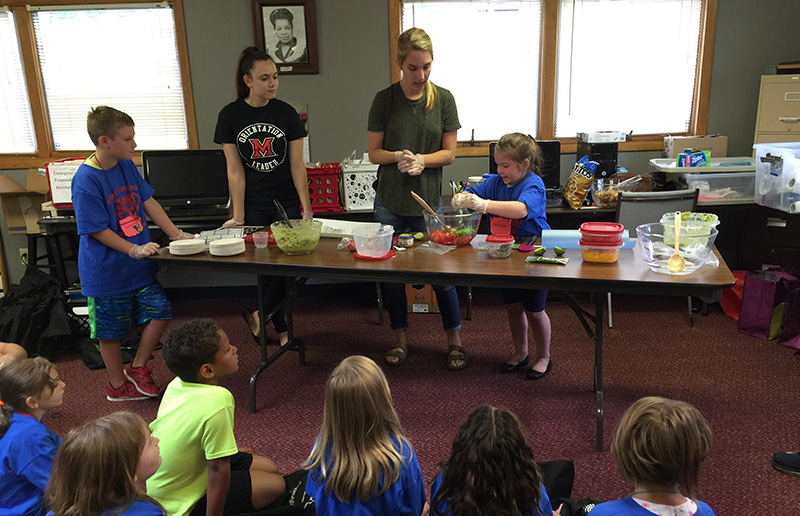 Miami nutrition students assist youngsters making fresh tomato salsa and guacamole.
Photo: Courtesy of Nancy Parkinson
Jul 27, 2017
Tower gardens latest high-tech tool to help teach nutrition on- and off-campus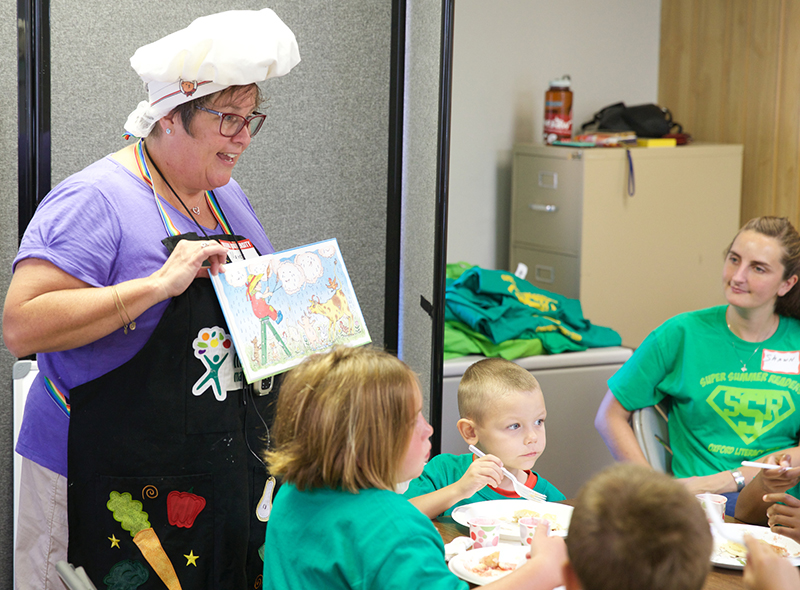 Nancy Parkinson, also known as "Nancy the Nutrition Nut," enjoys working with children in the community. (Photo by Jeff Sabo)
By Margo Kissell, university news and communications

Nancy Parkinson always wanted to have an herb and vegetable garden on campus, but that posed logistical challenges.

Until now.

Parkinson — clinical faculty in the nutrition and dietetics program at Miami University and a registered dietician nutritionist —uses sleek, vertical aeroponic growing systems to help her teach nutrition, both on- and off-campus.

A former student introduced her to the idea of tower gardens, which use aeroponics — the same technology used by NASA to grow plants with air, water and nutrients, but not soil.
Parkinson saw it as a chance to be on the cutting edge with the department's Food Science Lab. Helaine Alessio, chair and professor of the department of kinesiology & health agreed, approving the purchase of two tower gardens with grow lights for use indoors for the 2016-2017 academic year.
A bounty of vegetables and herbs were used in Parkinson's classes with Miami students, as well as in outreach programs in local schools and the community.


Watch Nancy Parkinson demonstrate how a tower garden works. (Video by Margo Kissell)
"It was phenomenal on the first day of class to have the (Miami) students pick their own produce with no chemicals, no pesticides and we didn't have to pull a weed," she said.

Now, thanks to a nearly $4,000 Miami Student Technology Fee grant, Parkinson has four more tower gardens that will bolster the kinesiology and health educational program.

She will continue using the tower gardens to teach future food and nutrition professionals, including registered dietician nutritionists. They use the harvested food in healthy dishes they prepare.

Parkinson can't wait to start growing fruits in one.

A new tower garden will be placed at Kramer Elementary (in a fourth-grade classroom) and another at Marshall Elementary (in a fifth-grade classroom). Each will serve a dual purpose with the Kiwanis K-Kids program, reaching twice as many young students. Parkinson noted.

The fourth tower garden may be used elsewhere, such as in a school or with a community organization where Parkinson and her students have established nutrition education programming.

"With our outreach programs, we try to plan nutrition education programs from age 3 to 103," she said, noting they've also worked with Mini University and Head Start, among other community organizations.

This is Parkinson's 12th year teaching at Miami. She and her students have been in the Talawanda schools at least nine of those years without the benefit of their own grown food. They taught using store-bought food.
Her nutrition education seminar class (KNH453H), which promotes healthy snacking, was introduced in two classrooms at Kramer years ago. By 2008-2009, it had expanded to Bogan and Marshall elementary schools, but only during spring semester.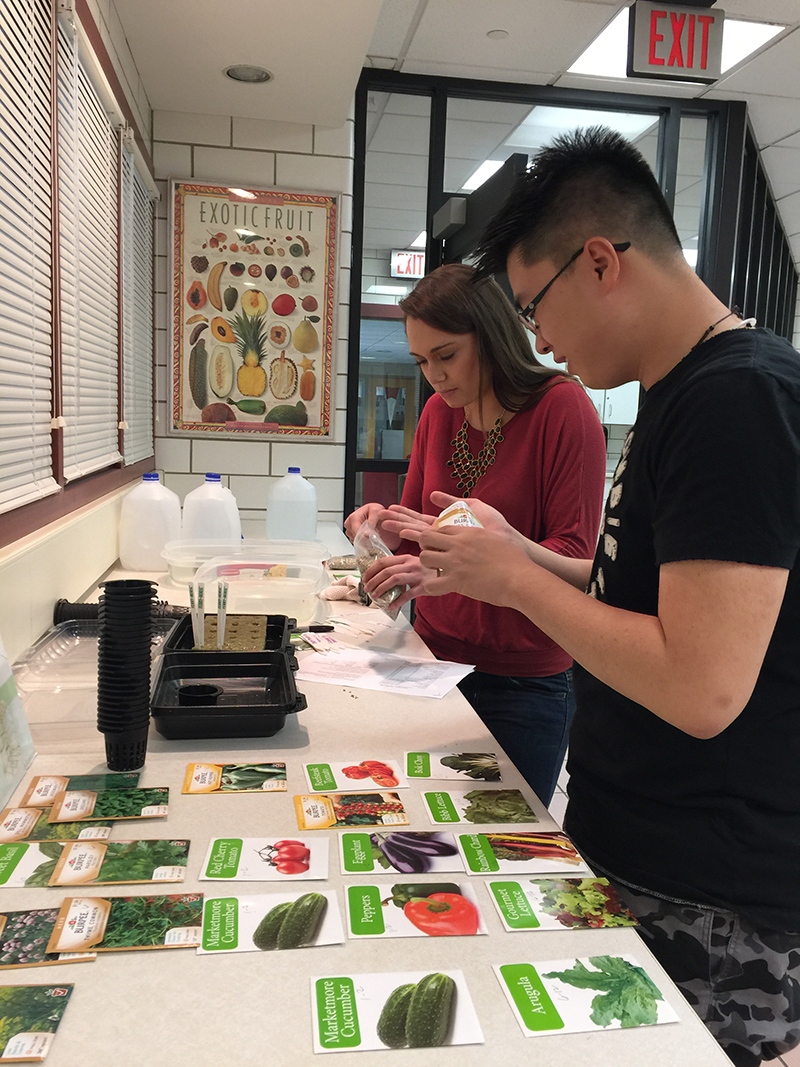 Nutrition and dietetic students plant seeds in rock wool medium pods for the tower gardens. (Photo courtesy of Nancy Parkinson)
This academic year, Parkinson will be teaching the nutrition education seminar in the fall and spring, so she and her students will be teaching children about nutrition and the importance of making healthier food choices year-round.

The cafeteria supervisors at Kramer reinforced what the children learned last year by adding fresh fruits and vegetables to the school menus the day after Parkinson and her students spoke to them. For instance, sliced kiwi was added to fruit cocktail and pea pods brightened their usual celery, carrots and ranch dressing snacks.

Now, with the tower gardens, they will watch the food grow. And everyone also will learn something about sustainable, alternative gardening, Parkinson said.

There was a bit of a learning curve during their first year using the tower gardens, Parkinson noted. They had to learn about cross-pollination with the flowering and blooming plants, including cucumbers, peppers, tomatoes and eggplants.

"There is no breeze and no bees, so we used a paint brush to cross-pollinate," she said.
Follow @MargoKissell on Twitter.